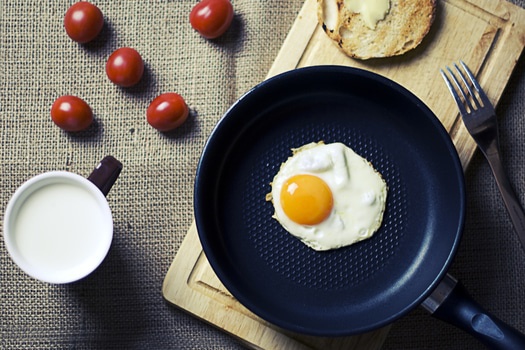 As we know, fueling our body with good, healthy food in the morning is key to a healthy lifestyle.  It not only promotes weight loss, but boosts metabolism and gives us energy to start the day.  Here are some of my favorite breakfast meal ideas.  There is no reason that you can't have a healthy breakfast on the run!  It's the most important meal of the day and a perfect way to boost energy for a great start.
Steel Cut Oats– I usually make a large pot of oats on the weekend to get me through the week.  I just quickly re-heat the oats for about a minute in the microwave and mix with a little almond milk(or skim milk).  Top with your favorite toppings: berries, currants, raisins, sliced banana, truvia, cinnamon (it's a great metabolism booster), almonds, walnuts, pecans, smart balance butter, etc.  It's one of the few things that I can eat for breakfast that fills me up until lunch, even after a vigorous workout in between!
Egg Whites– I cook one whole egg and two egg whites just about every morning.  It's one of the purest and best source of protein and quick and easy.   The protein in eggs is  97% digestible and its amino acids are superior in promoting muscle growth and tissue health (milk protein's are second best).
Ezekiel Bread–  organic, flourless sprouted grain bread.  A complete protein source.  Find in the organic freezer section of the grocery store.  The cinnamon raisin english muffins are delicious!  Top with natural peanut butter and local honey or serve with egg whites.
Turkey sausage– Jones Farms makes a nitrate and nitrite free turkey sausage that is very tasty.  A great way to get more protein in your morning meal.
Protein shake– see recipes on my blog. However, feel free to make your own favorite creations and share them in the comments below!
Smoothies– mix unsweetened greek yogurt, fresh berries, splash of honey or packet of truvia and a few ice cubes.  Blend and enjoy.
Quinoa– I cook quinoa flakes for a hot breakfast cereal.  I add a little almond milk, a packet of truvia, almonds, cinnamon, currants and smart balance butter.  Quinoa is a nutritional powerhouse.  It is an amino acid-rich (protein) seed that has a fluffy, creamy, slightly crunchy texture and a somewhat nutty flavor when cooked.  Quinoa is high in protein and the protein it supplies is complete protein, meaning that it includes all nine essential amino acids.  Great for building and maintaining muscle.
These are just a few of my favorite breakfast items.  Get started off right with lean protein, healthy carbohydrates and good fats.