This post and photos may contain Amazon or other affiliate links. As an Amazon Associate I earn from qualifying purchases. If you purchase something through any link, I may receive a small commission at no extra charge to you. All opinions are my own.
There's nothing better than fluffy pancakes on a weekend morning. My kids always vote for pancakes for breakfast. I love this sweet potato pancakes recipe. It's healthy, tasty and simple to make.
A few more of our pancake favorites you don't want to miss: Wild Blueberry Match Pancakes, Amazing Greek Yogurt Pancakes, Maple Bacon Protein Pancakes, and my mom's famous Cottage Cheese Pancakes.

These sweet potato pancakes are made with kefir, a cultured, fermented dairy beverage that is loaded with probiotics. Probiotics are live microorganisms that protect your gut environment, defending against bad bacteria in your belly and improve your digestive system.
Gut health is a very popular topic in nutrition research. They are finding out just how much our gut health affects other systems in the body. It can affect everything from cognitive function to hormone regulation, weight loss, and immune response. Poor gut health can also impact your body's ability to absorb nutrients from your diet.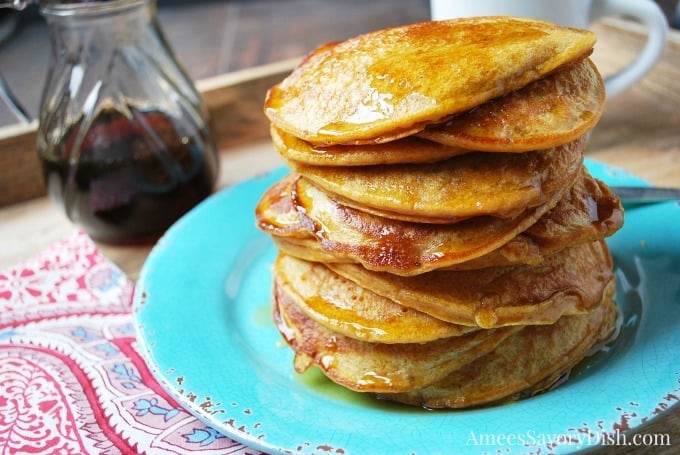 This month, the Recipe Redux network of healthy living bloggers are sharing recipes that contain ingredients to improve your gut health. Feeding your beneficial gut bacteria can help you feel your best throughout the cold and flu season. A healthy belly is super important for boosting your immune system. A happy belly equals a healthy, well-functioning, body!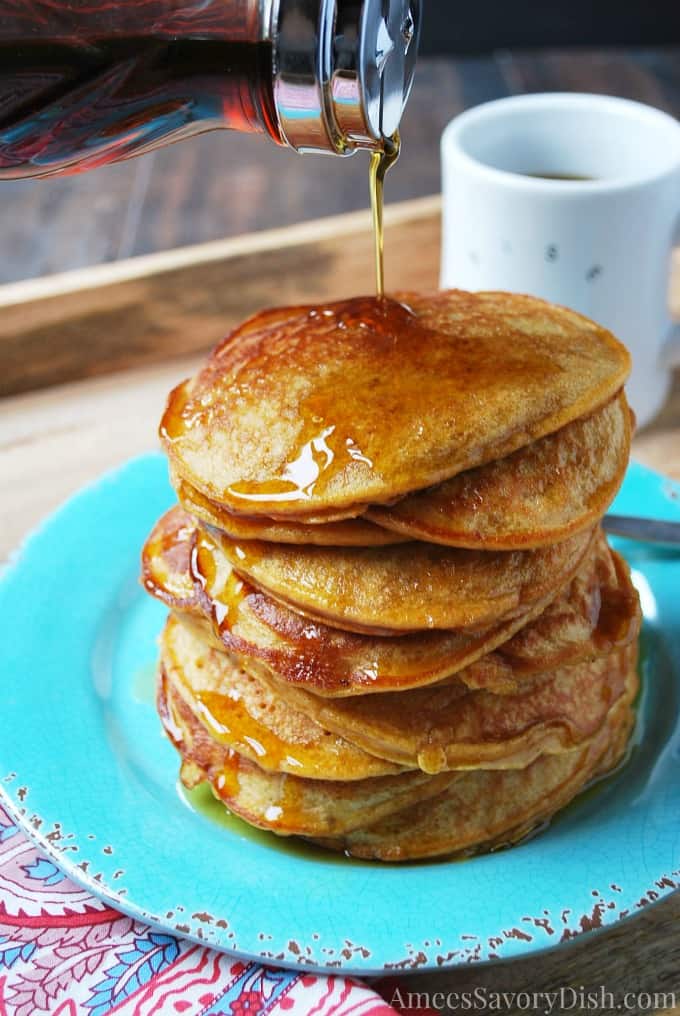 How To Make Pancakes With Leftover Sweet Potatoes
For this recipe, you can buy canned organic sweet potato puree or make your own. You can cook the potato a day in advance, peel and puree, so that it's ready to use the next morning. There is not a strong sweet potato flavor here, it's very subtle and adds more tasty nutrition to the pancakes. If you use cooked sweet potato and still have some chunks of potato in your batter, throw it all in the blender and blend until smooth. Let it rest for 5 minutes before cooking pancakes.
Sweet potatoes are a good source of potassium, fiber, Vitamin A, Vitamin B6, Vitamin C, and other health-boosting micronutrients. That's why I love adding them in my pancakes, plus it sneaks in extra nutrition for picky eaters.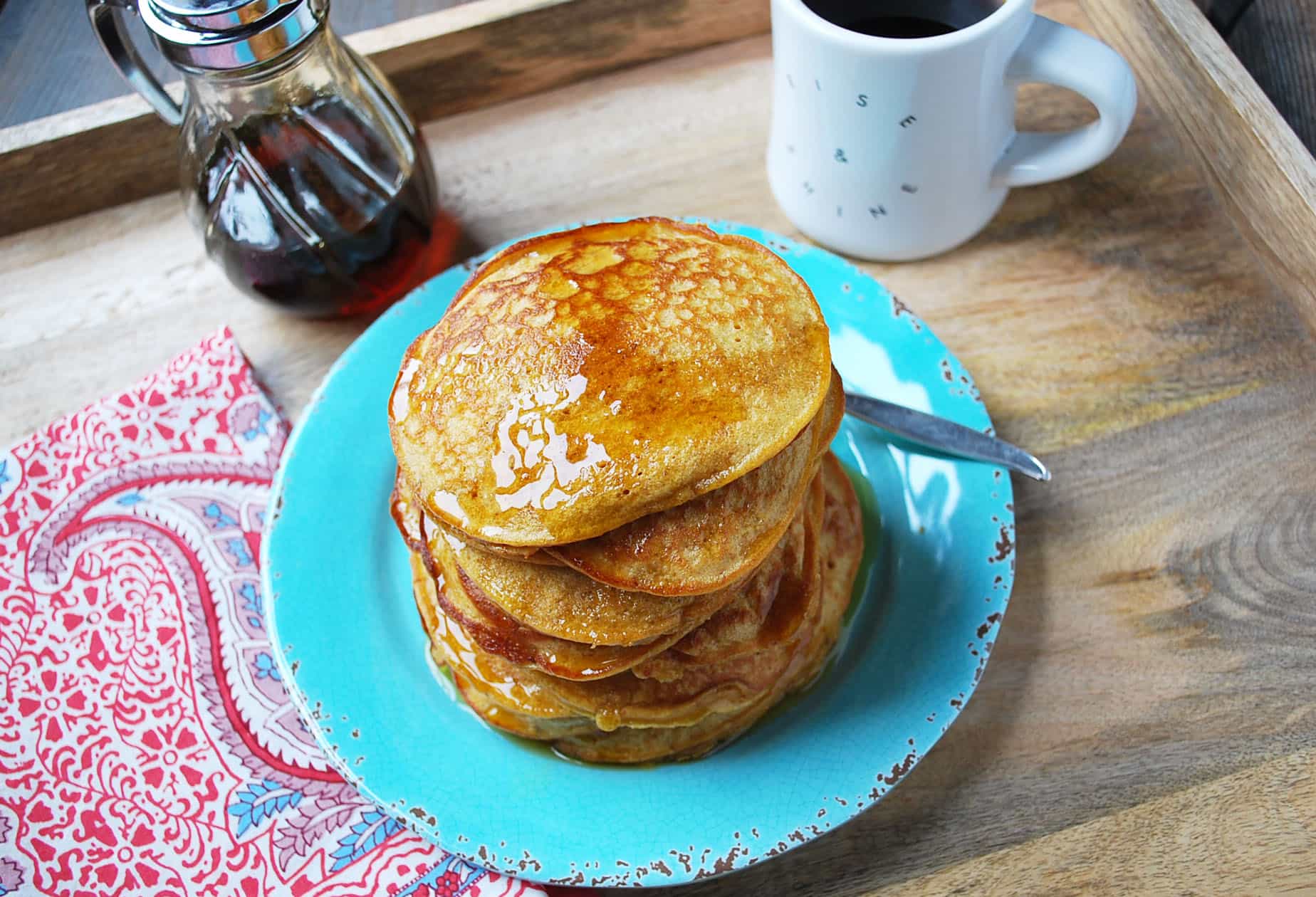 Spray a hot griddle with a little butter-flavored cooking spray and drop pancakes onto hot griddle using a 1/4 cup for each pancake. They are ready to flip when they are starting to bubble. Cook until golden brown on each side. I love to serve these with a little light butter and organic apple butter. These sweet potato pancakes are also delicious topped with toasted pecans and a drizzle of real grade A dark amber maple syrup.
(*This recipe was originally published in 2011 and updated with new photos and a few nutritional tweaks.)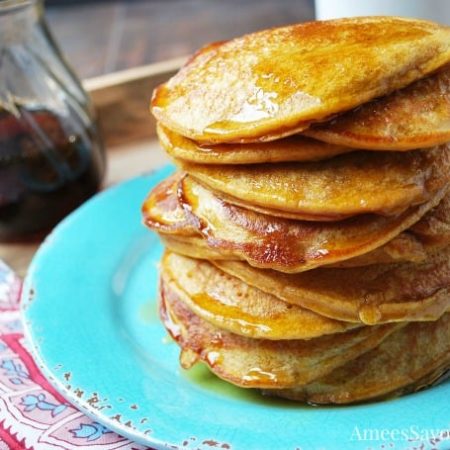 Ingredients
1 1/2

cups

unbleached all-purpose flour or gluten-free all-purpose flour

1/2

cup

oat flour

1

tbsp

baking powder

2

tbsp

natural brown sugar

or coconut sugar

1

tsp

cinnamon

pinch

nutmeg

about 1/8 tsp

1

cup

plain kefir

1

cup

low-fat milk

4

tsp

expeller pressed safflower oil

such as Spectrum brand

1

whole egg and 2 egg whites

6

oz

pureed sweet potato

1

tsp

pure vanilla extract
Instructions
Whisk all ingredients until smooth and let batter sit for 5 minutes

Spray a hot griddle with a little butter-flavored cooking spray and drop pancakes onto hot griddle using a 1/4 cup for each pancake.

They are ready to flip when they are starting to bubble.

Serve immediately
Don't miss the other gut health-boosting recipes, like these sweet potato pancakes, from my Recipe ReDux friends below!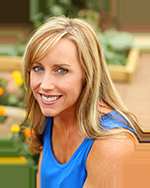 Hi, I'm Amee and I'm completely obsessed with recipe makeovers! I am a southern girl raised in South Carolina and currently living in the Charlotte, NC area with my husband and two children. I am a personal trainer, cancer exercise specialist, foodie, recipe developer, freelance content creator and breast cancer survivor.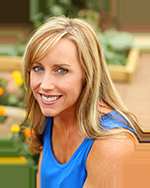 Latest posts by Amee Livingston (see all)