Hi! I'm Amee! I'm the head food boss behind Amee's Savory Dish and I'm so glad you're here! Here's a little more about me...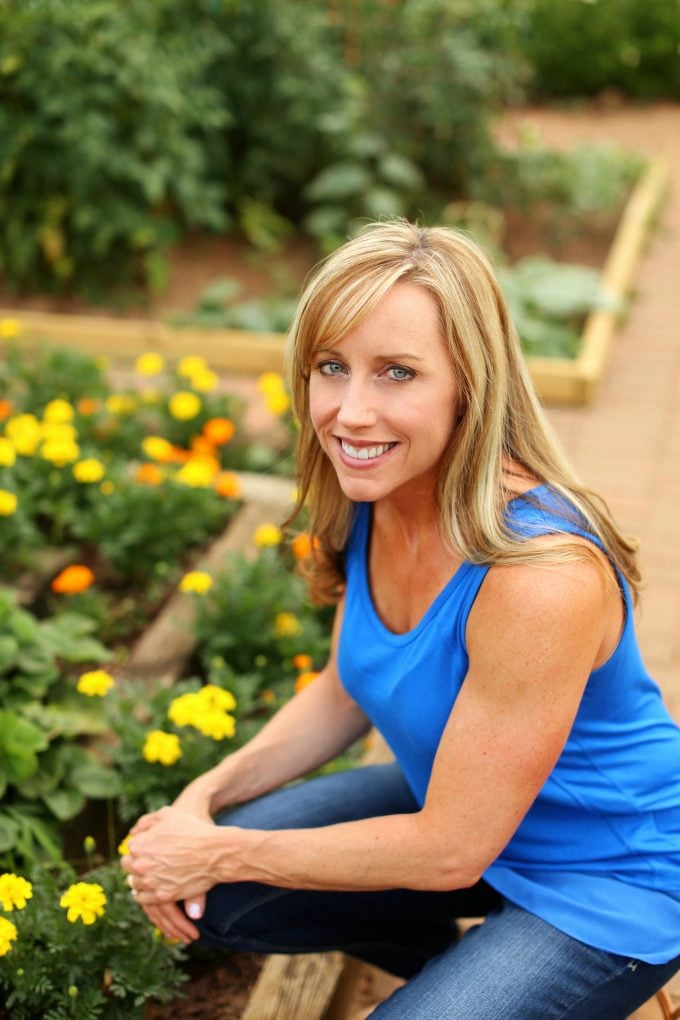 Welcome! 🙂
I'm Amee and I'm completely obsessed with recipe makeovers! My mission with Amee's Savory Dish is to create quick and tasty meals with a focus on good nutrition. It shouldn't be a struggle to put a meal on the table that the whole family will enjoy, while also allowing you to achieve your wellness goals. Fit food should never be bland or boring!
Most of my dishes are healthy eats, with a focus on high-protein savory dishes, and lightened-up recipes. However, there's always room for the occasional splurge for holidays, special occasions, and fun treats for kids. I believe in moderation and ditching extreme diets unless it's medically necessary. Due to my husband's food intolerances, I also create a lot of gluten-free recipes. My mom is also dairy-free and gluten-free, so I love creating recipes that she can also enjoy. I'm not about super fancy here, I'm more about making healthy tasty, and easy. As we all know, nutrition is very individualized. I aim to create recipes for a wide variety of dietary preferences.
About Me
I grew up in Anderson, South Carolina, and graduated from Clemson University with a degree in English and Advertising. After getting married, my husband's job moved us every few years. I've lived in 6 different states, which has helped to expand my food knowledge and learn about different regional cuisines. My interest in cooking actually started right after I got married. My mom has always been an excellent baker and passed along invaluable tips and tricks that have helped me improve my own craft. My mother-in-law was an incredible cook, so between the two, I've had the absolute best culinary teachers. I also can't forget my grandmothers who have also imparted their wisdom over the years. It was my goal to create meals that my family wanted to eat and came back for more. After all, they are my toughest critics!
In addition to being a self-taught cook, I've taken numerous cooking classes over the years taught by culinary experts and professional chefs. I also received a Precision Nutrition certification to expand my knowledge in nutrition for fitness and overall wellness. Until recently, I wrote this blog part-time (for fun) and dedicated the remainder of my time to coaching and personal training, and of course, being a full-time mom. I'm also a certified personal trainer with specializations in both exercise for cancer survivorship and pre and post-natal women's fitness. In 2016 I was diagnosed with early-stage breast cancer after a routine mammogram and underwent a double mastectomy followed by several reconstruction surgeries. I'm so grateful to currently be cancer-free. Thriving after cancer is definitely a process, both physically and emotionally. There have been so many invaluable lessons I have learned through this process. Life is a beautiful gift and I will never take my health for granted.
Fun Facts About Amee
Fitness has always been a big part of my life. I love Olympic weightlifting and compete as a master's athlete. I also enjoy cycling, running (mostly sprints), and yoga. There's no better therapy than barbell therapy, it's the ultimate stress-reliever and keeps this girl sane!
In 2014 I won first place in a recipe contest sponsored by Idaho Potatoes with my Loaded Potato Breakfast Casserole recipe. I received an all-expenses paid trip to Idaho for the potato harvest and unique culinary experiences. You can read more about that trip here.
I LOVE animals. We have two cats, and two German Shorthaired Pointers who make regular appearances on Instagram.
I love throwing parties and entertaining, especially around the holidays.
My husband and I currently live in the Charlotte, NC area.
How It All Began
What started as a blog to share my healthier recipe creations with friends and family in 2010 has turned into a full-time job. It has been an incredible adventure, and I feel so blessed to be able to do what I love to do, create recipes for brands and you.
I truly enjoy recipe development and finding new ways to make all of my favorite recipes more nutritious. I'm really passionate about helping other people make better food choices and encouraging them to embrace a healthy and fit lifestyle. When you discover that healthy cooking can be easily prepared and taste great, then lifestyle and habit changes aren't so difficult.
Professional Accomplishments
In addition to being an entrepreneur, I also love freelance writing and creating original content for different brands and websites. I worked as a content writer for Parade magazine from 2014 to 2015, and have contributed to many other digital and print publications over the years. Amee's Savory Dish has been featured in Shape, Country Living, Good Housekeeping, Woman's World, Buzzfeed, Relish, Prevention, Parade, CNN, Foodgawker, Booya Fitness, Healthy Aperture, and more.
I've created original recipe content for a long list of great clients, including Beef. It's What's For Dinner, Cabot, Newman's Own, Goya Foods, and many more well-known brands.
Getting Around
At the top of my homepage, you'll find a Recipe Index to search for recipes by category.
Keeping In Touch
If you are interested in working with me or have recipe-related questions, please head over to my Contact Page. I'd love to hear from you! You can also send me an email at [email protected].
Don't forget to follow me on Facebook, Twitter, Pinterest, and Instagram for more food, fitness, and fun!