This recipe is a delicious way to get your protein and your pancake fix in the morning!  I used Pamela's Ultimate Baking & Pancake Mix (Wheat-free and Gluten-free) to make this recipe.  You can switch the strawberries for blueberries, blackberries, raspberries or any other fruit that suits your fancy.  I don't miss gluten at all with this baking mix!  It's so good!!!
Gluten-Free Strawberry Flax Protein Pancakes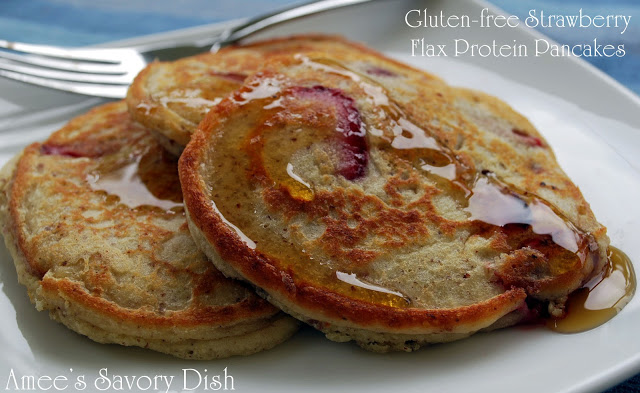 1 cup
Pamela's Ultimate Baking Mix
(or your favorite GF all-purpose baking mix-make sure it has the leavening ingredients added or add your own)
1 scoop
unflavored protein powder (such as BiPro USA)
1 tbsp organic, unrefined coconut oil, melted and cooled
1 tbsp ground golden flaxseed
1 cup sliced fresh strawberries
Mix all ingredients (except strawberries) in a large bowl with a whisk until smooth and well blended.  Gently stir in strawberries and drop by 1/4 cup size pancakes onto a hot griddle in a few teaspoons of coconut oil.  When pancakes start to bubble and lightly brown, flip and cook other side.  Serve with pure maple syrup or agave nectar.  Delish!