In honor of Cinco de Mayo, I am sharing my lightened-up recipe for Tres Leches Cake.  It's a delicious twist on one of my absolute favorite cake recipes.  The first Tres Leches Cake that I ever made was an Alton Brown recipe (which is to freaking die for!!!!!!!!!!) but I had to come up with a lighter version (without all the heavy cream) to satisfy my taste buds.  This trifle not only looks pretty, but it has all the sweet, milk-soaked goodness of the original recipe.  It's much more moist and delicious than strawberry shortcake and uses all those amazing local berries that I just stocked up on this week.  It's so scrumptious!!!  Enjoy~


Strawberry Tres Leches Trifle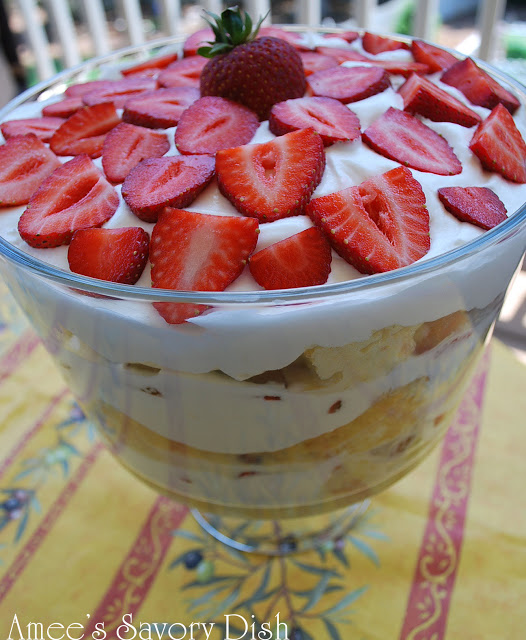 Ingredients:
For the cake:
1 cup all purpose, unbleached flour
1 1/2 tsp baking powder
1/4 tsp sea salt
5 whole eggs, separated
1 cup sugar, divided (3/4 cup and 1/4 cup)
1 tsp good quality vanilla extract
1/3 cup fat free milk
1 can 2% evaporated milk
1 can fat-free sweetened condensed milk
1/2 cup fat-free half and half (such as Land O'Lakes)


For the Icing:
2 (8oz) containers Cool Whip or TruWhip whipped topping
1 tsp clear vanilla extract
4 tbsp powdered sugar


2 pints fresh, organic strawberries (sliced)


Directions:
Preheat oven to 350 degrees.  Spray a 9×13 baking pan with cooking spray (I love the Pam for baking for this).  Combine flour, baking powder and salt with a whisk in a large bowl.  Separate eggs.  Beat egg yolks and 3/4 cups of sugar in a large mixing bowl on high speed until mixture is a pale yellow color.  Stir in the 1/3 cup milk and vanilla extract.  Pour egg mixture into flour mixture and stir gently until all is combined.  Beat egg whites and 1/4 cup sugar on high speed until stiff peaks form.  Fold egg white mixture into batter and stir until just combined.  Pour into prepared pan and spread out flat with a spatula.  Bake for 35 minutes or until toothpick comes out clean and center of cake is set.  Set aside to cool.  


Mix condensed milk, evaporated milk and fat-free half and half in a bowl with a whisk and stir until combined.  Prick the surface of the cake all over with a fork and slowly pour milk mixture over cake until all is evenly absorbed.  Place cake in the refrigerator overnight to soak up all that delicious sweet milk.  


Day 2:


Combine cool whip, clear vanilla and powdered sugar in a mixing bowl and whip until thoroughly combined. Now you are ready to assemble your gorgeous trifle!


Cut cake into four sections.  Using a spatula, gently lift one section out and place in the bottom of your trifle bowl.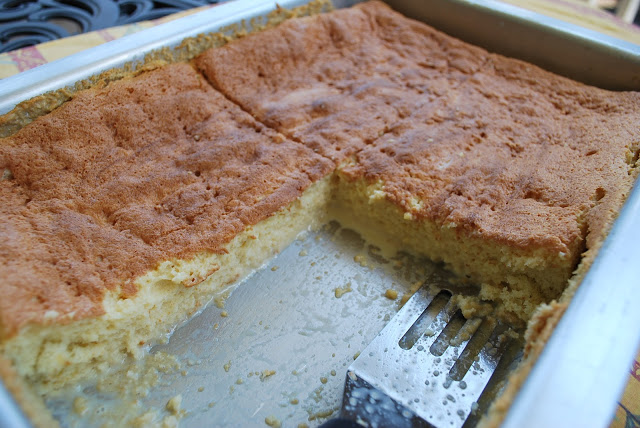 Make sure that you scrape up all that moist goodness……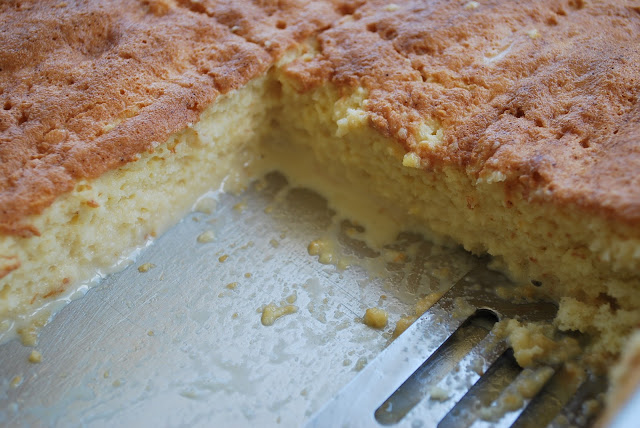 Now assemble your first layer:  cake, then icing then strawberries.  You can piece together your cake layers by cutting off small sections from the fourth piece.  Your cake will only be three layers, so I use that fourth square to shape my cake in the bowl.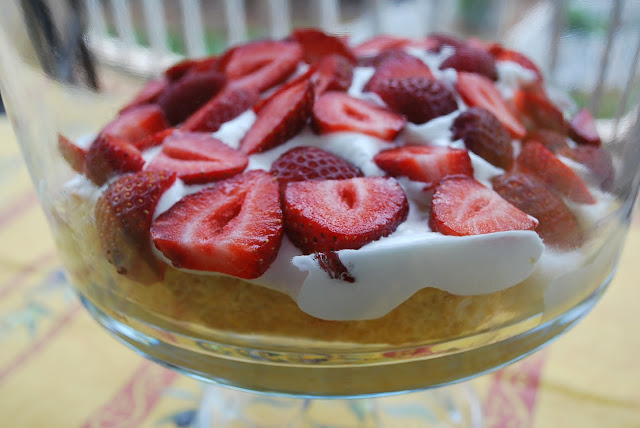 Now finish layering your trifle.  So moist and absolutely amazing!!  You won't miss the extra calories at all, I promise!  So delicious………………