Zucchini pasta with sausage and Parmesan is a quick and delicious skillet meal where the zucchini replaces pasta! This delicious zucchini noodles recipe cooks up quickly and is packed with flavor!
I hope you enjoy this zucchini pasta dinner recipe!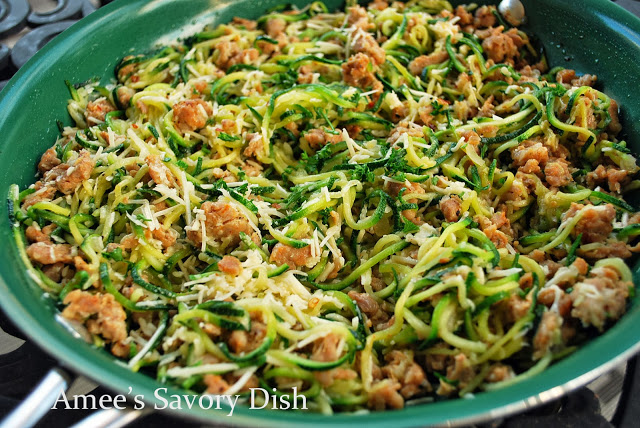 Sausage Parmesan Zucchini Pasta Skillet

Ingredients:
4 zucchini, spiral sliced or julienned (see ordering info the the fabulous slicer below)
2 tbsp EVOO
1 lb mild Italian Sausage, casings removed (I used organic Italian chicken sausage)
2 cloves garlic, minced
1/2 sweet onion, finely diced
1/4 tsp crushed red pepper flakes
3/4 cup freshly grated parmesan cheese
sea salt and pepper to taste
1 tbsp fresh parsley

Directions:
Slice zucchini and place in a colander over a large bowl.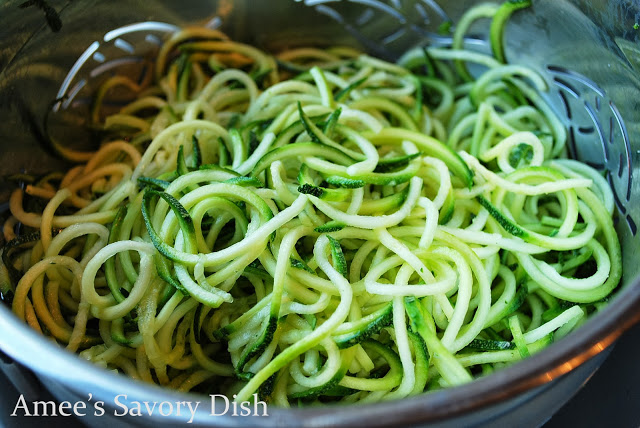 Salt zucchini liberally and set aside for 30 minutes.  Do not skip this step!  It makes the zucchini turn out more like noodles by reducing the water content.  This is how much water came out of my colander….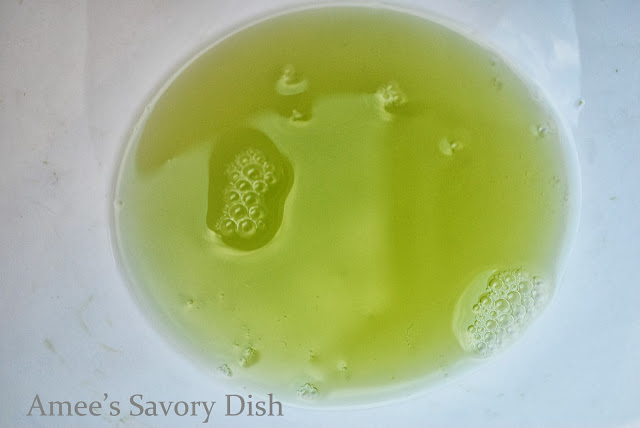 After excess water has drained from the zucchini, rinse zucchini well (very important or you will have a salt overload) and squeeze out excess water.  Pat zucchini dry with paper towels and set aside.  
Heat olive oil over medium heat.  Cook onion, garlic and sausage until sausage is lightly brown. Add pepper flakes and zucchini to the pan.  
Toss to combine and cook for 3-4 minutes to soften the "noodles" and season to taste with salt and p
epper.  Toss with parmesan cheese and garnish with fresh parsley.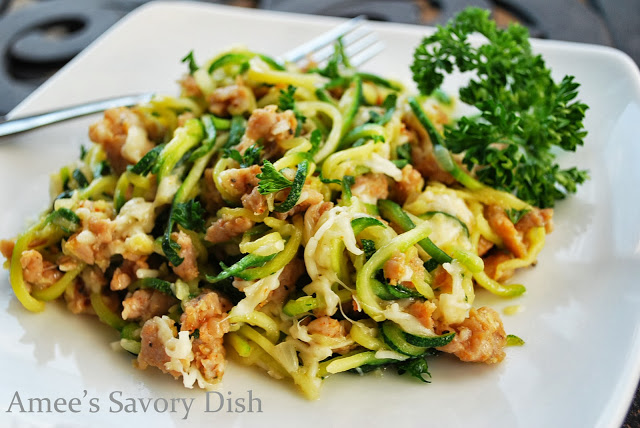 More delicious zucchini pasta recipes: