This post and photos may contain Amazon or other affiliate links. As an Amazon Associate I earn from qualifying purchases. If you purchase something through any link, I may receive a small commission at no extra charge to you. All opinions are my own.
Zucchini Spaghetti with Easy Beef Bolognese Sauce is a simple and delicious recipe for sautéed zucchini noodles topped with a thick and hearty sauce made with lean beef. This easy dinner recipe is a family favorite in our house!
*This post was updated August 2019 from the original version posted November 2012.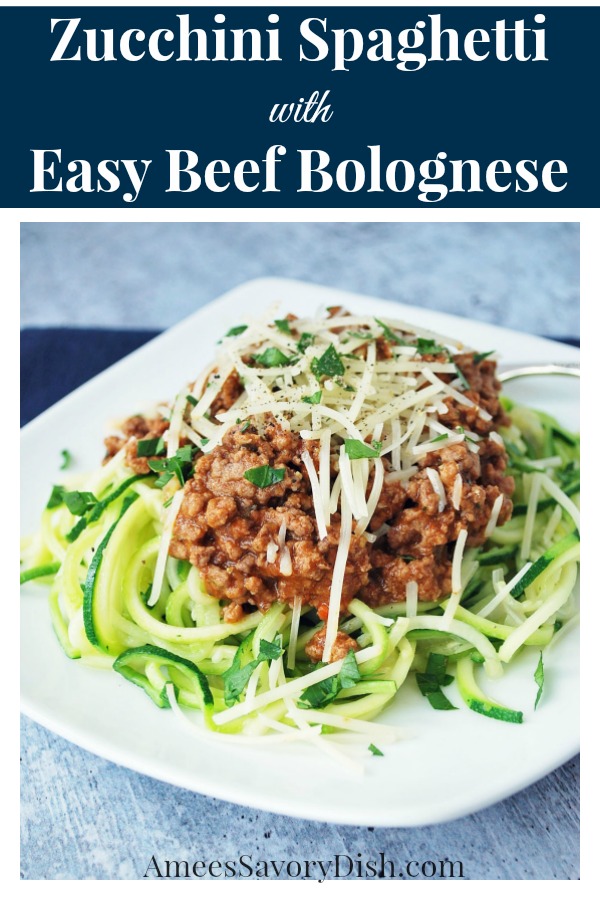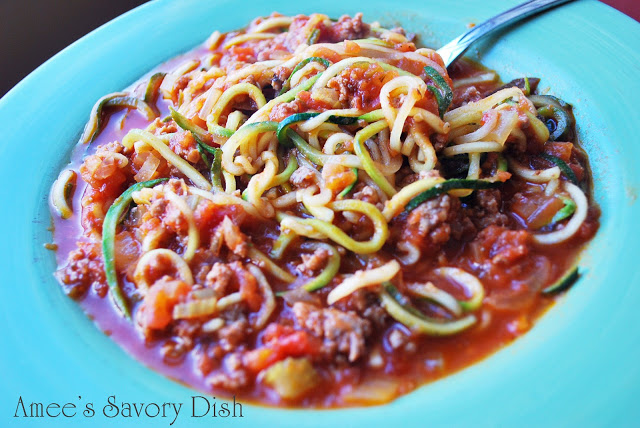 *This post contains affiliate links. If you click through and make a purchase, I may receive a commission (at no additional cost to you). As always, I appreciate your support to keep this website thriving!
How To Make Zucchini Noodles
This delicious low-carb spaghetti recipe is gluten-free and easy to make. If you don't have a spiralizer, I highly recommend it for the easiest method of making noodles out of vegetables. I'm pretty obsessed with mine. This gadget also slices apples and potatoes very thin. It has a lot of different functions and is very simple to use.
I was immediately sold, especially when I saw the price tag (I'll include a link to the one I have below and a few more top-rated slicers, so you can add that one your kitchen tools ASAP). It's very reasonable for all of the great features and it's simple to clean and operate. I absolutely love it!! Here are my zucchini "noodles" freshly sliced for spaghetti.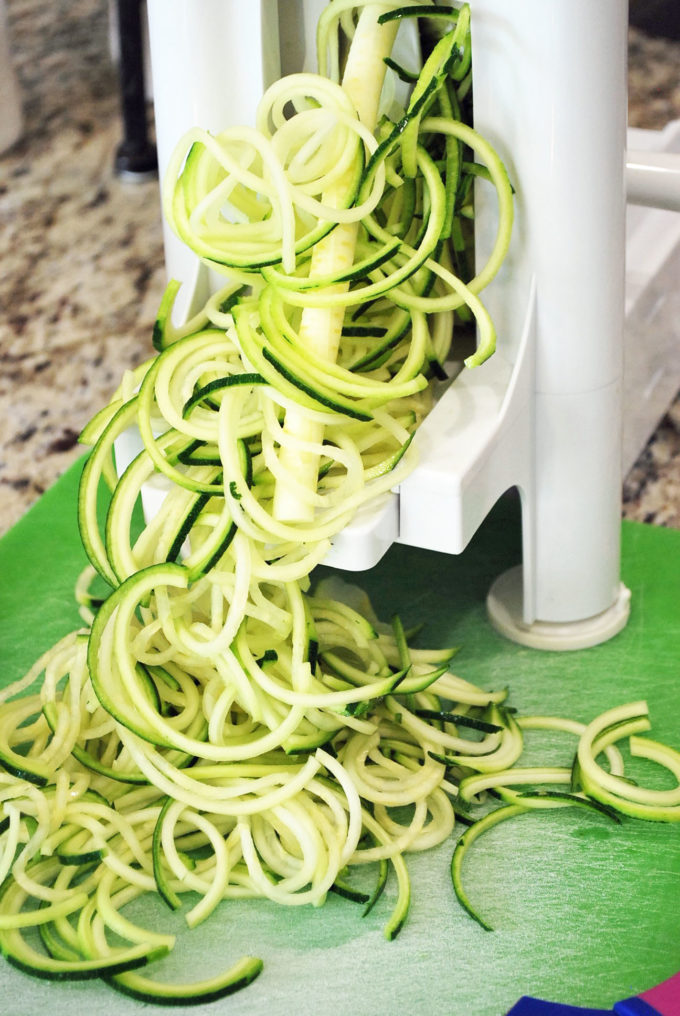 Before you put the zucchini into the slicer, cut off each end so it will rest flat against the slicing blade and the end piece that holds it steady. Cut a slit about 1/4 of the way through the zucchini so you don't end up with super long noodles.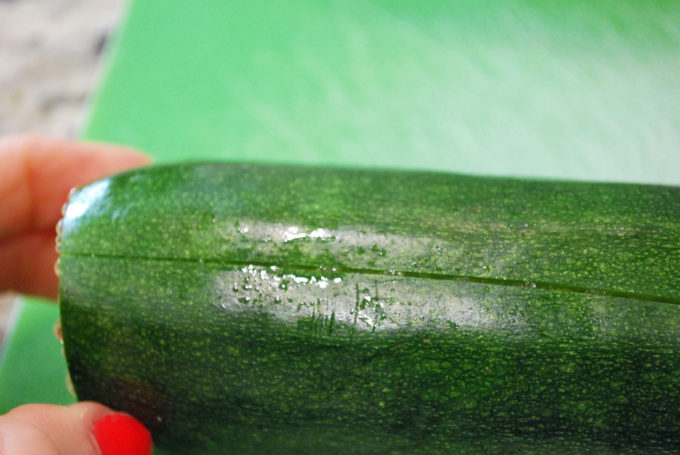 After spiralizing, there is very little waste of the vegetable, you end up with a mushroom-shaped portion leftover that you can eat raw or slice up for another dish. You can also chop it up and saute it into your sauce.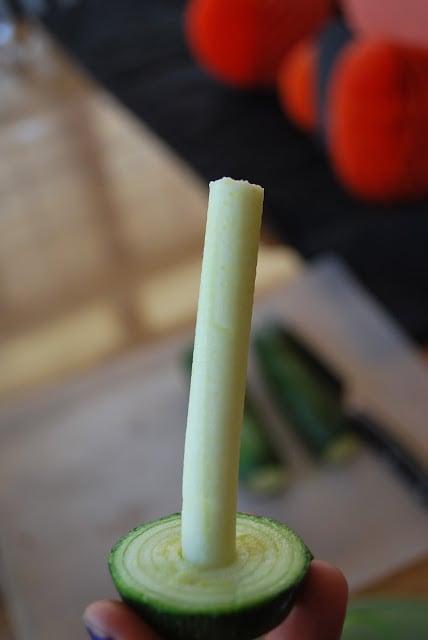 If you don't want to buy a countertop spiralizer but still want evenly spiralized noodles you can also use a handheld version. You can also use a
julienne peeler
for really thin noodles (this will alter the cooking time) and a mandoline slicer for long, thin strips that are perfect for a
healthier zucchini lasagna recipe
. There are so many great things that you can make with vegetable "pasta"!
How To Make Zucchini Noodles That Aren't Soggy
I've changed my method over the years for cooking zucchini noodles. In the past, I would quickly boil them and drain thoroughly before seasoning and serving. They tasted good but ended up a little soggy. You can also eat them raw. This
zucchini salad
is made with raw zoodles and so delicious!
For a pasta substitute, I do like zucchini noodles cooked. Vegetables have a high water content, so one way to draw some of that water out is to salt the noodles before cooking. After spiralizing, put the zoodles in a large colander and place the colander on top of a bowl.
Salt the noodles with kosher salt (not too much or they won't be edible) and allow them to sit and drain for about 15-20 minutes. This is a great time to cook your sauce. Pat noodles dry with a paper towel and then they're ready to cook.
My favorite new method for cooking zucchini noodles is a simple stovetop method. You sauté them raw with shallots and olive oil. Heat the extra virgin olive oil over medium heat and add shallots to the pan.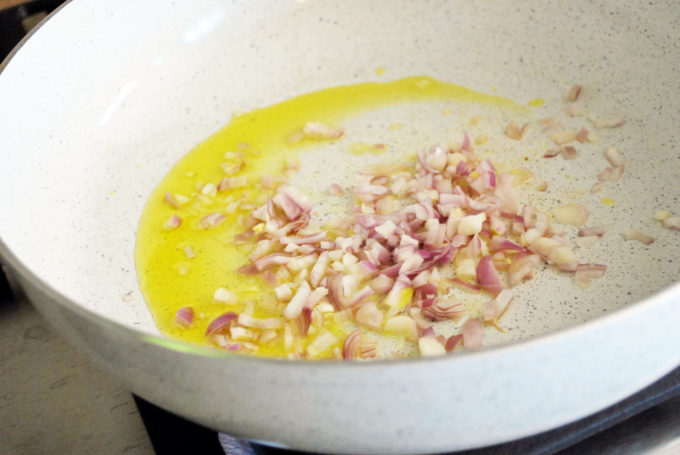 Stir for about 20 seconds then add the raw zucchini noodles. Sauté for 2-3 minutes until zucchini is cooked to desired tenderness. We like ours with a little texture.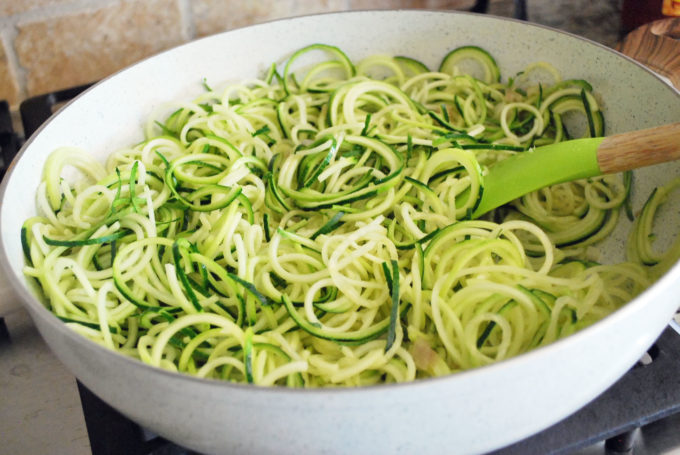 How To Make Easy Bolognese Sauce For Zucchini Spaghetti
You want to get your sauce started first, or even make it the night before (if you're short on time) before cooking the zucchini noodles. This is a great sauce to whip up for weekly meal prep. Heat 1 1/2 tbsp of butter and 1 1/2 tbsp olive oil in a med-large skillet over medium heat. Add the onion and garlic and cook until soft. Then add the carrot and celery and cook for another 5 minutes.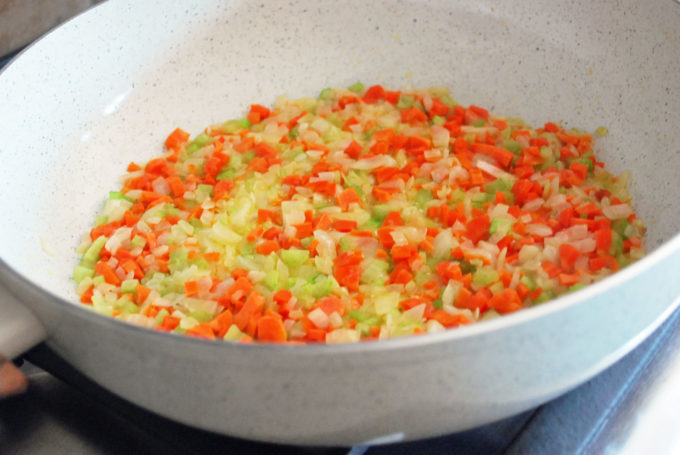 Add the lean ground beef and season with 1 tsp salt and 1/2 tsp pepper. Cook until meat is no longer pink, about 10 minutes. Add canned tomatoes (I highly recommend Tuttorosso brand for quality and taste), beef bouillon base, red pepper flakes, fresh parsley, and basil. The beef base that I use is a brand called Better Than Bouillon and it's the only roasted beef base I use. Trust me on this one. It adds amazing flavor! It has a paste-like texture.
Fresh herbs also make such a difference in the flavor of the sauce. Go with fresh whenever possible! I grow herbs just to have them readily available for cooking.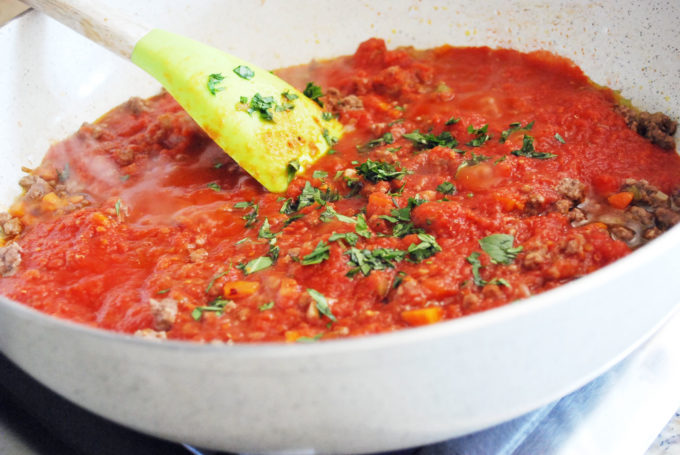 Simmer on medium-low heat, uncovered, for 30 minutes while you prepare your noodles. The sauce will thicken as it cooks.
What Else Can I Serve With Zucchini Spaghetti Noodles?
I do have a tasty, from scratch
Marinara recipe
that you could prepare for this dish if you are looking for a meatless spaghetti sauce. If you want a more traditional saucy spaghetti sauce with meat that cooks low and slow, this
Best Homemade Spaghetti Sauce
recipe is another favorite.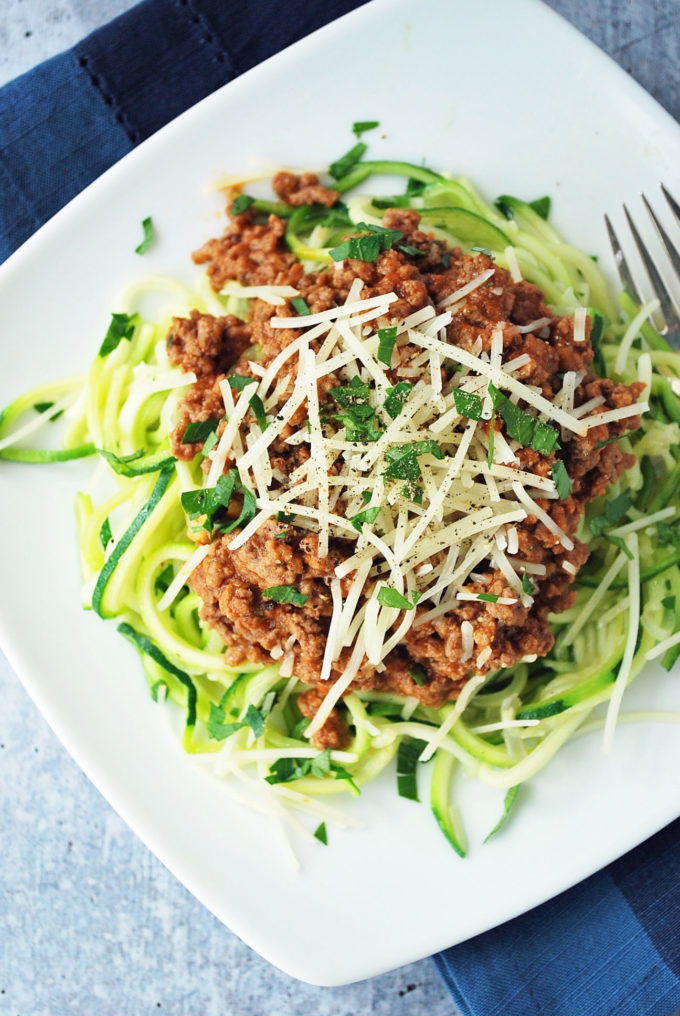 This meal is a staple in our meal prep rotation! It's easy and delicious!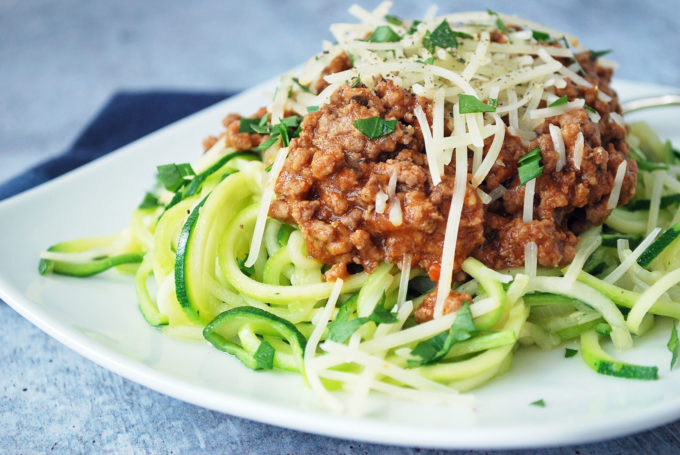 If you don't have a spiralizer, it makes creating veggie noodles a breeze! *Paid affiliate link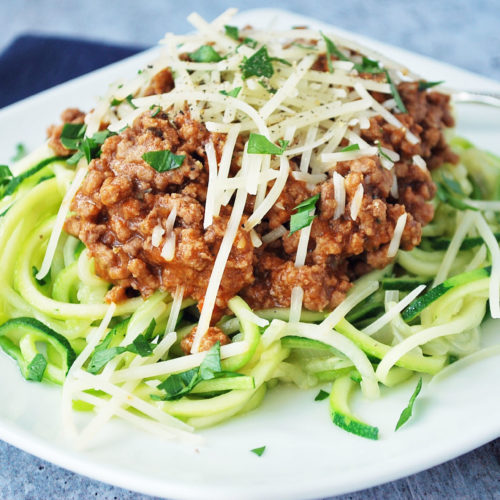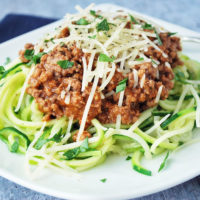 Zucchini Spaghetti with Easy Beef Bolognese
Sautéed zucchini noodles are the base for a simple and hearty lean beef bolognese sauce
Print
Pin
Rate
Ingredients
1 1/2

tbsp

extra virgin olive oil

1 1/2

tbsp

butter

1

medium sweet onion

diced

2

cloves

garlic

peeled and chopped (I used 2 large cloves or 4 small cloves)

2

carrots

peeled and chopped finely

1

celery stalk

chopped finely

1

lb

lean ground beef

90% or less

1

tsp

coarse salt

1/2

tsp

fresh cracked pepper

1

28 oz

can crushed tomatoes

Tuttorosso brand recommended

1

tbsp

fresh basil leaves

chopped finely (I use a heaping tbsp)

1

tbsp

fresh parsley

chopped finely (again a heaping tbsp)

1

tsp

red pepper flakes

*optional (adds a nice slight heat)

1/4

cup

Pecorino Romano cheese

freshly grated (can also use Parmesan)

2

tbsp

extra virgin olive oil

6

medium zucchini

2

large shallots

chopped

salt and pepper

to taste

1

tsp

Organic Better Than Bouillon Beef Base

adds great flavor to this dish
Instructions
In a medium-size skillet, heat 1 1/2 tbsp olive oil and butter over medium heat

Add onion and garlic and cook until onion is soft

Add carrot and celery and sauté for another 5 minutes

Add ground beef and season with salt and pepper

Cook until meat is no longer pink, about 10 minutes

Add canned tomatoes, concentrated beef base, red pepper flakes (if using), parsley and basil

Simmer on medium-low, uncovered, for 30 minutes

While sauce is simmering, prepare your noodles

Place sliced noodles in a colander over a large bowl

Salt the zucchini (not too much, you want it to be edible) and let it sit for 15-20 minutes

Pat zucchini dry and set aside

Heat remaining 2 tbsp olive oil in a large sauté pan over medium heat

Add shallots and stir for about 20 seconds

Stir in zucchini and cook 2-3 minutes, until desired texture is achieved

Ladle sauce over sautéed zucchini and garnish with extra parsley and Pecorino Romano cheese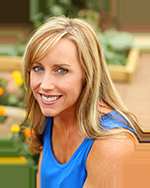 Hi, I'm Amee and I'm completely obsessed with recipe makeovers! I am a southern girl raised in South Carolina and currently living in the Charlotte, NC area with my husband and two children. I am a personal trainer, cancer exercise specialist, foodie, recipe developer, freelance content creator and breast cancer survivor.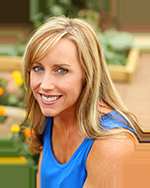 Latest posts by Amee Livingston (see all)