Meat crust quiche is a gluten-free and paleo quiche recipe. The crust is made using pork breakfast sausage and the meat crust is filled with a sweet potato and spinach mixture.
I have made this meat crust quiche twice in the last two weeks.  It's so good!!  I doubled the recipe so I could make two quiches, one for dinner and another for breakfast.  It reheats beautifully and makes my life easier in the morning when we are in a rush.  A tip that I would recommend is to drain the grease from the pie plate after you have cooked the sausage "crust".  I did this before I set it out to cool prior to adding the egg filling.  I made the recipe exactly as listed the first go around and then tried a mushroom, onion and spinach version when I made it this week.  There are so many filling options that you can do with this recipe.  Thank you PaleoOMG!  
This meat crust quiche recipe rocks!!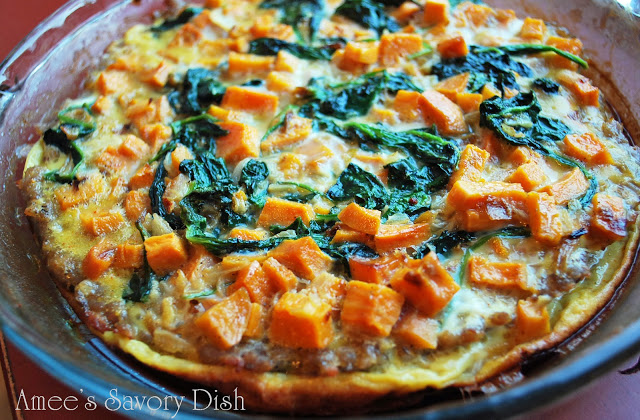 Meat Crust Quiche

Click here for the recipe over at PaleoOMG (she's awesome, you'll love her stories as much as her recipes)
This paleo quiche is so good! It's packed with protein, healthy carbs and veggies in one delicious slice. If you're looking for a vegetarian quiche recipe, bake the filling from this quiche recipe into my coconut almond grain-free pie crust.