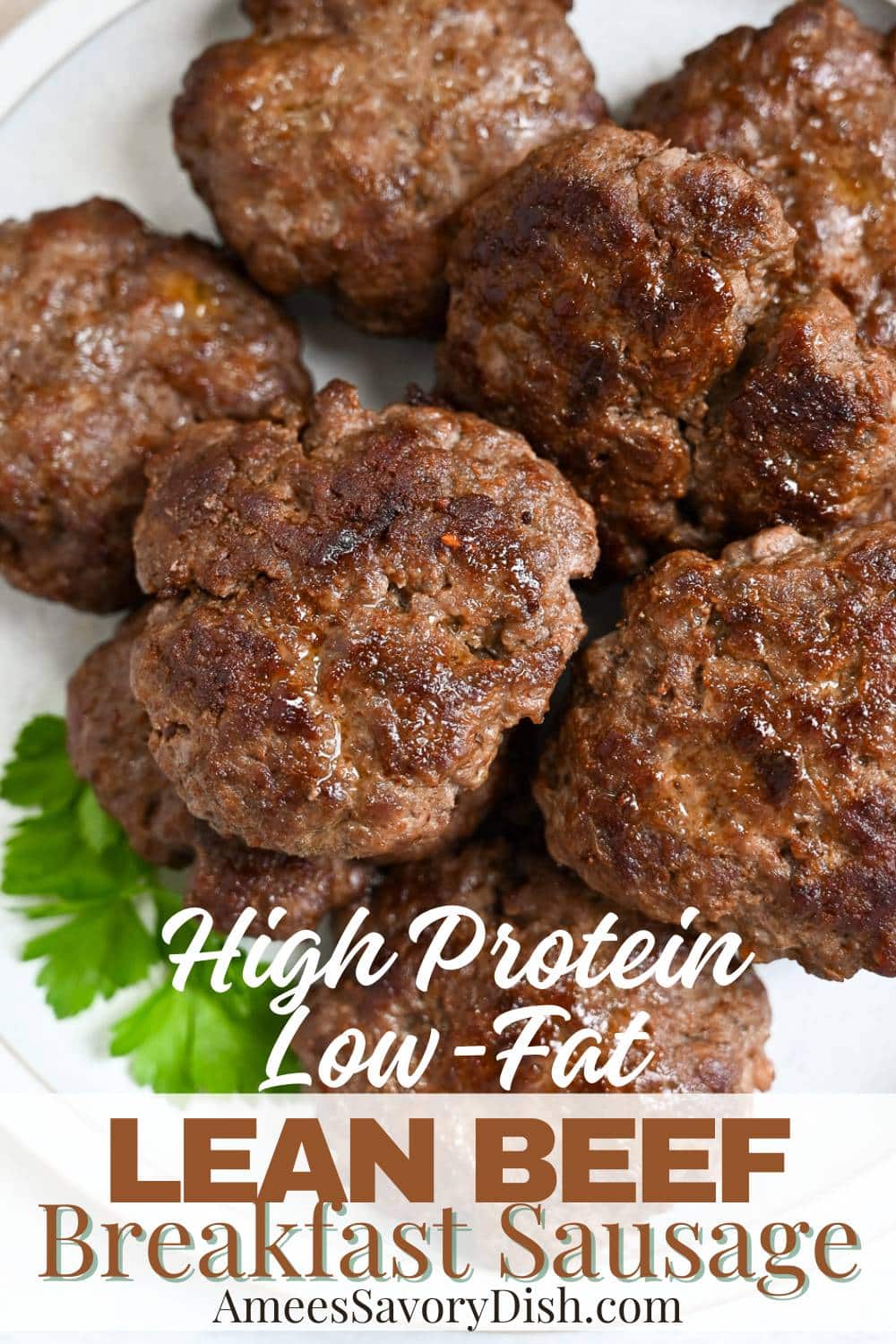 Lean Beef Sausage – made your way! This flexible recipe turns lean ground beef into succulent breakfast sausage with homemade seasoning or a convenient supermarket shortcut. Either way, the results sizzle with flavor! Skillet and air fryer cooking instructions included.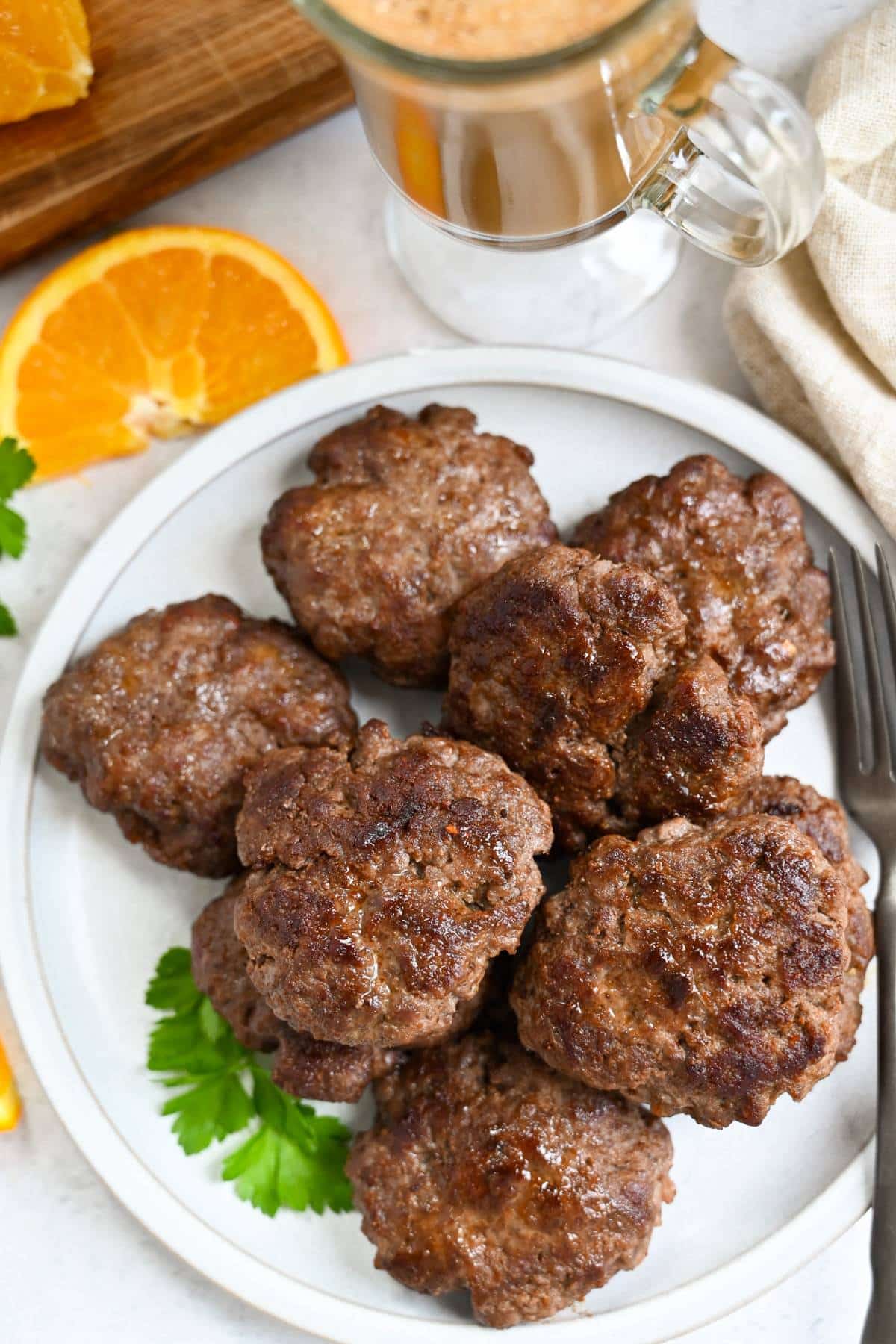 When the aroma of smoky, savory goodness fills our home, my family knows breakfast sausage is on the stove, and this ground beef sausage is everyone's favorite. Between the rich, beefy flavors and the perfect blend of seasonings, it's just plain delicious!
As for the seasonings, you can make our breakfast sausage seasoning from scratch or use a store-bought spice blend without sacrificing an ounce of satisfaction.
Moreover, this recipe offers a healthier alternative to commercial sausage with a whopping 15 grams of protein, a mere 114 calories, and just 5 grams of fat per patty. Plus, you can make a batch for now and freeze another batch for later!
Why you'll love this recipe
Health-conscious. Considering the juiciness, it's hard to believe these extra lean beef sausages have only 5 grams of fat per patty. Not to mention 15 grams of protein!
Versatility. You can make sausage patties for big weekend breakfasts, McMuffin-inspired breakfast sandwiches, etc. Or, make crumbled sausage for casseroles, omelets, and more!
Air fryer or skillet. Whether fried in a skillet or air fryer, the results are rich, juicy sausages with a delicate, crispy exterior.
Ingredients you'll need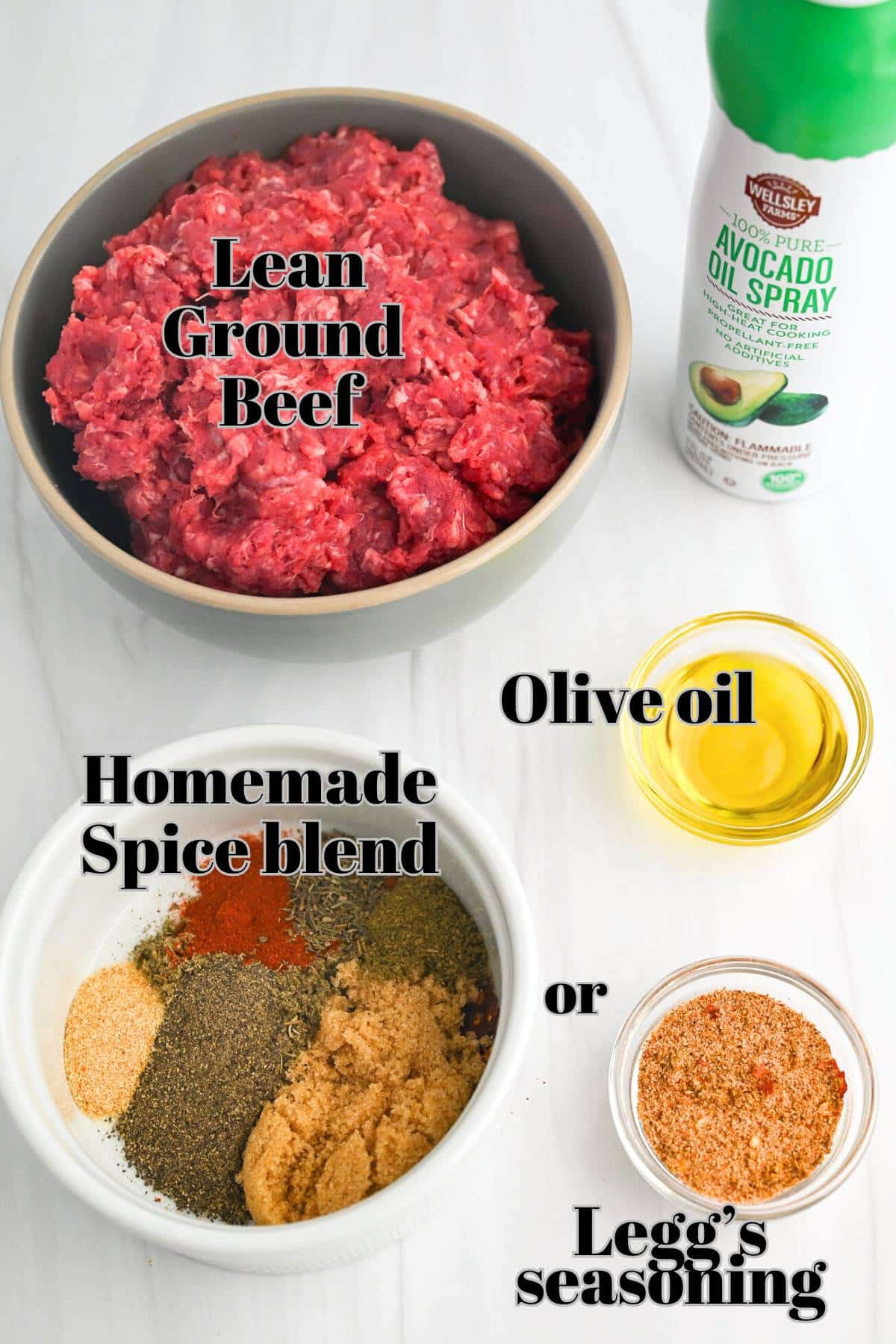 Lean ground beef. I've tested this recipe with 92% and 93% lean ground beef, both with excellent results. Combined with the olive oil, it's just enough fat to keep the sausage juicy without becoming too greasy.
Extra virgin olive oil. Incorporating oil into the meat mixture helps prevent the sausage from drying out and falling apart during cooking. You can also use avocado oil here.
Dried herbs and spices. For my homemade breakfast beef sausage seasoning, I use kosher salt, red pepper flakes, dried sage, black pepper, smoked paprika, dried thyme, poultry seasoning, and brown sugar to balance the rich smoky-savory flavor.
Cooking oil spray. Whether you're using a skillet or the air fryer to cook your sausage, you'll need cooking spray. It prevents sticking and helps achieve a lightly browned, crisp surface.
Store-bought shortcut
If you don't have everything to make breakfast sausage seasoning from scratch, consider buying a premade blend. That way, you don't have to spend a fortune on individual spices.
A.C. Legg Blend #10 Sausage Seasoning is my all-time favorite. It makes practically any ground lean ground meat, including wild game, taste like true Southern breakfast sausage. Plus, it has zero calories and zero grams of sugar per serving, making this recipe even more macro-friendly.
How to make beef sausage patties
Step 1: Make sausage seasoning. Place the ground beef and olive oil in a large bowl. In a separate small bowl, mix the spices.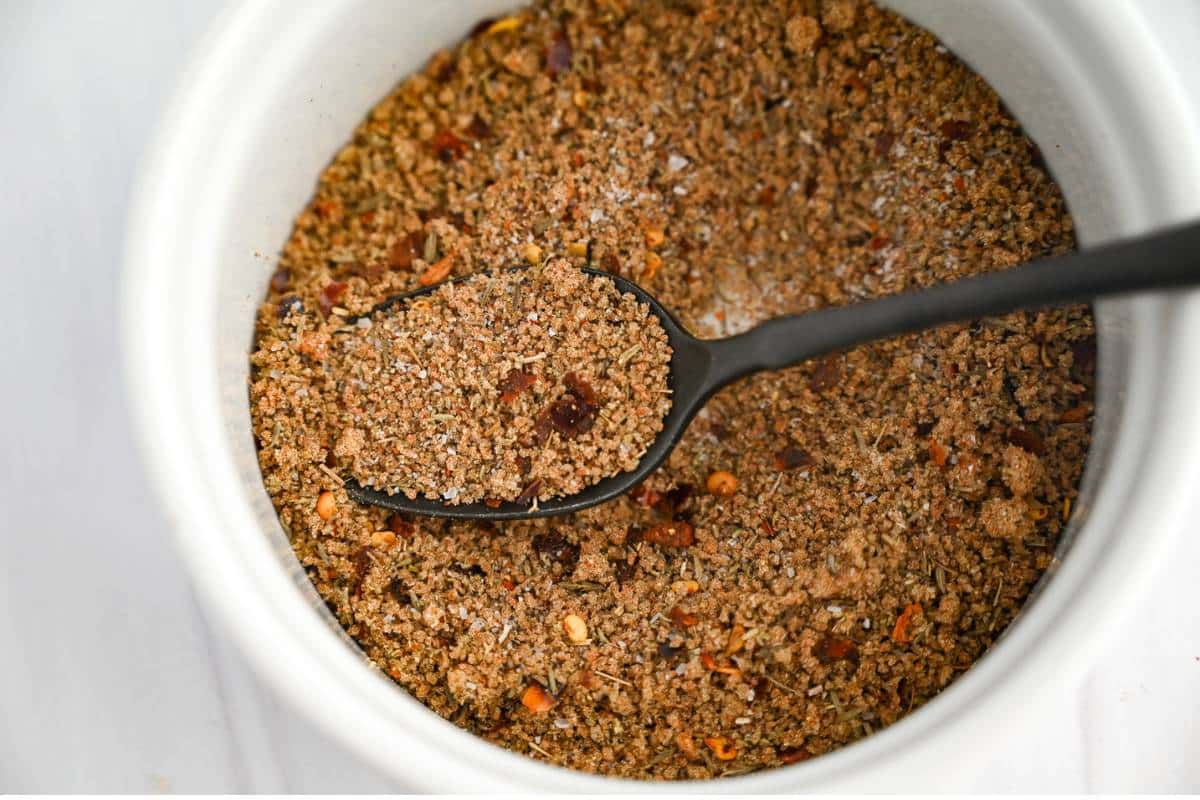 Step 2: Season ground beef. Add the spice mixture to the meat and mix well. You can use a stand mixer or your hands for this (I prefer gloving up and using my hands).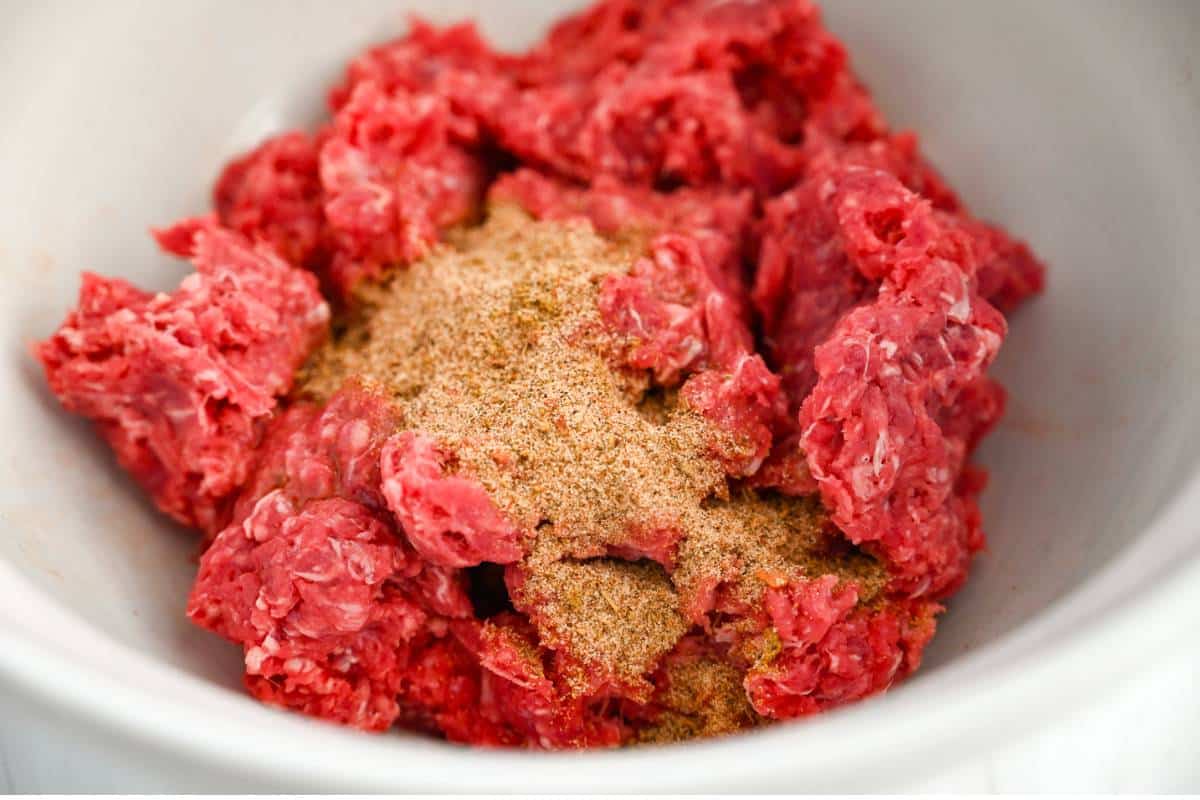 Step 3: Form sausage patties. Form the meat mixture into meatballs. Then, press the balls into patties, pressing a dimple into the center of each.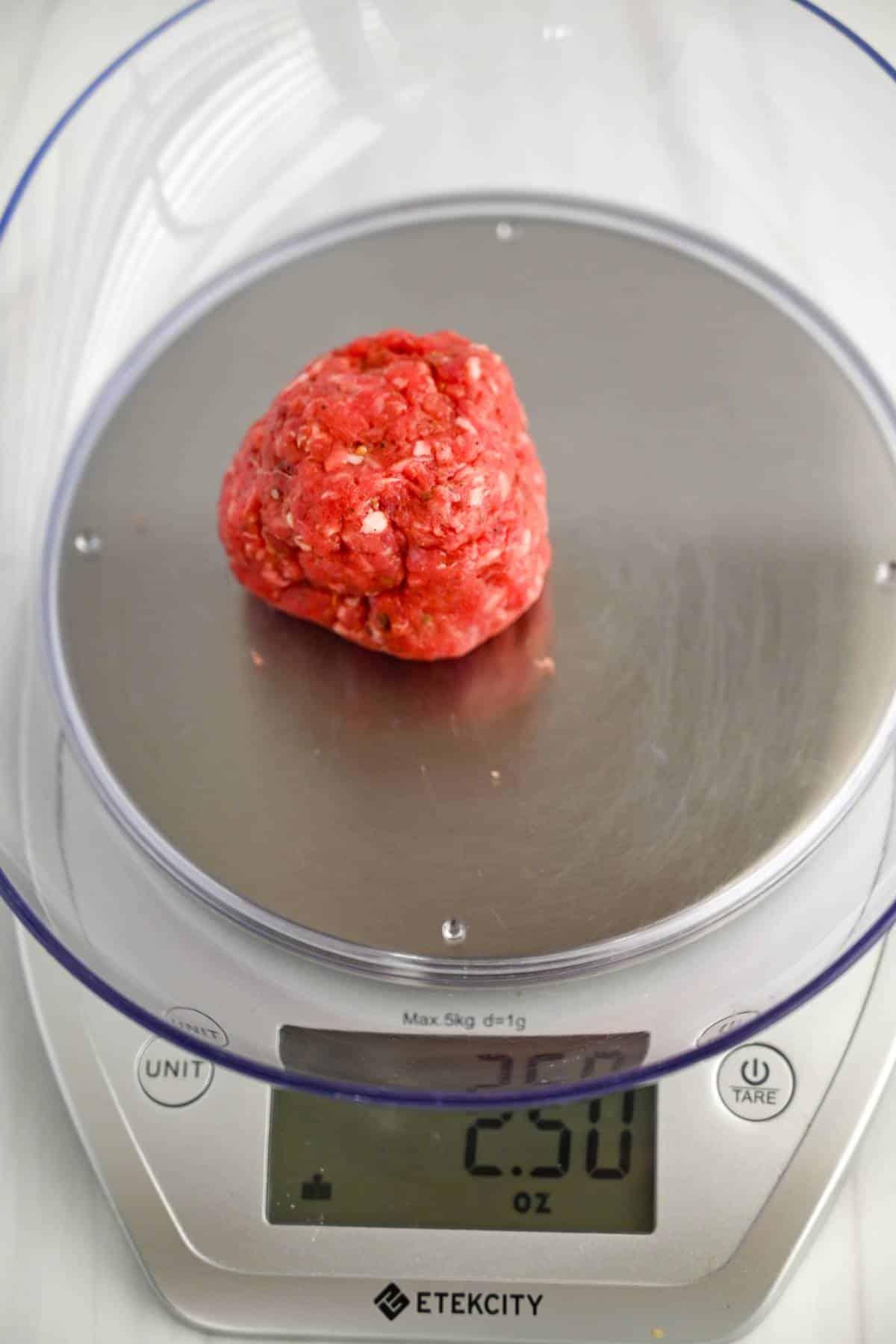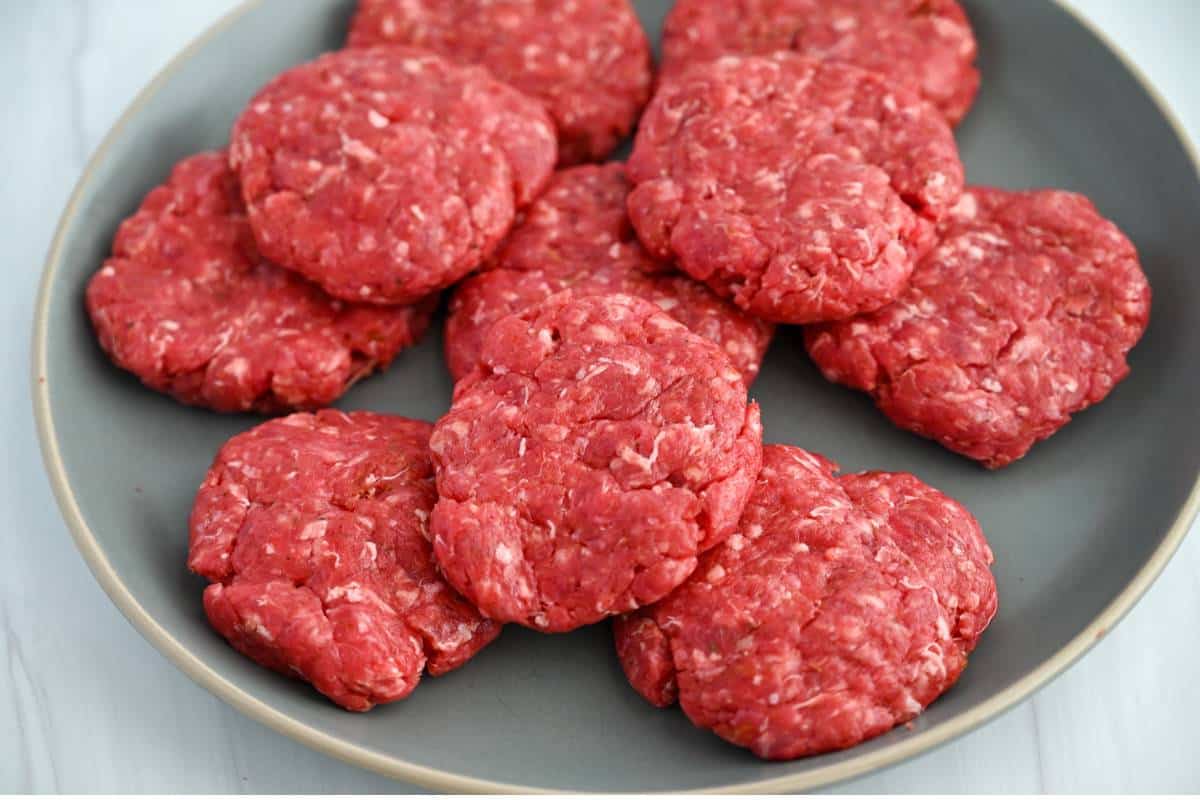 Step 4: Pan-fry sausage patties. Heat a large, non-stick skillet over medium heat. Spray with oil, and cook for 4-5 minutes per side or until the beef reaches a safe internal temperature of 160℉ (cook in batches if necessary).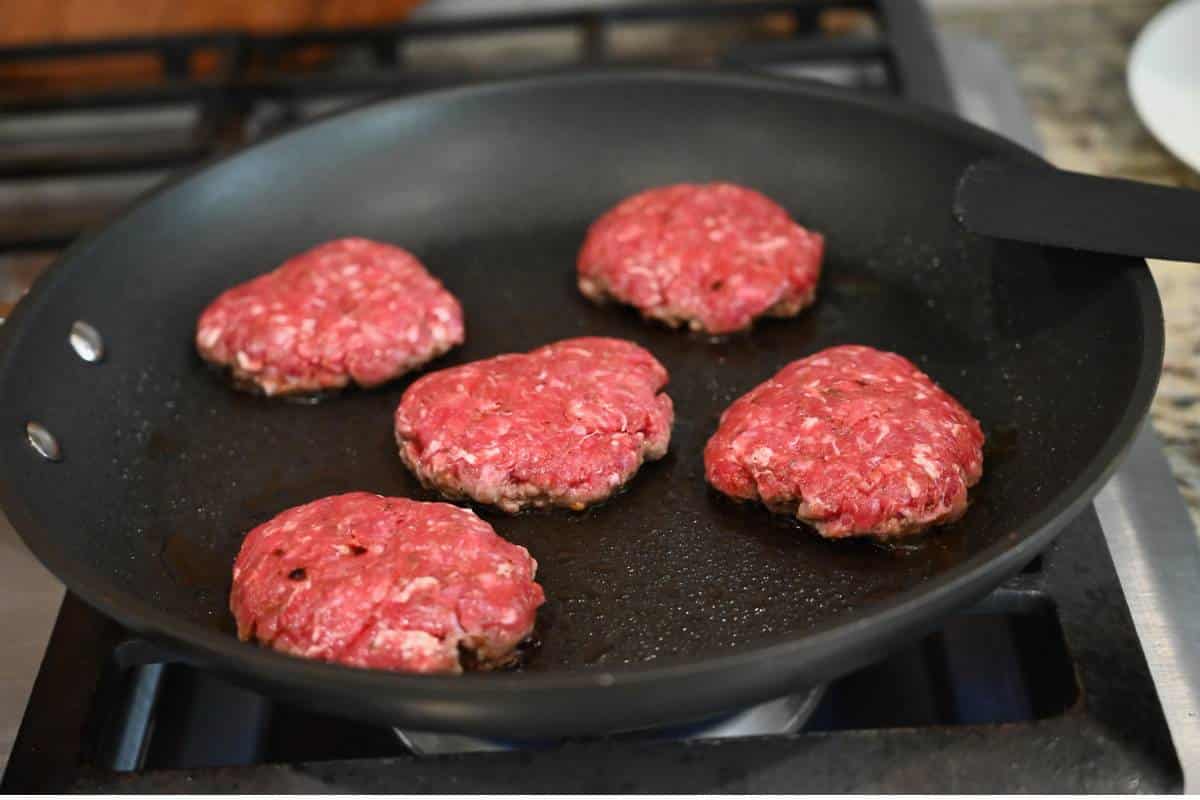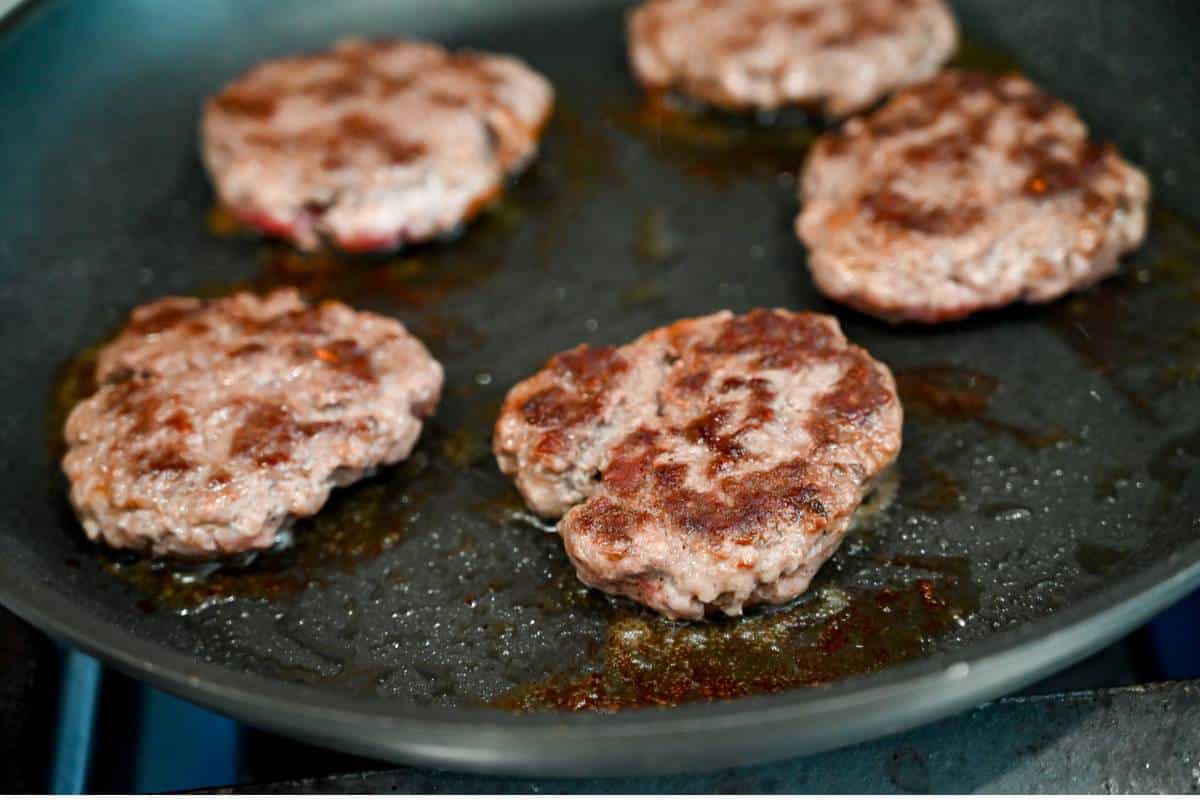 Air fryer instructions
To make air fryer beef sausage, spray the basket with oil, and add the patties in a single layer.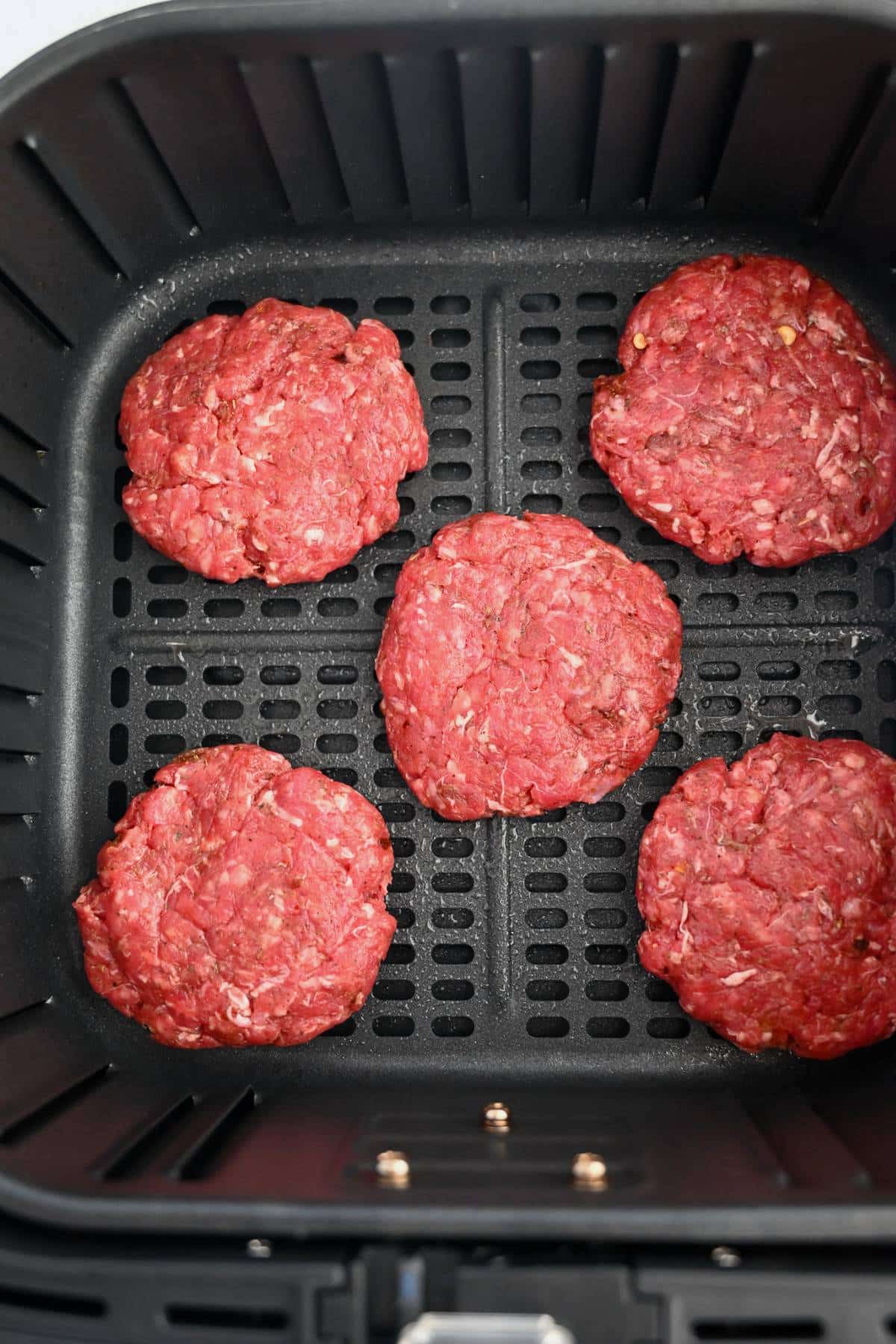 Cook at 350℉ for 10 minutes or until the internal temperature reaches 160℉, flipping halfway. Depending on the size of your air fryer, you may need to work in batches.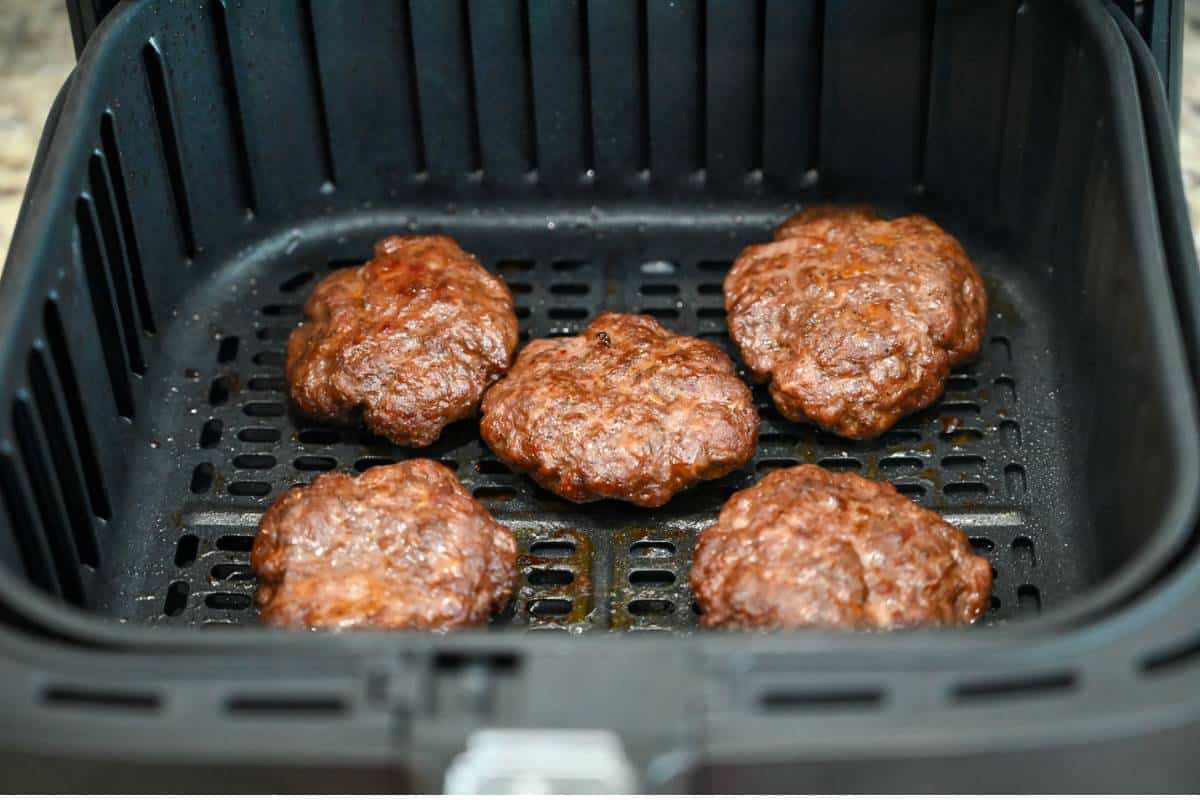 Recipe Tips
Don't overmix the meat. When combining the seasonings and meat, be sure to mix gently and avoid overworking the mixture to prevent a tough texture.
Chill the meat for 30 minutes before forming the patties. I find cold meat much easier to work with, as it prevents the fat from melting during mixing. This also gives the flavors more time to meld.
This recipe yields about ten 2.5-ounce sausage patties. I like using a food scale for precision, but you can also use a ⅓-cup measuring cup to portion out the meat mixture.
To prevent sausage patties from puffing during cooking, press each one ¾ inch thick, then use your thumb to make a dimple in the center.
Be very cautious of over-browning. Keep the skillet heat around medium to avoid over-browning. If you notice the outside cooking quicker than the inside, flip the patties more frequently so the surface doesn't burn.
Variations
Sausage crumbles – Heat a skillet over medium heat and spray with oil. Then cook the seasoned ground beef mixture, breaking it up with a spoon as it browns, until it's no longer pink and reaches an internal temperature of 160°F. Once cooked, you can add the crumbles to breakfast burritos, omelets, casseroles, quiches, pizza, and more.
Flavor-enhancing add-ins – Don't be afraid to adjust the flavor profile to your liking. Experiment with additions like cayenne, finely minced jalapenos, fresh herbs, minced fresh garlic, and fennel seeds. Or mix in maple syrup, finely diced apples, or even fresh blueberries for extra sweetness.
Storing & Freezing
Storing leftovers: Store cooked and cooled sausage in an airtight container in the refrigerator for 3-4 days or in the freezer for 2-3 months.
Freezing uncooked sausage: Flash-freeze the patties on a parchment paper-lined baking sheet, then transfer them to a freezer bag and keep frozen for 2-3 months. When ready to use, cook the frozen patties without thawing, adding a few extra minutes to the cooking time.
FAQ
Can I use this recipe to make sausage links?
Absolutely. You can stuff the seasoned beef mixture into natural or synthetic casings using a sausage stuffer or by hand, then twist or tie the filled casings into individual links.
Why is my lean beef sausage dry?
If your sausage tastes dry instead of moist and juicy, you may have overmixed the meat and seasonings, pressed out the juices with a spatula, or cooked the patties over too high of heat.
Can I use a different meat?
Yes, the savory sausage seasonings also pair well with ground pork, ground turkey, ground chicken, or bison. Just know that substituting the meat will impact the flavor and texture, so be sure to adjust seasonings and cooking for what you use.
More beef recipes
If you love this lean beef sausage recipe, I would be so grateful if you could leave a 5-star 🌟 rating in the recipe card below. I love reading your comments and feedback!
Stay posted on my latest cooking adventures through social media @ Instagram, Pinterest, and Facebook. Also, don't forget to tag me when you try one of my recipes!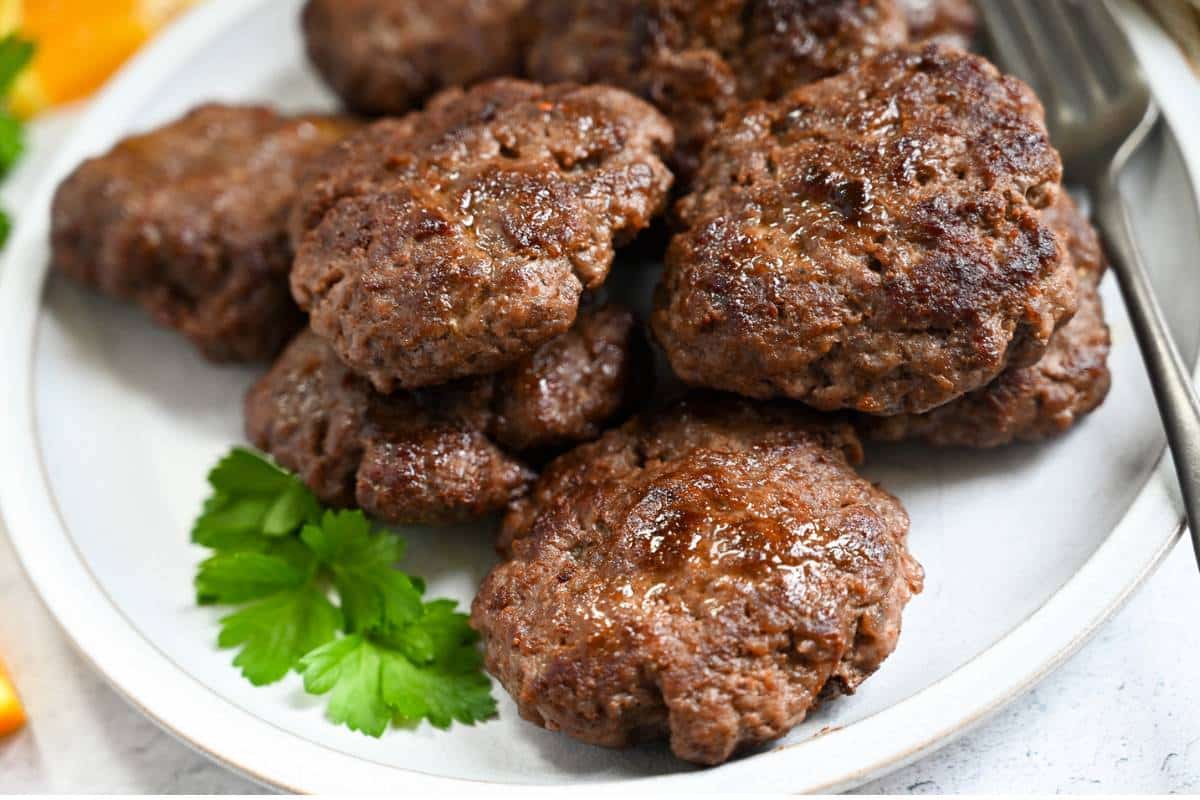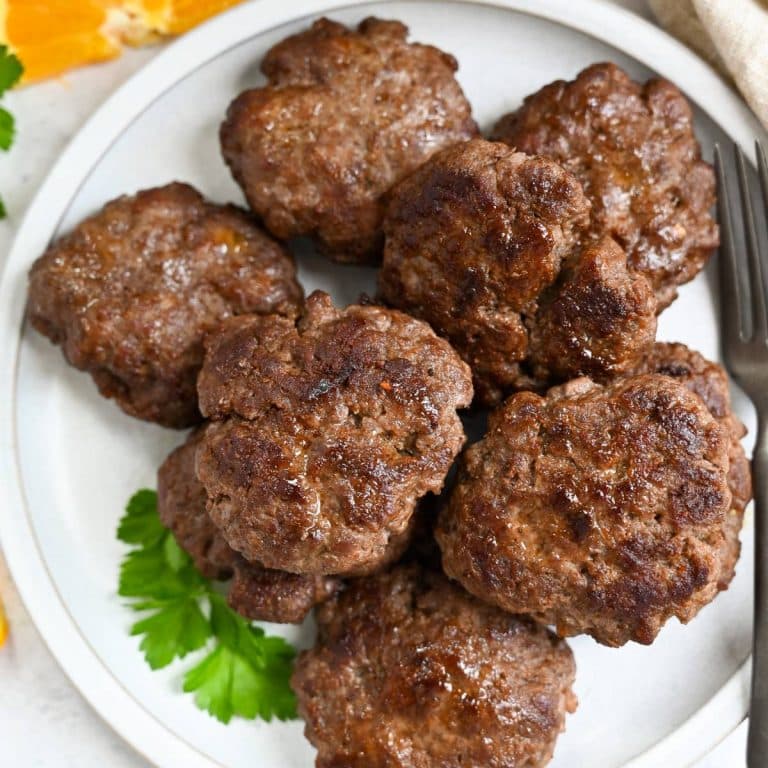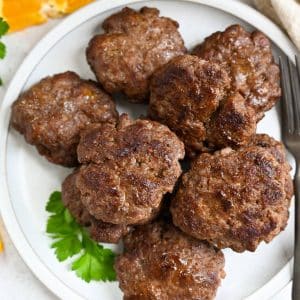 Lean Beef Sausage
An easy, flavorful, and healthier sausage recipe made with lean ground beef, olive oil, and breakfast sausage seasoning.
Print
Pin
Rate
Ingredients
1½

lbs

93% lean ground beef

*I've used 92% and 93% lean beef with great results

1

tablespoon

extra virgin olive oil

For homemade breakfast sausage seasoning:

1½

teaspoon

kosher salt

½

teaspoon

red pepper flakes

1

teaspoon

dried sage

1

teaspoon

black pepper

1½

tablespoon

brown sugar

½

teaspoon

smoked paprika

½

teaspoon

dried thyme

½

teaspoon

poultry seasoning

½

teaspoon

garlic powder

Cooking oil spray

I use avocado oil spray or olive oil spray
Instructions
Place the ground beef and olive oil in a large bowl and set aside while you mix your spices.

Mix the spices together in small bowl. You'll use the full batch for this recipe.

Add the spice mixture to the beef and olive oil and mix well until spices are incorporated throughout the meat. You can use a stand mixer for this, or your hands (I glove-up and mix well with my hands.)

I use a food scale and form the meat mixture into ten 2½ oz size balls.

Press the balls into patties.

Heat a non-stick skillet over medium heat and spray the pan with oil.

Cook for 4-5 minutes (watch for over-browning), flip, and cook 4-5 minutes more or until the beef reaches a safe internal temp of 160 degrees F. Work in two batches to avoid overcrowding the pan.
Notes
*To Air Fry:
Spray the air fryer basket with oil and cook at 350 degrees F. for 5 minutes, flip and cook the patties 5 minutes more, or until the meat reaches a safe internal temp of 160 degrees F. Work in two batches to ensure proper browning.
*For crumbled sausage: Place the meat mixture in a skillet sprayed with oil over medium heat. Cook until meat is no longer pink. Enjoy in omelettes, scrambles, or your favorite recipes that call for crumbled sausage.
*Short-cut seasoning option. A.C. Legg's #10 sausage seasoning is my go-to premade mix and it has zero calories and zero sugar per serving (which will improve the macros a bit). The homemade spice blend is also amazing and the best combo I've tried if you prefer homemade. I've included an Amazon link in the post to the Legg's seasoning product. It's great for all types of sausage, including extra lean wild game meats.
*Make sure to keep the skillet heat around medium to avoid over-browning. Flip more frequently, if needed.
Nutrition
Calories:
114
kcal
|
Carbohydrates:
2
g
|
Protein:
15
g
|
Fat:
5
g
|
Saturated Fat:
2
g
|
Polyunsaturated Fat:
0.3
g
|
Monounsaturated Fat:
2
g
|
Trans Fat:
0.2
g
|
Cholesterol:
42
mg
|
Sodium:
396
mg
|
Potassium:
248
mg
|
Fiber:
0.2
g
|
Sugar:
2
g
|
Vitamin A:
85
IU
|
Vitamin C:
0.04
mg
|
Calcium:
12
mg
|
Iron:
2
mg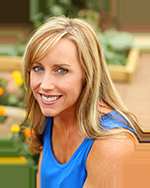 Latest posts by Amee Livingston
(see all)