I have really been testing my food chemistry skills this week.  I took two of my favorite recipes, fruit crisp and banana bread and came up with healthier alternatives that are wheat and dairy free.  The results have been great and I am so excited to share them with you!  
I hope you love this Peach Almond Crisp as much as we do.  This dessert is very simple to throw together.  I replaced the butter with organic unrefined coconut oil.  It gives baked goods a wonderful flavor, without having an overpowering coconut taste.  It's very subtle and makes recipes very moist.  I also replaced the regular flour with oat flour for a whole grain substitution.  
Peach Almond Crisp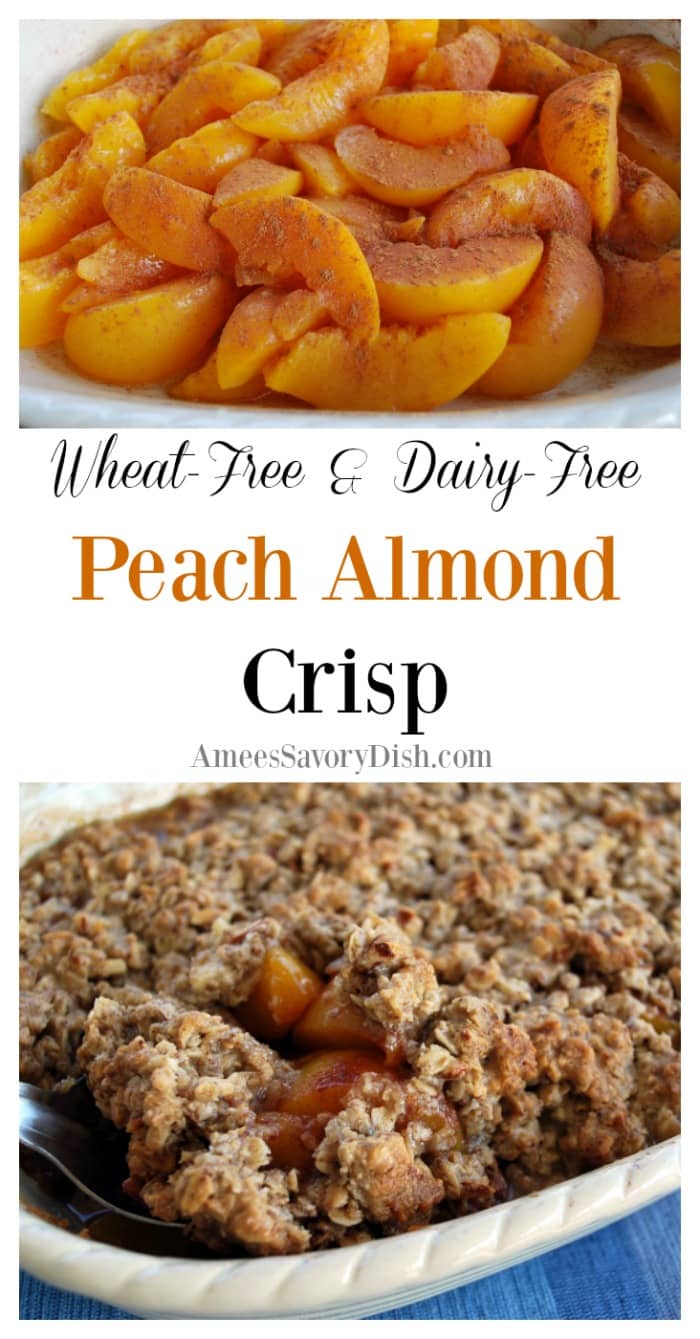 For the topping:
1/2 cup whole oats
1/2 cup quick oats
1/3 cup oat flour (or a multi-purpose GF flour blend, like King Arthur brand)
2 tbsp ground golden flaxseed
1/2 tsp sea salt
1/2 tsp vanilla
1/2 cup unsalted slivered almonds
1/2 cup unrefined organic coconut oil (can also use unsalted, grassfed butter, but then it's not vegan 😉
1/2 cup natural brown sugar


For the Fruit Mixture:
2 (24oz) jars of sliced peaches in juice, drained or very ripe fresh peaches 
1 tbsp lemon juice
cinnamon (I sprinkle generously on top of peaches without measuring)


Directions:
Preheat your oven to 350 degrees.  In the bowl of an electric mixer, add all topping ingredients and mix on medium speed until it forms a crumbly texture.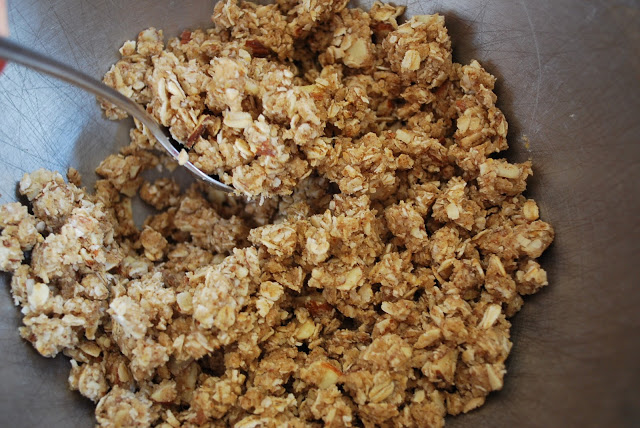 Set topping aside and prepare your peaches.  Place your drained peaches into a 7 x 11″ glass baking dish sprayed with cooking spray (if you are using fresh ripe peaches, add a little stevia or brown sugar for sweetness).  Sprinkle with lemon juice, stir and then generously sprinkle cinnamon on top.  Add your topping over the peaches in an even layer and bake at 350 degrees for 45 minutes.
This Peach Almond Crisp is amazing with a heaping scoop of ice cream!