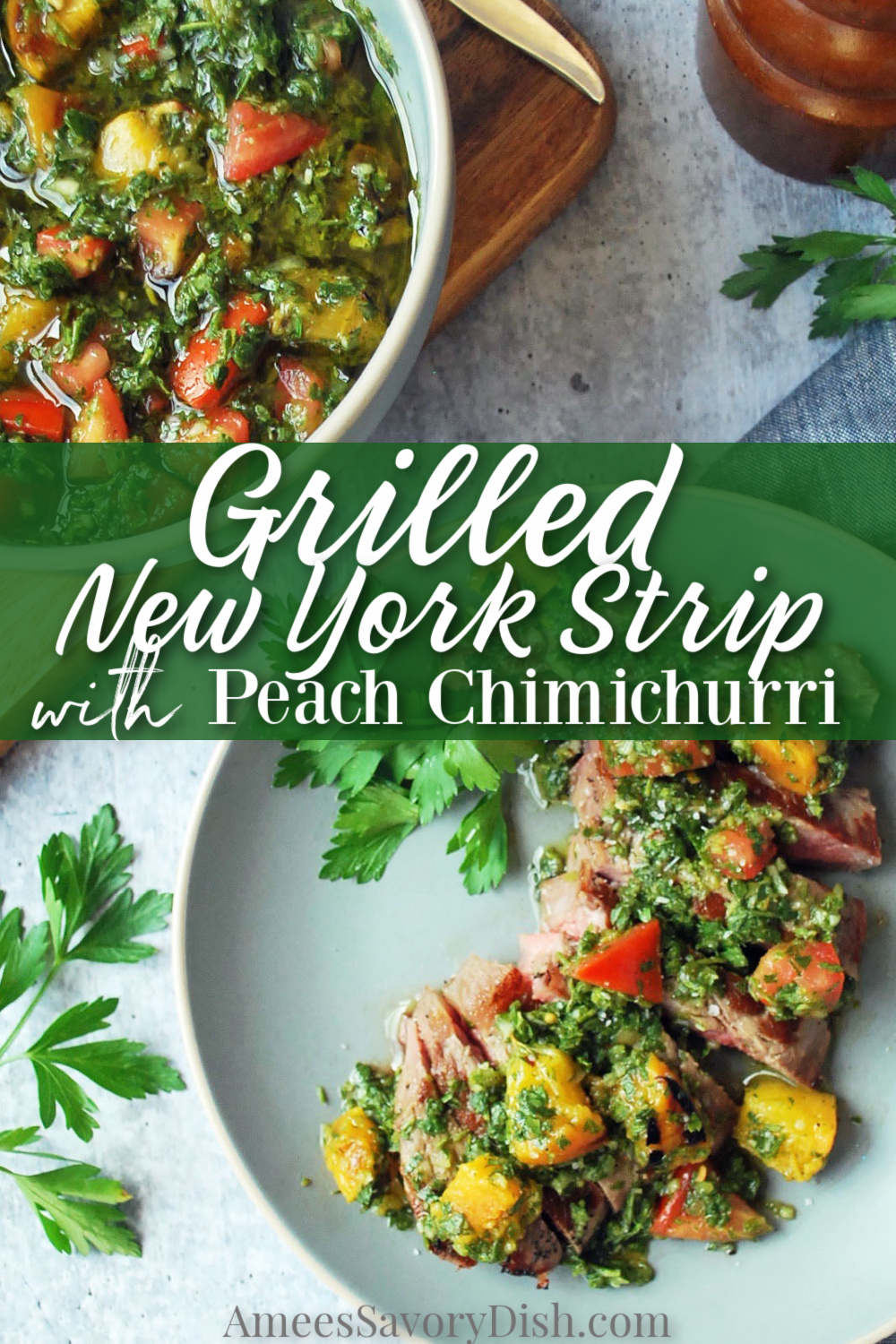 A recipe for grilled New York Strip steak topped with a flavorful chimichurri sauce made with fresh herbs, grilled peaches, and heirloom tomatoes. This might just be the best steak dinner that I've ever eaten! This dish combines some of my favorite local summer produce into a dish that's simple to make yet impressive enough for an elegant gourmet meal.
*This recipe post is a collaboration with Beef. It's What's for Dinner., on behalf of the Beef Checkoff, as part of my role as a compensated member of the Beef Expert Bureau. However, all opinions are my own and not influenced in any way.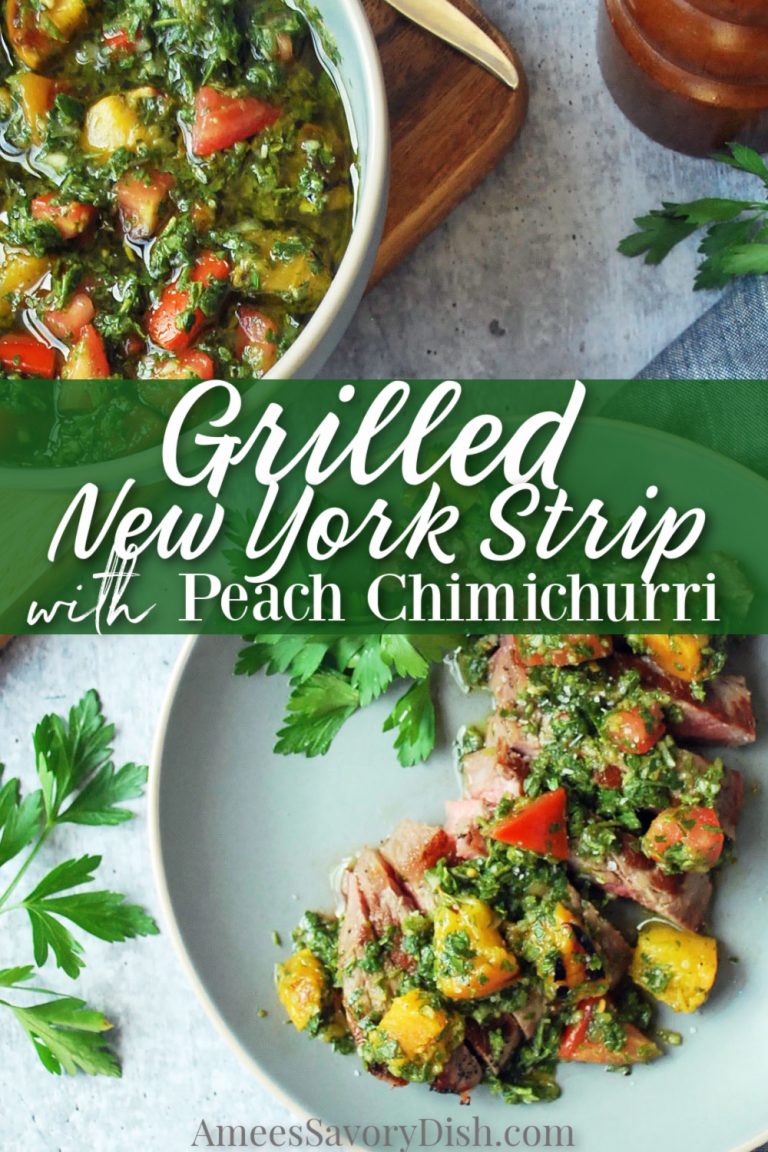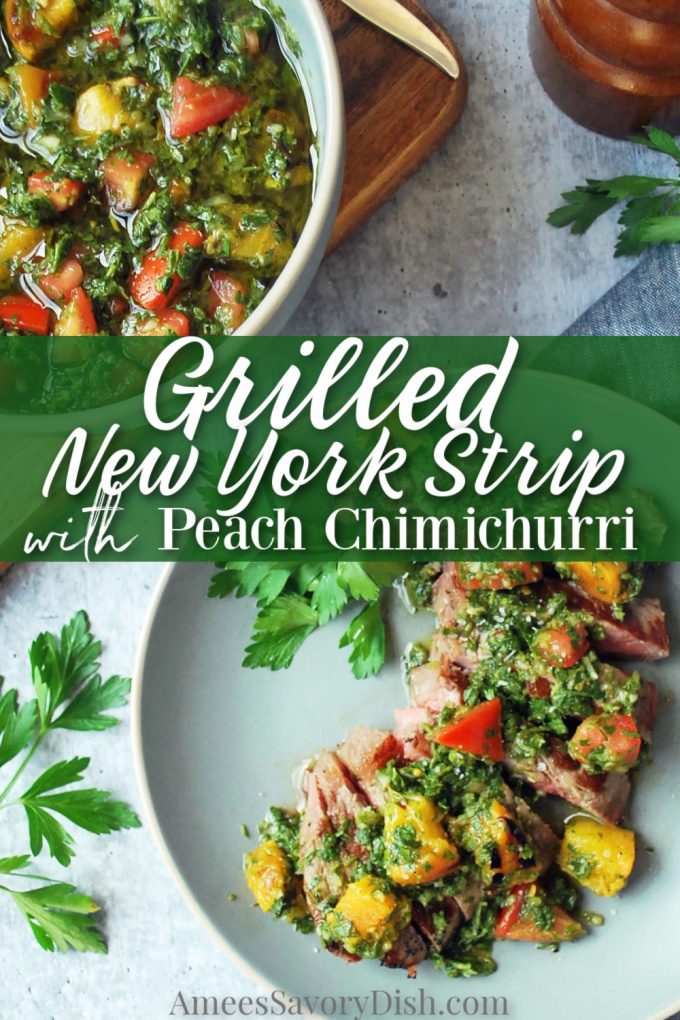 I'm not gonna lie, I'm feeling pretty fancy pants posting this recipe. Those of you that know me or follow my blog know that I'm not that extra, but this meal has risen to the top of my all-time favorites. It's no secret how much I love beef, there's honestly no protein quite like it when it comes to nutritional profile and taste. It's a high-quality protein source with endless culinary possibilities. You can sear it, grill it, roast it, sous-vide it- the list goes on and on! Not to mention, it's often really quick to prepare and that's always a bonus for this busy mom. It stands alone as a delicious dish, but when you want to sauce it up in the summertime, chimichurri sauce is definitely the way to go!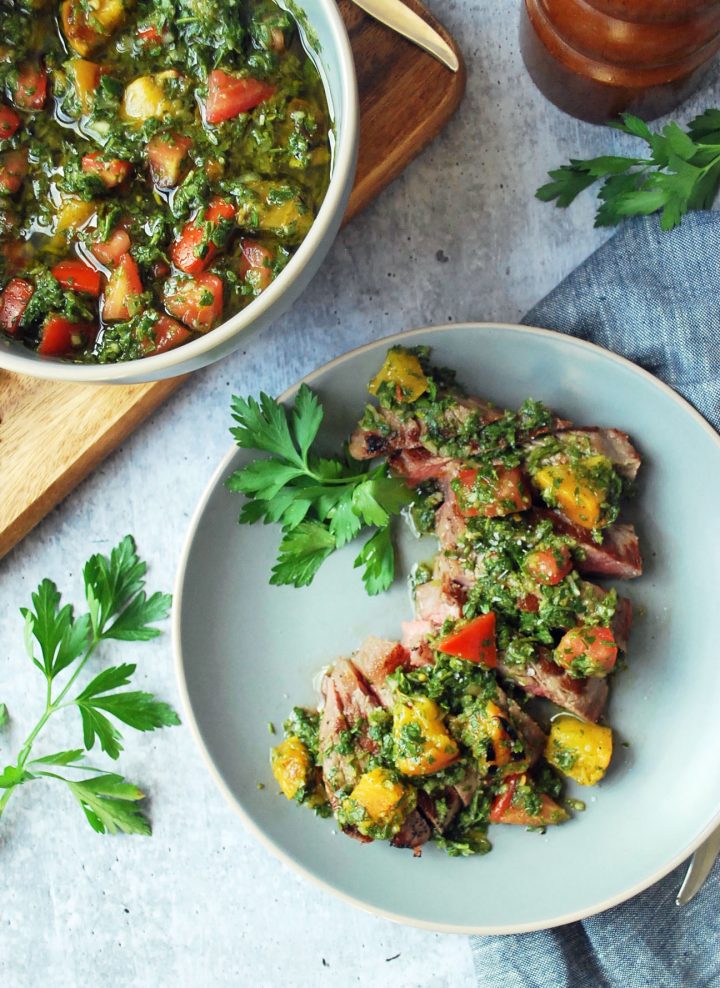 What Is Chimichurri Sauce?
Chimichurri is an uncooked sauce that originates from Argentina. Traditional base ingredients for chimichurri sauce are fresh parsley, olive oil, and red pepper flakes. Chimichurri Verde is a green sauce that typically includes finely chopped parsley, garlic, oregano, red wine vinegar, red pepper flakes, and olive oil. Chimichurri Rojo is a red sauce variation that adds red bell pepper and tomatoes for a lovely pop of color. The beautiful thing about this sauce is that you can take the base ingredients of olive oil and parsley and add your own twist. Working with seasonal ingredients can be a great way to enhance the flavor of this sauce and jazz up your dish.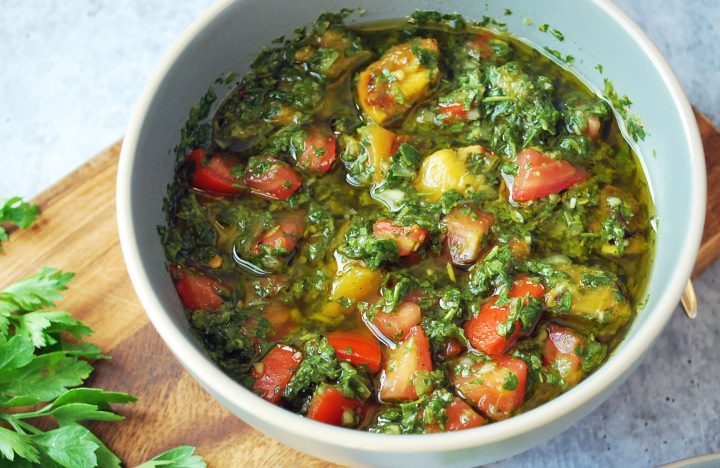 These are the base ingredients that I used: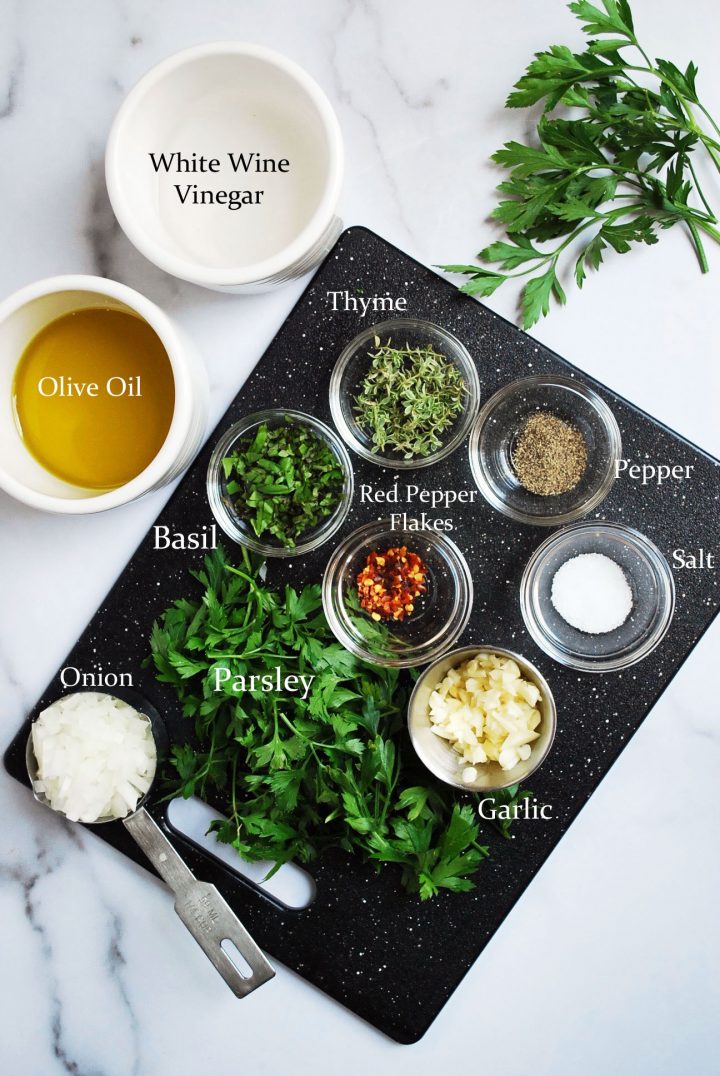 Since local peaches are ripe and delicious this time of year, adding chopped grilled peaches takes this sauce to a whole new level. I've also added fresh summer basil, thyme, Vidalia onion (another southern summer staple), and heirloom tomatoes.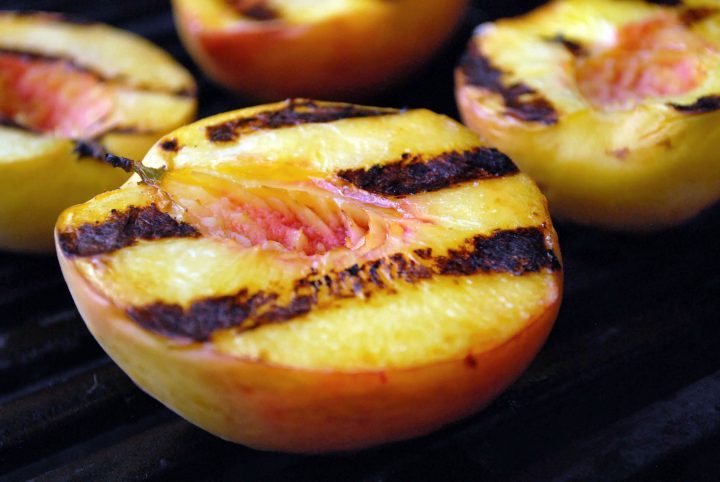 Fun fact: Georgia is known as "the peach state" but South Carolina actually produces more peaches than Georgia, second to California in the United States.
Steak Cooking Guide
Grilling Tips provided by Beef.It'sWhat'sForDinner
Prep Pays Off- Some grill experts emphasize the importance of bringing steaks to room temperature before grilling, but we don't recommend it for food safety reasons. Likewise, our cooking chart is based on the meat going directly from chill to grill. Plan on pulling the meat from the fridge, seasoning well, and getting started right away.
Fire It Up- Make sure that your grill is clean, this prevents flare-ups, and the rack is well-oiled to prevent sticking. If you're using charcoal, follow the directions for how much you'll need and how to build the charcoal pile. For gas grills, refer to your owner's manual and set the grill to medium-high.
Grill, Baby, Grill- Use an ovenproof or instant-read thermometer (*affiliate link) to monitor doneness, and let it go- don't flip the steaks too much! One flip is usually all you need but take care to avoid charring or burning and be ready to turn down the heat (or move to a cooler spot on the grill) if necessary. Keep in mind the internal temperature will continue to rise for a few minutes after coming off the grill.
Rest & Relax- Here's another step that novice cooks often overlook: resting the meat before serving. It's seriously worth the wait because it prevents all those tasty juices from draining onto your plate. For most grill-friendly cuts, about five minutes is enough.
Finishing Touches- If you're slicing the steak before serving, be sure to go across the grain.
How Long Do You Grill New York Strip Steak?
Depending on the thickness of your steaks, New York Strip will typically cook for 11-14 minutes for a 1" thick strip on charcoal and 11-15 minutes on a gas grill on medium heat. It's always safe to use a meat thermometer to check for doneness. Beef's tender, juicy texture is optimum when cooked to medium-rare (145 degrees F) to medium (160 degrees F) doneness.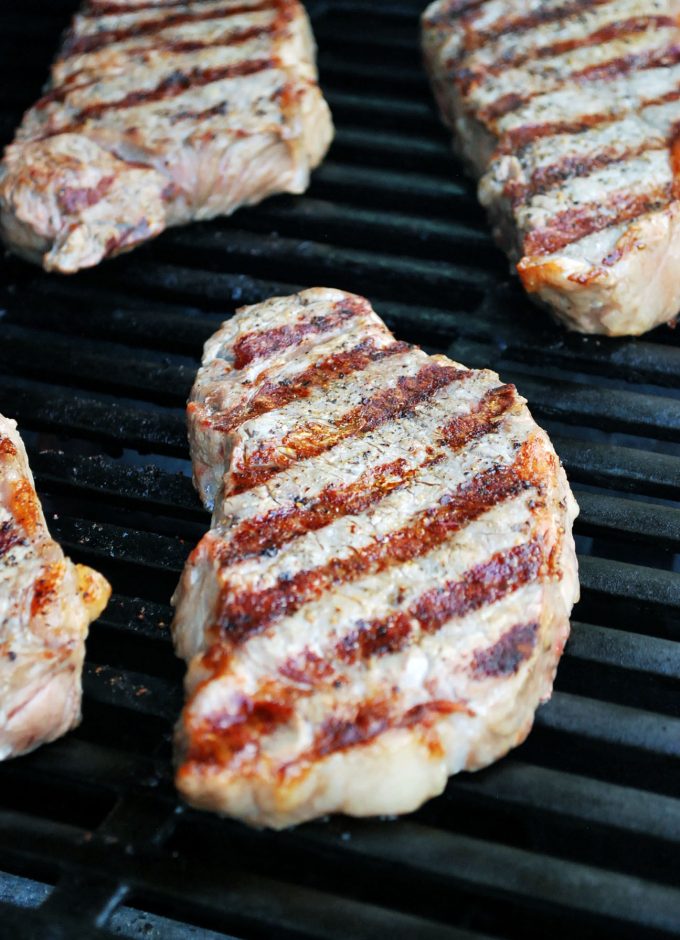 How Long Will Chimichurri Sauce Last?
To store leftover chimichurri sauce, place the sauce into a sealable glass container, and press a piece of plastic wrap over the sauce before sealing the lid. This will help prevent discoloration. The sauce will keep up to a week in the refrigerator. However, it's so delicious I don't think it's going to last that long! You can slice a fresh tomato and spoon this sauce on top for a simple and delicious side dish. Allow sauce to come to room temperature before serving.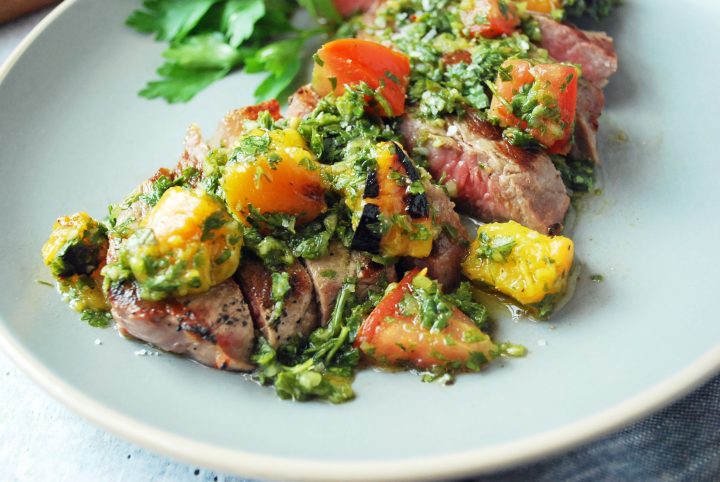 Wine Pairing Suggestions
If you can get your hands on a good affordable red wine from Argentina, you are all set with this meal! Here are my favorite pairings for this dish:
Cabernet Sauvignon
Malbec
Merlot
Pinot Noir
Red Blends (there are a lot of great blend options)

More Delicious Steak Recipes
Garlic Lime Grilled Flat Iron Steak
Mediterranean Grilled Sirloin Steaks
Mediterranean Steak Quesadillas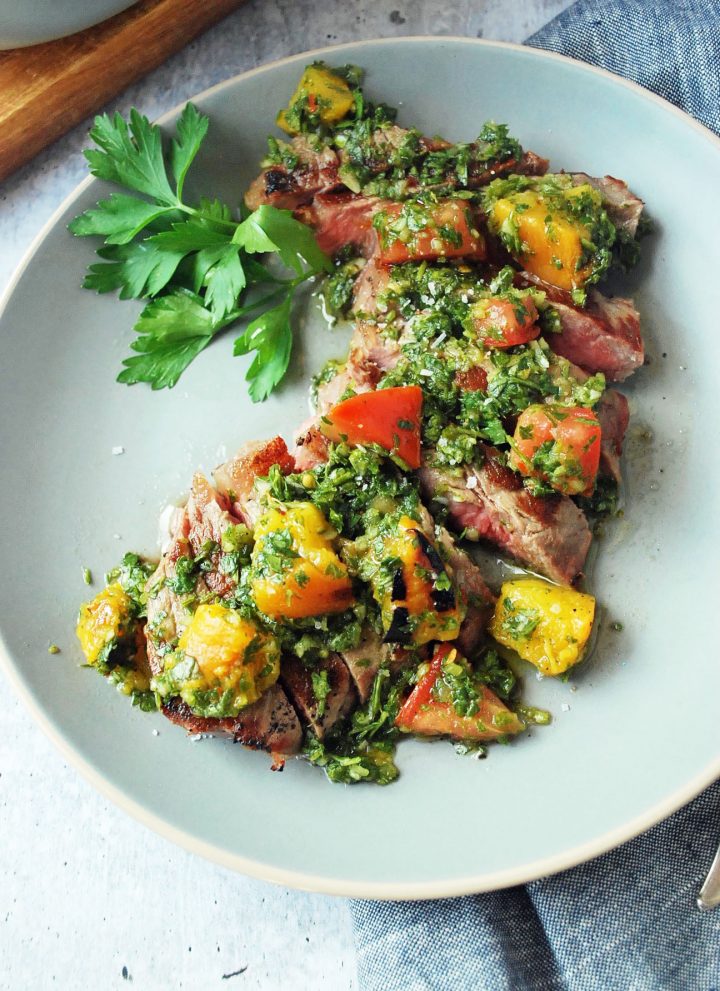 Don't forget to visit Beef. It's What's For Dinner. to browse mouthwatering regional recipes to inspire your next cookout!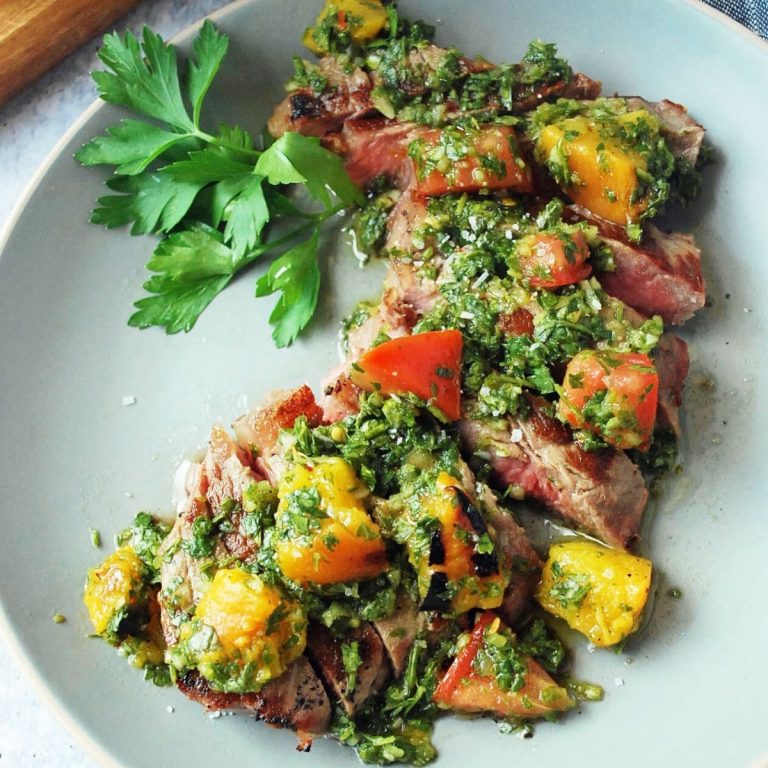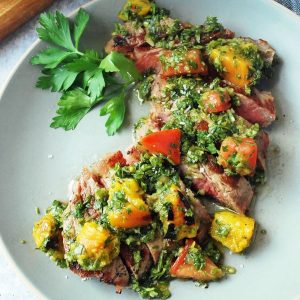 Grilled New York Strip Steaks with Peach Chimichurri
A recipe for grilled New York Strip Steak topped with a flavorful chimichurri sauce made with fresh herbs, grilled peaches, and heirloom tomatoes.
Print
Pin
Rate
Ingredients
4

New York Strip Steaks

about 8 oz each (4 oz per serving)

coarse salt

to taste

pepper

to taste

For the Peach Chimichurri

1

small

bunch of fresh parsley

about one cup packed

4

cloves

garlic

minced

3

tablespoon

white wine vinegar

1

tablespoon

fresh thyme leaves

¼

cup

Vidalia onion

chopped

1

tablespoon

fresh basil

chopped

½

teaspoon

salt

¼

teaspoon

pepper

¼

teaspoon

red pepper flakes

6 ⅓

tablespoon

extra virgin olive oil

divided

1

heirloom tomato

seeded and chopped

2

peaches

slightly firm (freestone recommended)
Instructions
Remove lower stems of the parsley, rinse and pat dry (I use a salad spinner for this).

In the bowl of a food processor, add parsley, garlic, vinegar, fresh thyme, onion, fresh basil, ½ teaspoon salt, ¼ teaspoon pepper and red pepper flakes.

Process until smooth, pour into a medium-size bowl and set aside.

Heat the grill to medium heat.

While grill is heating up, slice the peaches in half, remove the pit and baste each side with 1 teaspoon olive oil

Grill peaches 4 minutes each side. Set aside to cool.

Chop tomatoes, making sure to remove the seeds.

Next chop the cooled peaches.

Stir the remaining 6 tablespoon of olive oil into the chopped herb mixture until combined. Add peaches and tomatoes. Cover with plastic wrap and let the mixture sit for 2-3 hours to marinate.

Preheat the grill to medium. Season with steaks with salt and pepper.

Grill 11-14 minutes for a 1" thick strip on charcoal or 11-15 minutes on a gas grill to desired doneness (145 degrees F for med-rare and 160 degrees F for medium.

Remove from the grill and allow the steaks to rest for 5 minutes. Spoon sauce over steak and serve.
Notes
*Nutrition info is for a 4 oz serving of steak only.
Nutritional info for about 2 tablespoon peach chimichurri sauce: 60 calories; 3 grams carbs; 1 gram protein; 5 grams fat.
Nutrition
Calories:
260
kcal
|
Protein:
23
g
|
Fat:
18
g
|
Saturated Fat:
7
g
|
Cholesterol:
65
mg
|
Sodium:
55
mg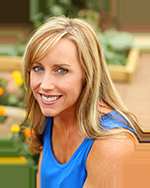 Latest posts by Amee Livingston
(see all)