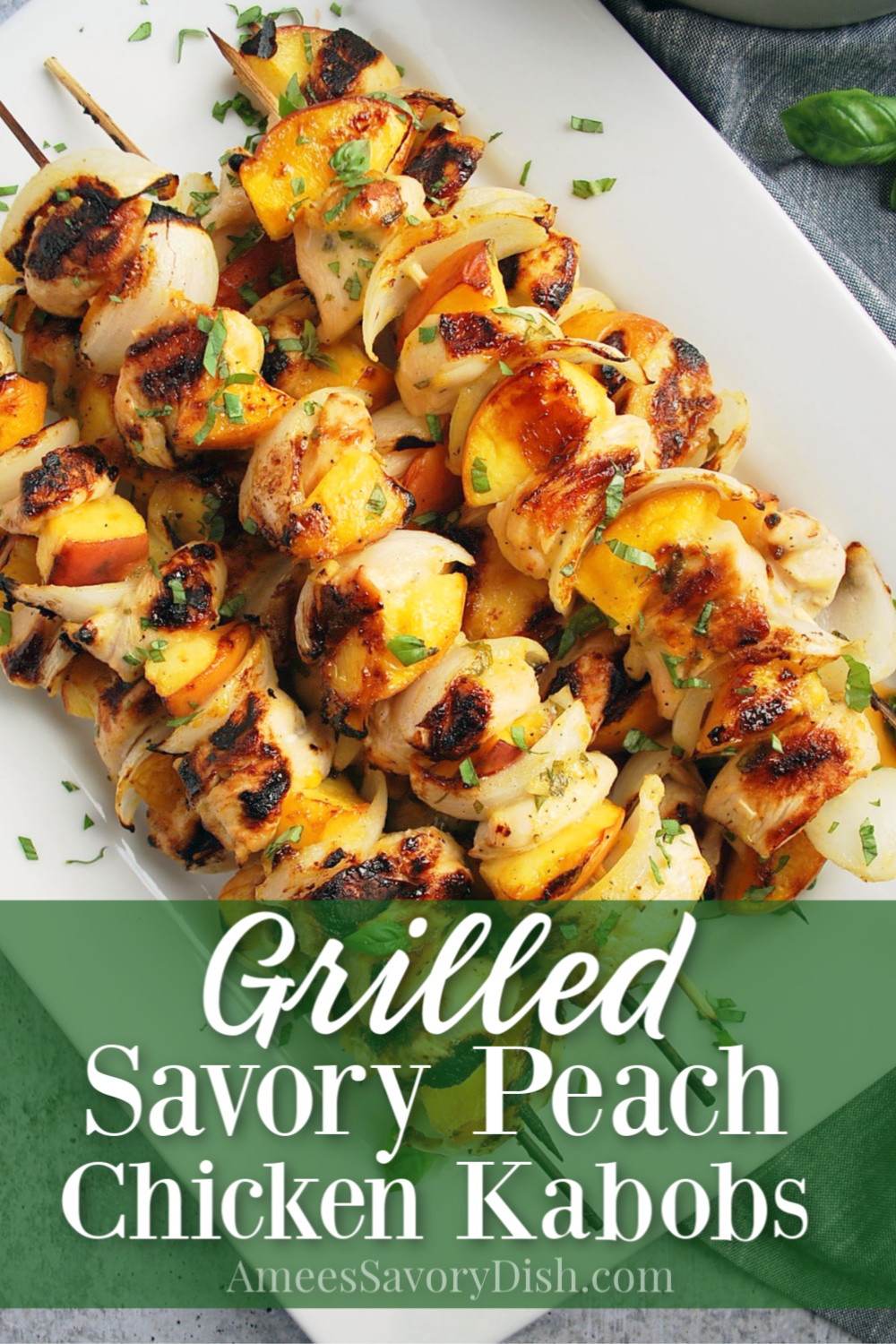 Flavorful grilled peach chicken kabobs made with boneless chicken breasts, in-season fresh local peaches, and Vidalia onions marinated in a homemade peach vinaigrette.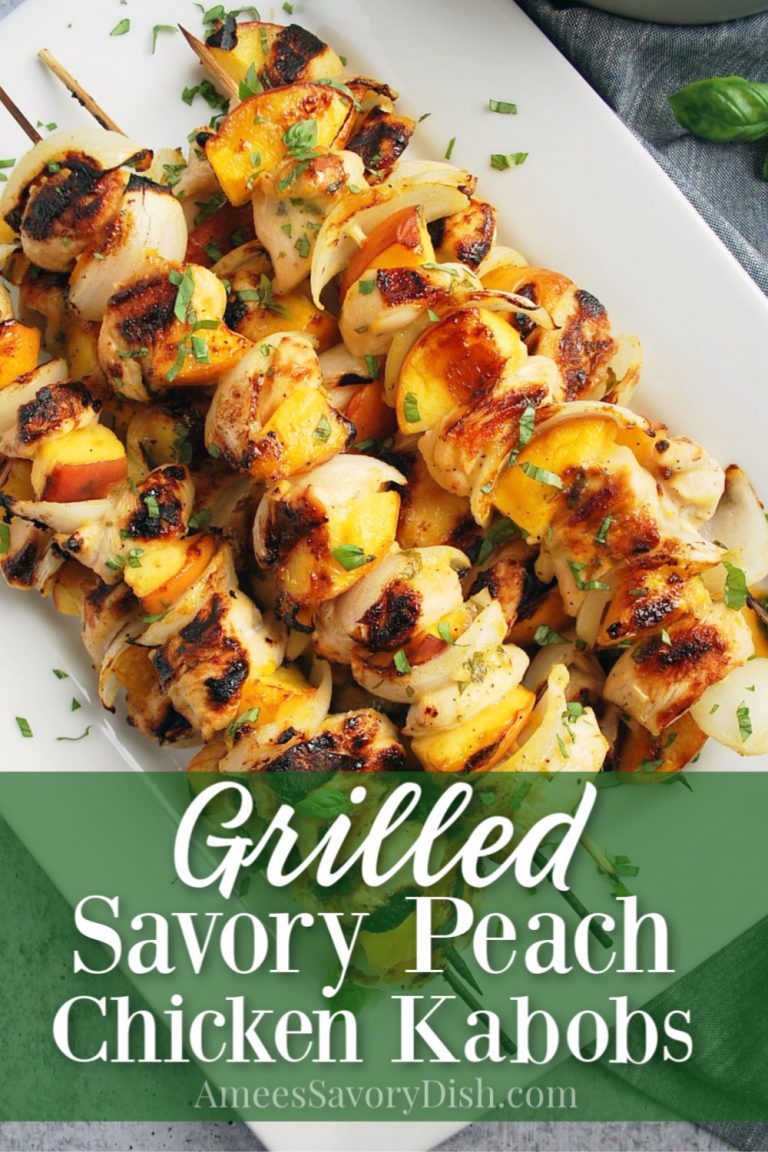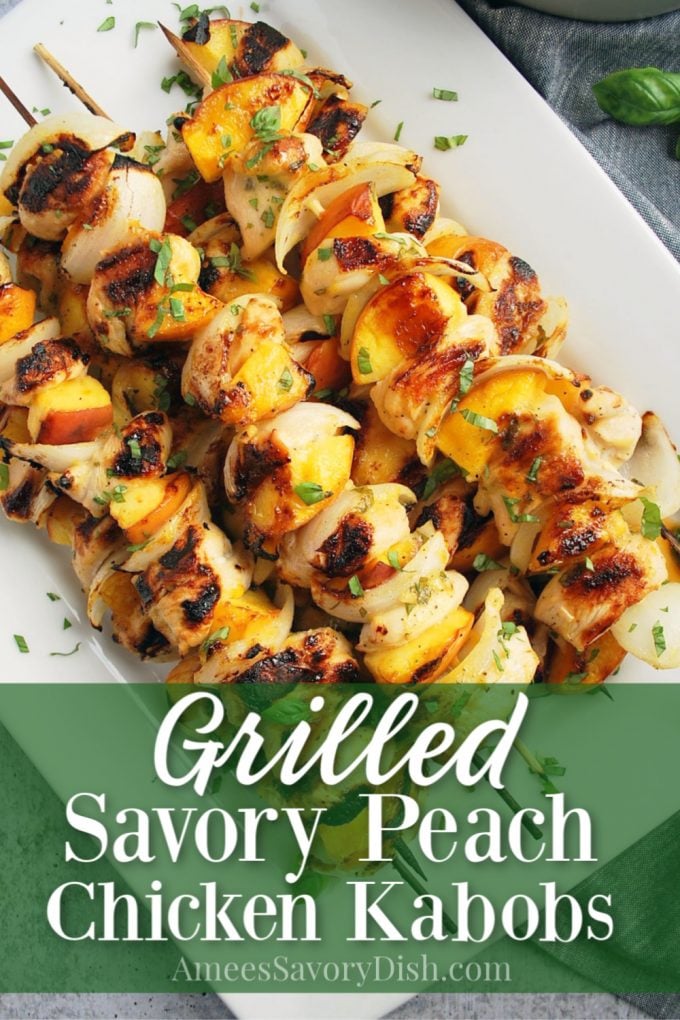 This easy chicken kabobs recipe was inspired by my friends at our local farmer's market, who introduced me to a locally bottled Southern Peach Vinaigrette that they used to marinate grilled chicken. I knew that a homemade version would be an epic way to enjoy the harvest during prime Georgia peach season.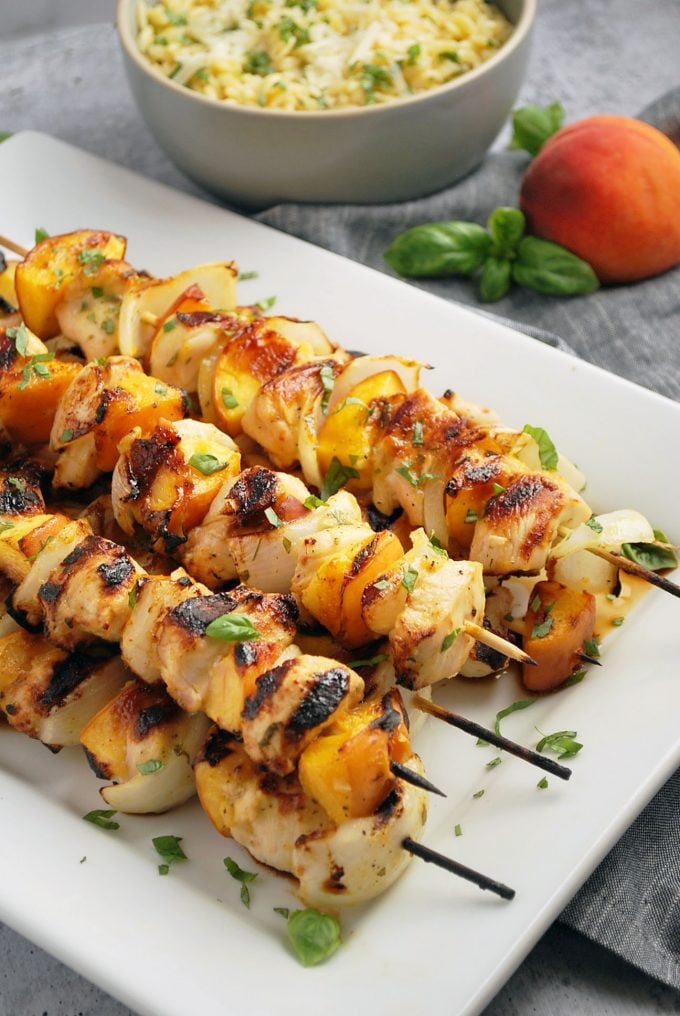 Peach Picking Adventures
Speaking of peach season, have you ever picked fresh peaches in the south? Well, if the answer is no, let me just tell you the fun parent/child bonding experience that you are missing. There's nothing quite like venturing out into the sweltering muggy southern heat, getting covered in peach fuzz that you are too sticky and sweaty to rub off and listening to your kids scream while being chased by bees. Yep, needless to say, we were one and done with that adventure. I have a newfound appreciation for farmers that harvest those peaches for me. It's hot, sticky, itchy work!
I happen to find a homemade peach purée vinaigrette marinade in a June 2007 issue of Southern Living magazine, one of the benefits of being a magazine and cookbook hoarder. I think you're going to love this tasty, from-scratch, recipe that uses puréed fresh peaches. It's the perfect sweet and savory flavor combo!
Don't Skip The Fresh Herbs
I always have fresh basil in my garden each year. It's such a great versatile herb and adds the perfect flavor enhancement to so many summertime dishes, like this Caprese dip recipe. If you've never made it, it's a MUST-TRY recipe for the summer!! I always have recipe requests for it when I make it for parties.
When making these kabobs, don't be shy with the chopped basil. I always sprinkle extra on top when serving up this dish. It adds a gorgeous pop of color and flavor!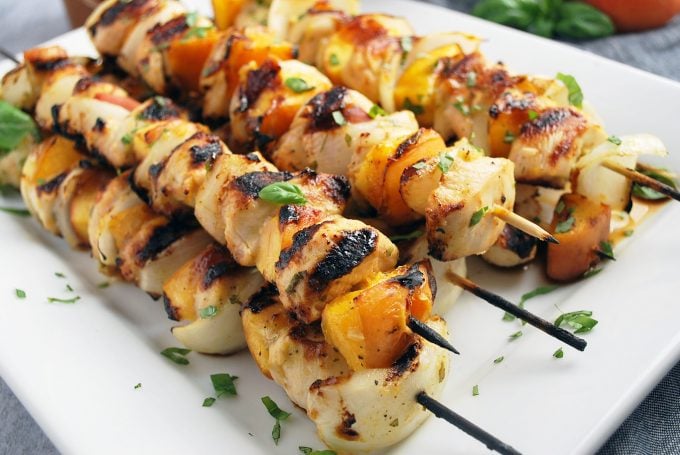 Recipe Tips
Make sure that you marinate the chicken in the vinaigrette for at least an hour prior to assembling the chicken kabobs. The flavor is best if you let the chicken and onions marinate for 3-4 hours in a sealed plastic bag or covered dish in the refrigerator.
You can also use this fresh peach marinade for grilling whole chicken breasts. You can marinate the chicken overnight for bone-in chicken breasts and baste the chicken with extra marinade (stored separately for food safety) as it cooks.
Simple Side Dish Ideas
My favorite simple side dish for these kabobs is cooked orzo pasta tossed with a mixture of Kerrygold butter, olive oil, fresh chopped basil, shredded Parmesan cheese, and coarse salt. It's light, summery and delicious. These kabobs are also great with rice, couscous, or other grain side dishes. You can keep it simple and low-carb and serve them with grilled Parmesan asparagus, roasted frozen broccoli (easy and SO good!), or my favorite roasted bacon-fat Brussels sprouts.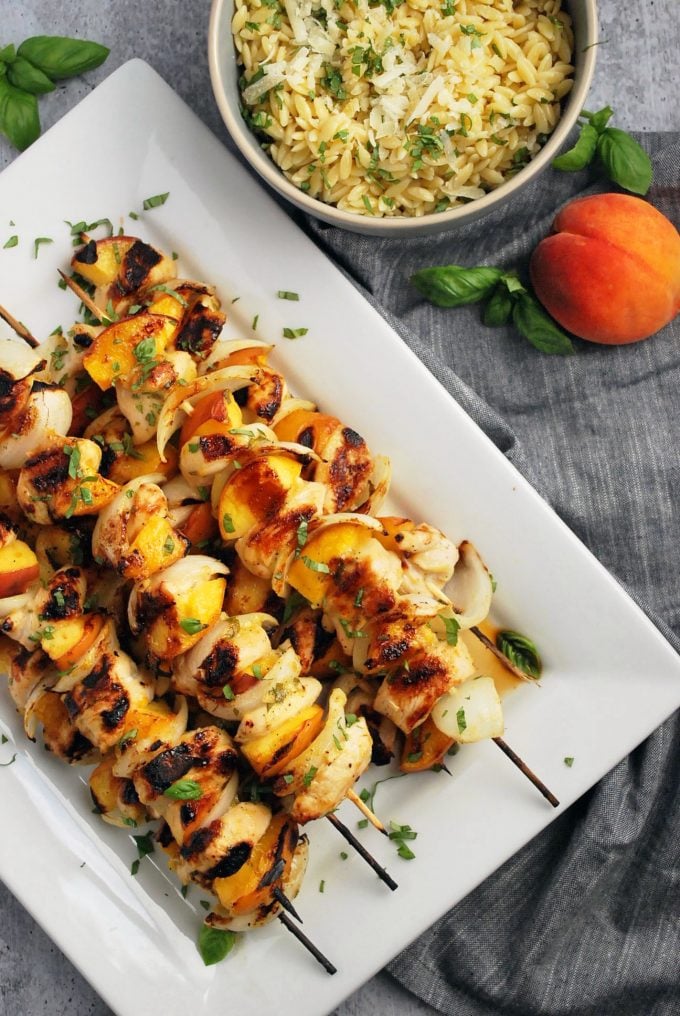 More Tasty Grilled Chicken Recipes
Marinated Chicken Skewers with Spicy Tzatziki Sauce
Grilled Chicken Fajita Tostadas
Grilled Chicken Salad With Roasted Asparagus
Best Ever Grilled Chicken Marinade
*Update: This post was originally published in July 2014 and has been updated to improve the reader experience. This tasty recipe remains the same.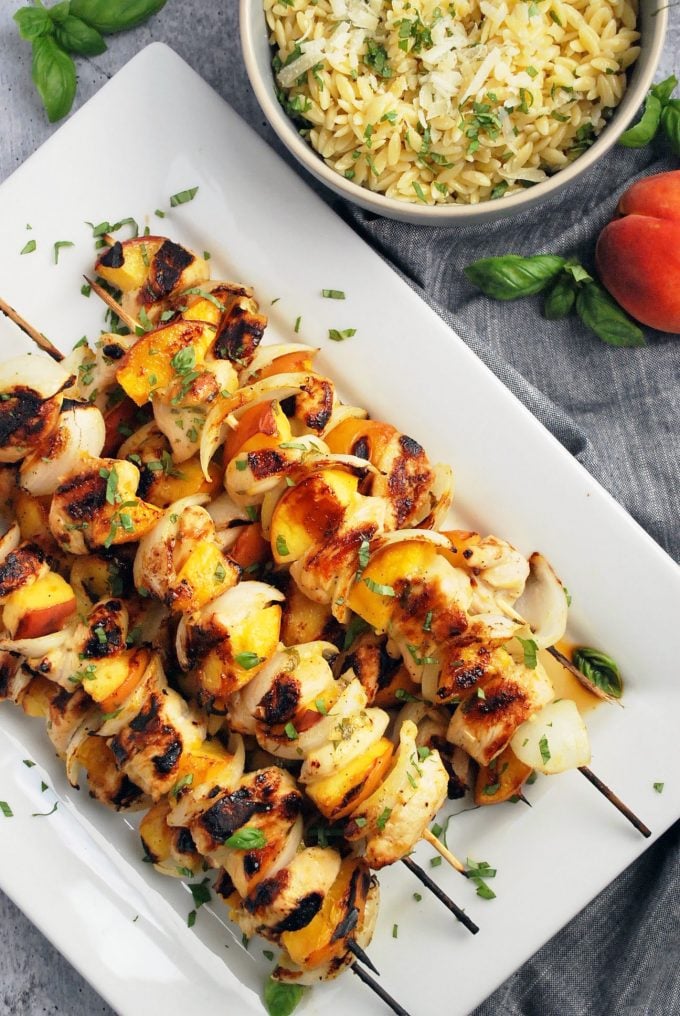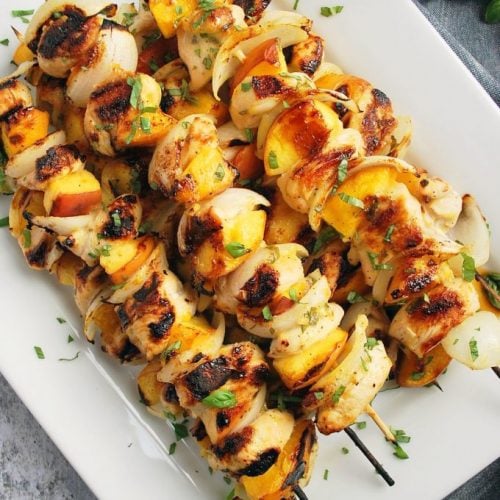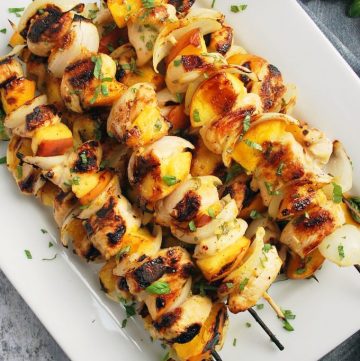 Savory Peach Chicken Kabobs
Flavorful peach chicken kabobs made with boneless chicken breasts,  in-season fresh local peaches, and Vidalia onions marinated in a homemade peach vinaigrette.  
Ingredients
For the kabobs:
1

lb

boneless chicken breasts

6

fresh peaches

rinsed and sliced into large cubes (leave skin on)

1

large sweet onion

sliced into large chunks

6-8

wooden skewers

soaked in water

cooking spray for the grill
For the marinade:
⅓

cup

white balsamic vinegar

1

garlic clove

minced

2

tablespoons

brown sugar

¼

teaspoon

freshly ground pepper

¼

teaspoon

salt

2

tablespoons

olive oil

1

large peach

peeled, pitted and pureed

1 ½

tablespoons

chopped fresh basil
Instructions
To make the marinade:
Whisk vinegar, garlic, brown sugar, salt and pepper in a small bowl until sugar is dissolved

Whisk in oil until blended

Stir in fresh peach puree and basil
For the kabobs:
Before you begin, soak the wooden skewers in water

This helps keep them from burning while cooking

Some say soak, others say don't bother, I say do what you think is best. I soak my skewers.

Cut chicken breasts into 2-3" cubes

Cut onion into 2-3" pieces

Pour vinaigrette over the top, cover and refrigerate for several hours

Cut peaches into chunks big enough to skewer

Assemble kabobs by layering onion, peaches and chicken on the skewers

Preheat grill to about 375 degrees and spray with non-stick spray

Cook kabobs on medium heat for 8-10 minutes, turning several times, until done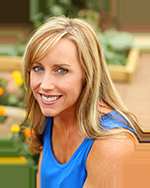 Latest posts by Amee Livingston
(see all)