This clean-eating recipe for grilled honey chicken kebabs and is delicious and the marinade is a cinch to prepare. 
Make sure that you soak the chicken in the marinade for 10 minutes before adding the vegetables.  Marinate in the fridge for at least an hour before grilling to let all those incredible flavors mingle.
Summer is my favorite time of year for cooking because I love grilling outdoors.  If you have a good grill pan or indoor grill, then you can grill all year long!  There are so many variations that you can do with kebabs.   They're one of my favorite grilled meals, because they're so many ways you can make them.  Serve over brown or wild rice to round-out the meal.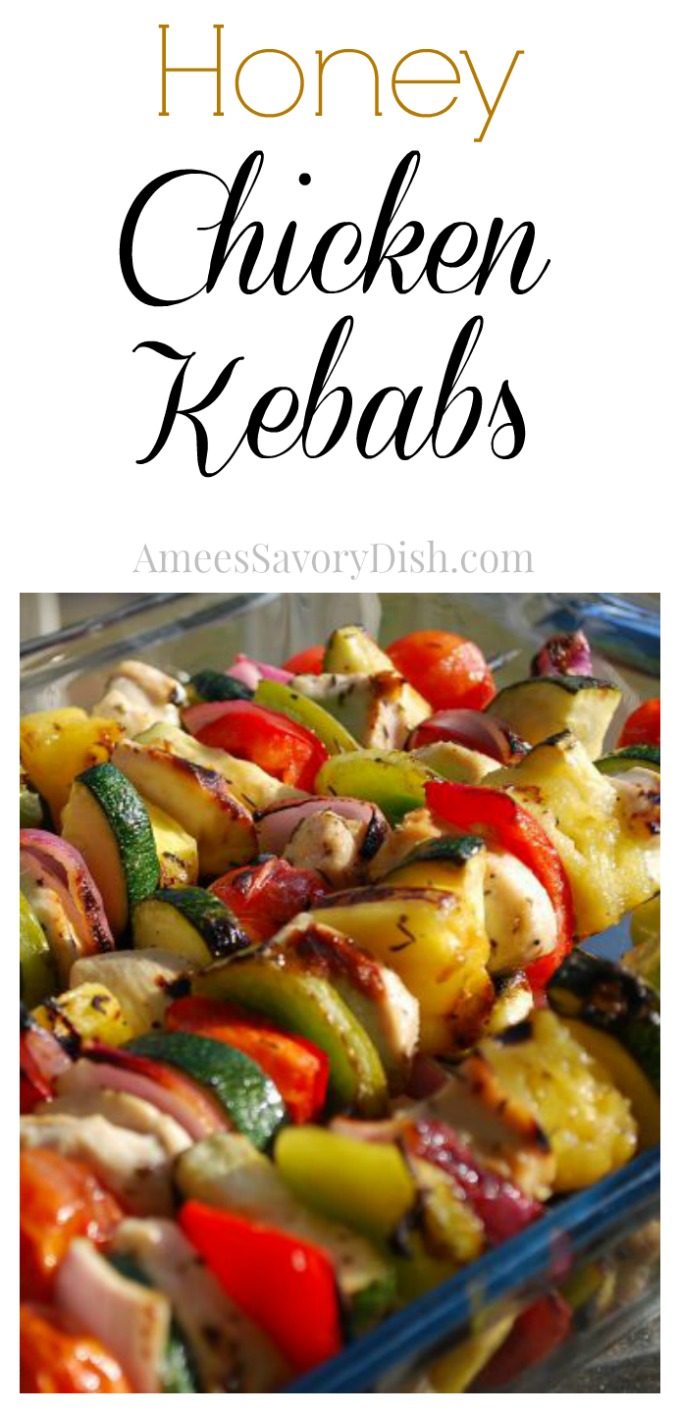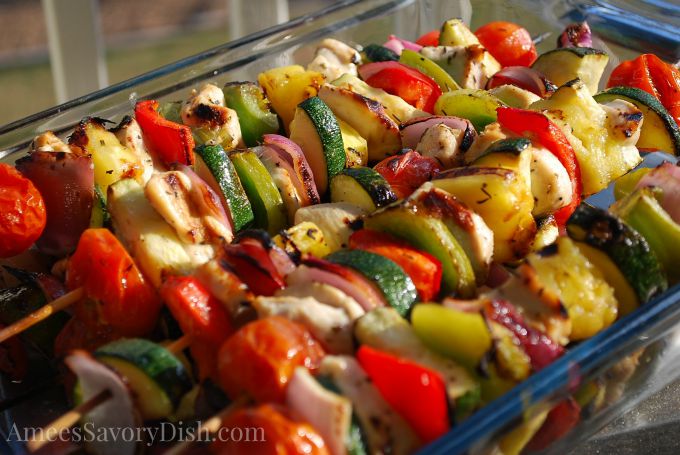 Honey Chicken Kebabs
1 1/2 lbs boneless, skinless organic chicken breasts cut into bite-size pieces
2 medium zucchini sliced into bite-size pieces
1 medium red pepper cut into bite-size pieces
1 medium green pepper cut into bite-size pieces
1 red onion cut into wedges
5 fresh pineapple rings cut into bite-size chunks
16 cherry tomatoes
6 tbsp lemon juice
3 tbsp honey
3 tbsp olive oil
3 tsp Dijon mustard
3 garlic cloves, crushed
2 tsp fresh thyme or 1 1/2 tsp dried thyme (fresh is best for flavor)
3/4 tsp sea salt
3/4 tsp fresh ground pepper
wooden skewers
Directions:
In a large mixing bowl, combine lemon juice, honey, olive oil, mustard and crushed garlic.  Stir in thyme, sea salt and pepper.  Add chicken and let soak for 10 minutes.
Then add zucchini, tomatoes, pineapple, bell pepper and onion.  Toss until well coated.  Let marinate in the refrigerator for 1 hour.
Soak wooden skewers in cold water for 30 minutes.  This keeps them from burning.
Preheat grill to medium.  Thread the chicken and vegetables onto the skewers.  Save the marinade mixture.   My little guy is such a good helper. 🙂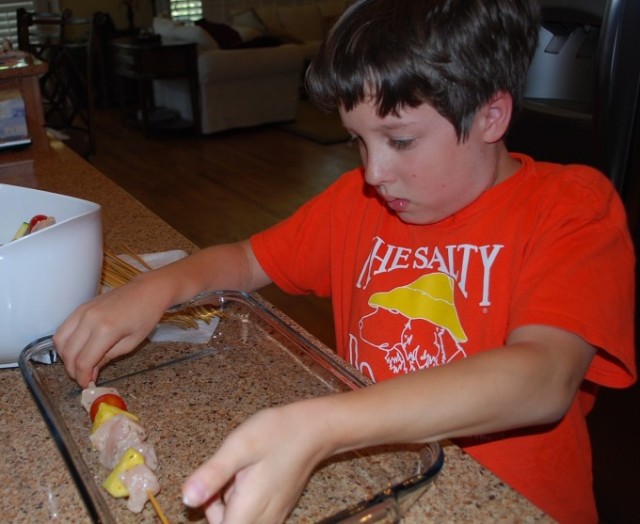 Grill on medium heat.  Turn kebabs every few minutes to make sure they cook evenly.  Brush with reserved marinade during cooking.  Grill until juices run clear when chicken is pierced with a knife, about 10-12 minutes.
4 Servings.  Per serving:
Calories: 289; Fat 6 g; Sodium: 145 mg; Carbs 18 g; Fiber 3 g; Protein 41g
SaveSave