Grilled barbecue chicken can be difficult to cook perfectly. If left on too long, it can become dry, or the sauce can become burned. But if it's not cooked long enough, you could be putting yourself at risk for foodborne illnesses. Here are my tips and recipe for making delicious, super moist grilled barbecue chicken!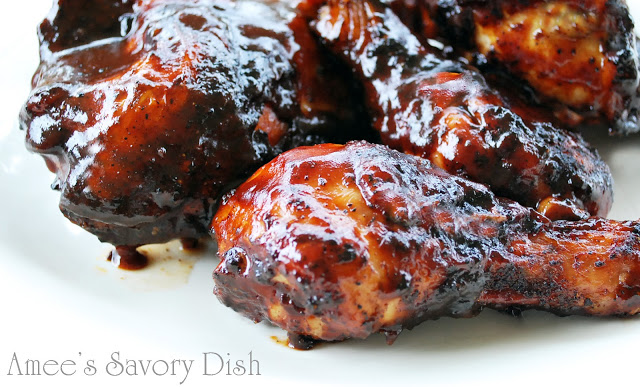 The secret to this moist grilled barbecue chicken is brining the meat prior to cooking.  
You can use this brine for bone-in or boneless chicken prior to adding your rub, marinade or seasoning.  Here's a great article from Fine Cooking on how brining works so beautifully to tenderize meat.  It's got all the good scientific info that cooking nerds, like me, love. 🙂 Brine the meat no less than 2 hours (for boneless) or overnight (for bone-in meat), rinse thoroughly and pat dry.  Then you can add your favorite marinade, like the Best Ever Grilled Chicken Marinade, rub, barbecue sauce or seasonings.  I'm sharing my mom's homemade barbecue sauce recipe because it's delicious and my personal favorite!

Super Moist Barbecue Chicken

Simple Brine for Chicken: 
3 garlic cloves, peeled and slightly smashed 
8 cups water
3 tbsp sea salt
1 bay leaf

Combine all ingredients in a large ziploc bag in a deep bowl.  Add chicken and seal bag, letting out as much air as possible.  Brine for at least 2 hours or overnight.  Rinse chicken thoroughly and pat dry.

Mom's Homemade Barbecue Sauce:
1/3 cup chopped onion
1 small clove garlic, minced
2 tbsp extra virgin olive oil
1 can (10 3/4 oz) tomato soup (go for an organic brand, if available)
2 tbsp natural brown sugar (I go with coconut sugar-tastes the same and a healthier alternative)
1 tbsp vinegar
1 1/2 tbsp Worcestershire sauce
1 tsp mustard
dash hot sauce

In a saucepan, cook onion and garlic in oil until tender over medium heat.  Add remaining ingredients.  Cook over low heat for 15 minutes, stirring occasionally.  Makes 1 1/2 cups of sauce.  

Grilling directions for bone-in chicken:  Pre-heat grill on high heat, then lower to medium temp and grill for about 20 minutes to sear and crisp the skin, turning occasionally.  Baste chicken with sauce and cook an additional 15 minutes, continuing to turn to evenly coat all sides.