Cucumber salad is one of the best side dishes you can make with cucumbers, and it is delicious at any time of the year! This simple recipe for spicy cucumber salad goes well with grilled meats, burgers, fish, or just on its own!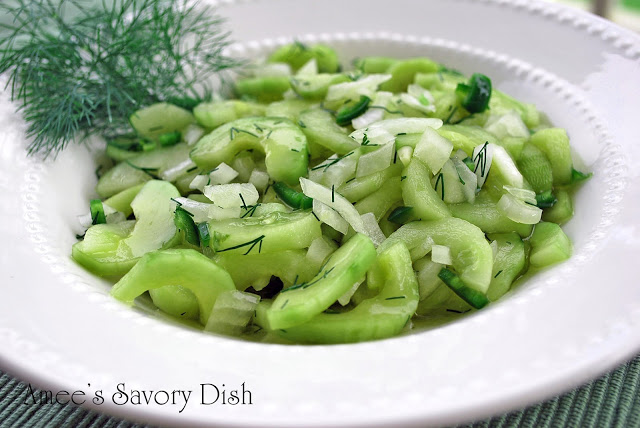 Ingredients:
4 large cucumbers, seeded and sliced
1 1/2 tsp sea salt
1/2 sweet onion, chopped or sliced (your preference)
1-2 jalepeno peppers, seeded and finely chopped
1/2 cup white vinegar
1/3 cup light amber agave nectar or 1/2 cup sugar (your preference-I love the agave nectar here)
1 tablespoon chopped fresh dill


Directions:
Peel cucumbers, slice in half and scoop out the seeds with a spoon.  Slice in thin slices and place into a colander.  Sprinkle with sea salt.  Set the colander over a bowl and put in the refrigerator for 1-2 hours.  Drain cucumbers well and squeeze gently to release all of the liquid.  Place into a nonreactive bowl.  In another nonreactive bowl, combine vinegar and agave nectar or sugar (if using sugar, stir until completely dissolved).  Pour vinegar over cucumbers and add all other ingredients and stir to combine.  Refrigerate overnight and serve.  
More delicious cucumber recipes:
Refreshing Summer Beverages: Cucumber Mint Water and The Best Mojito