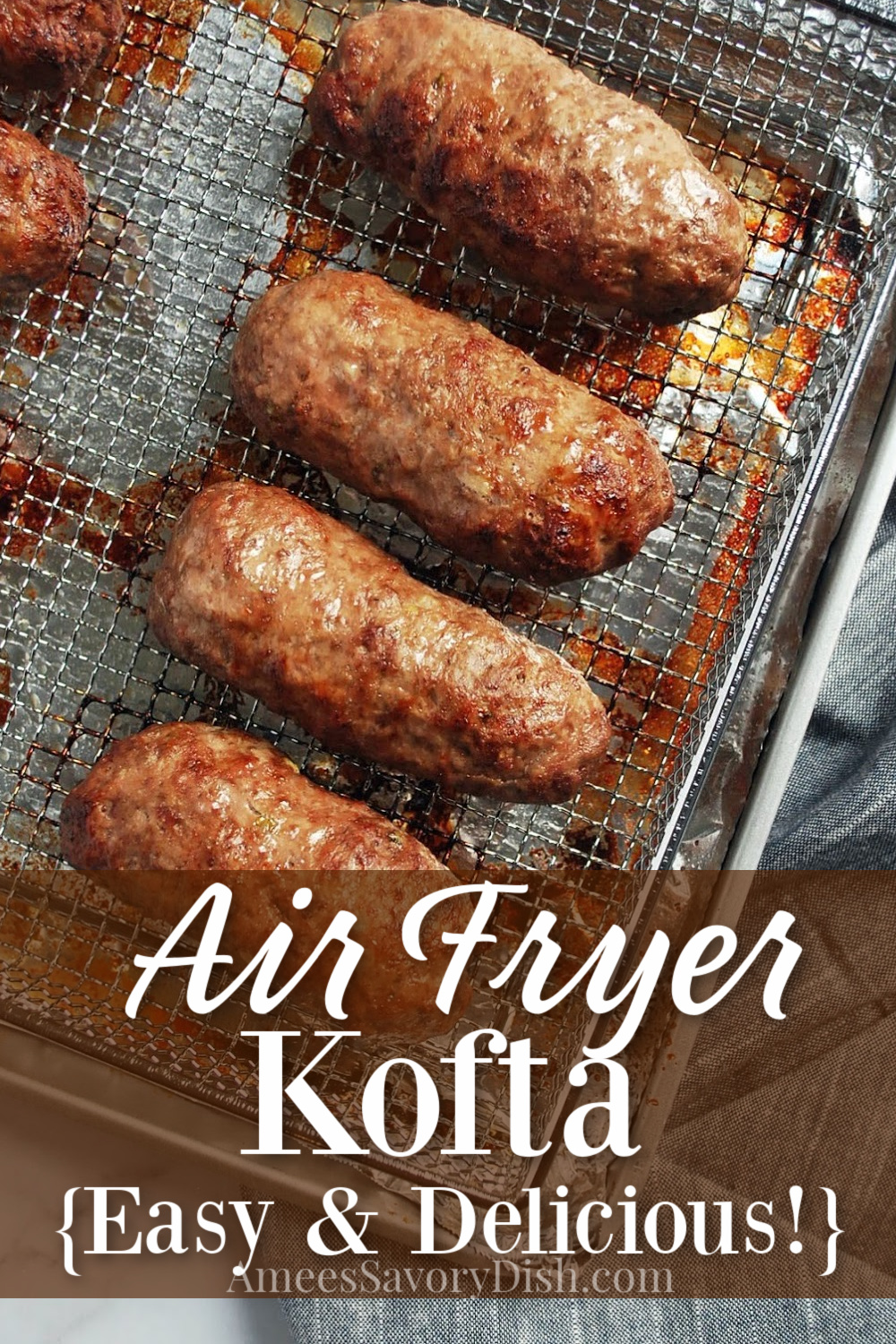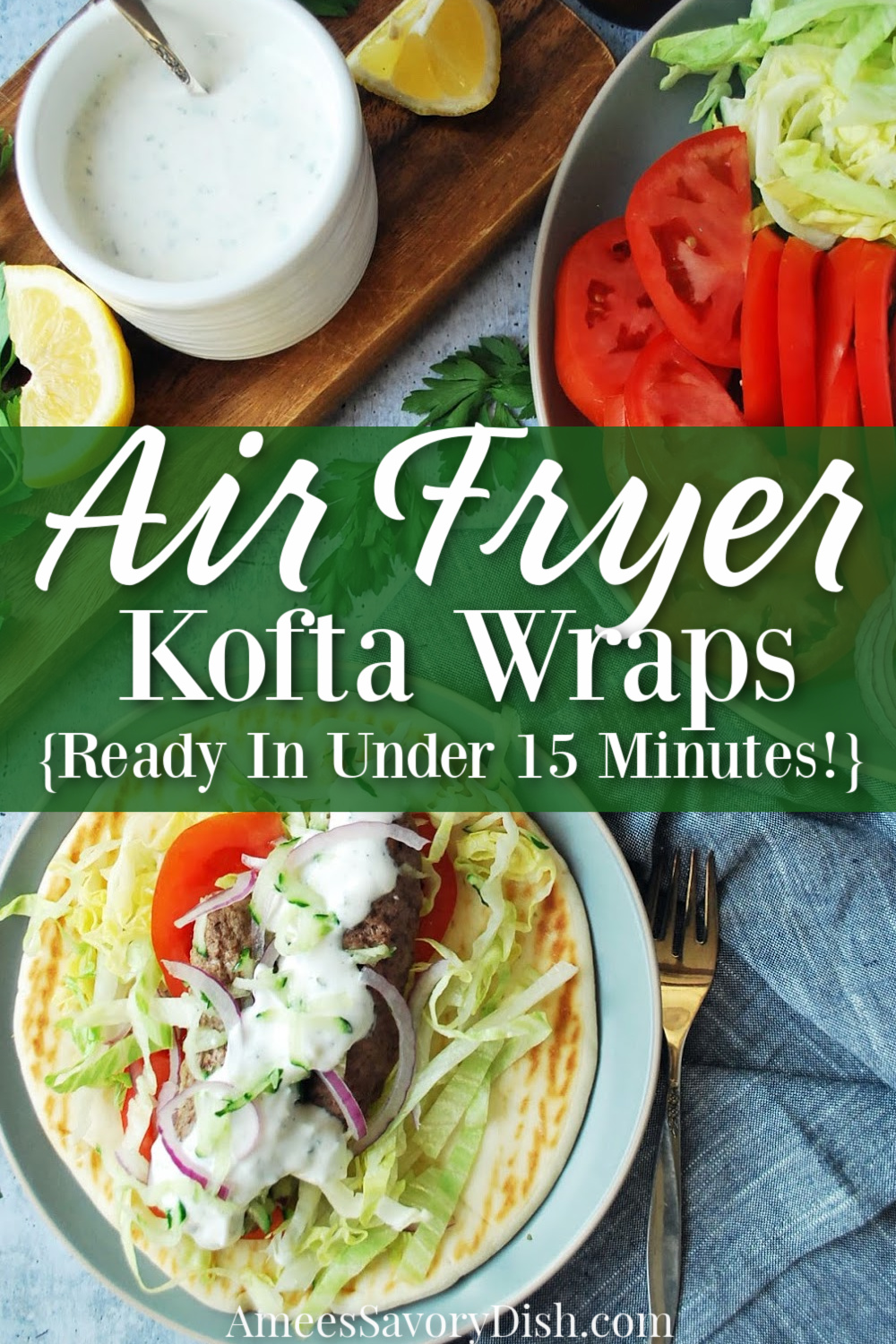 This flavorful air fryer kofta recipe is made with a mixture of lean ground beef and lamb and cooks to perfection in an air fryer in under 15 minutes! We love kofta as a substitute for gyro meat served up in a Greek flatbread with all the fixings topped with a simple Greek yogurt dressing. This Mediterranean-inspired meal is simple and incredibly delicious and has quickly become a new dinnertime favorite.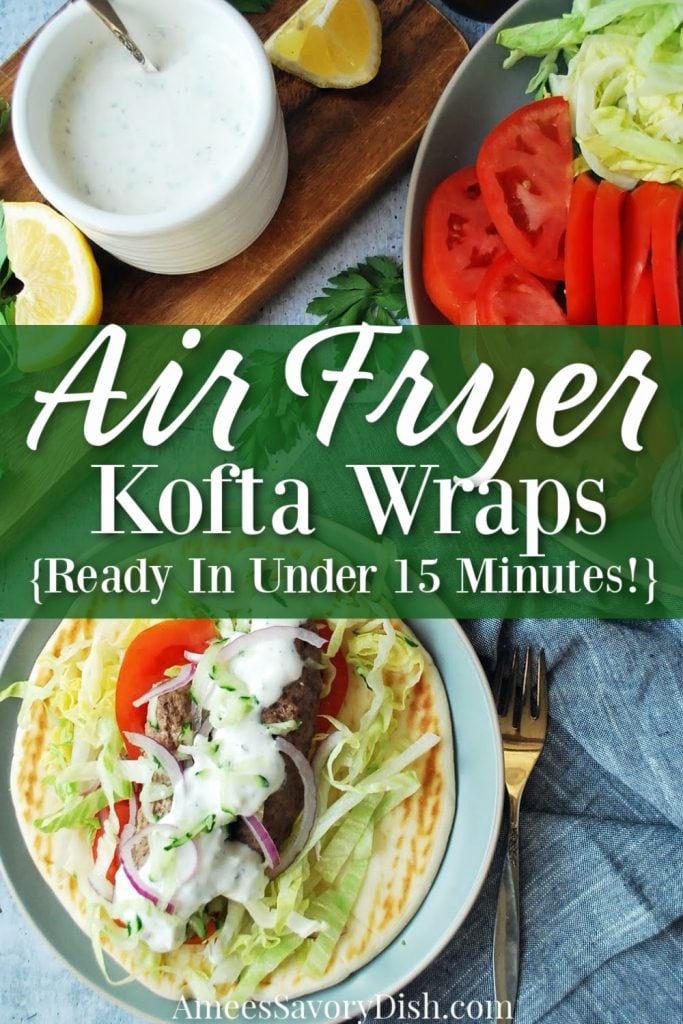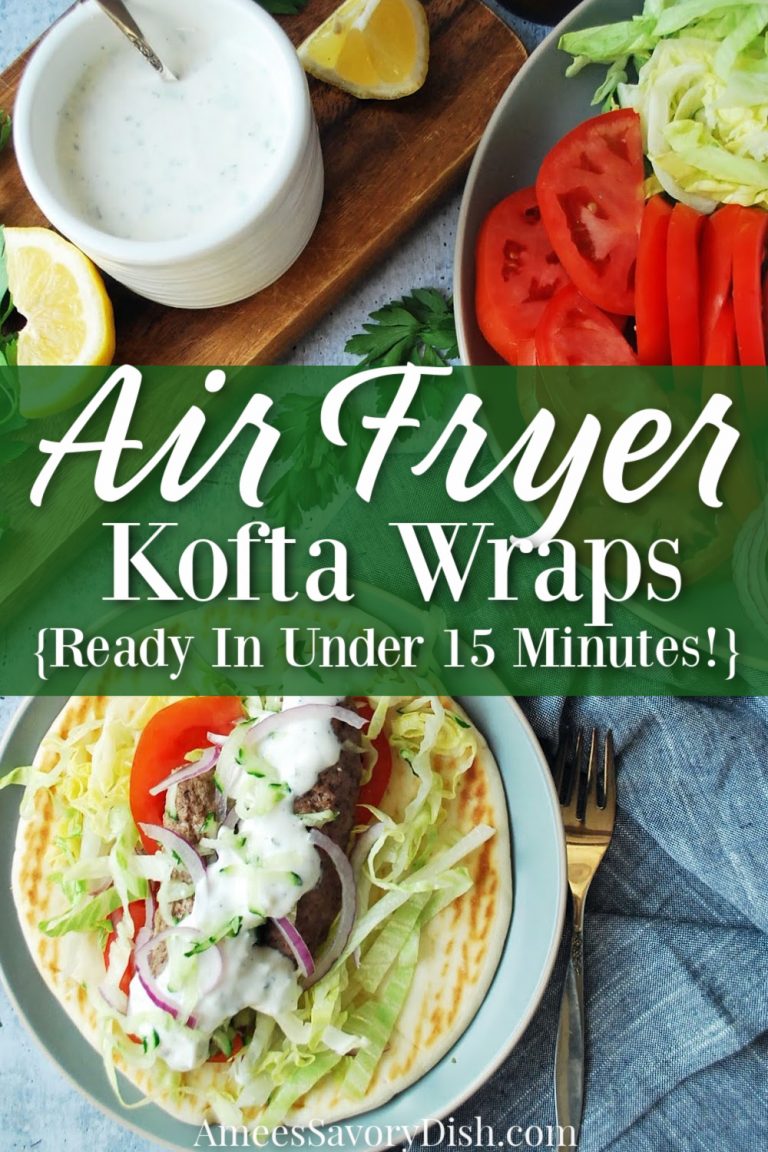 What Is Kofta?
Kofta is a minced meat mixture typically consisting of ground lamb, mutton, pork, veal, or beef, or a combination of these meats with fresh herbs. There are also vegetarian varieties made with lentils, polenta, or other beans and vegetables. Typically kofta is made with fresh parsley and mint and served on skewers kebab style or kabob...I never know which spelling to go with here since they are both so common. According to WikiDiff, Kabob originates from the United States and kebab is British. What do you call them? Kebab or kabob? Anyway, I digress...
Kofta is a popular cuisine throughout the Middle East, the eastern Mediterranean, North Africa, India, and Asia and served on skewers, in patties, in the form of a loaf, as meatballs, or cigar-shaped as I made for this air fryer recipe. Any way to decide to shape them, they are juicy, flavorful, and delicious!
Steps For Making Air Fryer Kofta
This recipe is not complicated and only requires a small amount of prep for a delicious, restaurant-worthy meal. First, slice the onion, tomato, and shred the lettuce. Cover and set aside. Next, peel, seed, and shred the cucumber. I use a spoon to scrape out the seeds and run the cucumber through my salad shooter. Place shredded cucumber into a strainer over a large bowl and set aside while you prepare the yogurt sauce.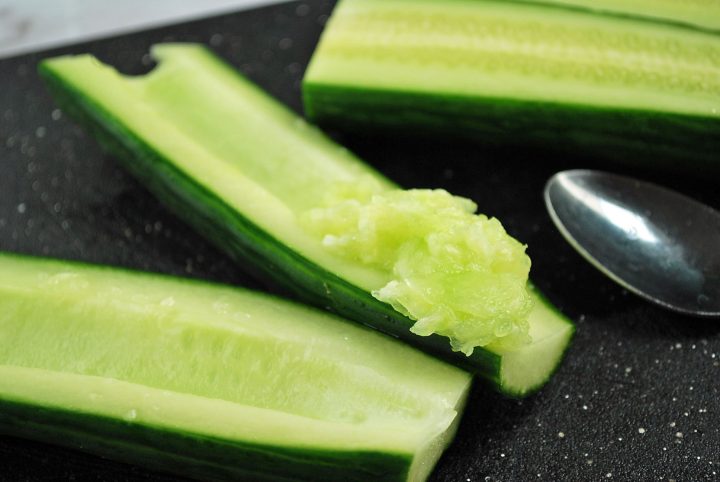 Next, make the herb yogurt mixture. This will be used in the meat mixture and as a topping for the wraps.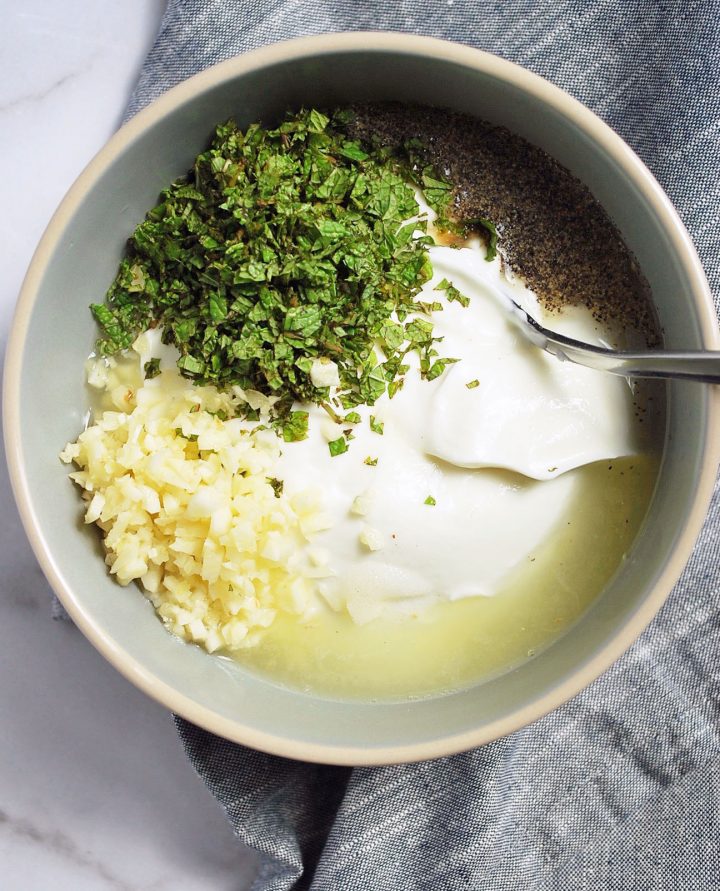 Whisk until combined.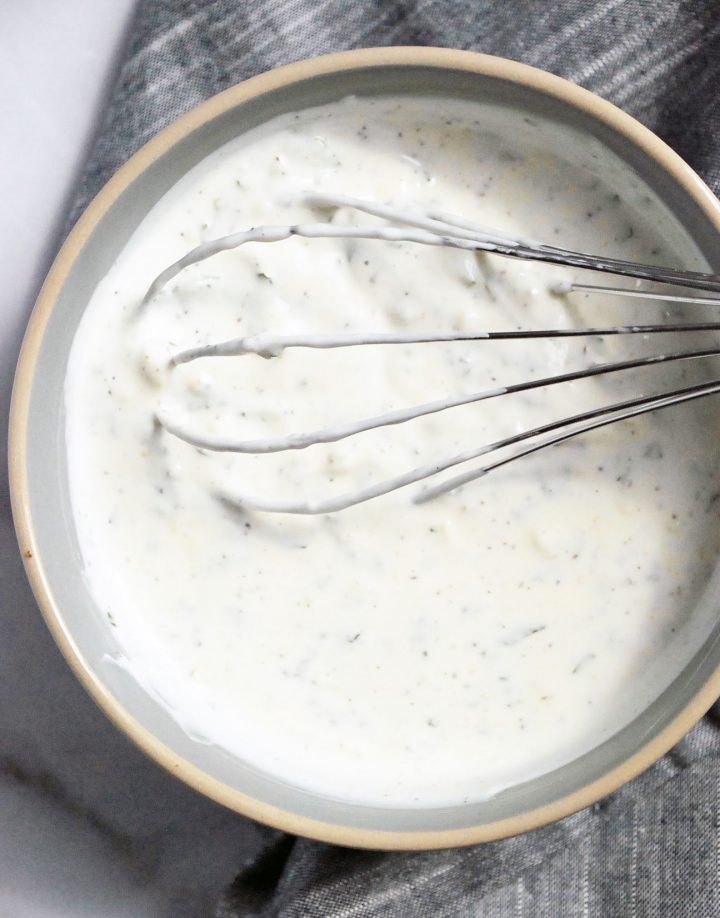 Reserve a ⅓ cup of yogurt sauce for the kofta, cover, and refrigerate the remaining sauce until ready to serve. Right before serving, you'll add the strained cucumber to the sauce, or you can serve it on the side.
Assembling The Kofta
Next, make the kofta by combining the beef, lamb, ⅓ cup of the yogurt sauce, 1 minced garlic clove, salt, and pepper. Get in there with your hands and mix it well. I use disposable kitchen gloves when working with the meat mixture so that I can really get in and knead it all together to get the ingredients thoroughly combined. This is a much more sanitary process, as well. I recommend using a food scale to weigh out the meat in 4-ounce servings before shaping. After weighing, I rolled them into 8 balls, then used my hands to flatten them out into a 5-inch cigar shape. You'll have about 5 ounces of meat left and I used that to make some extra meatballs.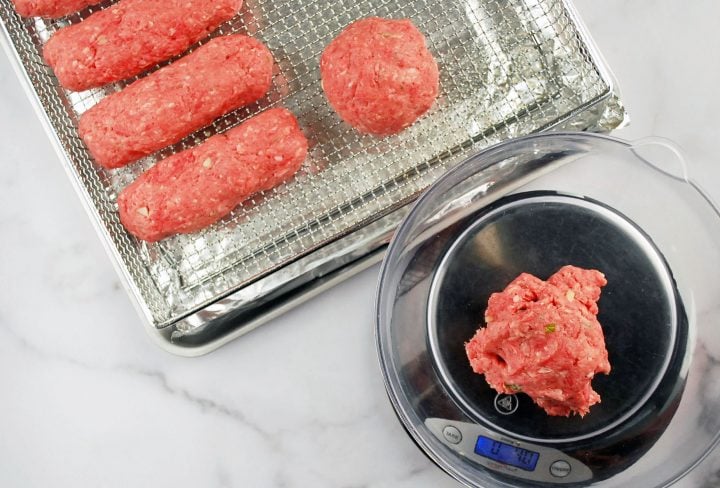 Place koftas on an air fryer tray sprayed with nonstick spray, or in a cooking basket, and you're ready to cook! Air fry kofta at 400 degrees F. and cook for 8 minutes, flip, and cook 4-6 minutes more until lightly browned and cooked through. The recommended safe minimum internal temperature should be 160 degrees for ground beef and lamb.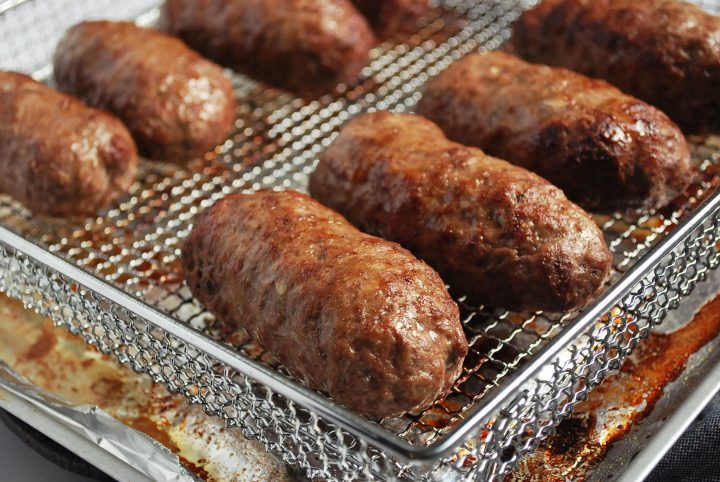 Now you are ready to assemble your wraps and add all of your delicious toppings!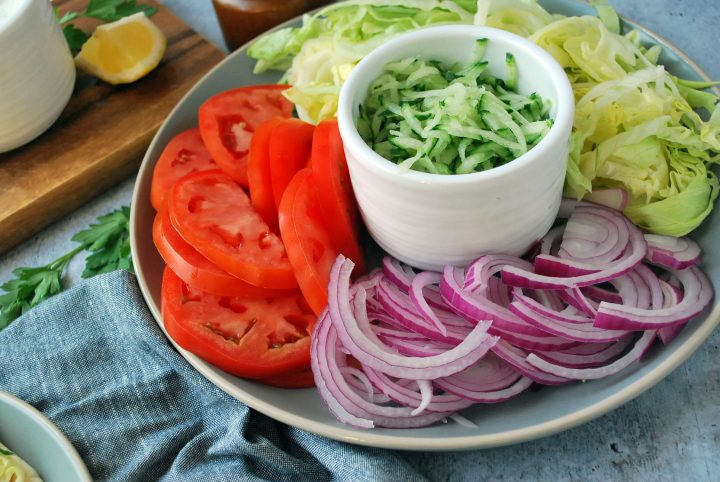 This is our new favorite variation of a gyro wrap!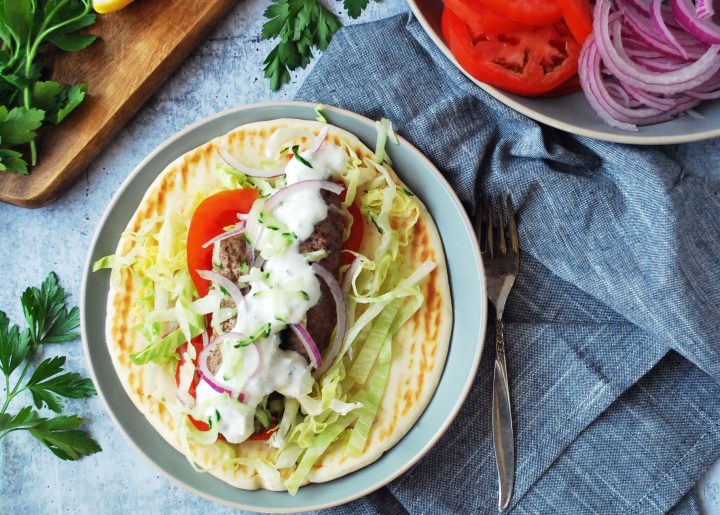 Recipe Tips and Tricks
I made this recipe into 8 four-ounce koftas but you can definitely make them smaller. You can also roll these koftas out in skinnier pieces and serve them on skewers for a different presentation. We just happen to love them on a Greek flatbread! The kofta alone is gluten-free, so this can be a delicious gluten-free meal without the bread or substituted with a gluten-free flatbread or pita. These are our favorite Greek flatbreads. I love the flavor and texture of this bread.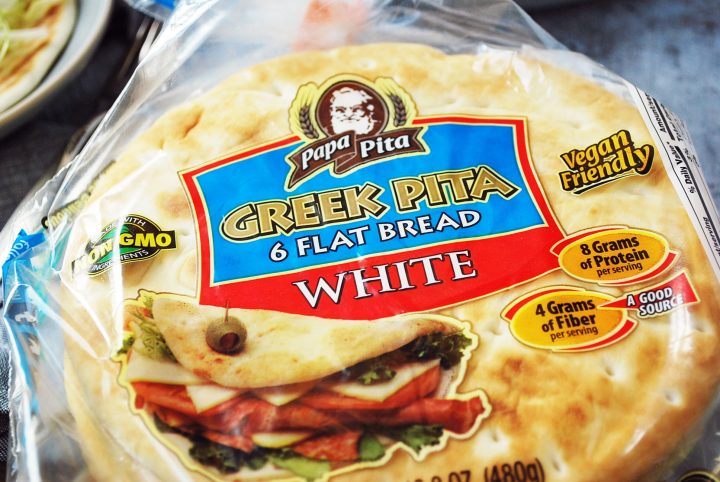 When cooking the kofta, check them at 10 minutes for doneness. Always check your air fryer for specific directions when cooking meat since appliances can vary.
Can Kofta Be Made With All Beef?
If you're not a fan of lamb or don't tolerate it well, you can make this recipe with all ground beef. I would recommend going with ground beef with a higher fat content (80-85%) to make up for the higher fat content in ground lamb. The extra fat, along with the Greek yogurt, makes the kofte very tender and juicy.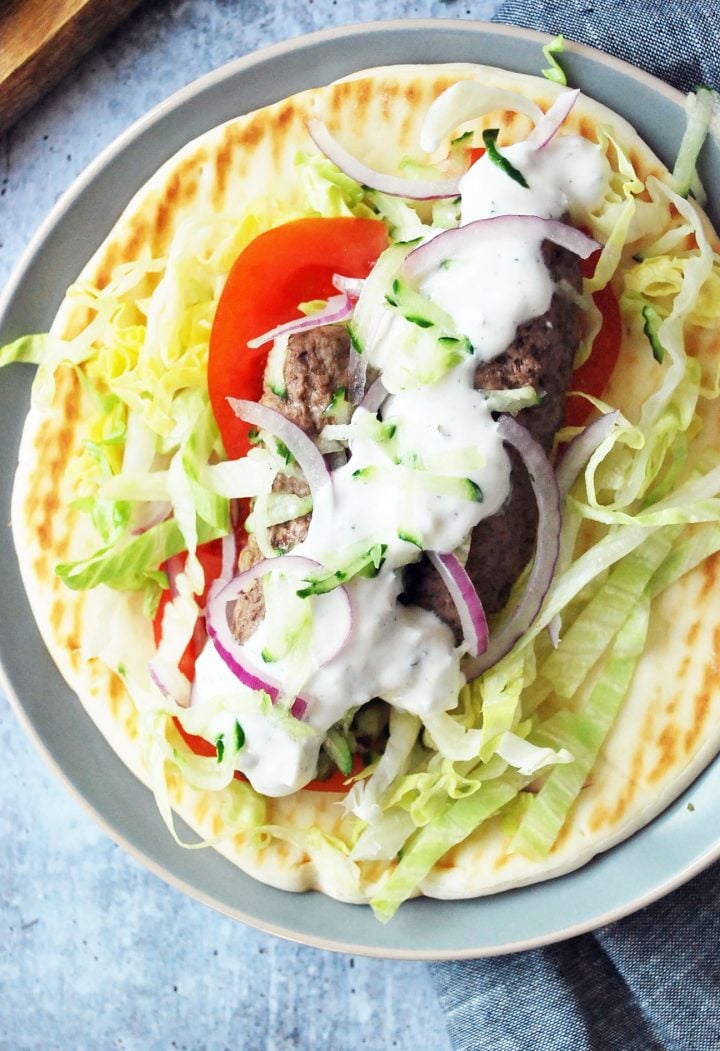 More Delicious Ways To Enjoy Kofta
Incredible as a Greek salad topper
Make it into meatballs as an appetizer served with Tzatziki sauce and homemade hummus
Serve them in a grain bowl with rice, couscous, or quinoa
Storage Tips
Cooked kofta will keep in the refrigerator for up to 3 days. This recipe also freezes great for meal prep! After kofta has cooled, place them in a sealed, freezer-safe, container, and freeze up to 3 months. Thaw the kofta overnight in the refrigerator prior to reheating.
More Delicious Mediterranean-Inspired Recipes
Mediterranean Orzo Pasta Salad
Mediterranean Vegetable Beef Stew
Mediterranean Stuffed Portabella Mushrooms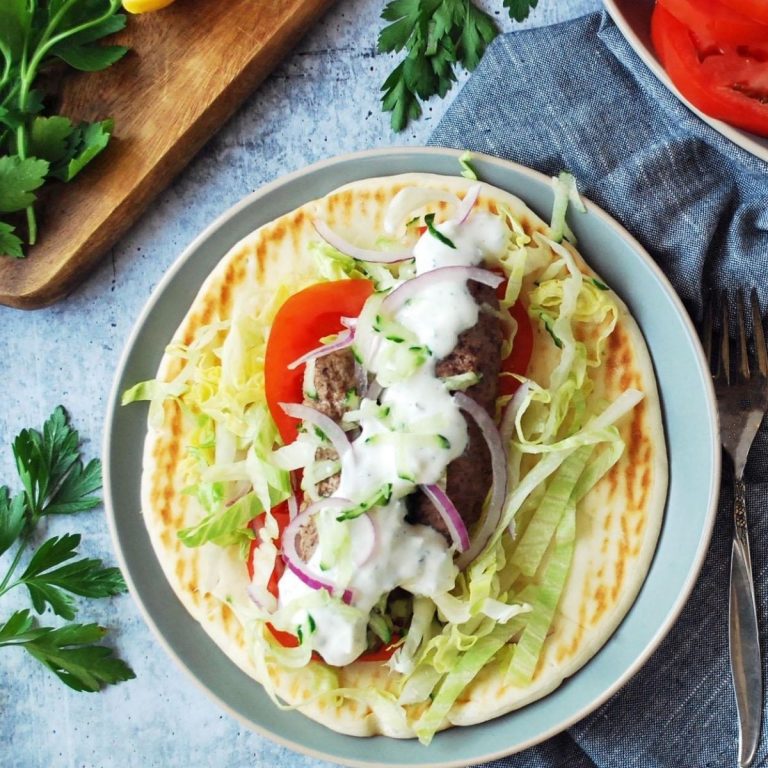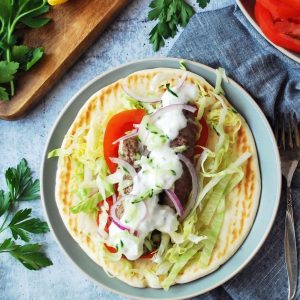 Air Fryer Kofta
A flavorful kofta recipe using a combination of lean beef and lamb that cooks in an air fryer in under 15 minutes.
Ingredients
1 ½

cups

plain Greek yogurt

*I use full-fat. It has better flavor and texture

¼

cup

fresh mint

finely chopped

3

tablespoon

freshly squeezed lemon juice

3

cloves

garlic

minced, divided

½

teaspoon

salt

divided

½

teaspoon

pepper

divided

1

lb

lean ground beef

92% lean

1

lb

ground lamb

¾

cup

English cucumber

seeded and shredded

1

large

tomato

sliced

½

cup

red onion

thinly sliced

3

cups

shredded lettuce

8

Greek flatbreads

We love the Papa Pita brand
Instructions
Peel and slice the cucumber and scrape out the seeds with a spoon. Shred the cucumber and place into a strainer or a large bowl. Set aside while you prepare the sauce.

In a medium-size bowl, whisk together: yogurt, mint, lemon juice, 2 minced garlic cloves, ¼ teaspoon salt, and ¼ teaspoon pepper

Separate out ⅓ cup of the yogurt mixture and cover the remaining sauce and refrigerate while you prepare the kofta

In a large mixing bowl, combine the lamb, ground beef, 1 minced garlic clove, remaining salt and pepper, and ⅓ cup yogurt mixture. Using your hands, knead the mixture until it is thoroughly combined. I glove-up for this so that I can really work the mixture and mix it well.

Divide mixture into 8 four-ounce balls (I use a food scale for this) and shape into 5-inch cylinders. I had enough mixture leftover to make an additional 2.5 oz meatball. Spray the basket of the air fryer with non-stick spray and arrange the kofta on the rack, leaving space in between for proper air circulation. If you have a small appliance, you may need to do this in two batches

Set air fryer to 400 degrees and cook for 8 minutes, flip and continue to cook 4-6 more minutes until lightly browned and cooked through. The internal meat temperature should register 160 degrees.

Stir the strained shredded cucumber into the Greek yogurt sauce (or you can also serve it on the side as a topping)

Serve kofta on the Greek flatbread with lettuce, tomato, red onion and drizzle with yogurt sauce
Notes
Note: Greek flatbreads were not calculated into the nutrition info.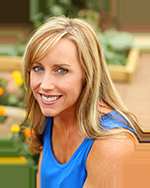 Latest posts by Amee Livingston
(see all)