Mediterranean stuffed portabello mushrooms are an easy healthy side dish or meatless main dish. Plump portabello mushrooms are stuffed with sun dried tomatoes, Kalamata olives, feta cheese, and more!
I've been on a bit of a Mediterranean kick, lately.  Maybe I'm subconsciously longing for a tropical vacation.  A trip to the Greek Isles would be lovely, some delicious food, warm sun, sand between my toes, a good glass of wine….ahhh…sounds perfect!  When can I leave?!!  Oh well, I guess a Greek inspired dinner will just have to do.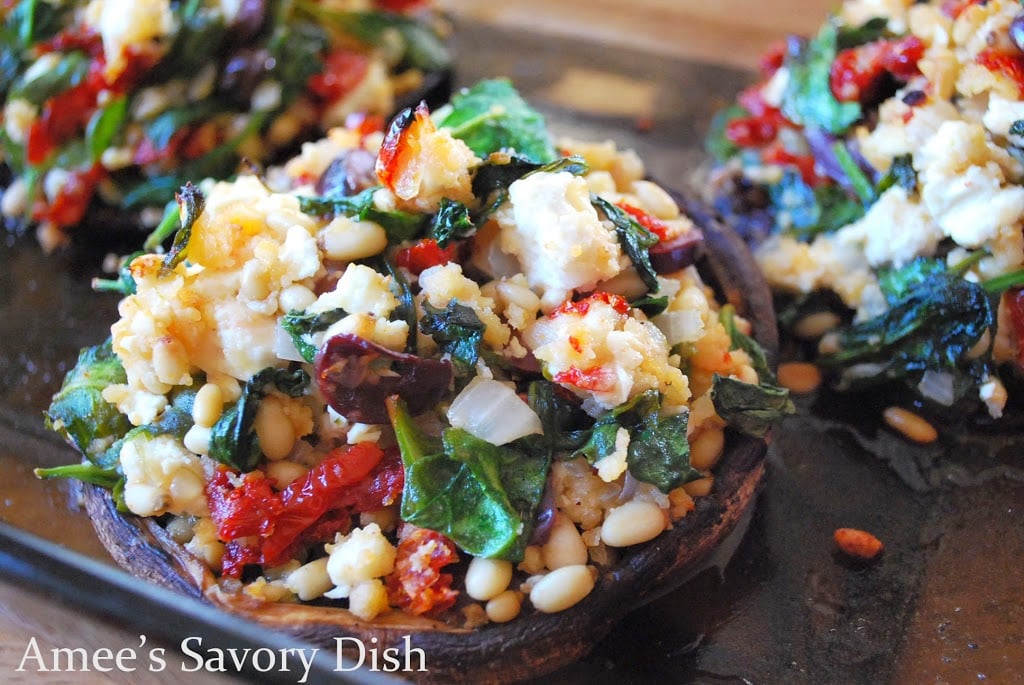 Mediterranean Stuffed Portabello Mushrooms
Ingredients
4 large portabello mushrooms
1/2 cup sundried tomatoes (in olive oil), chopped
1/4 cup kalamata olives, chopped
2 tbsp extra virgin olive oil
1/4 cup gluten-free panko bread crumbs
6 oz feta cheese
4 cups fresh baby spinach leaves
1/2 onion, finely chopped (red onion is best)
2 garlic cloves, minced
1/4 cup pine nuts, toasted
sea salt and pepper, to taste
Directions
Preheat oven to 425 degrees.
Wipe off mushrooms (they get soggy if you rinse them) and place, gill side up, in a baking dish rubbed with olive oil.
Cook for 8 minutes and set aside while you prepare the rest of the ingredients.
In a large sauté pan, toast pine nuts, stirring rapidly over medium heat until fragrant and lightly golden.
Place toasted nuts into a small bowl and set aside.
In that same warm pan, heat the EVOO and add onions.
Cook onions until soft then add garlic and stir for about a minute before adding spinach to the pan. Cook spinach until wilted, then add all other ingredients, stirring often, until cheese begins to melt. Sprinkle mushroom caps with salt and pepper and top evenly with stuffing mixture.
Drizzle each mushroom with a little olive oil and bake at 425 degrees for 10-12 minutes more.