This post and photos may contain Amazon or other affiliate links. As an Amazon Associate I earn from qualifying purchases. If you purchase something through any link, I may receive a small commission at no extra charge to you. All opinions are my own.
I feel like I've lost some of my cooking mojo lately. I've had 110% motivation to tackle my workouts and various home improvement projects and about 5% motivation to cook. Ugh. Can't someone just do it for me sometimes? That would be sooooo nice. Thank God for our Sunday food prep. The kids headed back to school on Monday, so I've been busy tackling some much needed DIY projects like, painting bookshelves, refinishing our kitchen table top and painting trim in our bathroom. It seems like there is always something that needs to be done around here. Oh, the joys of home ownership! My creativity in the kitchen has taken a backseat. I did, however, manage to whip up this killer Mediterranean-inspired Chicken Spinach Quinoa Salad for dinner Friday night.
Usually, I have lots of chicken and beef already prepped for meals for the week, so all I had to do is cook the quinoa and chop some veggies and parsley. A tip on pre-cooking chicken for this recipe, if you have stoneware (a clay baking dish) use it for cooking plain chicken breasts. I just buy the thin cutlets, season with kosher salt, drizzle with EVOO and bake in a clay baking dish at 350 degree for 20-25 minutes or until cooked through. It turns out so moist with this method.
This was a simple dish to put together and the flavors are on point in this recipe! If you want to keep it on the lighter side, mix up your dressing and portion it out for your individual serving (instead of tossing it with the whole salad). It's a good way to control the fat portion, if you are watching your fat macros.
I also drizzled a little extra balsamic vinegar before serving. That stuff is the bomb. I could drink it straight. Go for the good stuff, too. Balsamic vinegar is like a good wine, they are not created equal. Go to a shop that sells high quality balsamic vinegars and olive oils and splurge on a good one. It's totally worth it, ya'll. You won't be sorry. I pour that s*@t on everything!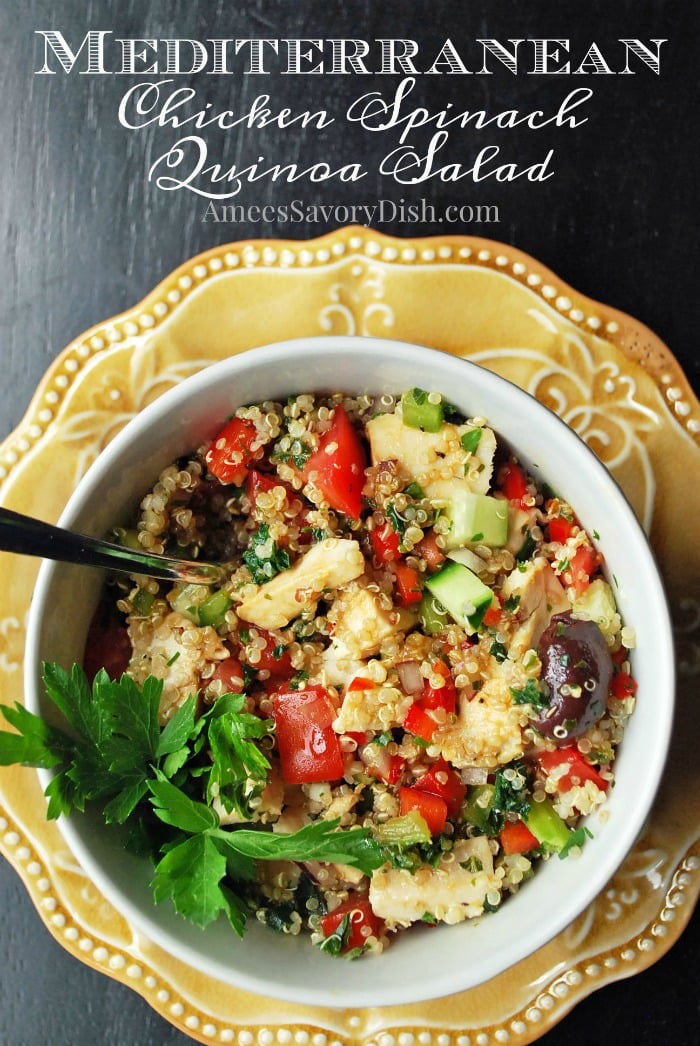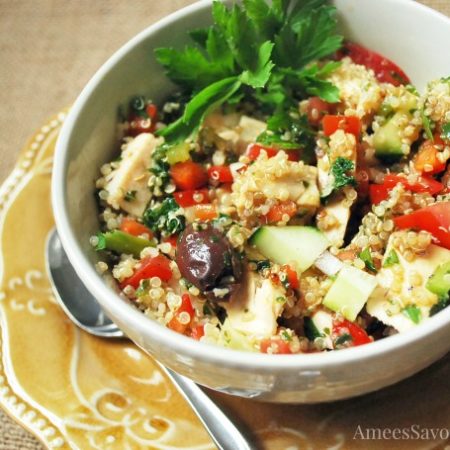 Ingredients
16

oz

cooked chicken breast

1 1/2

cups

uncooked quinoa

2

cups

chicken broth

1

cup

water

2

cups

fresh baby spinach

chopped into pieces (you can also use tender kale leaves-remove stems)

1/2

cup

red onion

finely chopped

1/2

green pepper

finely chopped

1

whole red pepper

finely chopped

1/2

cup

whole pitted Kalamata olives

1/2

cup

feta cheese

crumbled (I used the reduced fat feta)

1/4

cup

fresh parsley

chopped

1

cup

peeled English cucumber

chopped

3

roma tomatoes

seeded and chopped

4

tbsp

fresh lemon juice

6

tbsp

balsamic vinegar

1/4

cup

extra virgin olive oil

1

tsp

salt

1/2

tsp

pepper
Instructions
Cook quinoa in the chicken broth and water, according to package directions (you are substituting chicken broth for some of the water)

Cool quinoa and set aside

Heat a medium nonstick skillet on medium heat.

Spray skillet with olive oil cooking spray and add chopped spinach.

Stir and cook until just soft and wilted and set aside to cool.

Pour quinoa into a large bowl and stir in cooked spinach

Add all of the chopped vegetables, parsley, cooked chicken, olives and feta cheese and toss to mix.

Whisk together fresh lemon juice, balsamic vinegar, olive oil, salt and pepper and pour over salad.

Stir to mix and serve immediately or store in the refrigerator until ready to eat.
I hope that you enjoy this Chicken Spinach Quinoa Salad! Don't forget to follow me on Instagram @ameecooks for more food and fun!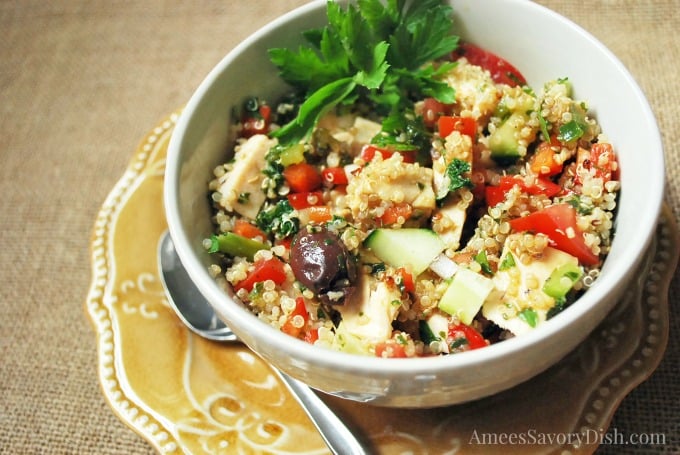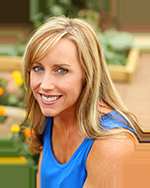 Latest posts by Amee Livingston
(see all)