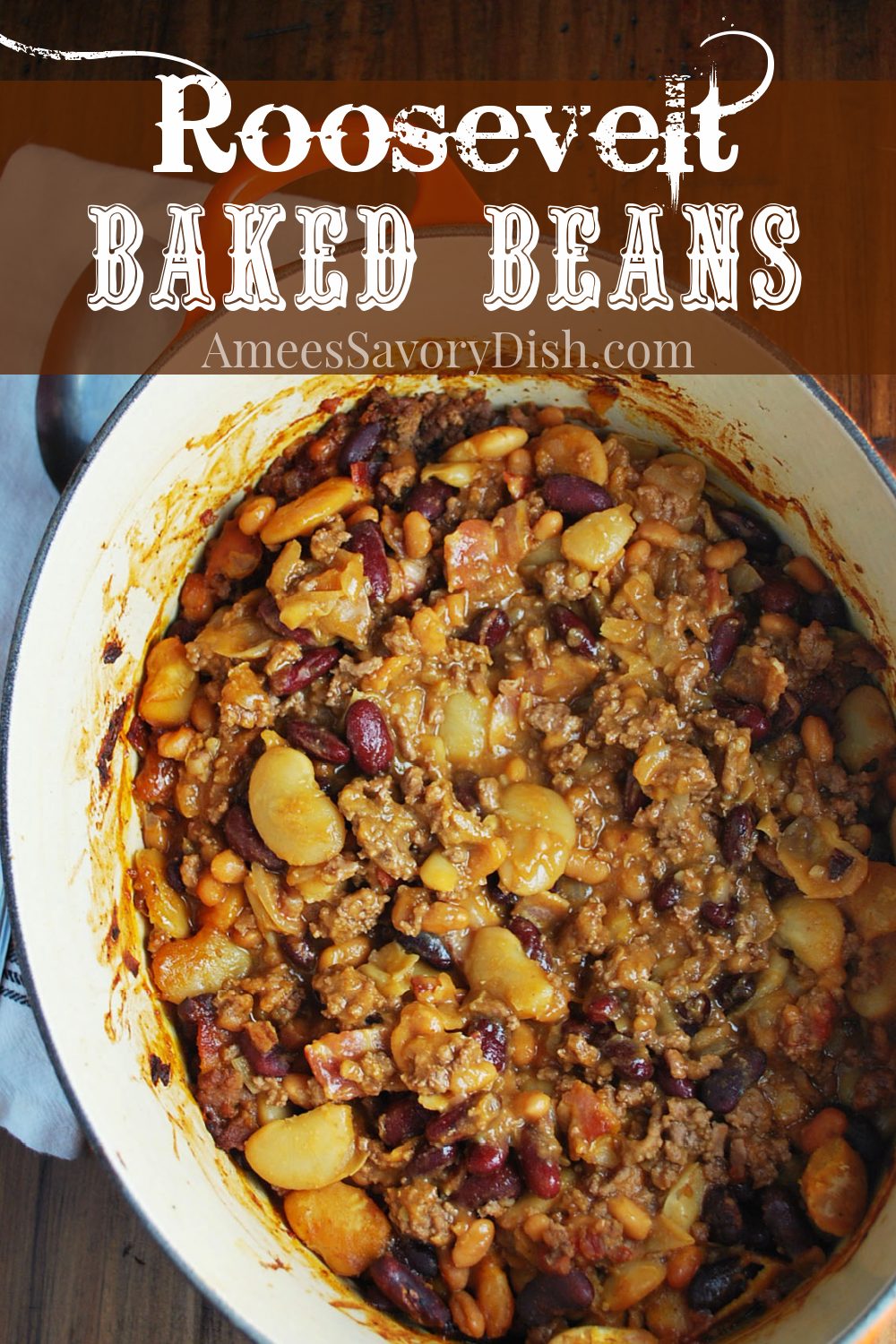 These baked beans with ground beef and bacon aka Roosevelt Beans are seriously the best baked beans you'll ever eat!! It's an adapted version of the Roosevelt Baked Bean recipe from Yellowstone National Park's Old West Dinner Cookout. It's seriously the last baked bean casserole recipe you'll ever need.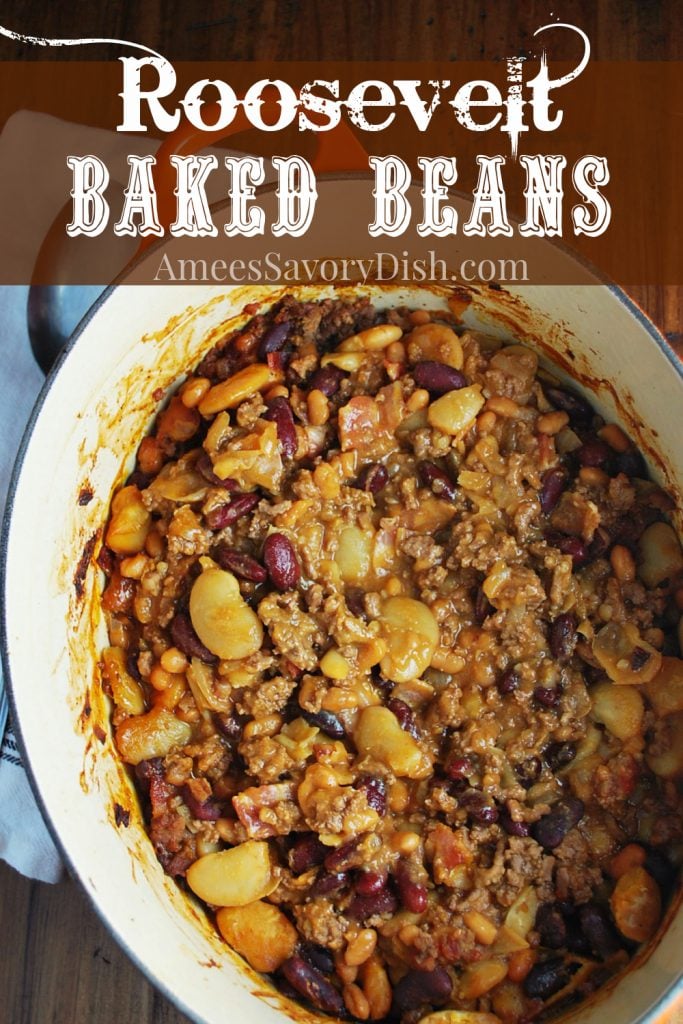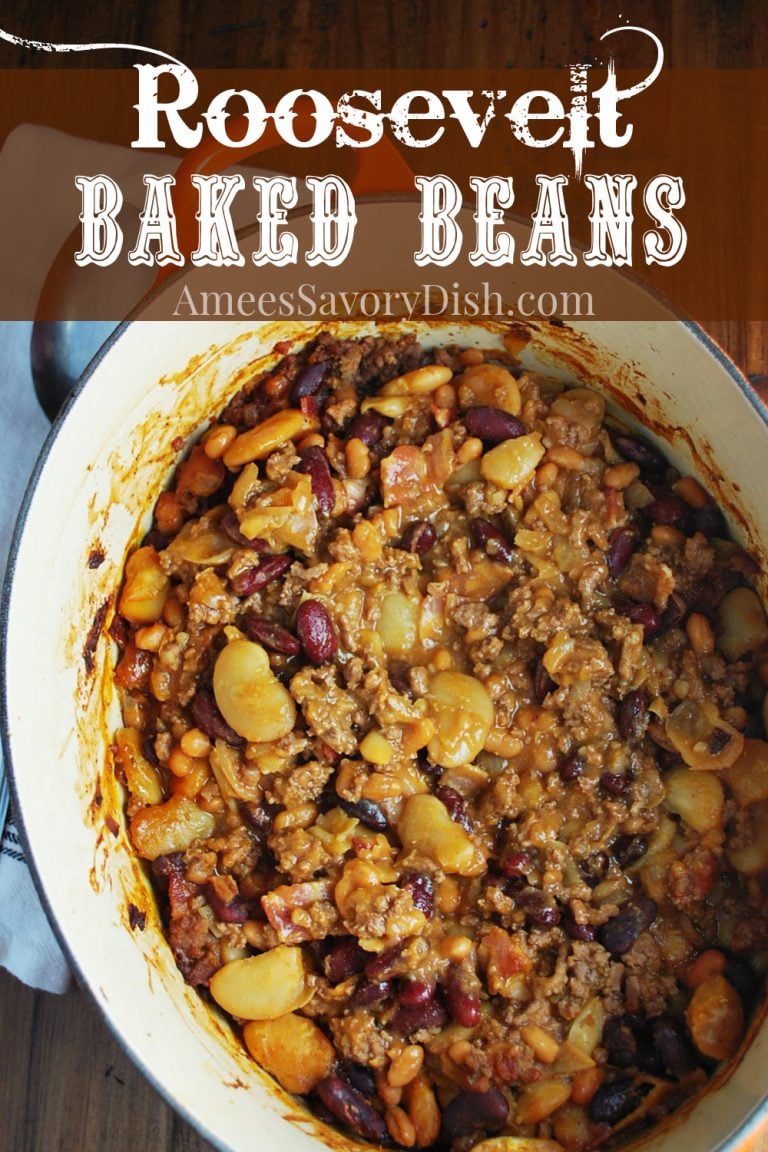 This month's Recipe Redux theme is a fun flashback because I get to reminisce about our trip to Yellowstone National Park this past summer. It's all about unpacking vacation memories and creating a healthier recipe from a meal that we enjoyed. It could also be a recipe inspired by an ingredient that we saw during our travels.
I immediately thought of these Roosevelt baked beans, a recipe for baked beans with ground beef and bacon. It was one of the sides that we ate during the Old West Cookout at Roosevelt Lodge. They were sooooo delicious! How weird is it that beans are one of my most memorable foods?! I've always been a big baked bean fan. I'm sure that you're thinking up some good fart jokes right about now.
Roosevelt Baked Beans with Ground Beef Is More Like A Baked Bean Casserole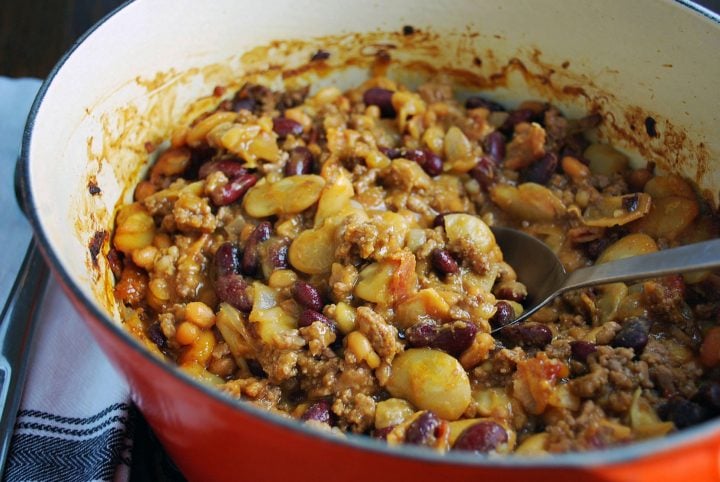 These baked beans aren't your typical baked bean recipe. They are filled with 2 kinds of tasty meats (love the protein boost!), perfectly seasoned, and comprised of 4 different bean varieties. These beans are hearty, they could easily be a stand-alone meal with a good garden salad. I don't usually go back for seconds, but I couldn't help but fill my plate twice. They were so good!! This is going to be my new go-to bean recipe.
The only changes that I made to the original recipe were to use lean ground beef and less bacon. I know you're thinking WT fudge?!! Bacon rocks! Why would you cut the bacon?? Here's the thing, 6 pieces of bacon crumbled still packs a flavor punch with less fat, so you can have your bacon and save a little more room for something else later. You just definitely don't need that much to make this taste good, it's still delicious. Also, I cook my bacon in the oven, so clean-up is quick and easy.
Yellowstone National Park Should Be On Your Vacation Bucket List
I had completely intended to share our epic summer vacation with you sooner, but you know...life happened and I just haven't gotten around to it yet. It was, hands-down, the best family vacation that we've taken so far. We flew into Salt Lake City and spent the night in Ogden, about forty miles north of the city. From there, we made our way up to Jackson, WY, where we spent the next 3 nights. Then, we made our way to Yellowstone National Park and stayed in one of the cabins at Old Faithful's Snow Lodge for the remainder of our trip.
I'm going to share more details of our vacation in a separate Yellowstone travel tips blog post later this week, there is just way too much awesomeness to tackle in one post. I want to share some of our favorite spots, along with helpful travel tips on places to dine, stay, and visit. Like I said before, it was a really incredible vacation for our family and I highly recommend adding this area to your vacation bucket list.
Now onto the backstory of this tasty bean goodness...
We booked the Roosevelt Old West Dinner Cookout for the last night of our stay in Yellowstone. This popular Yellowstone activity was recommended by a good friend and it books up fast, so I made the reservations months in advance.
When you arrive at Roosevelt Stables, they gather everyone in a large group and tell a few fun stories about Yellowstone's cowboy history. Then they load us up in groups to board a horse-drawn carriage to travel to a "secret location" in the park for the cookout.
Ready to roll...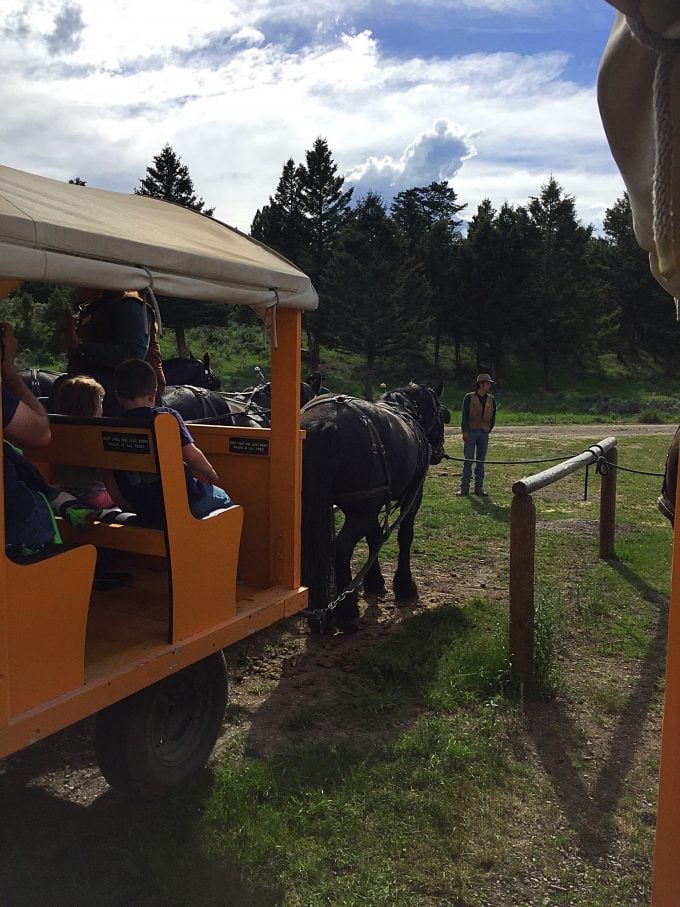 This scenery could be a postcard. It was a beautiful ride. The cookout guides a.k.a "wranglers" were a lot of fun, telling us jokes and entertaining stories on the way to dinner. We saw plenty of wildlife, including bison, pronghorn, gophers, and a black bear right outside of Roosevelt Lodge before we arrived at the stables.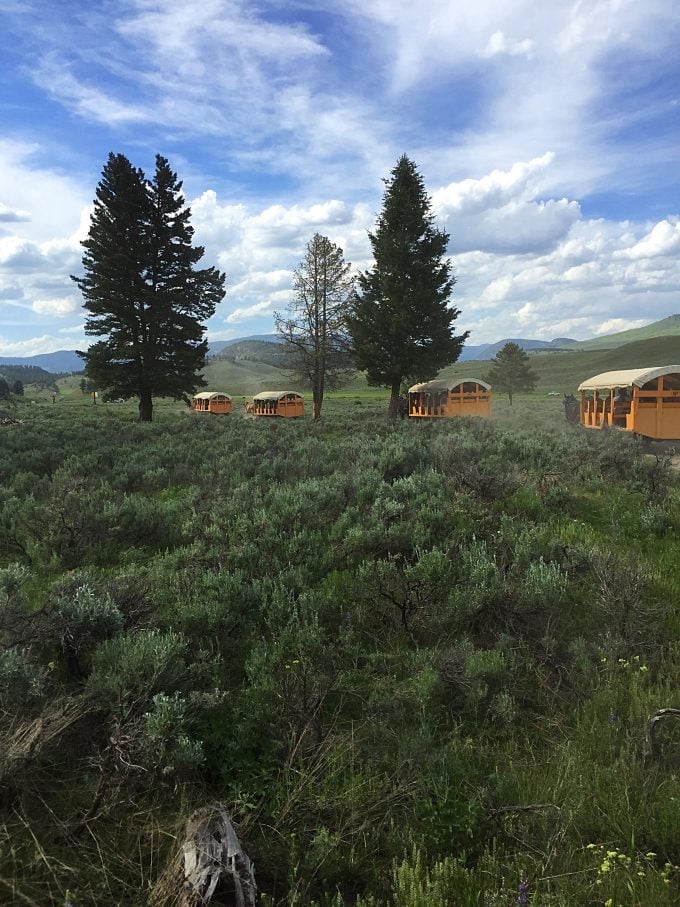 When we arrived at the cookout site, they had a huge buffet-style spread waiting for us.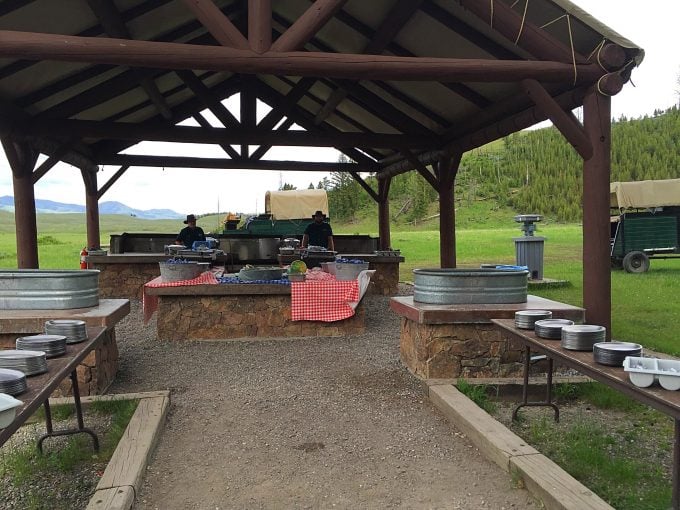 We even got to enjoy some classic cowboy tunes. One of the cute guests was eager to join in on the fun. 🙂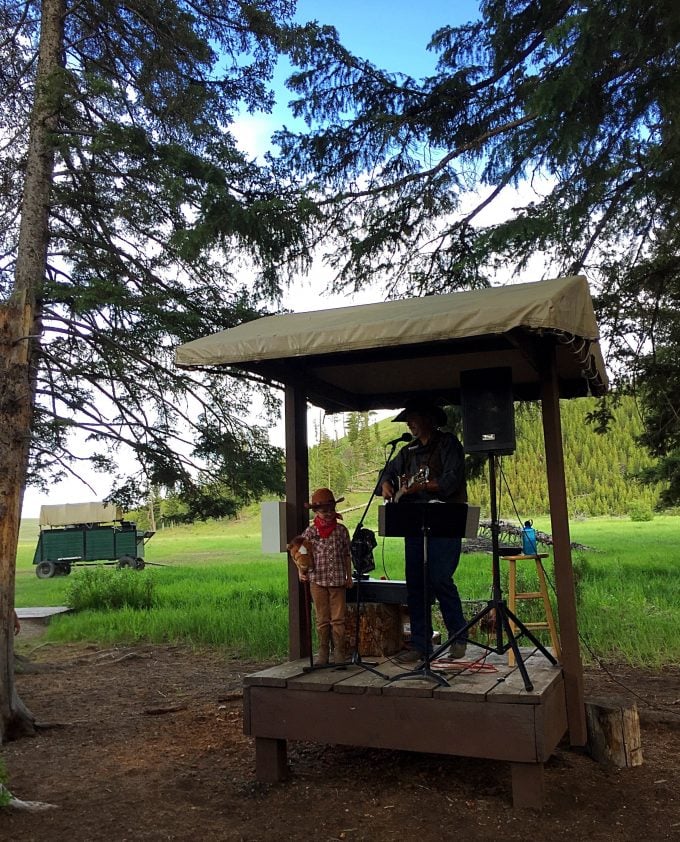 Part of the Old West Dinner experience is trying out authentic cowboy coffee. It's seriously strong and thick and packs a big flavor punch if you like a strong cup of joe. Cowboy coffee is made with an extraction method called "decoction", which is simply commingling coffee grounds, preferably freshly ground, with boiling water. You add the coffee grounds (and they use a LOT of coffee grounds) to cold water in a kettle and heat it over a hot fire. They even joke that it's so strong, it could float a horseshoe. This stuff really puts Starbucks to shame.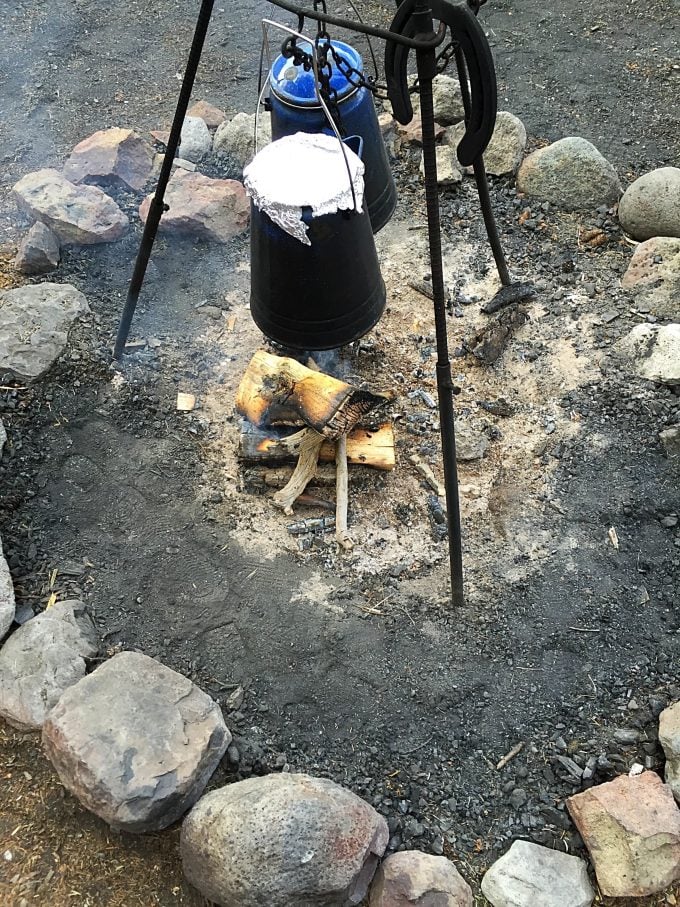 The cowboys cooked our steaks to order. I believe that they had black bean burgers for non-meat eaters, but I was all for the beef.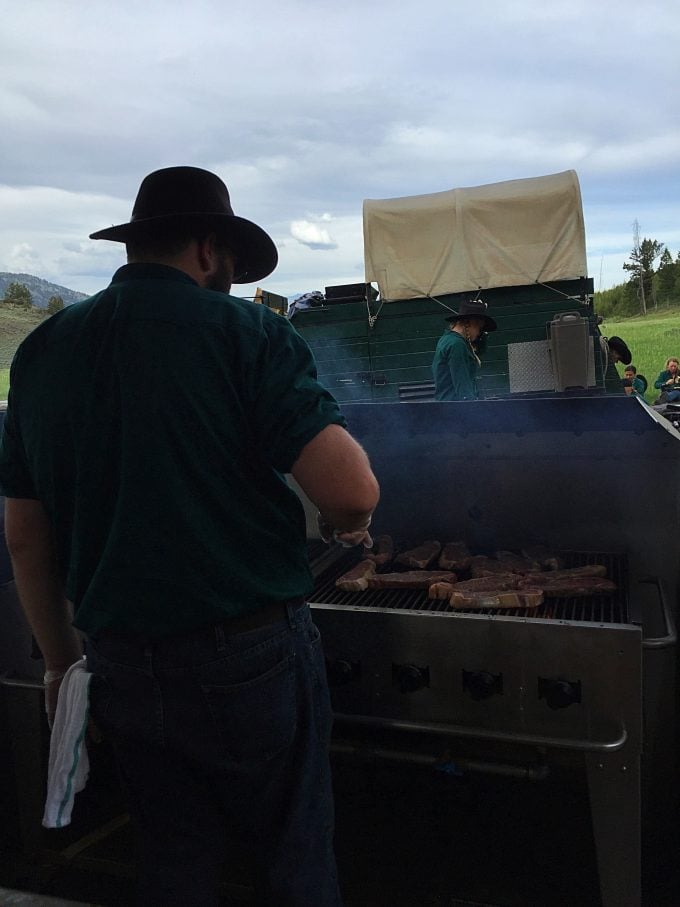 Here's my plate with a very generous helping of food. That's enough steak for 2 meals for me! As you can see, they aren't skimpy with the portions. They'll even let you go back for more if you're actually still hungry.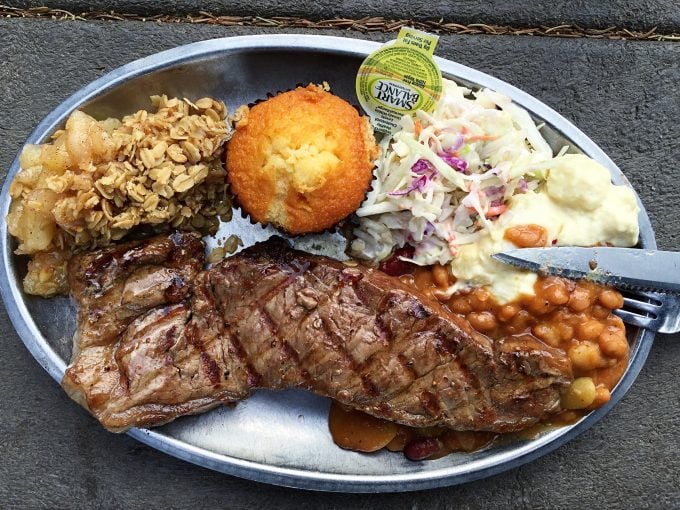 After dinner, they share a fun story around the campfire before loading back up to head back. This was a memorable family experience. I highly recommend this dinner outing if you are planning a visit to the park. They also offer the option of riding horseback, instead of the wagon ride. We rode horses through the Grand Tetons earlier in the week, so we opted for the wagons instead.
Lauren wanted to pet the horses and this guy kept trying to lick my ear.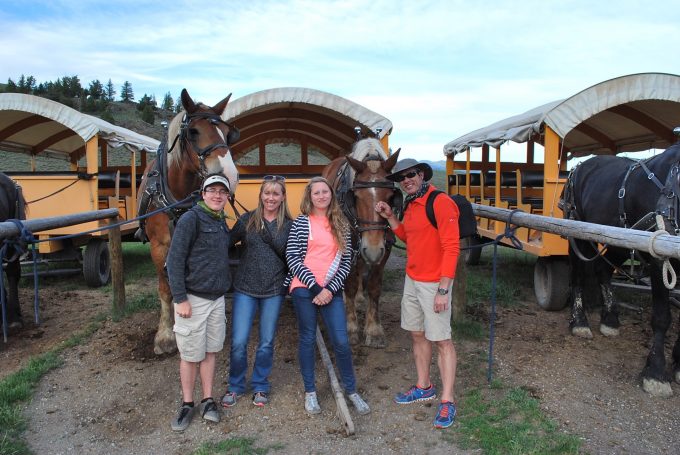 I'll be sharing more scenic pics and fun travel tips this week. Stay tuned...
I hope that you enjoy these Roosevelt Baked Beans with ground beef & bacon as much as we did!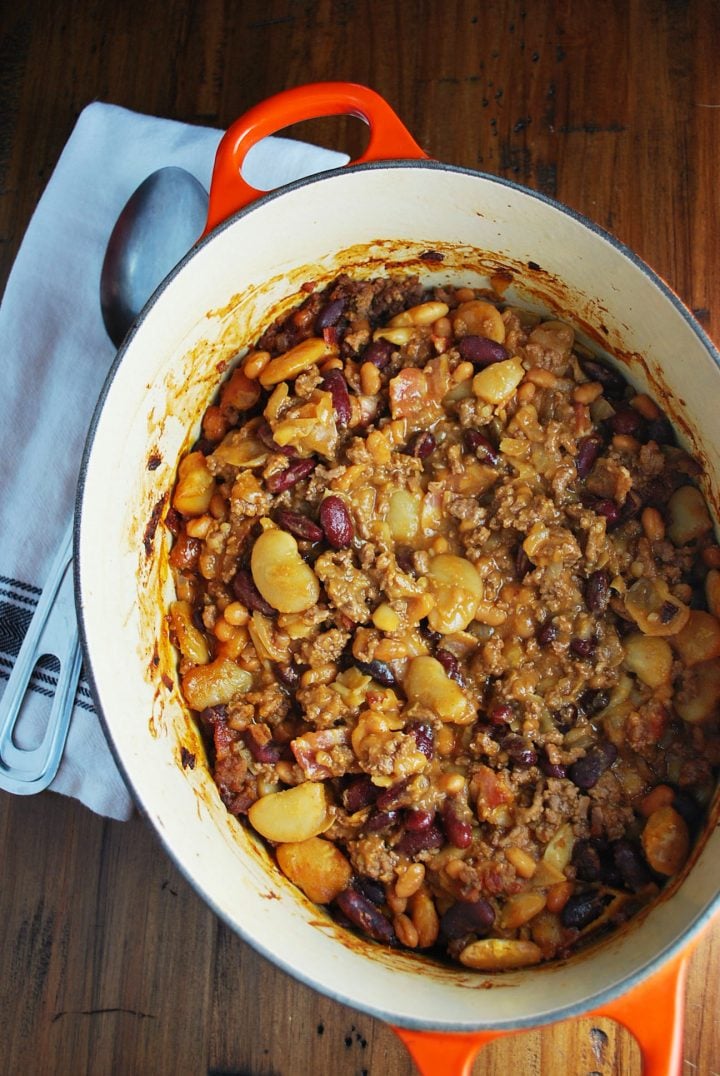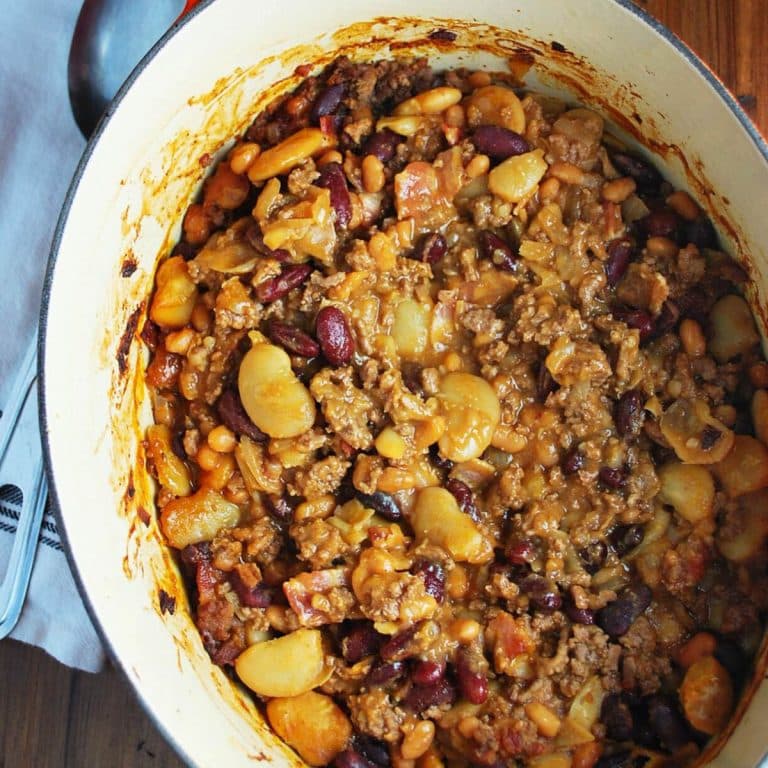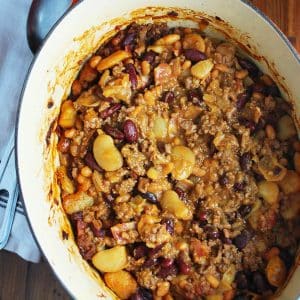 Roosevelt Baked Beans with Ground Beef & Bacon
These baked beans with ground beef and bacon are an adapted version of the Roosevelt Baked Bean recipe from Yellowstone National Park's Old West Dinner Cookout.
Print
Pin
Rate
Ingredients
1

lb

92% lean ground beef

6

slices

cooked bacon

1

small onion

chopped

16

oz

can pork and beans

15

oz

can kidney beans

15

oz

can lima beans

15

oz

can butter beans

½

cup

brown sugar

can sub coconut sugar

½

cup

ketchup

2

tablespoon

apple cider vinegar

1

tablespoon

prepared mustard

salt and fresh ground pepper

to taste
Instructions
Preheat oven to 400 degrees F..

Cook bacon on a foil-lined baking sheet for 10-15 minutes, until bacon is done

Drain bacon on a plate lined with paper towels and set aside

Lower oven heat to 325 degrees F.

Heat a dutch oven over medium heat and add ground beef and onions. Cook until meat is done and onions are soft.

Drain grease and add beef mixture back to the pot.

Drain all beans and add to pot (if you prefer more liquid, drain all beans except the pork and beans and add them with the liquid to the pot)

Stir in all remaining ingredients and bake for 45 minutes at 325 degrees.
Nutrition
Calories:
296
kcal
|
Carbohydrates:
43
g
|
Protein:
20
g
|
Fat:
5
g
|
Saturated Fat:
2
g
|
Cholesterol:
36
mg
|
Sodium:
824
mg
|
Potassium:
687
mg
|
Fiber:
9
g
|
Sugar:
15
g
|
Vitamin A:
62
IU
|
Vitamin C:
3
mg
|
Calcium:
72
mg
|
Iron:
4
mg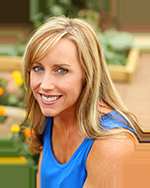 Latest posts by Amee Livingston
(see all)