This might be the longest blog post I've ever written. I really wanted to put a post together with travel tips for Yellowstone and The Grand Tetons for anyone planning on visiting the area. A friend of mine sent me a detailed list of recommendations after their trip. It was incredibly helpful when I started to plan our own agenda. If you've never been this area and hadn't planned on going, maybe this post will be an incentive to add this to your travel bucket list. I recommend planning at least eight months in advance, preferably a year ahead to get the best accommodations.
It's honestly the best vacation that we have taken as a family so far. I highly recommend it for those of you with older children who will truly appreciate what they are seeing, nature in it's most raw and magnificent form. You also need to have a deep respect and healthy dose of fear for the land that you are exploring. Tourists are the guests in this vast, untouched land that belongs to the creatures that inhabit it.
The timing of this post is pretty cool, because this year is the National Parks 100th anniversary. If you are traveling to the parks this year, expect crowds. We traveled in early June and it was really busy, but not unpleasantly crowded. Traffic wasn't bad and the stops were fairly easy to navigate.
We flew into Salt Lake City and rented a car for the week. We had booked a Mercedes SUV, so we would have a nice comfortable car for travel for the next 8 days. However, when we picked up the car it was way too small for us AND our luggage. We couldn't get over how tiny the trunk was on this car. They didn't have anything else available, so we managed to shove all that we could fit in the trunk and had the kids buried under luggage in the backseat. We ended up having to go buy smaller suitcases at a store in Ogden, UT near the hotel and just gifted our big suitcases to the hotel staff. Definitely a giant pain in the ass, but we had to travel in comfort for the rest of our trip. I didn't want to be crowded in a car while we are trying to enjoy the scenic view.
Our first stop after the airport was dinner at the Red Iguana. Flynn had eaten here before on a business trip and loved it. This place has been featured on the Food Network and is famous for their homemade mole sauces. The decor here is anything but pretentious, but the food and drinks steal the show. People wait in long lines that wind around the side of the building to get a seat to eat here. After sipping on one of their house jalapeño margaritas and tasting their turkey enchiladas with pistachio mole, I knew exactly why this is a hot spot. It was incredible!! If you love good homemade authentic Mexican food, then add the Red Iguana to your dining agenda in Salt Lake City.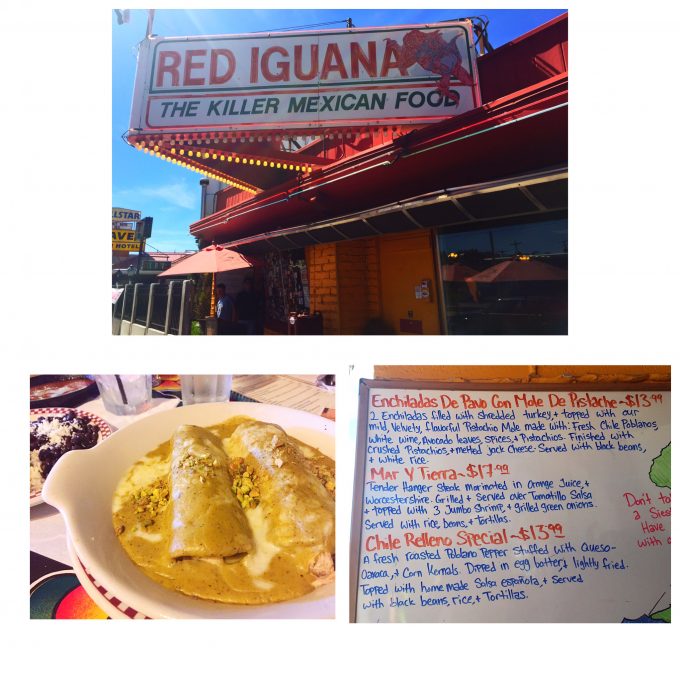 After dinner, we drove to Ogden, Utah to spend the night. This is a really nice suburb of Salt Lake, about 40 miles north and the perfect place to stop for the evening. The next morning, we stopped at Jeremiah's for breakfast. I always search for spots that locals rave about and this one was highly recommended.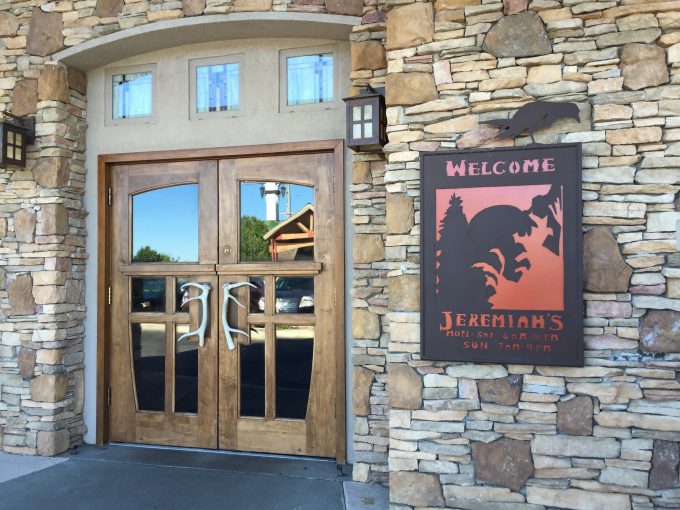 Lauren saw their famous cinnamon roll on the menu and, being a huge cinnamon roll fan, decided to give it a try. We were expecting a small roll with icing, you know, like a cinnabon or something. Well, this is what came out....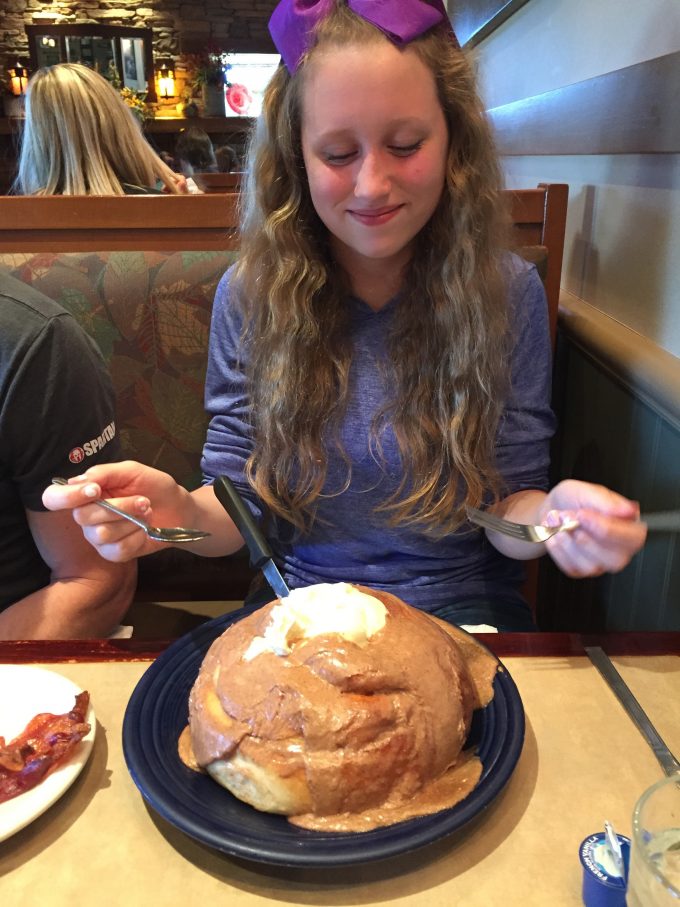 WTH??! Can they not disclose that this feeds a family of eight?! The look on her face was priceless. You would have thought that she won the lottery. This kid was in pastry heaven! Thankfully, I had her order a side of bacon so she could at least get a little protein to go along with that carb and sugar overload. It had this lava of butter and sugar pouring out of the top. She was only able to eat about an eighth of that monstrosity before busting out of her pants. I ate a bite to see how it tasted and I have to admit it was really, REALLY tasty. I think this should be more appropriately called "The Diabetes Roll".
Jackson, Wyoming
After getting all fueled-up (Lauren especially), we started on our trip up to Jackson, WY. The drive is beautiful from Salt Lake City to Jackson. The time we spent in the car seemed to fly by, as we were mesmerized by the beautiful scenery. If you've never been to Jackson, it's a really cool little town. It's an affluent area, with upscale shopping and a plethora of great dining options. It's a foodie heaven, there's so many great restaurants to try and we only had a chance to try a handful of spots before we left. I can't wait to go back and hit more of the hot spots that we missed.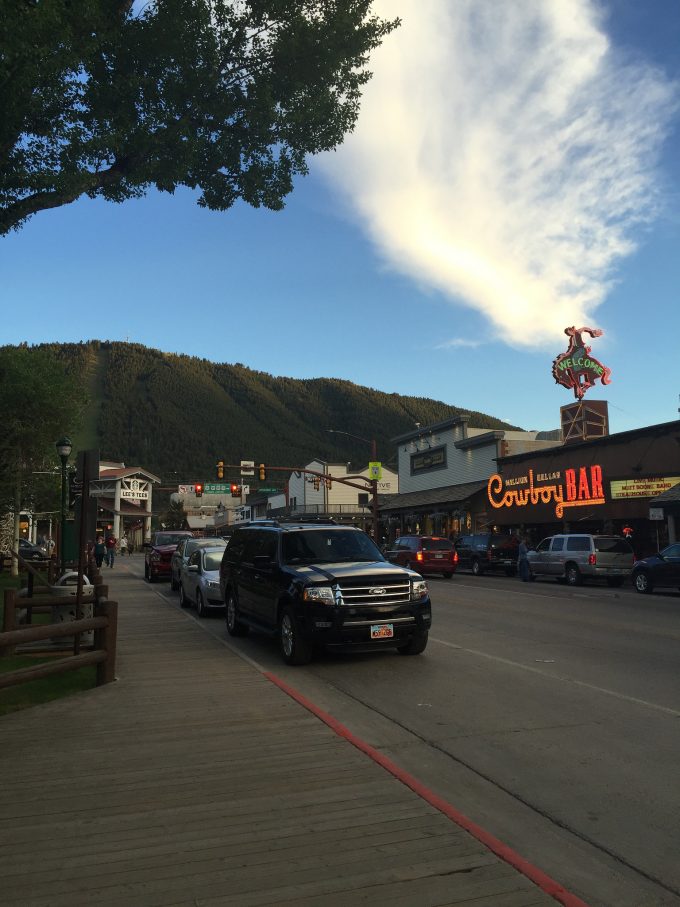 We stayed at The Alpine House Lodge. This place was so quaint and charming! The staff here was so friendly and welcoming. They take hospitality to a whole new level. The lodge is owned by Hans and Nancy Johnstone, both former US olympic skiers. I found this place online and just thought it was super cute. They have rooms with a loft area and I knew that would be nice for traveling with the kids.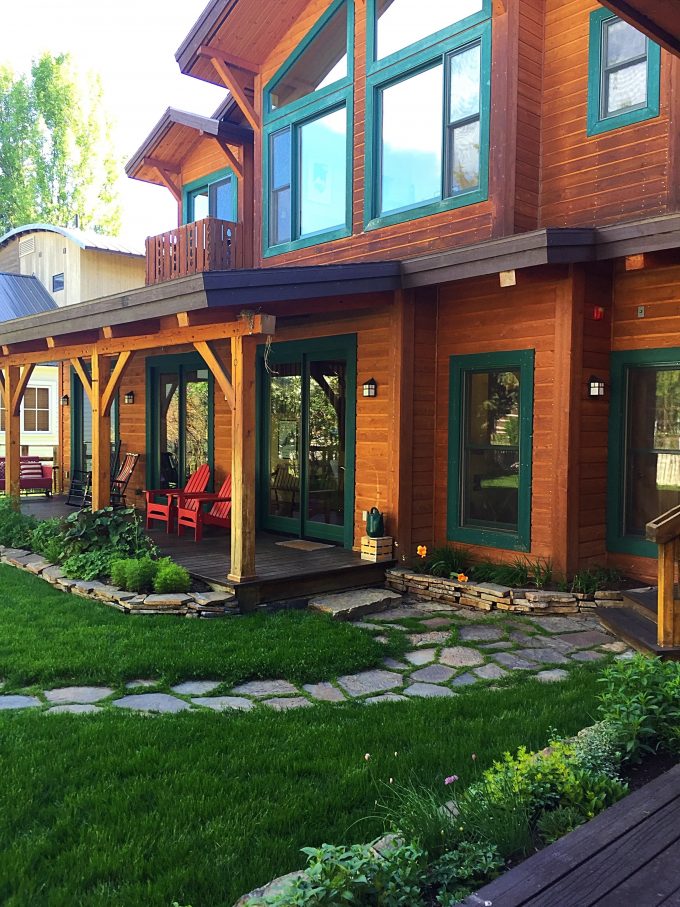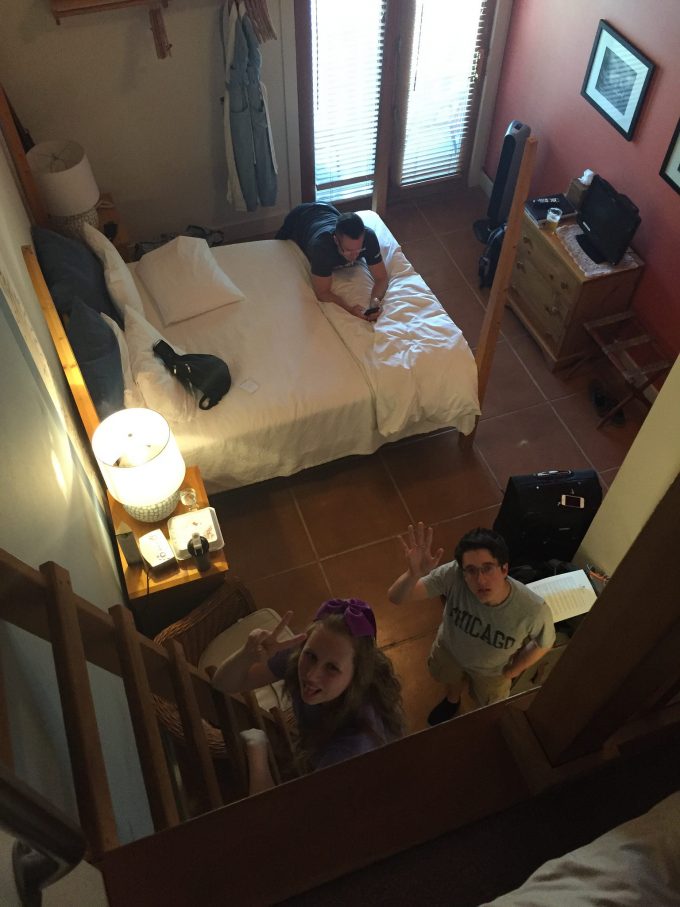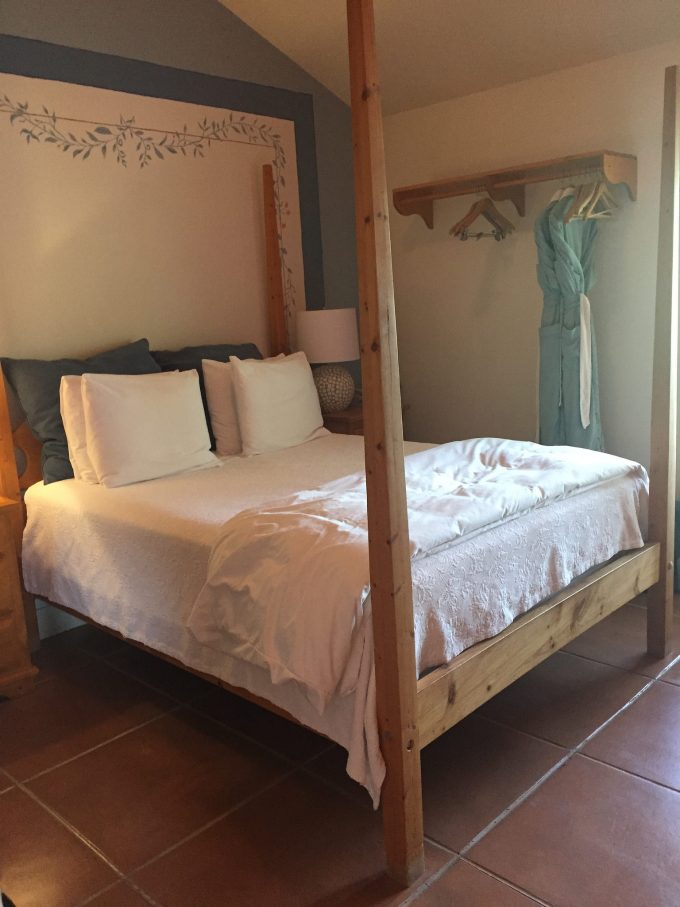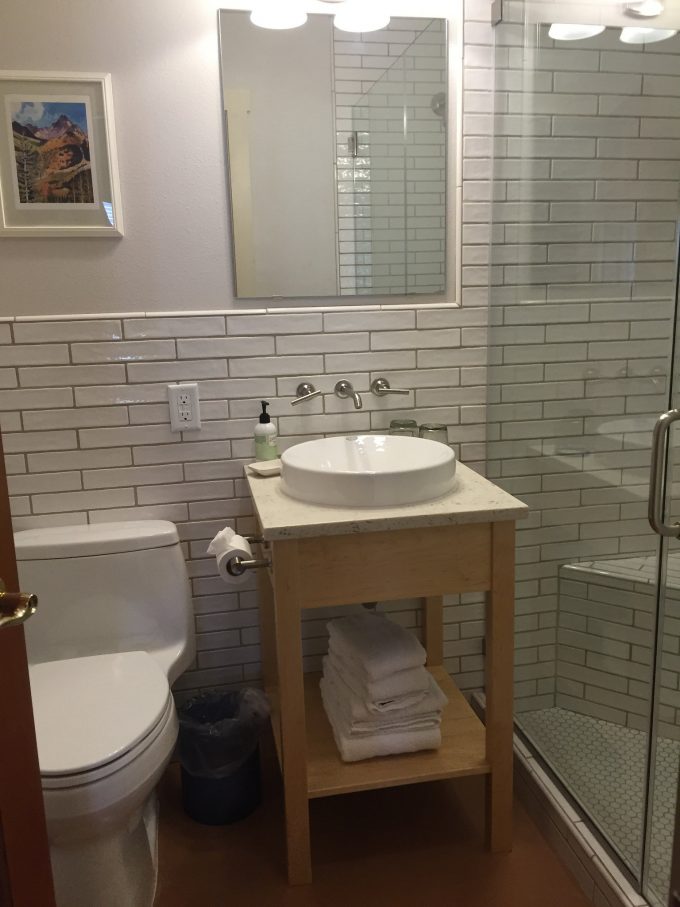 Everyday, they serve a chef-prepared breakfast. There's a daily special that usually alternates between savory and sweet. Some of their options included: omelettes, crepes, pancakes, waffles, local artisan pastries, homemade granola and fruit . Everything was really delicious.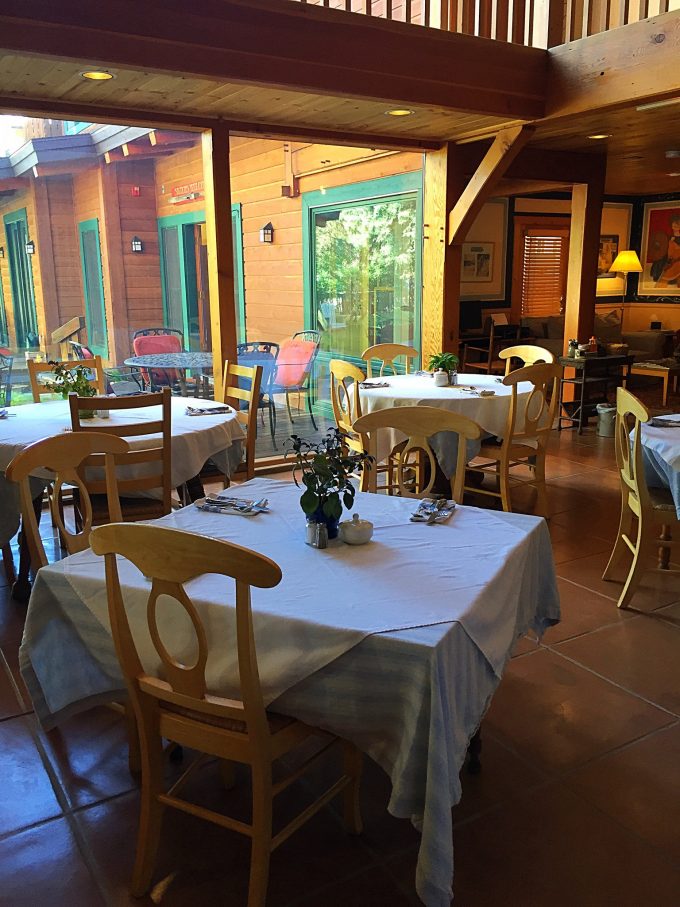 The dining area has a nice, intimate setting. They don't have a lot of people staying here, so it really makes things feel nice and homey.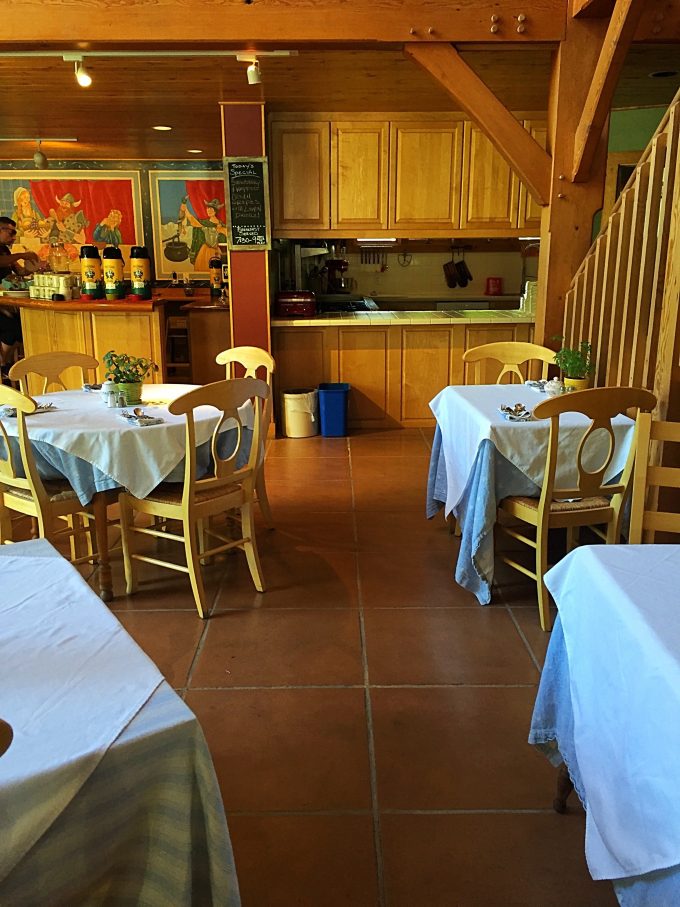 The kids loved the afternoon treats. Every day they have a different snack, like lemon bars, brownies, cookies, etc.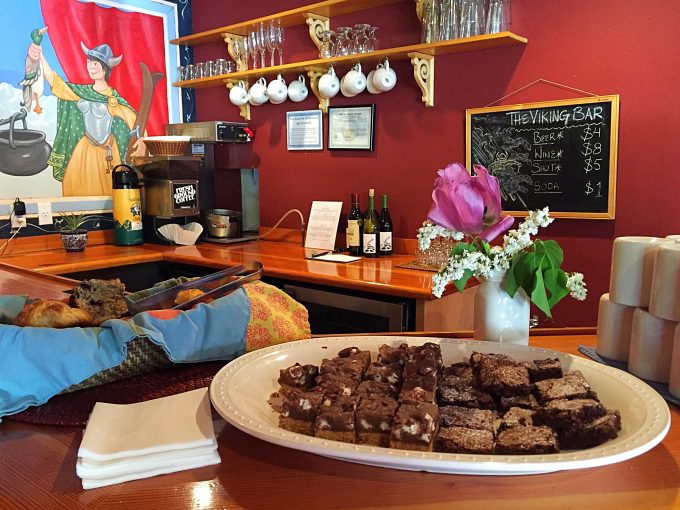 Our first dining spot in Jackson was King Sushi. We were really in the mood for some good Japanese food.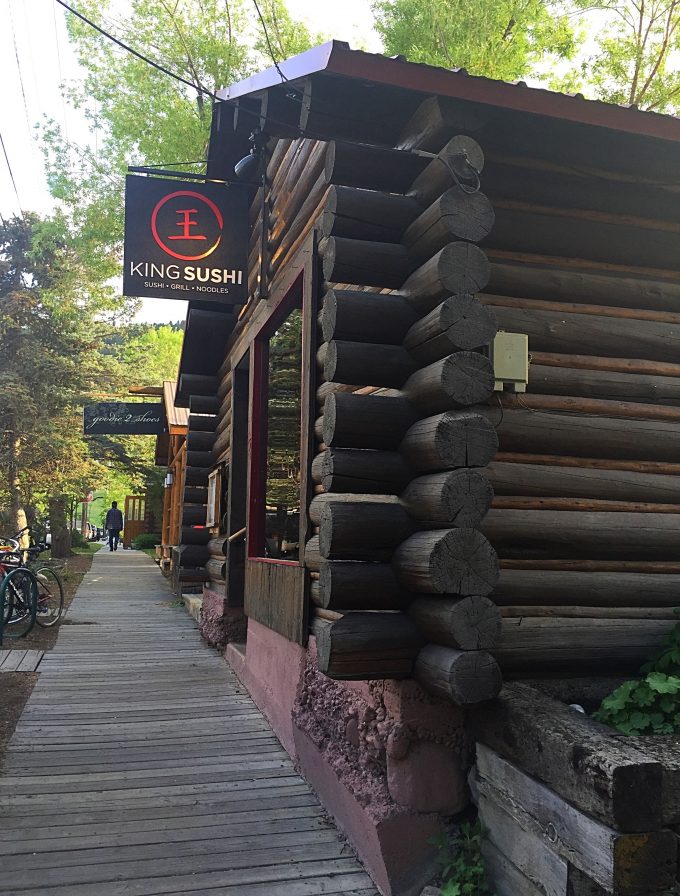 It's a small place, so you may have to wait for a table. They will call you when it's ready if you want to browse the surrounding shops, which is exactly what we did. The sushi was worth the wait. We were really pleased with everything that we ordered.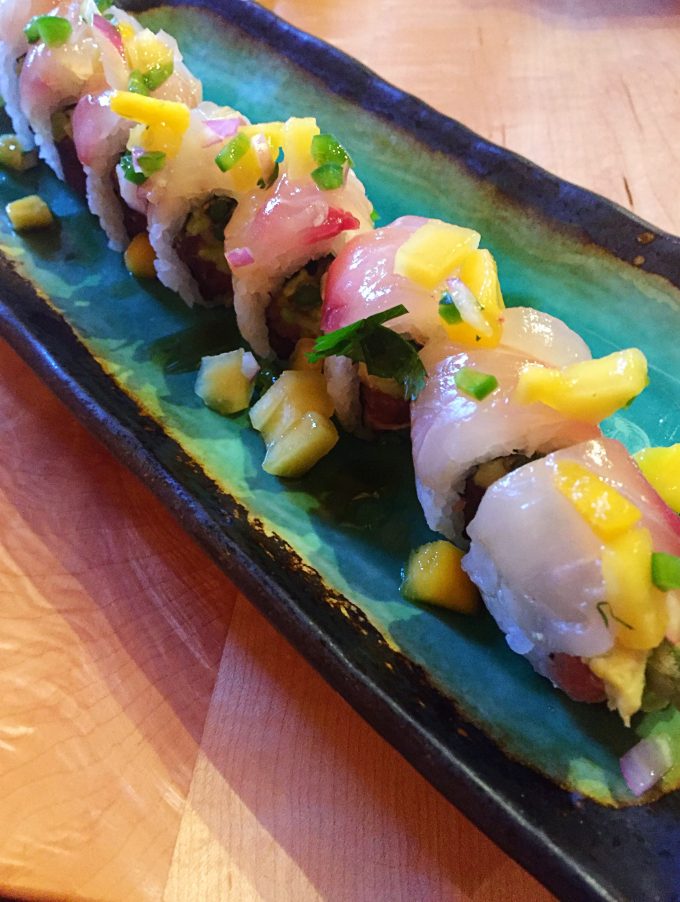 Next up, Moo's ice cream! This place is legendary in Jackson, so we had to give it a shot. If you go, I highly recommend the huckleberry ice cream. It's one of their signature flavors and a local favorite.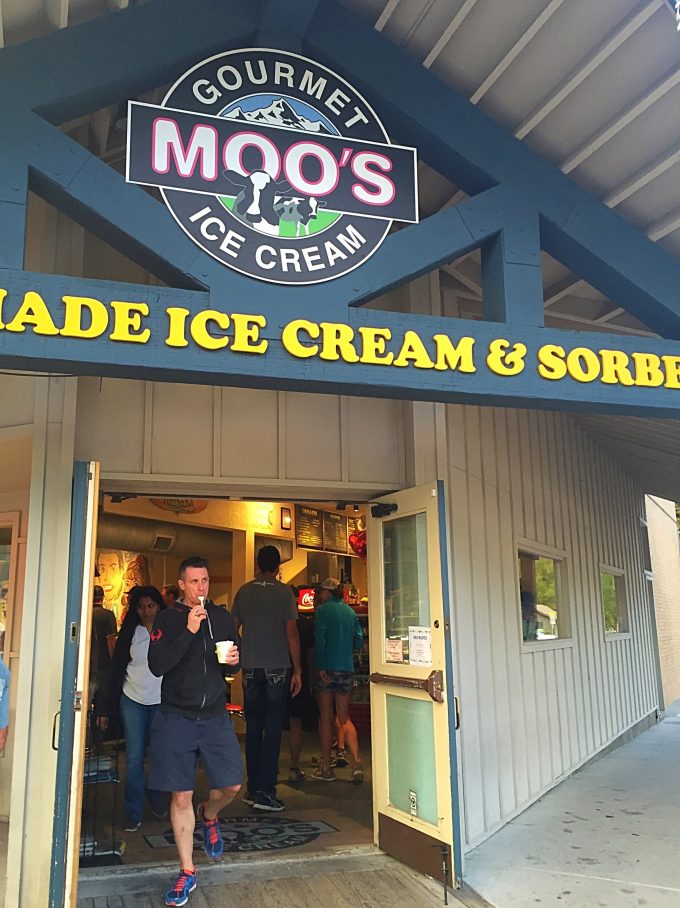 My huckleberry ice cream cone....so good!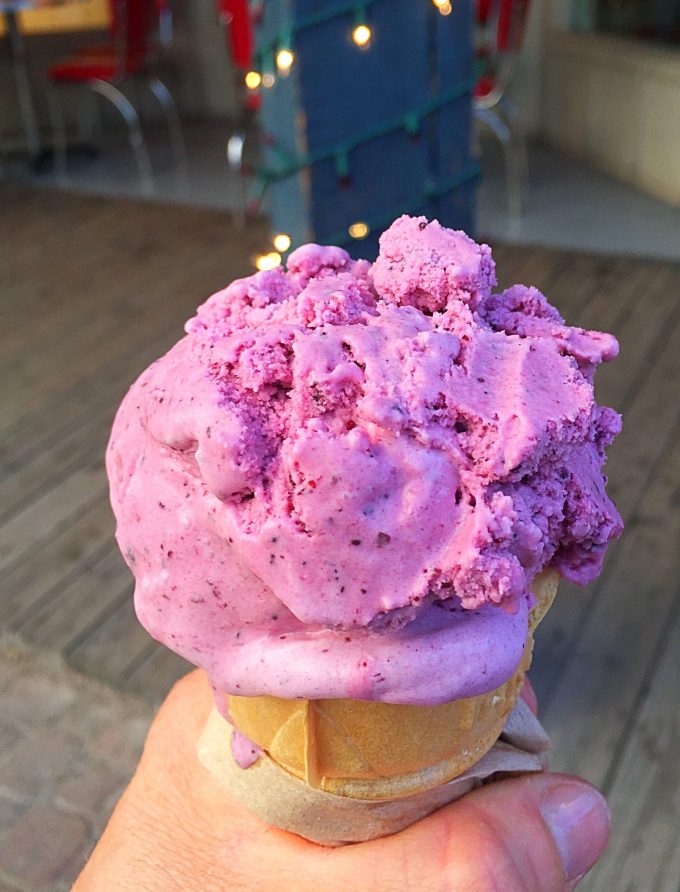 Another spot we loved for dessert or an indulgent snack is Coco Love.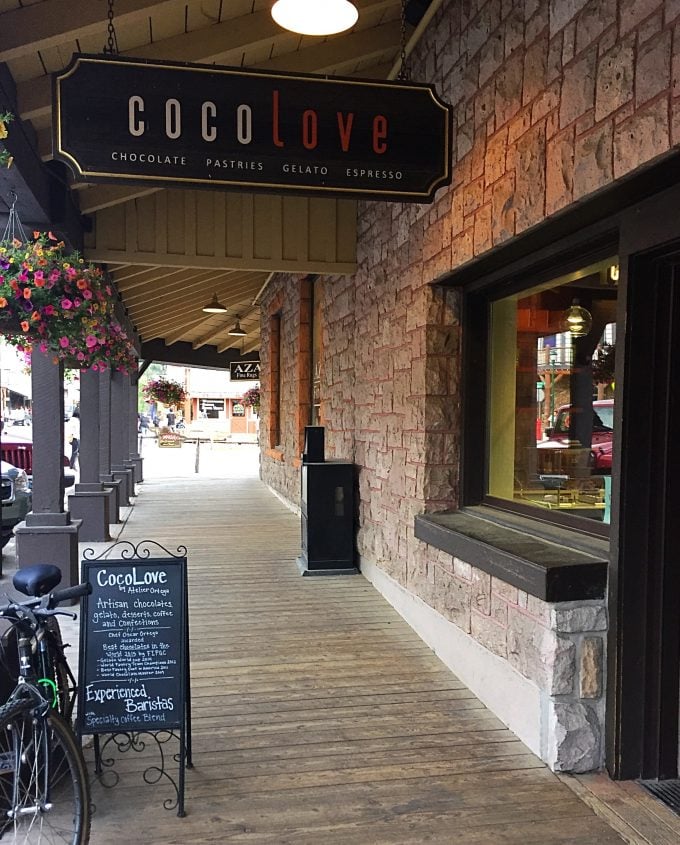 The artisan chocolates were heaven and the perfect treat for after our really long hike!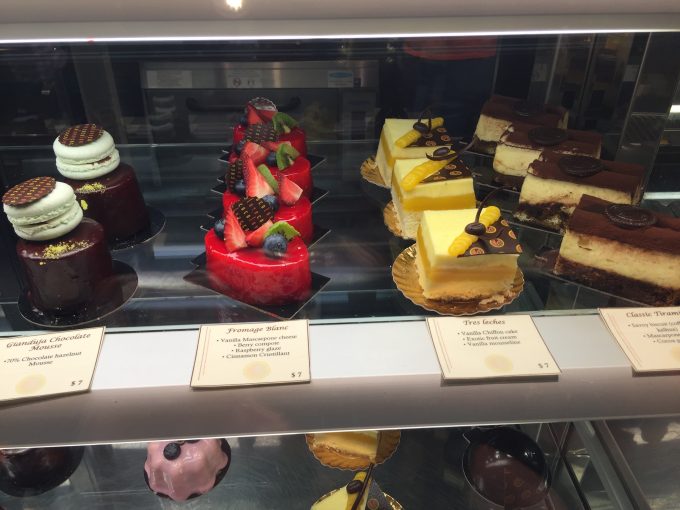 If you're a drinker, you need to stop into the Grand Teton Distillery tasting room in Jackson. They have a lot of different spirits out for sampling. I really like the huckleberry vodka.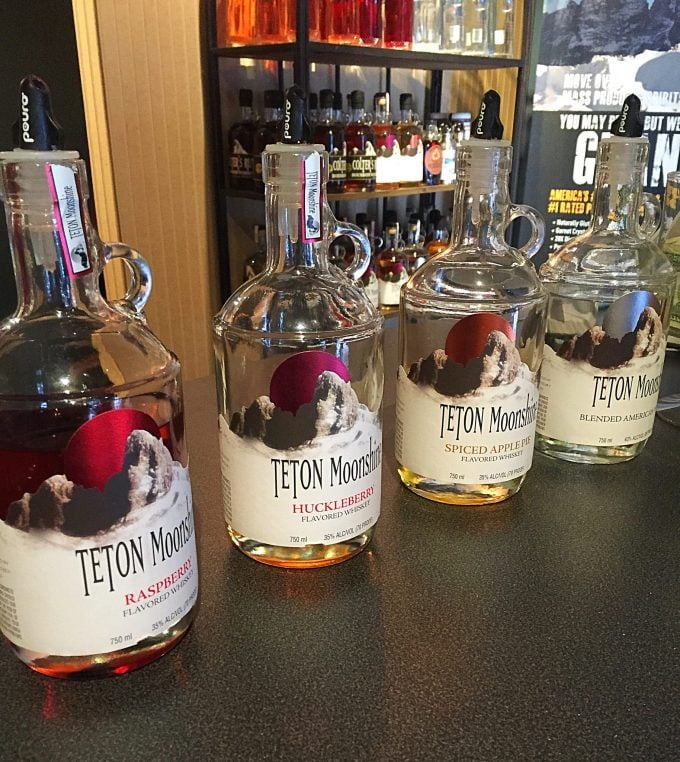 We asked the staff at the Alpine House for a list of restaurant recommendations. One of the places that they highlighted for family dining was Liberty Burger. Everything is delicious here, so you need to come hungry! You won't be disappointed. They make burgers of all kinds from chicken and beef to vegetarian, lamb and bison, you'll find it all and definitely order the onion rings....so good!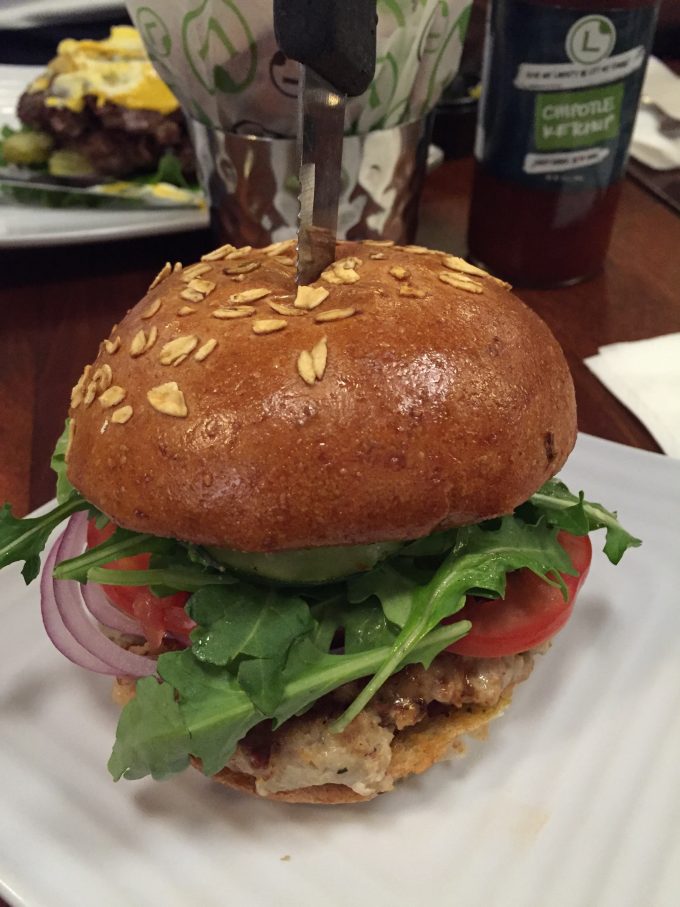 Jackson is a big ski resort town, but they still have fun activities in the off season. Snow King resort offers alpine sledding and the cowboy coaster, both super fun rides down the mountain.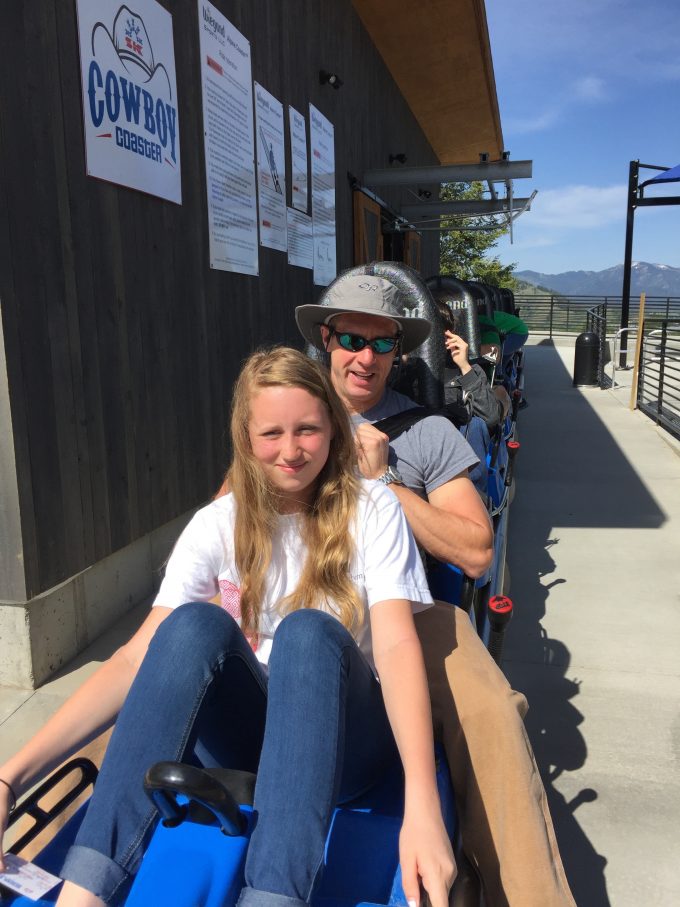 You get to control how fast you go in this 2-person coaster car. I rode with Allen and Lauren and Flynn were in another cart. This was an absolute blast!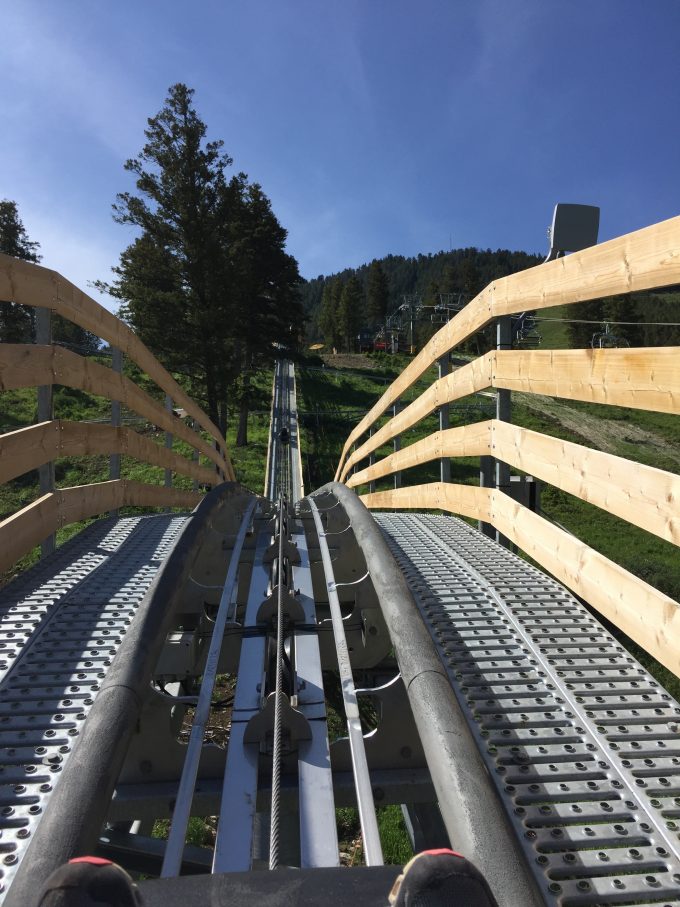 For the alpine sled, you ride the chairlift to the top and take the sled down. The view was spectacular and we couldn't have asked for better weather during our entire trip.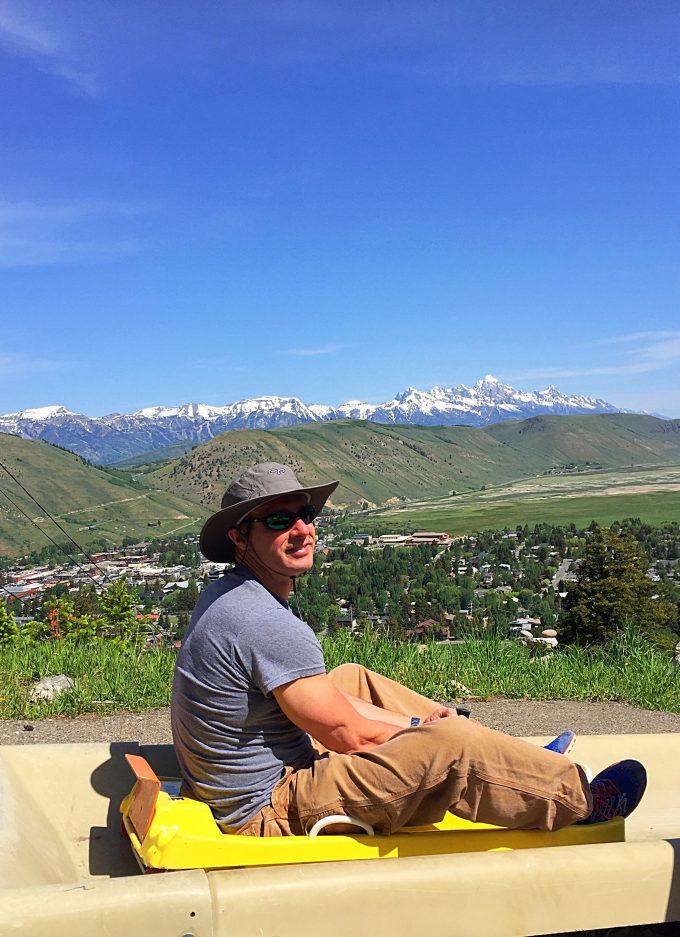 I loved our view of Jackson and the Grand Teton range from the top.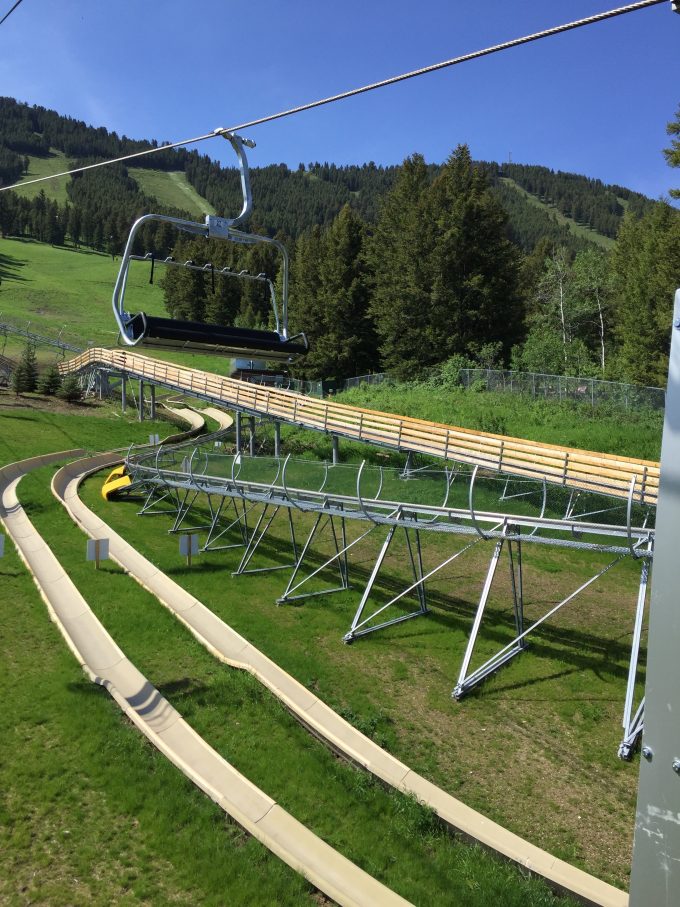 The treetop adventure and mini golf wasn't open while we were there, but those are a few more summer activities that are offered. We have already talked about going back here during the winter to ski. It's been years since I've skied and I'm really bad at it, but it's still really fun!
Shopping in Jackson is great. I love all of the quaint shops and art galleries that you can browse.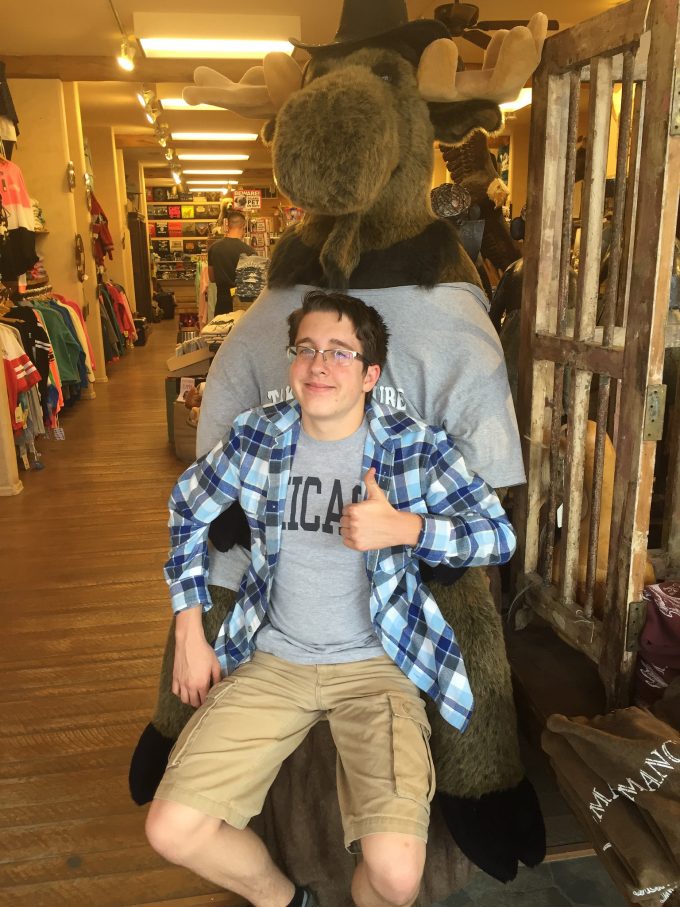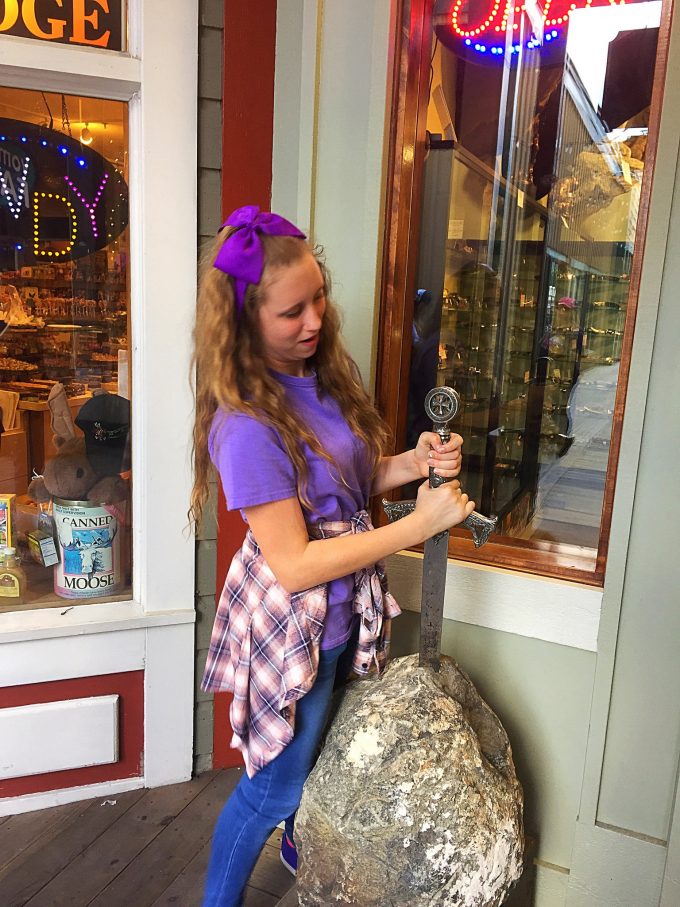 Hiking options are plentiful in Jackson Hole and the Grand Tetons. One of the big hikes in Jackson Hole is Rendevoux Mountain. The top of the mountain is 10, 450 feet high and you can either hike to the top or take the Jackson Hole Aerial Tram ride. We decided to take the Wildflower trail to the top, then ride the tram down. If you ride up and down, it's somewhere around $25 per person, but if you hike up and ride down, then it's free. Not to mention, you get a killer workout!
At the start of the trail head. That looks so easy, right?!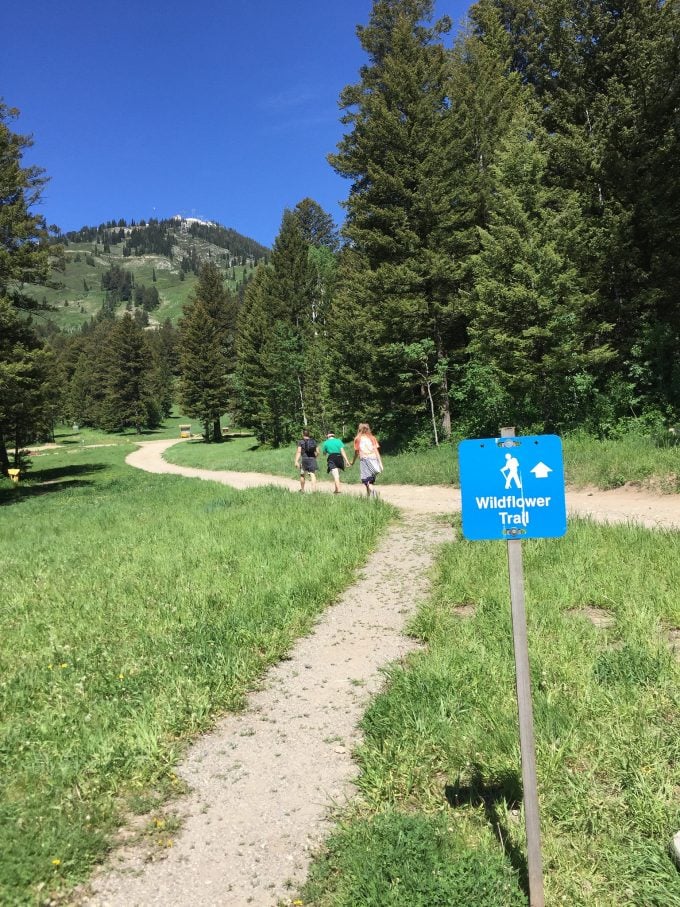 This trail is 5 miles up the mountain. That doesn't sound like much, but when you're increasing altitude along the way it gets pretty tough. The trail is considered moderate to advanced, but we were all in great physical shape to make the journey.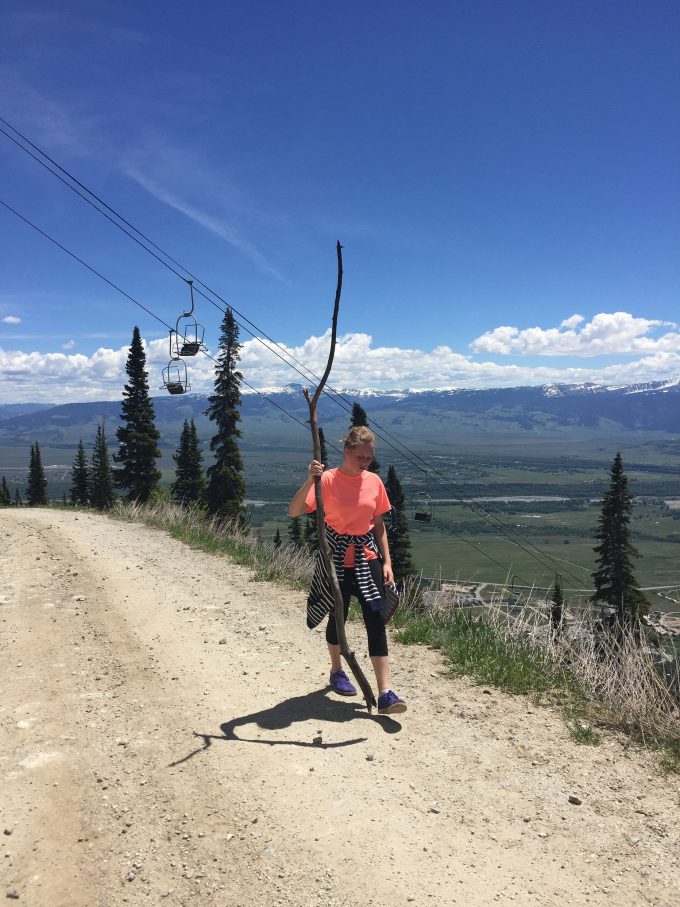 I think this is where Lauren starts to question the decision to make this hike.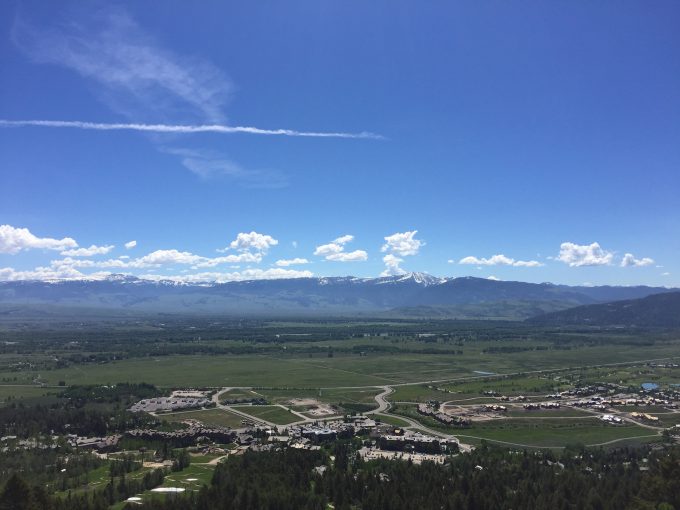 Almost half way up! This is our view of the Jackson Hole resort area.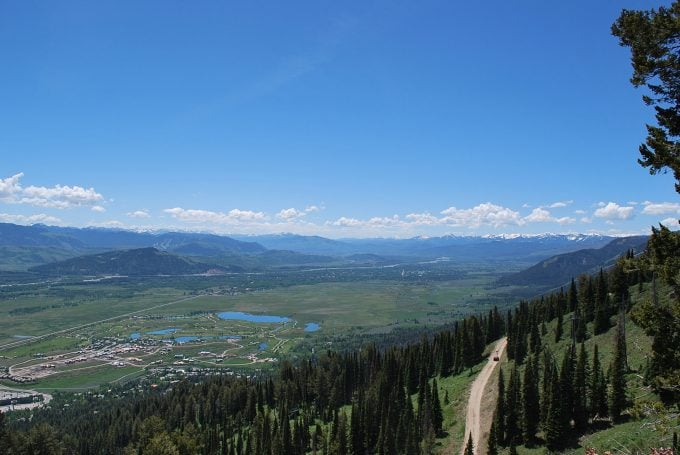 So beautiful!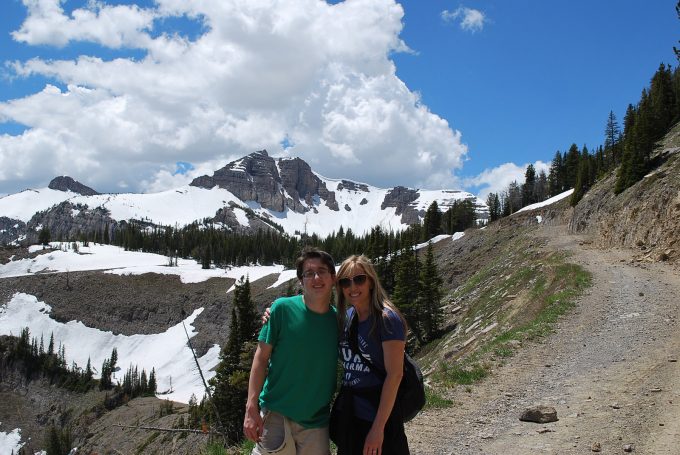 We made it to the snow-covered peaks! Allen is such a trooper. This kid never complains, though I know he was tired. This is about a mile from the top.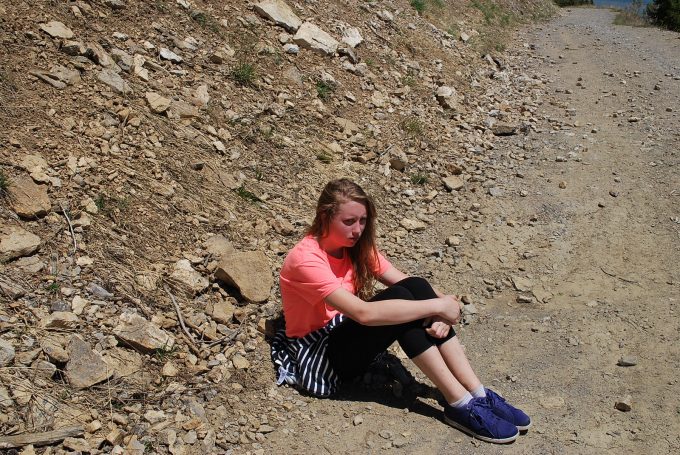 I think this is where Lauren threatened to jump off the mountain. We were so close to the top, but fatigue was starting to set in and she was ready to eat lunch. It felt like the longest 5 miles ever. Her face pretty much says it all at this point.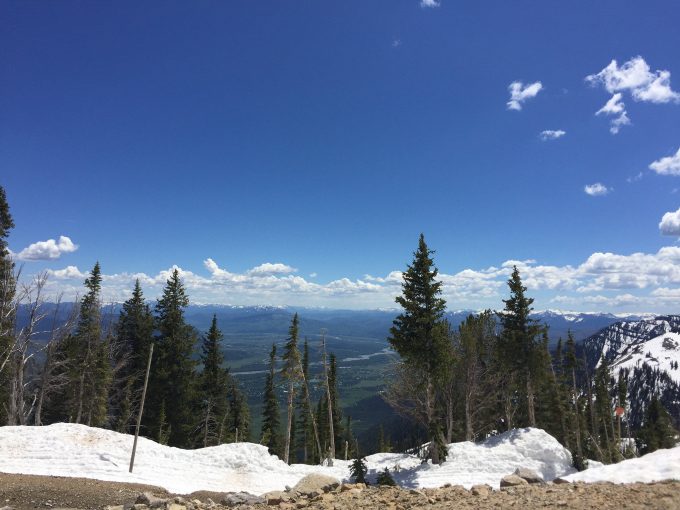 We made it to the top! Once we saw the high peak, we know the tram was super close!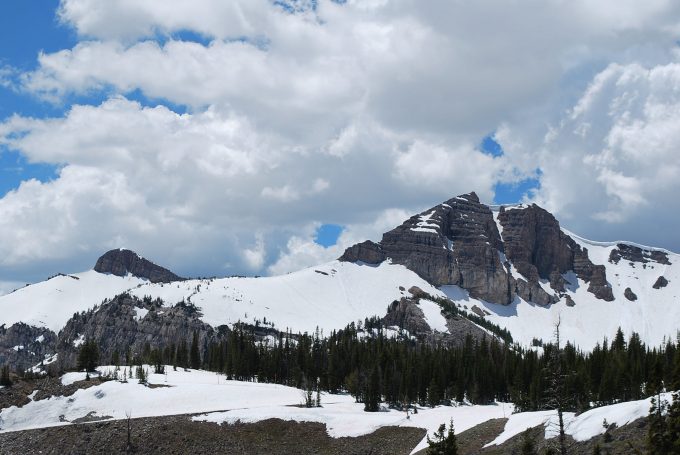 We were all glad that we made this trek when it was over, even Lauren. She felt so accomplished to make that LONG journey to the top! The ride down felt like 2 seconds after all that work. The entire hike took us about 4 hours.
One of my favorite activities during our trip was white water rafting down the snake river. We went with Dave Hansen Whitewater and they were fantastic! I highly recommend using them if you are in the area, the guides are a lot of fun and very professional. Lauren and Flynn volunteered to lead the raft. I was proud of my fearless girl, she loved every minute of it!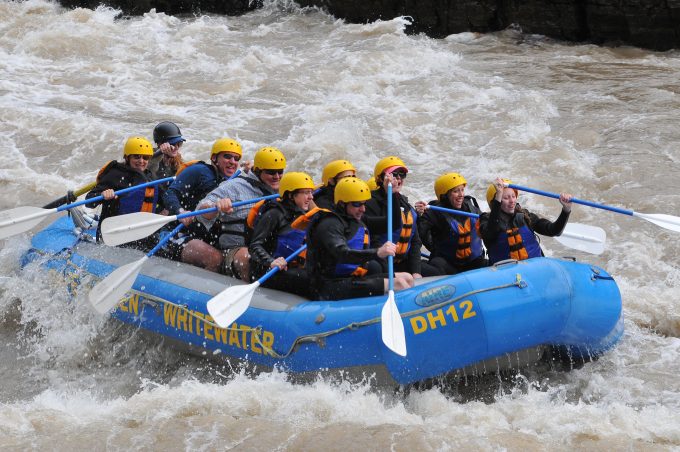 After spending 4 fun-filled days in Jackson, we packed up and headed up through Grand Teton National Park on the way to Yellowstone.
Grand Teton National Park
This is the most beautiful mountain range that I've ever laid eyes on. It's just breathtaking.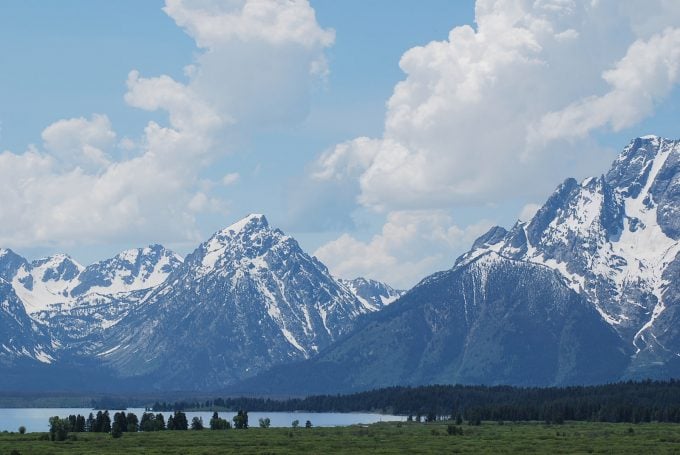 We stopped and had lunch at Jackson Lake Lodge at the Pioneer Grill. It's a 50's style diner, nothing fancy but good for a quick bite for lunch. Our waitress just happened to be from the Atlanta area, so we had fun chatting with her while we ate.
The lodge has a spectacular view from the main lobby. The back wall is all windows, so you have this magnificent view of the mountain range. You can step outside on the back walkway and take some great pictures. We had someone snap this family photo of us with the perfect backdrop. This just might be our Christmas card this year.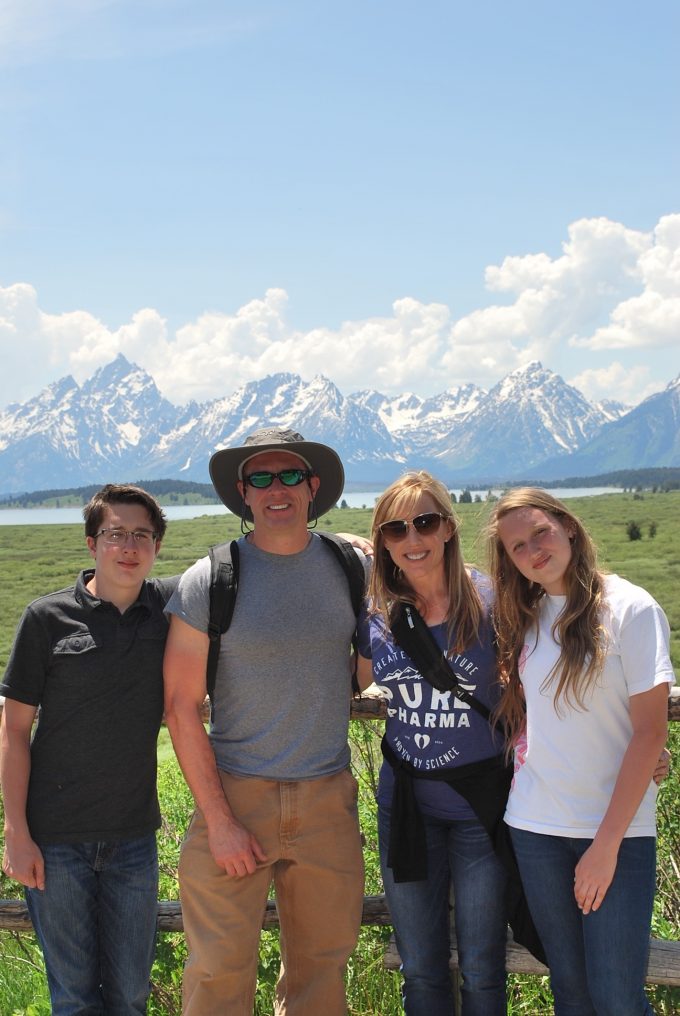 I booked a horseback ride at the stables at Jackson Lake Lodge. My daughter loves riding horses, so this was something that I really wanted her to experience during our trip. You just don't get scenery like this in Georgia. We all loved this outing, not just for the view, but the guide had really great stories to share about the area. It was a great way to learn more about the park, while getting to tour some of the trails. Our horses were so sweet and well behaved!
You can book rides from all of the lodges in the park, so this is another recommended activity for your agenda.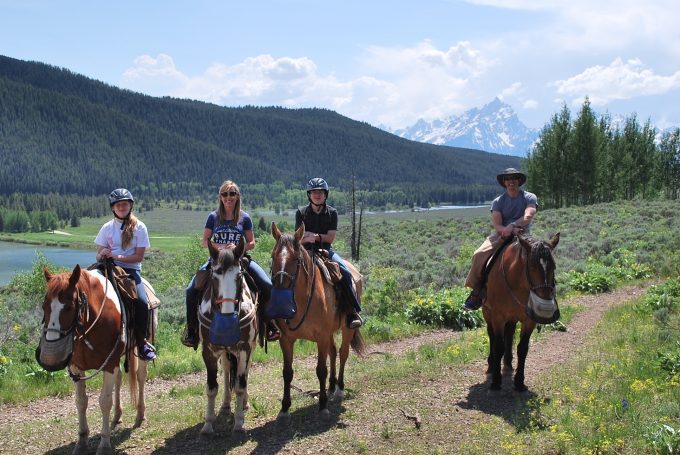 Sadly, we didn't spend the night in Grand Teton National Park. We had to get to Yellowstone to check-in to our cabin, but we plan to go back in the future and spend more time there. The Grand Tetons are just too beautiful to not explore at greater length. Colter Bay Village at Jackson Lake has a lot of fun water activities that we'd love to do. Until next time....
Yellowstone National Park
We went straight to Old Faithful Lodge to check-in for the night. We stayed in a cabin, definitely not the Ritz Carlton, but it was nice and clean. We also had a Keurig in our room, so I could support my daily coffee addiction. It's the little things like this that make this girl happy.
We had dinner reservations at the Old Faithful Inn. This is probably the best meal you'll get in the park, so I recommend eating here during your stay. You have to make reservations in advance, too. It gets booked-up fast.
They had a decent wine list, so I had a glass (or two) of wine and a pretty tasty meal. The food in Yellowstone is not the greatest, it's like cafeteria food in most places. I was thankful for the great dining experiences in Jackson when I got to Yellowstone. The focus in the park is understandably not on the food.
My friend, Erin (who gave me the tips for our trip), recommended that we get a cooler to load up for our daily outings around the park. This was great advice, because food options are limited and you don't want to cut your adventure time short to drive somewhere to eat. We bought a bunch of waters, protein bars, fruit, nuts, cheese and lunch meat and packed our BCAA's to easily pour in our water bottles. This worked great for in-between bigger meals and keeping our energy up.
Here is the front of the Old Faithful Inn...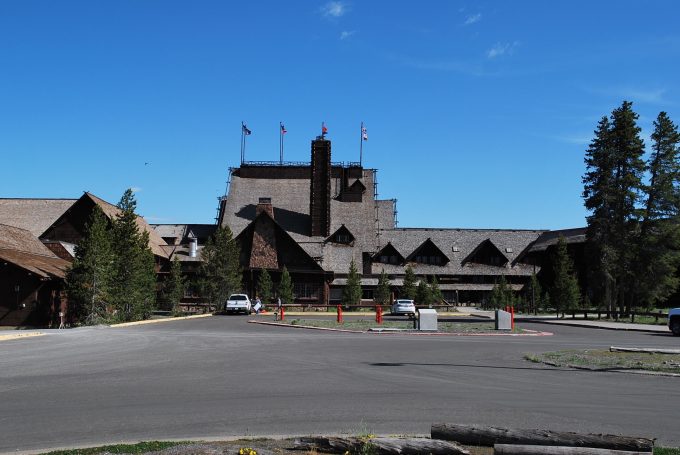 The interior of this place was impressive. It was built in 1903 and is the largest log structure in the world. Flynn and Allen requested a tour of the Inn, while Lauren and I talked to park rangers about getting her Junior Ranger badge. Definitely, do the junior ranger program at the park if you have kids, it's educational and she thought it was really fun.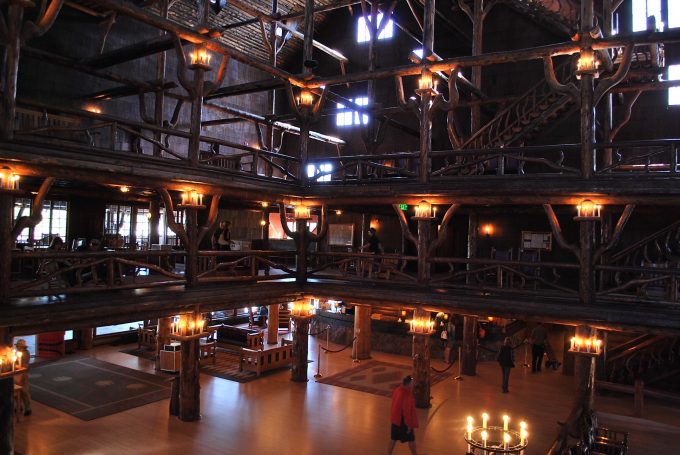 It's amazing how well they have preserved this lodge. Old Faithful Inn is the most requested facility in Yellowstone and you can see why. It's beautiful. The back deck area by the bar also has a close-up view of the Old Faithful geyser for prime viewing pleasure.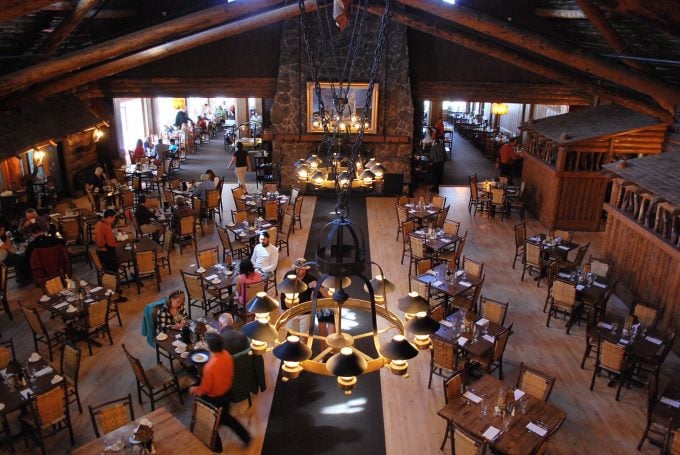 This is an overhead view of the dining room at the Old Faithful Inn.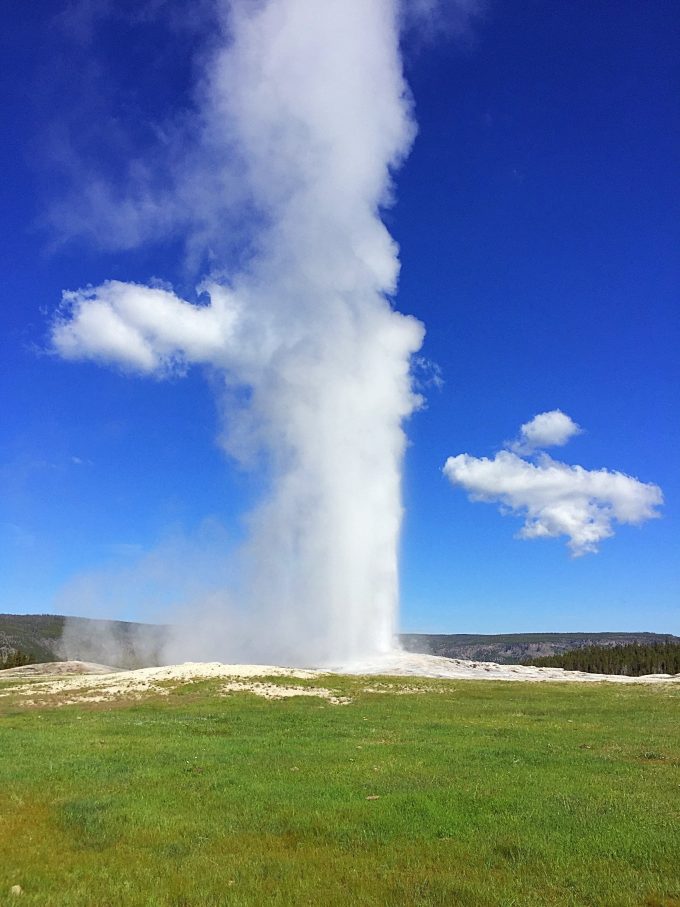 Old Faithful is the largest frequently active geyser in the park, erupting every 60-90 minutes. It can go as high as 184 feet, so it's pretty cool to witness in person.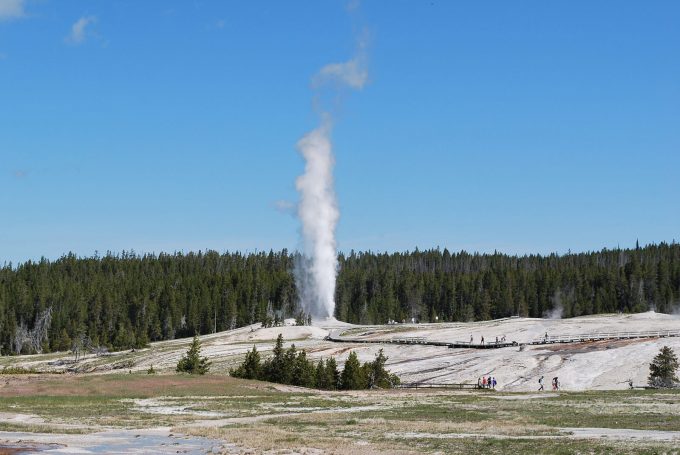 There are many other active geysers in the park, like the one above. Some of them erupt much less frequently and are less predictable, but equally as impressive as Old Faithful. Around Old Faithful, there are many thermal areas with beautiful hot spring pools. This one is called the Blue Star Spring.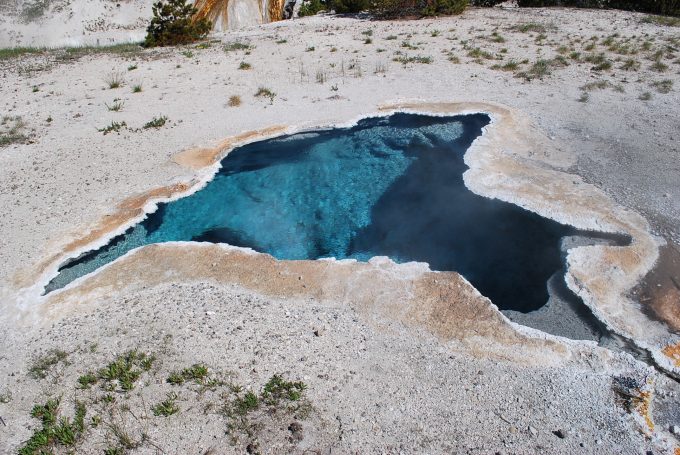 As alluring as these pools are, they are super dangerous. Being mindful of park rules and regulations is strictly enforced. We made our kids listen to a tour guide DVD that included stories about deaths in Yellowstone. It's not that we enjoy scaring the crap out of our kids, but to make sure that they had a good understanding of park hazards and how to safely navigate the area. You've got to be safe and vigilant. Someone actually died the week that we were there from falling through a thin layer of ground in one of the thermal areas. He was walking off path, not obeying park rules. I wouldn't let the dangers keep you from enjoying this wonderland, you just need to be smart. Sadly, there are a lot of ignorant tourists out there. Remember the guy that thought the baby bison was cold and put him in his car?!! SMH.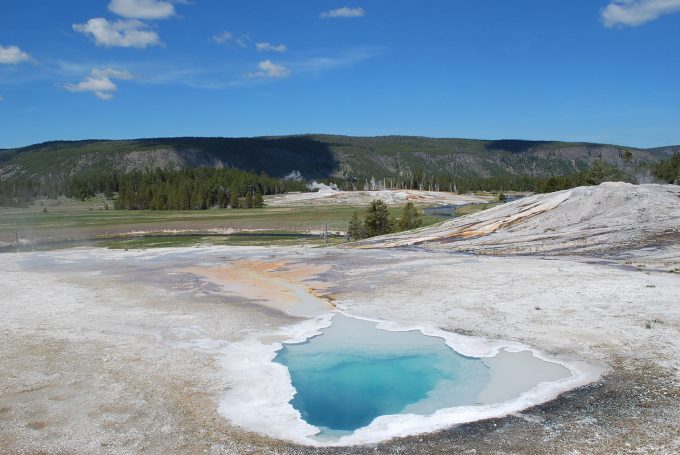 More beautiful hot springs. These are pretty neat, because they are in the middle of a creek bed in a plush landscape.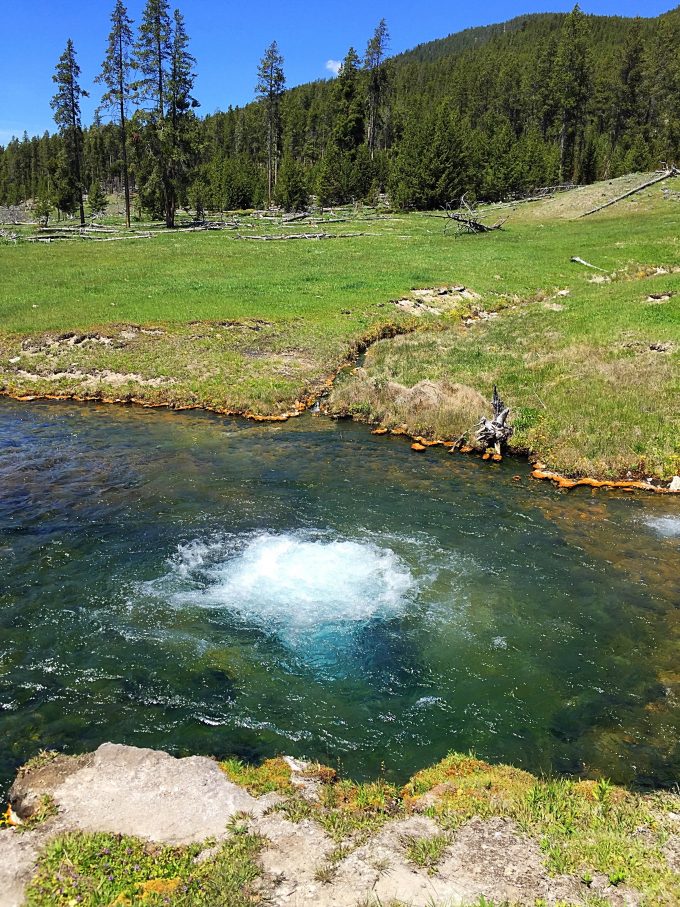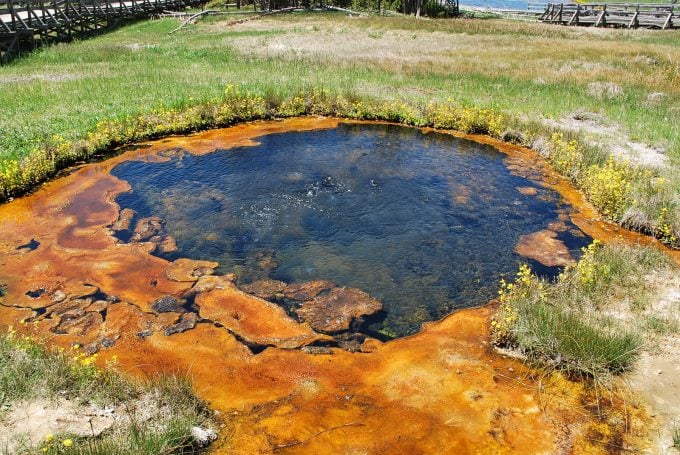 This thermal run-off is near Grand Prismatic Spring and empties into the creek below.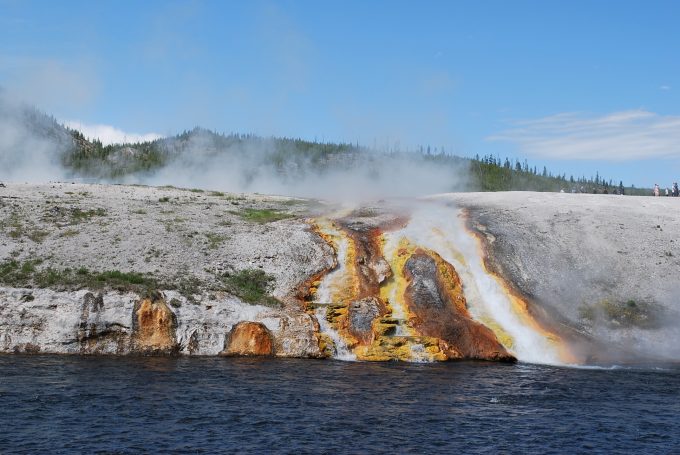 One of the front pools near Grand Prismatic. Just gorgeous.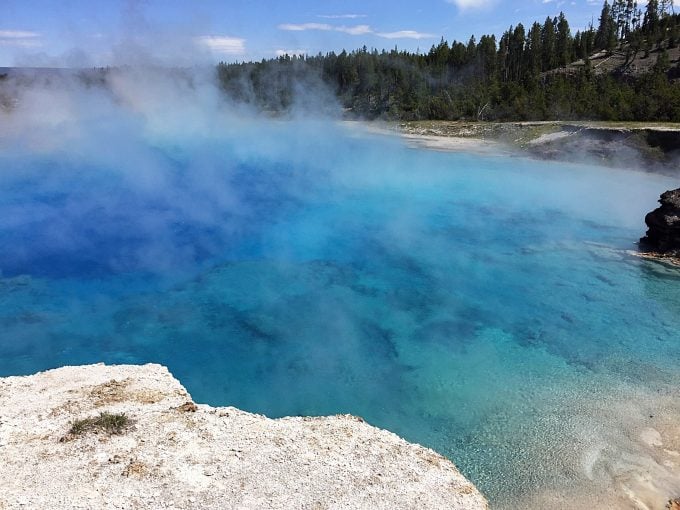 I was able to get a great panoramic shot of Grand Prismatic Spring. The grandeur of this view can't be justified in a photo. This rivaled the Grand Canyon of Yellowstone for the most awe-inspiring sites.

Another pool on the path near Grand Prismatic.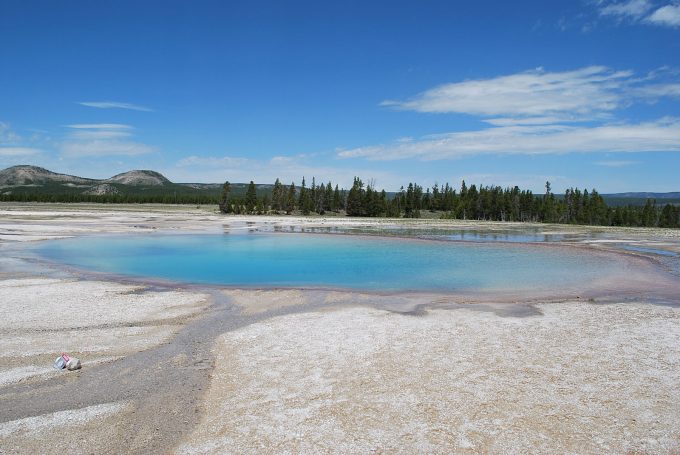 I believe that this picture was taken right before we stopped to tour the fountain paint pots. I loved seeing these hot spots along the side of the road. It's hard to believe that we were in one of the biggest and active calderas in the world!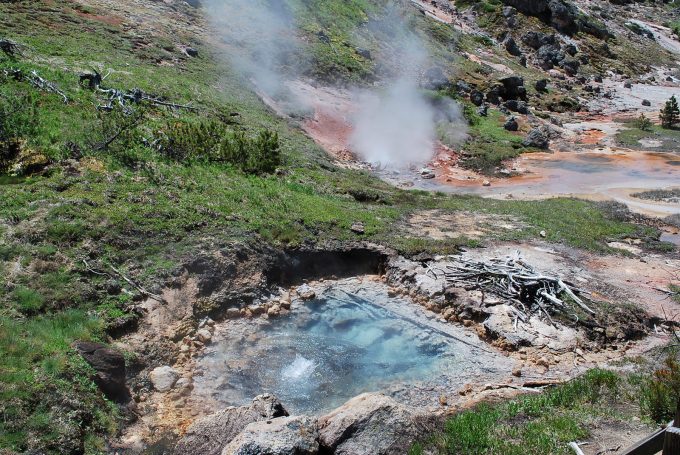 What you're seeing below are mud pots. They are made up of melted geyserite that is constantly bubbling like a giant pot of oatmeal. These mud pots are HOT and very acidic equivalent to battery acid. They also smell like rotten eggs from the concentration of sulfur in the water. Iron oxides in the earth tint the white clay different hues, like pink, orange and red.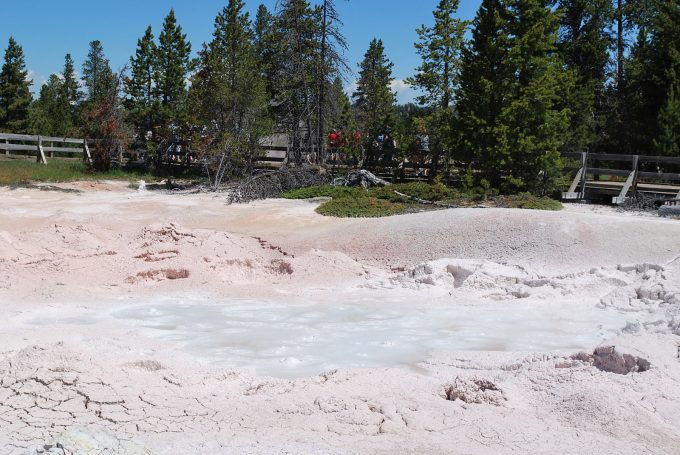 Forest fires of 1988 have damaged some areas of the park, but they are also good for the ecosystem here. There are actually fires burning right now that they are working to keep under control. We learned about the native lodgepole pine tree and how their pine cones don't release their seeds until they are heated to a certain temperature by fire. When they burn, the cones open like a blossom and release the new seed. Then the growth cycle starts all over again. I thought that was pretty cool.
I love this shot Flynn captured of the dead pines.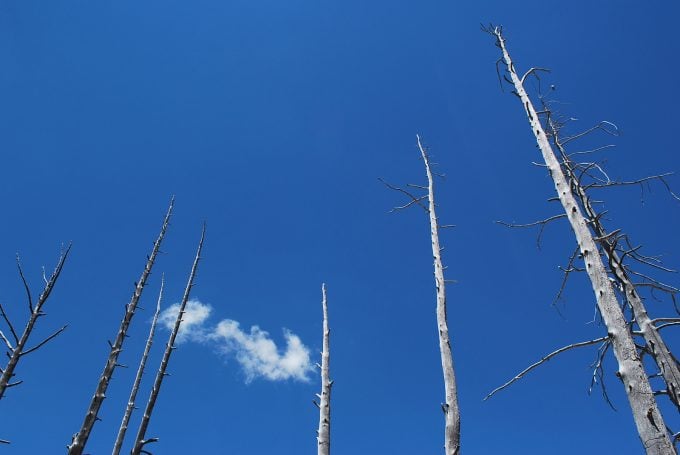 Bison are everywhere in the park, even strolling around the lodges at times. This guy was just hanging out by the side of the road grazing on grass.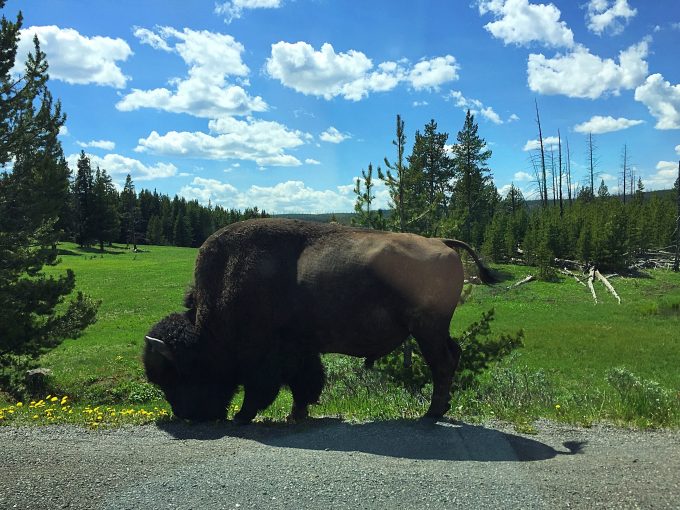 The Grand Canyon of Yellowstone was one of my favorite spots in the park. The views from the top are breathtaking. We did a short hike around the top of the canyon. They had Uncle Tom's Trail closed while we were there, but I would love to do that one if we ever go back. It's a steep staircase that takes you down into the canyon with a stunning view of the lower falls.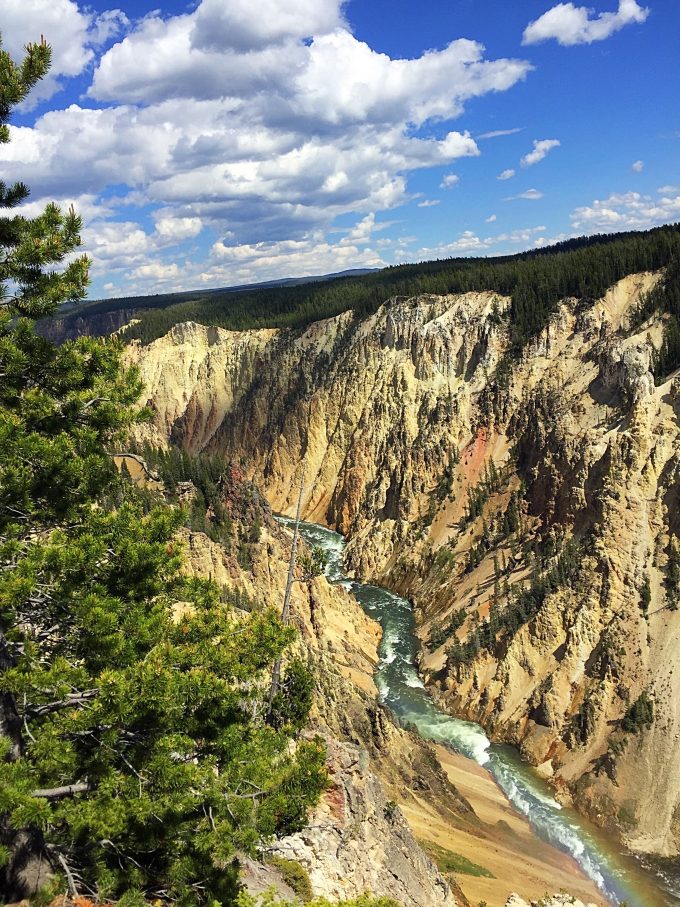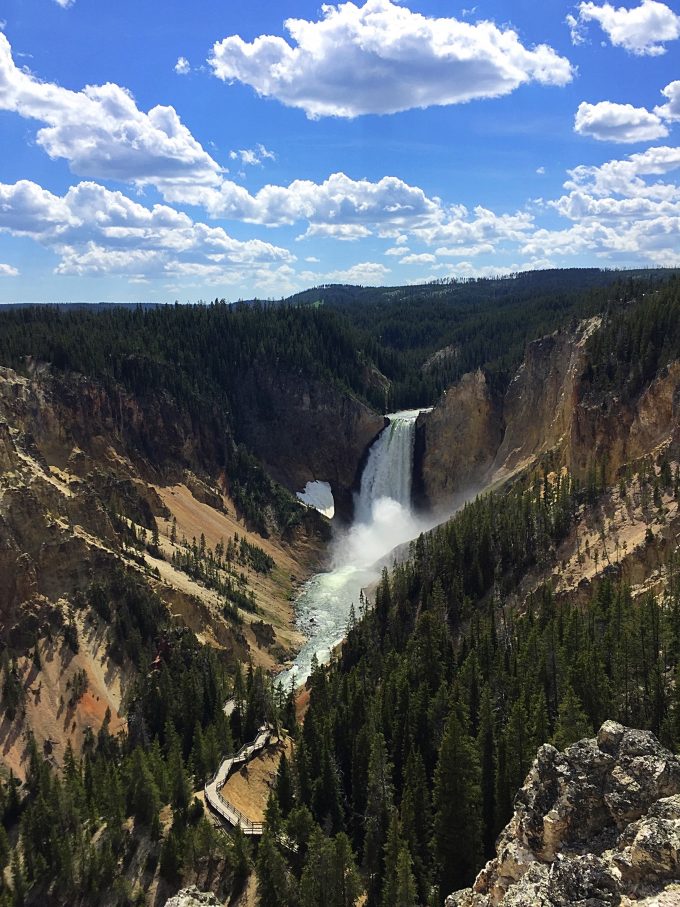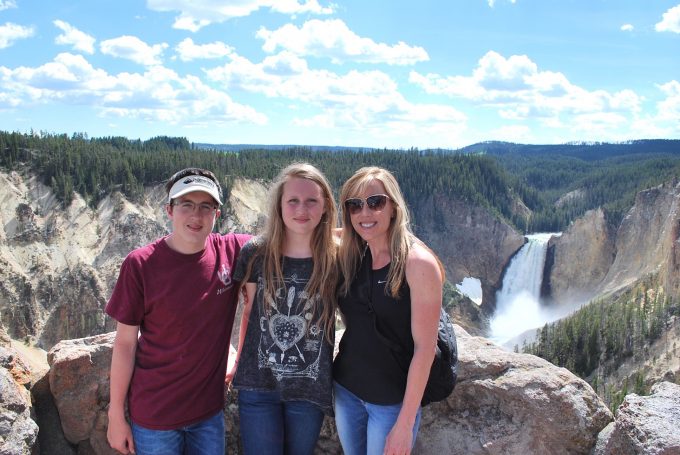 We even got rewarded with a pretty rainbow.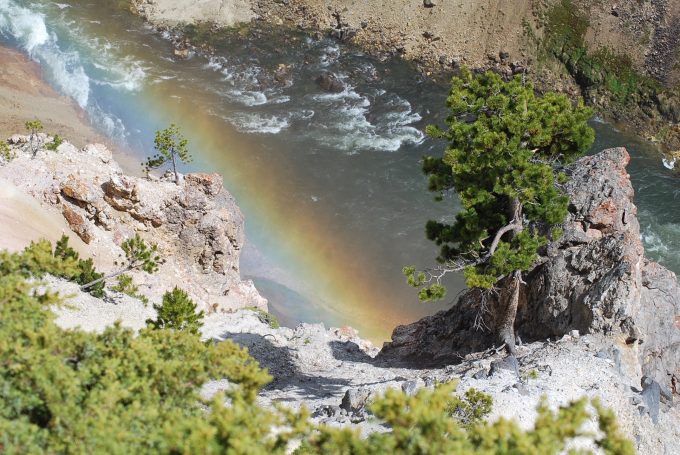 From canyon to Roosevelt junction, you can see the basalt columns on the side of the hills. These columns were formed from the lava eruptions. As the rock cooled, it would shrink and form cracks from the contractions, typically resulting in these polygonal pillars.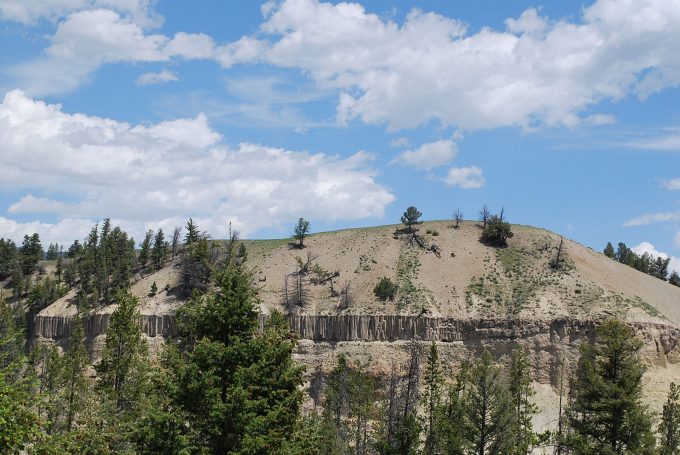 On the way back to our cabin, we took the route by Hayden Valley and Yellowstone Lake. This bull elk was just strolling along side the road near the lake.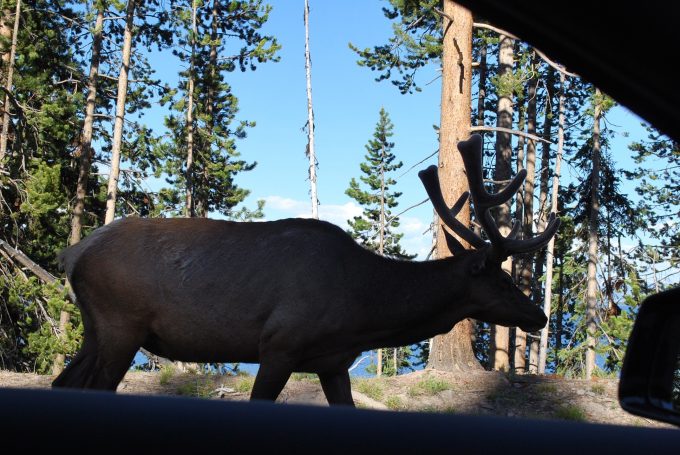 Hayden Valley was a beautiful site. The valleys of Yellowstone are where you'll see the most wildlife. There were a lot of deer down by the creek.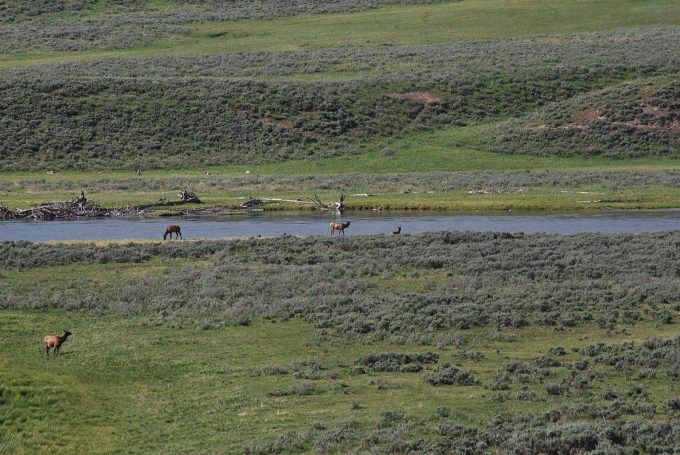 Mammoth Hot Springs was another area that we loved. Elk were grazing everywhere on the hotel grounds.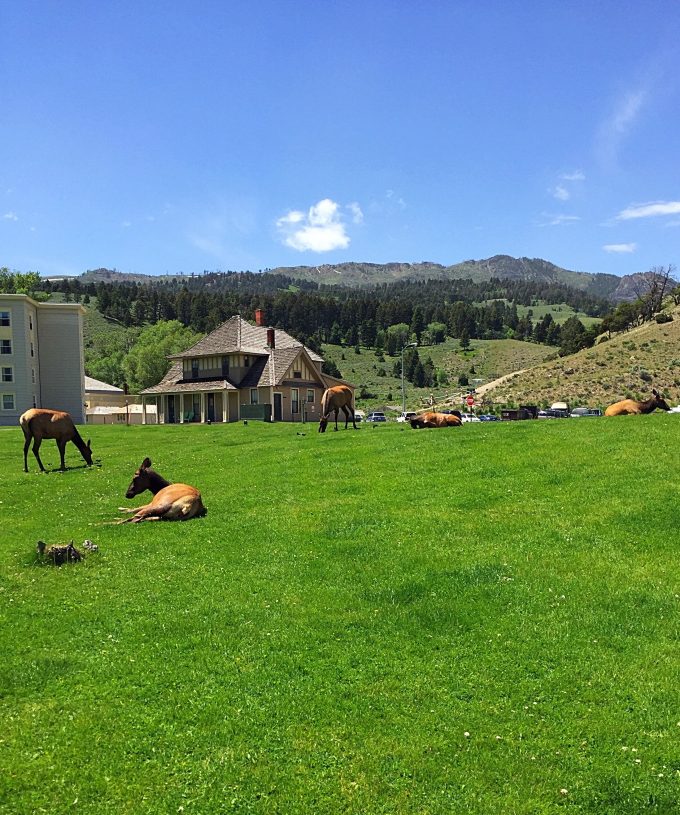 The Mammoth terraces are really cool. They are mostly made up of travertine created when limestone comes into contact with the carbonic acid in the hot spring's water.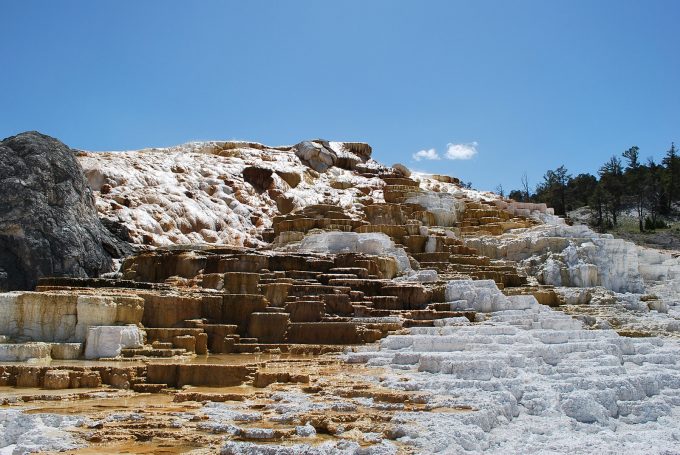 When you take the stairs to the upper part of Mammoth Hot Springs you see this....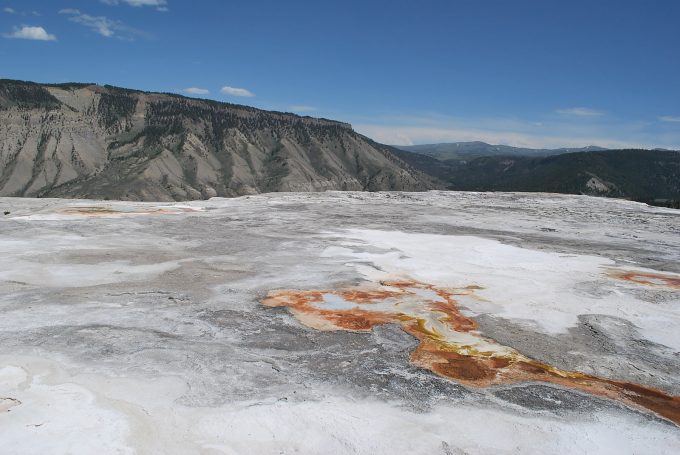 It looks like the surface of the moon to me!
Another cool landmark to see in the park is this REALLY OLD petrified tree stump near Roosevelt Junction. This tree is actually tens of millions years old, turned solid rock by volcanic eruptions.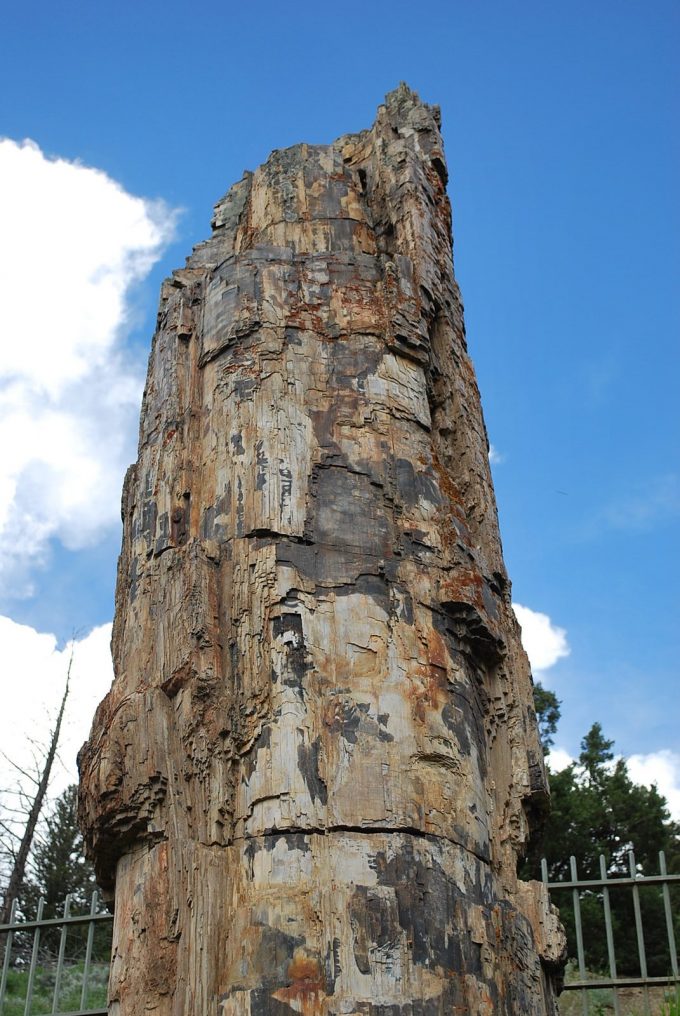 Driving near the Lamar Valley we saw loads of wildlife, like this Pronghorn.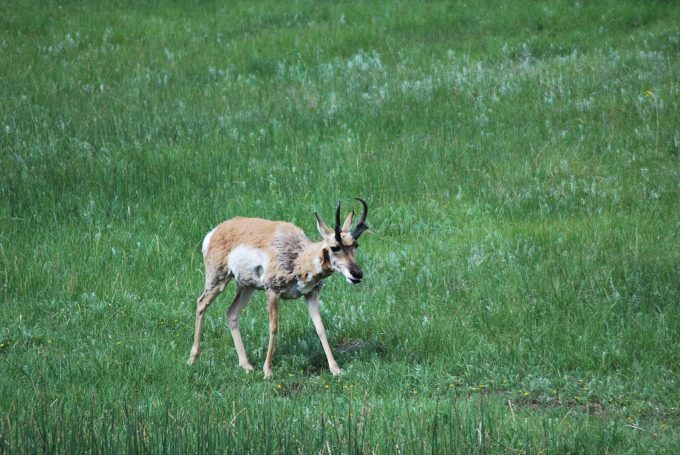 Bison were everywhere in the valleys.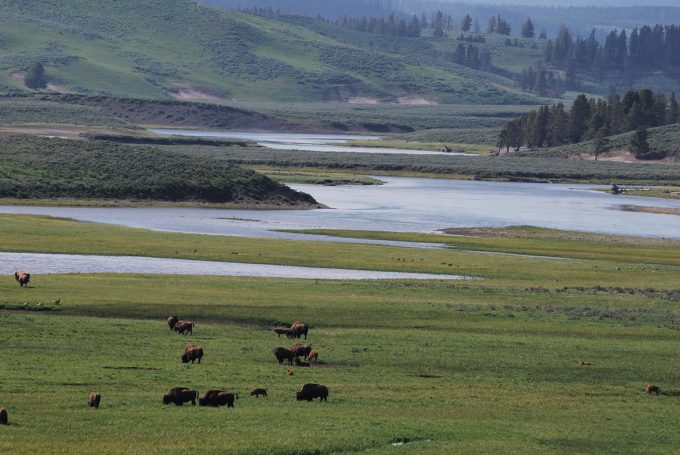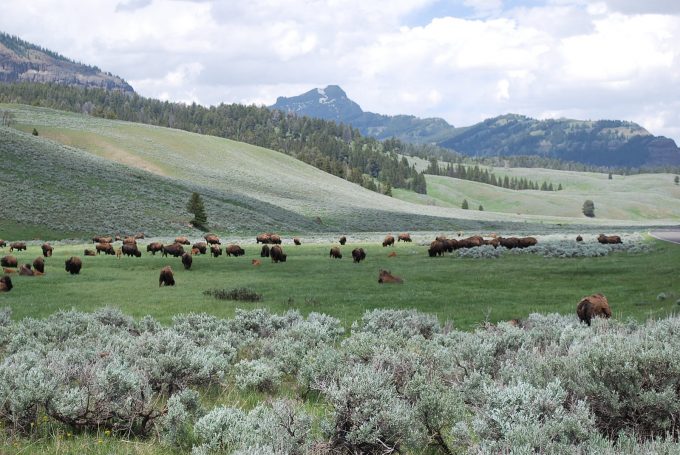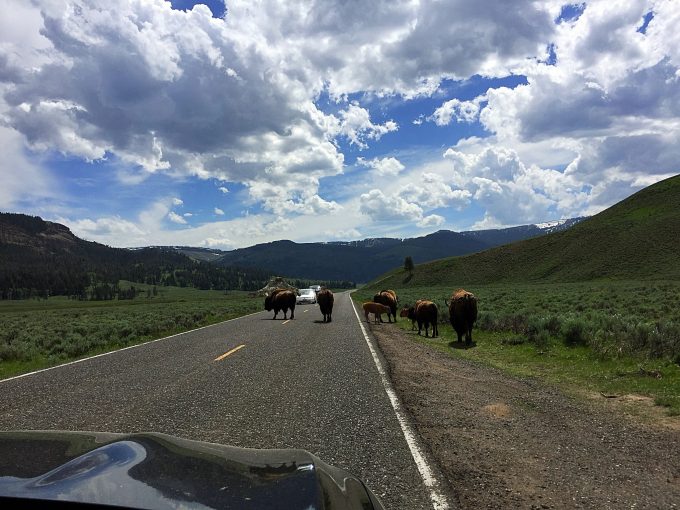 This bison family decided to cross the road and bring traffic to a halt.
Flynn getting some great shots of this awesomeness.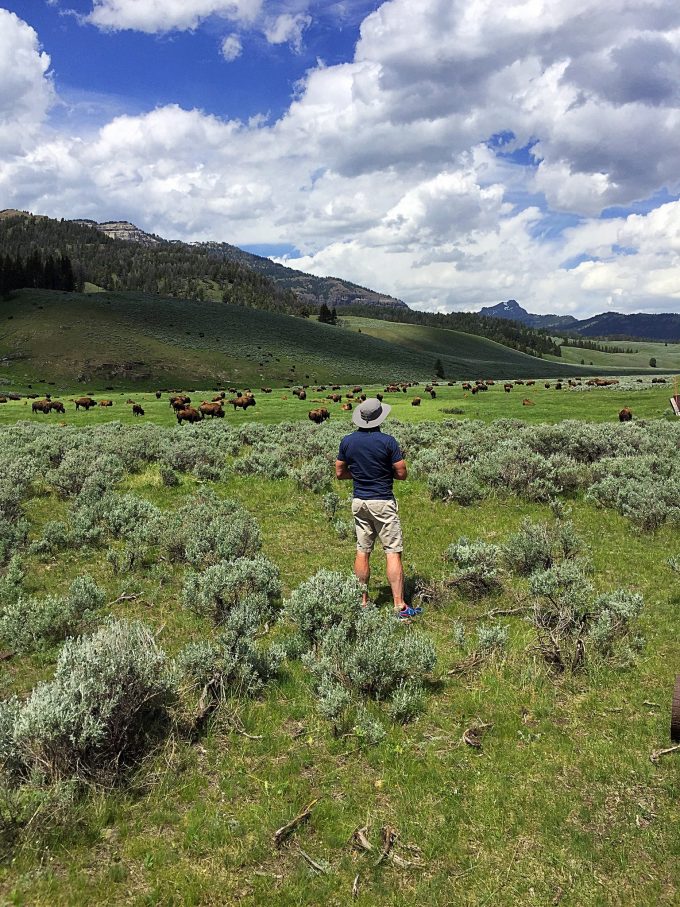 There were so many babies! I loved seeing all the calves.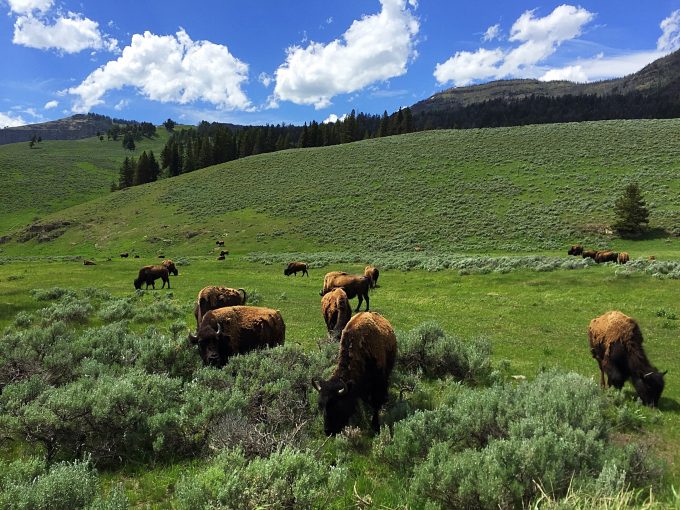 We were hoping to see a bear (from a safe distance of course!) before we left the park. We spotted this guy on the side of the road near Roosevelt Lodge. The rangers had stopped to put out cones and protect him since a lot of folks were stopping to take pictures. We just snapped a few from the car window.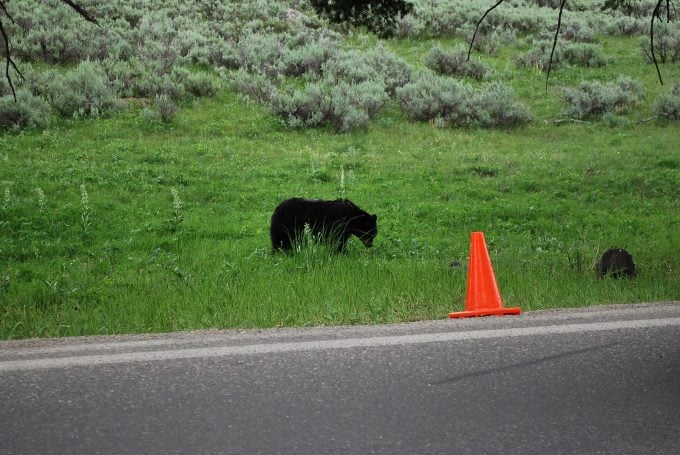 I wrote a blog post about our experience at the Old West Cowboy cookout. I shared a recipe for the delicious baked beans they served and our cookout experience. It was a lot of fun, I highly recommend it if you have kids and make sure you plan this months ahead of your trip. It does fill up fast.
Here I am testing out the potent cowboy coffee.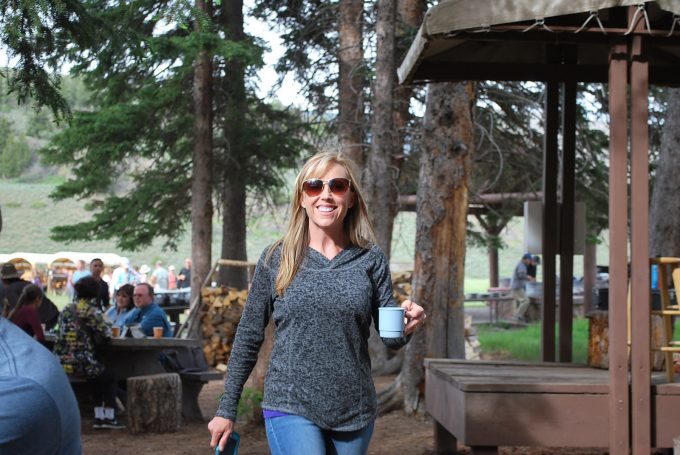 If you want to escape with your family on a vacation where you bask in the wonder of God's glory, then this is a must do trip. You'll put away all the technology and enjoy quality time with the family. Except cameras, of course! You'll want to capture and treasure each moment. Not only were our experiences awe-inspiring, but our time together as a family was so special. Everyone just seemed to really be in the moment and appreciating the beauty in nature. I'm sure that we will take other amazing trips, but this one will hold a special place in my heart forever.
I suggest spending at least 3-4 days in Yellowstone to see all of the sites and you can easily spend an entire week here taking in everything. It really depends on how much hiking and other activities that you want to schedule. We didn't do much in the Grand Tetons, but we plan to go back and spend more time there.
I hope that you enjoyed traveling with us through this recap! It sure was fun to relive all these great moments. Happy trails and safe travels!
Amee 🙂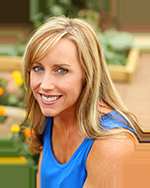 Latest posts by Amee Livingston
(see all)