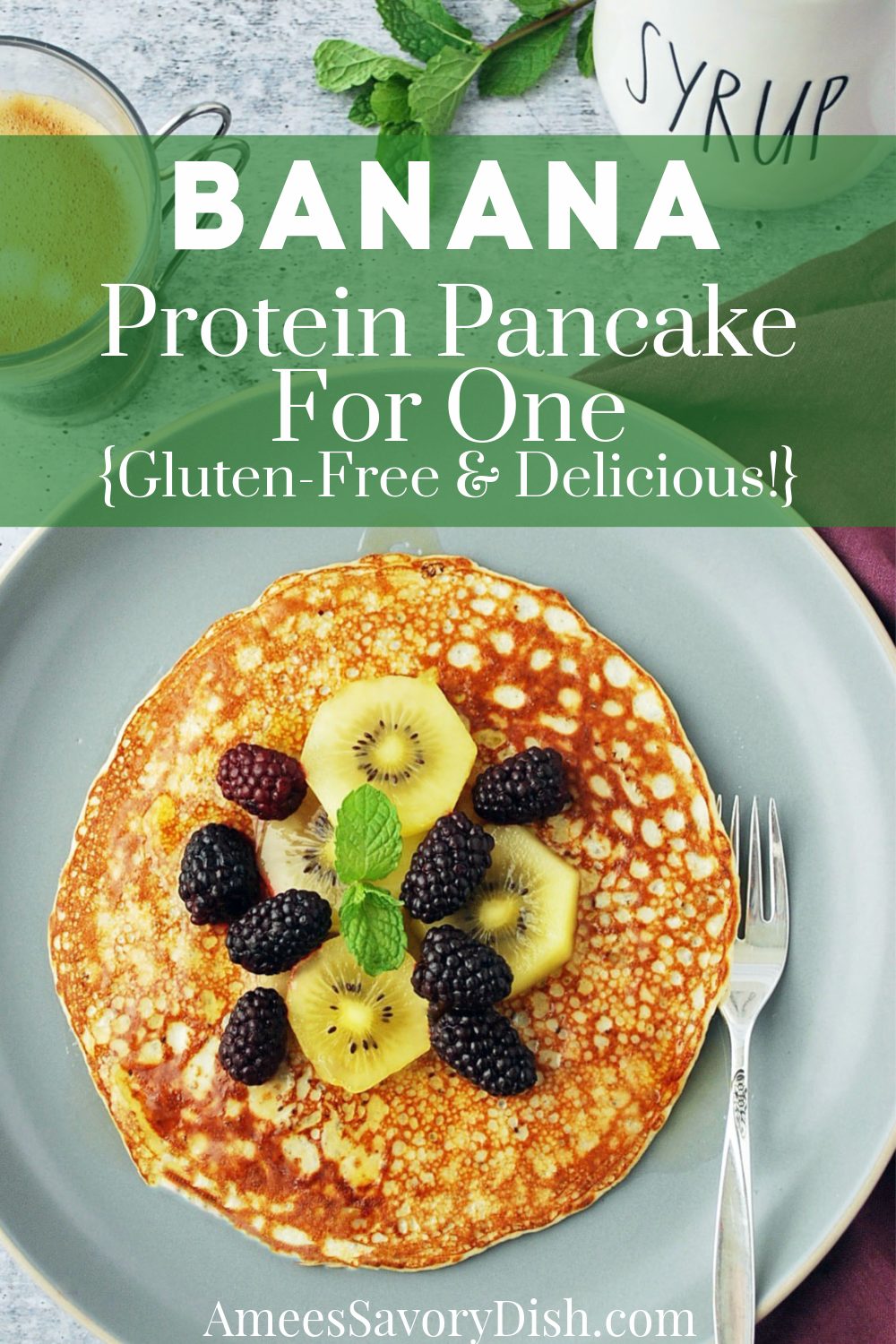 This banana protein pancake is a great way to start your day! This gluten-free pancake recipe is made with oat flour, chia seeds, egg whites, banana, whey protein powder, and flaxseed. This breakfast is a nutrition powerhouse with healthy sources of carbs for energy and protein powder for building lean mass.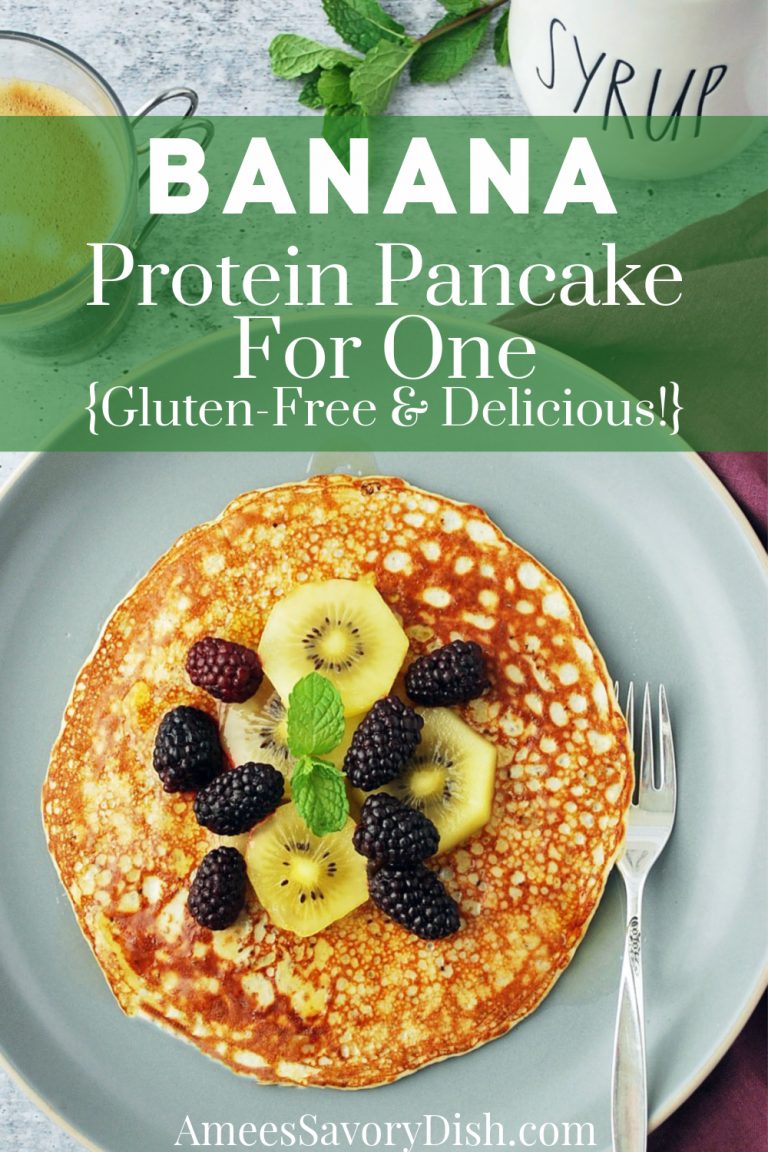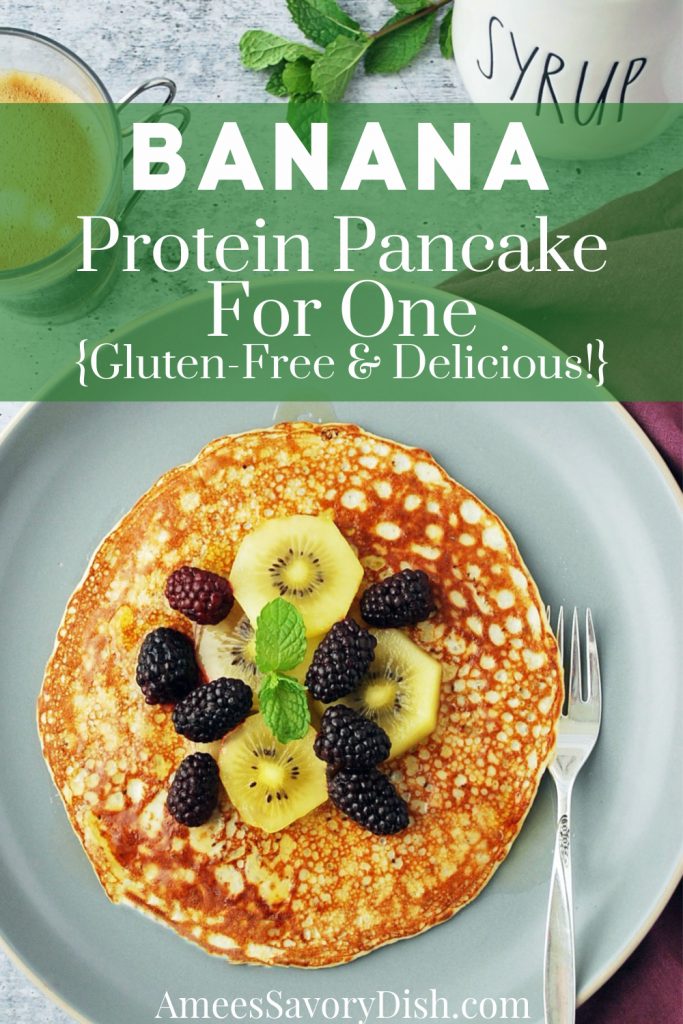 I have been playing around with a lot of different protein pancake recipes lately. I made this banana protein pancake version today and it turned out to be pretty darn tasty, so I wanted to share.
This protein pancake recipe is so quick and easy and I love that it makes a single serving. Not to mention, they make a great post-workout breakfast. The protein fills you up and goes toward building the lean muscle mass that we work so hard to grow in the gym!
Banana Protein Pancake Recipe
Ingredients:
28 grams unflavored whey protein powder (you can use vanilla, but I've retested this recipe with plain and I like it much better)
½ very ripe banana
2 egg whites
½ teaspoon vanilla extract
2 teaspoon ground golden flaxseed
1 packet stevia
1 teaspoon chia seeds
1 tablespoon oat flour
1 tablespoon almond milk (can also use soy or skim milk)
In a medium-size bowl, blend all ingredients together (except chia seeds) with a handheld mixer or stand mixer. Fold in chia seeds. Let the batter sit for 3-5 minutes to thicken a bit (batter will still be thin compared to regular pancake batter). Spray a frying pan with non-stick spray, or grease the pan with coconut oil. Cook the pancake on medium heat for 4 minutes or until it starts to bubble and then flip to cook the other side. Serve warm topped with fresh kiwi fruit or fruit topping of your choice (sliced banana, strawberries, raspberries, blueberries, etc.). Drizzle with maple syrup or your topping of choice.
*Note: If you are using already sweetened vanilla protein powder you can leave out the packet of stevia in the batter.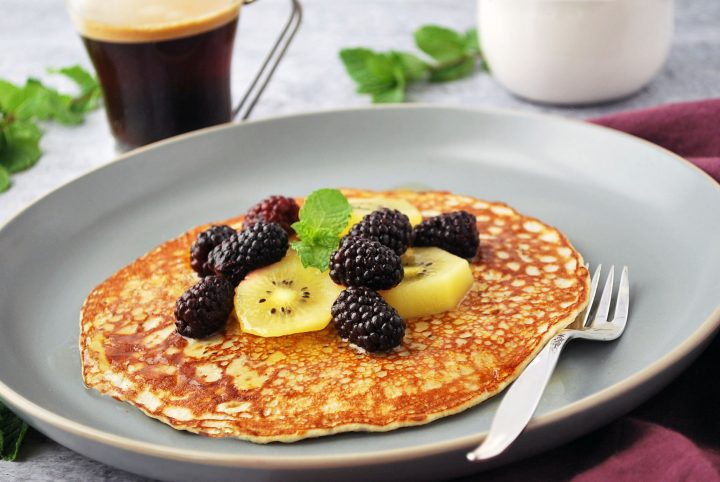 Topping Ideas For Protein Pancakes
You can never go wrong with real maple syrup and fresh fruit, but it's fun to switch things up occasionally and try out different pancake toppings. These banana pancakes also make an epic healthier dessert. Try out these toppings for a delicious twist!
Nutella and sliced banana...OMG
Peanut butter or other nut butter with a drizzle of honey
All-fruit jam (I love spreading jam on these pancakes and rolling them up like a crepe)
Chocolate chips and whipped cream or melted dark chocolate drizzled on top
Sugar-free maple syrup (for a lower calorie/sugar option)
Fruit compote: blackberry compote, raspberry compote, or blueberry compote is SO delicious on pancakes and waffles!
Flavored Greek yogurt with fruit or homemade granola
Flavored whipped cream cheese (I love the mixed berry flavor! It's like cheesecake in a tub)
Fruit butter: apple and pumpkin are so good in the fall
I'm pretty obsessed with protein pancakes. If you haven't already, you should definitely give these Wild blueberry matcha protein pancakes, Chocolate protein pancakes with peanut butter drizzle, and a family favorite recipe for Cottage cheese pancakes a try!
This protein-packed banana pancake is a great way to start the day!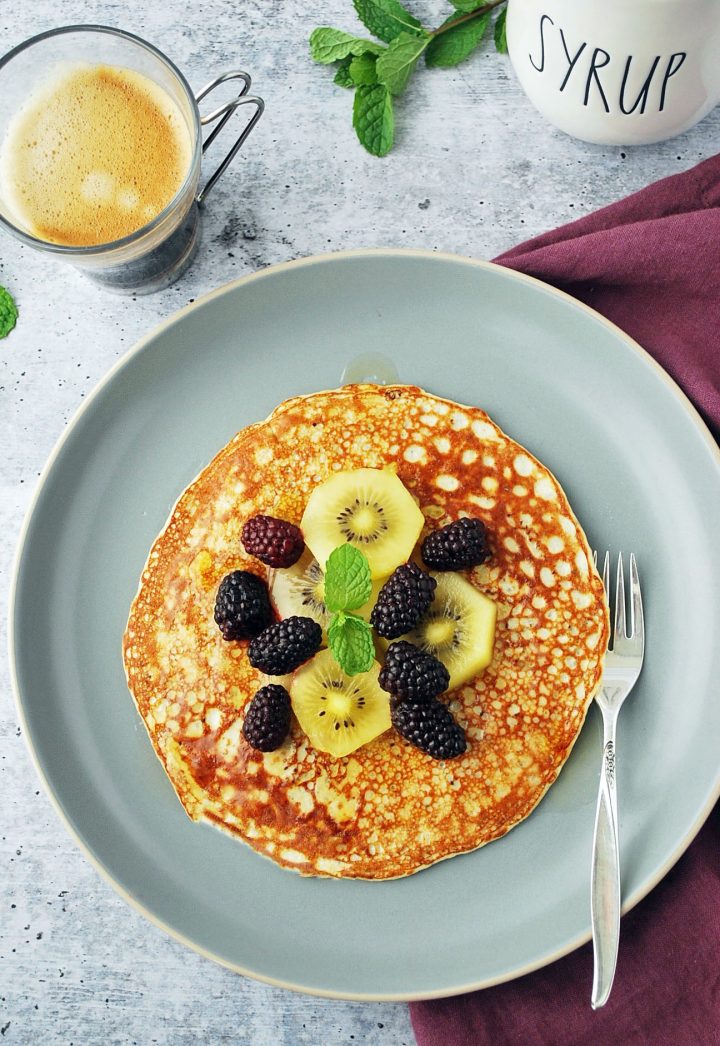 Note: This post has been updated from the original post published in August 2011.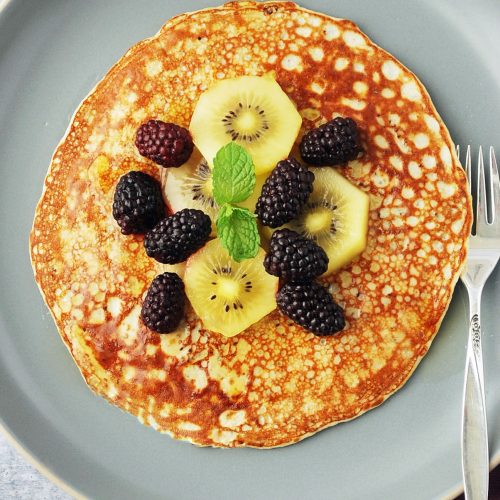 Banana Protein Pancake For One
This banana protein pancake is a great way to start your day! Filled with good carbs for energy and protein powder for building lean mass.
Ingredients
28

g

unflavored whey protein powder

can also use vanilla, just leave out the stevia

½

very ripe banana

2

egg whites

½

teaspoon

vanilla extract

2

teaspoon

ground golden flaxseed

1

packet stevia

I use about a teaspoon of Whole Earth Sweetener

1

teaspoon

chia seeds

1

tablespoon

oat flour

1

tablespoon

almond milk
Instructions
In a medium size bowl, blend all ingredients together (except chia seeds) with a hand held mixer or stand mixer.

Fold in chia seeds.

Spray a frying pan with non-stick spray.

Cook pancake on medium heat for 4 minutes or until it starts to bubble and then flip to cook the other side.

Serve warm topped with fresh kiwi fruit or fruit topping of your choice (sliced banana, strawberries, raspberries, blueberries, etc.).

Drizzle with your favorite syrup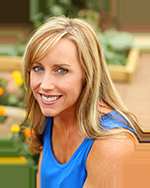 Latest posts by Amee Livingston
(see all)