Flatbread pizza is a fun and easy way to make dinner on pizza night! Using flatbread for pizza crust gives the pizza great crunch, especially when you make grilled flatbread pizza!
 *I am a Flatout Ambassador and have been compensated for this post.  All opinions are my own.
We had a great time last night preparing our own personal grilled flatbread pizza using the new flatbreads from Flatout!  We used the Rustic White Flatbread and Spicy Italian Flatbread.  I let the kids design their own pizza and pick their crust.  
My son loved the Spicy Italian Flatbread for his pepperoni pizza and my daughter picked the Rustic White Flatbread for her Hawaiian pizza.  The beauty of these flatbreads is that they cook very quickly and the kids absolutely LOVED them!  They also have 7 grams of protein and 3 grams of fiber per slice.  You can find Flatout Flatbreads at your local Walmart.  
Allen's Pepperoni and Buffalo Mozzarella Grilled Flatbread Pizza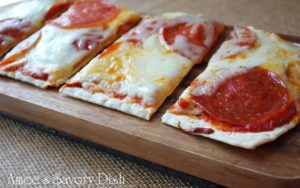 Ingredients:
1 Flatout Spicy Italian Flatbread 
1/8 cup Homemade Pizza Sauce
5-6 slices large, uncured pepperoni
3-4 large, thin slices buffalo mozzarella cheese
1/4 cup shredded mozzarella cheese

Directions:
Preheat grill to 350 degrees.  Place flatbread directly on the grill for 1-2 minutes.  Remove flatbread from grill, add toppings and return to grill and cook for 4 minutes.  
Lauren's Grilled Hawaiian Flatbread Pizza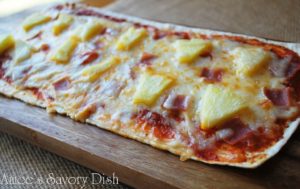 Ingredients:
1 Flatout Rustic White Flatbread
1/8 cup Homemade Pizza Sauce *see above link for recipe
1/2 cup chopped, cooked ham
1/2 cup diced fresh pineapple
1/2 cup shredded mozzarella cheese

Directions:
Same as above.  Enjoy!

My daughter's exact comment after this meal was "those pizzas were the bomb!!"  We will definitely be making these again!
For me and Flynn, I made this fabulous gluten-free cauliflower pizza crust from Knead to Cook….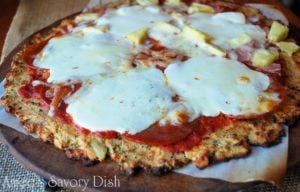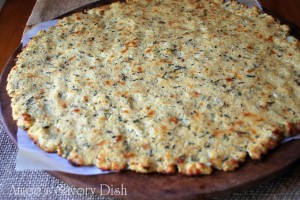 SaveSave
SaveSave