This is a simple and delicious salad that is a cinch to throw together.  It's a refreshing meal for a hot summer day.  I got this recipe from the food demo booth at Publix.  They were handing out samples of this salad.  I got all the ingredients and made it last night when I got home.  So good!!
Chickpea Artichoke Salad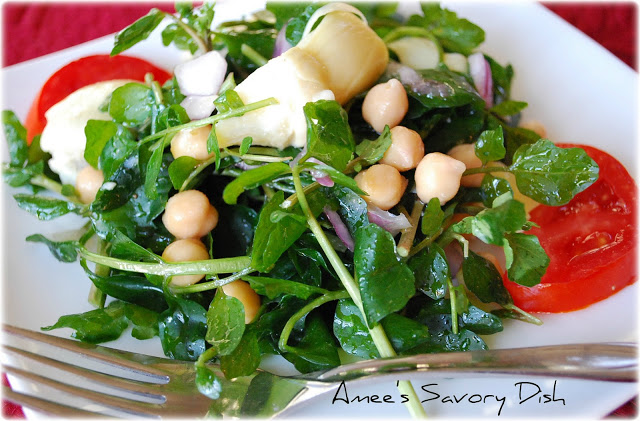 Ingredients:
1/2 cup canned quartered artichokes, finely chopped
1/4 cup red onion, finely chopped
1 bag baby arugula ( I used watercress because I love it, too)
1/2 cup canned chickpeas (garbanzo beans), drained and rinsed
3 tbsp red wine vinegar
1/3 cup olive oil
1/4 tsp sea salt
1/8 tsp fresh ground black pepper
Directions:
Chop artichokes and onion.  Combine arugula(or watercress), chickpeas, onions and artichokes.  Whisk together vinegar, oil, salt and pepper until blended, add to salad.  Toss and serve.