Kale salad is incredibly delicious and I eat it a lot. But this easy kale salad recipe is, hands-down, my favorite kale salad to date.  The flavors in this salad blend together so beautifully and the dates, cheese and nuts provide the perfect contrast in texture.
Don't skip the kale massage before assembling your salad.  I promise, giving your kale a rub-down makes all the difference in the texture of the leaves!  I found the original recipe on Epicurious, but made a few flavor-inhancing changes to the dressing.  It's a keeper.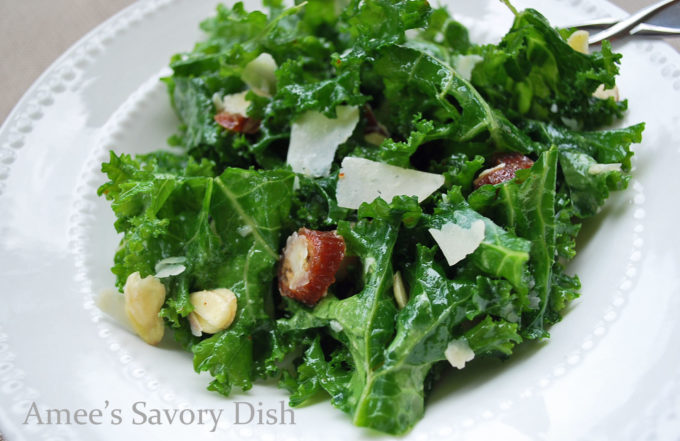 I hope you love this easy kale salad recipe as much as I do!
Kale Salad with Dates, Parmesan and Almonds
Ingredients
For the Salad
2 bunches of kale, rinsed, patted dry, stalks & stems removed and chopped into bite-size pieces
1/4 cup olive oil
1/3 cup sliced almonds
8 dates, pitted and chopped
1/2 cup shaved Parmesan (use the good stuff!)
For the Dressing
1/2 tsp red pepper flakes
1/4 cup chopped sweet onion
2 garlic cloves, peeled
juice of 1 large lemon
2 tbsp extra virgin olive oil
1 tbsp raw honey
1/2 tsp sea salt
Directions
Wash, rinse and pat kale dry, gently pressing leaves to soak up remaining water
Cut leaves away from hard stalk, then chop leaves into small, bite-size pieces
You want to make sure that you only have the soft leaves for your salad, not any firm stalks
Massage chopped kale with ¼ cup olive oil for several minutes until leaves are thoroughly coated
Allow kale to sit for about 30 minutes to soak up the oil
Place all the dressing ingredients into a blender or Vitamix and blend until smooth
Pour over kale and mix well
Add almonds, dates and parmesan, toss and serve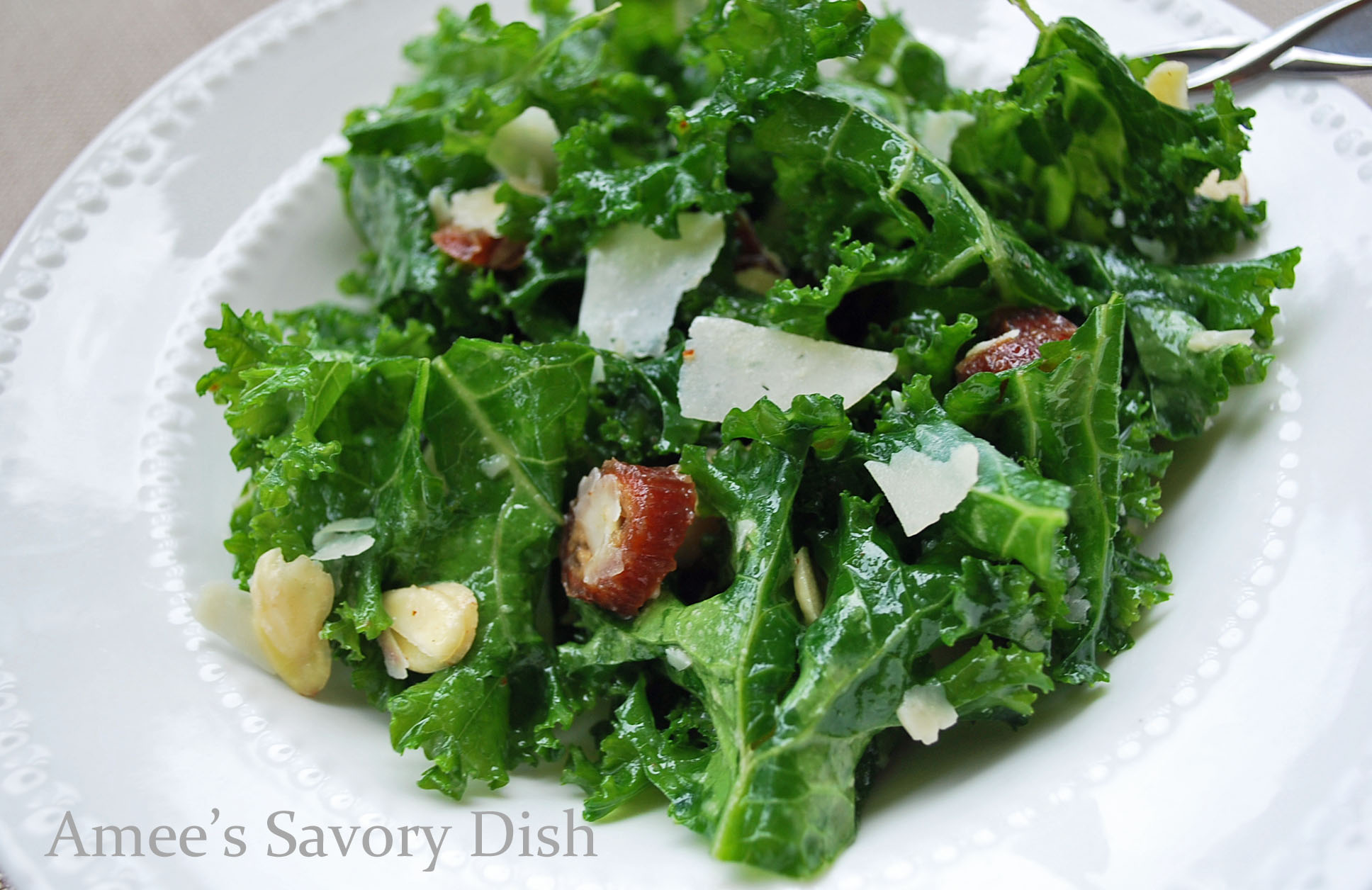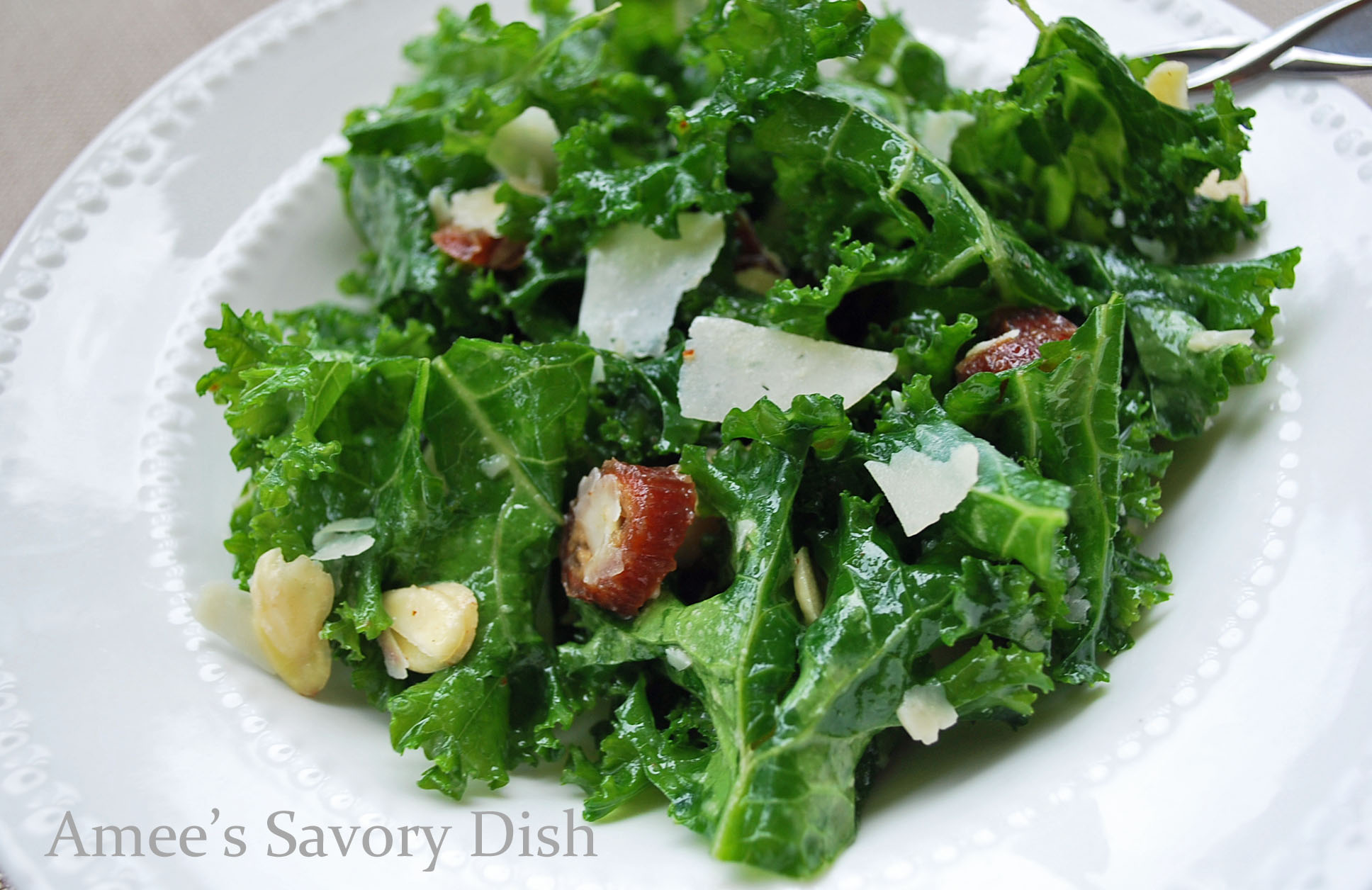 If you like this kale salad recipe, be sure to check out these other favorite kale recipes of mine:
Almond Kalette Salad with Wild Blueberry Vinaigrette
Tropical Blueberry Kale Smoothie