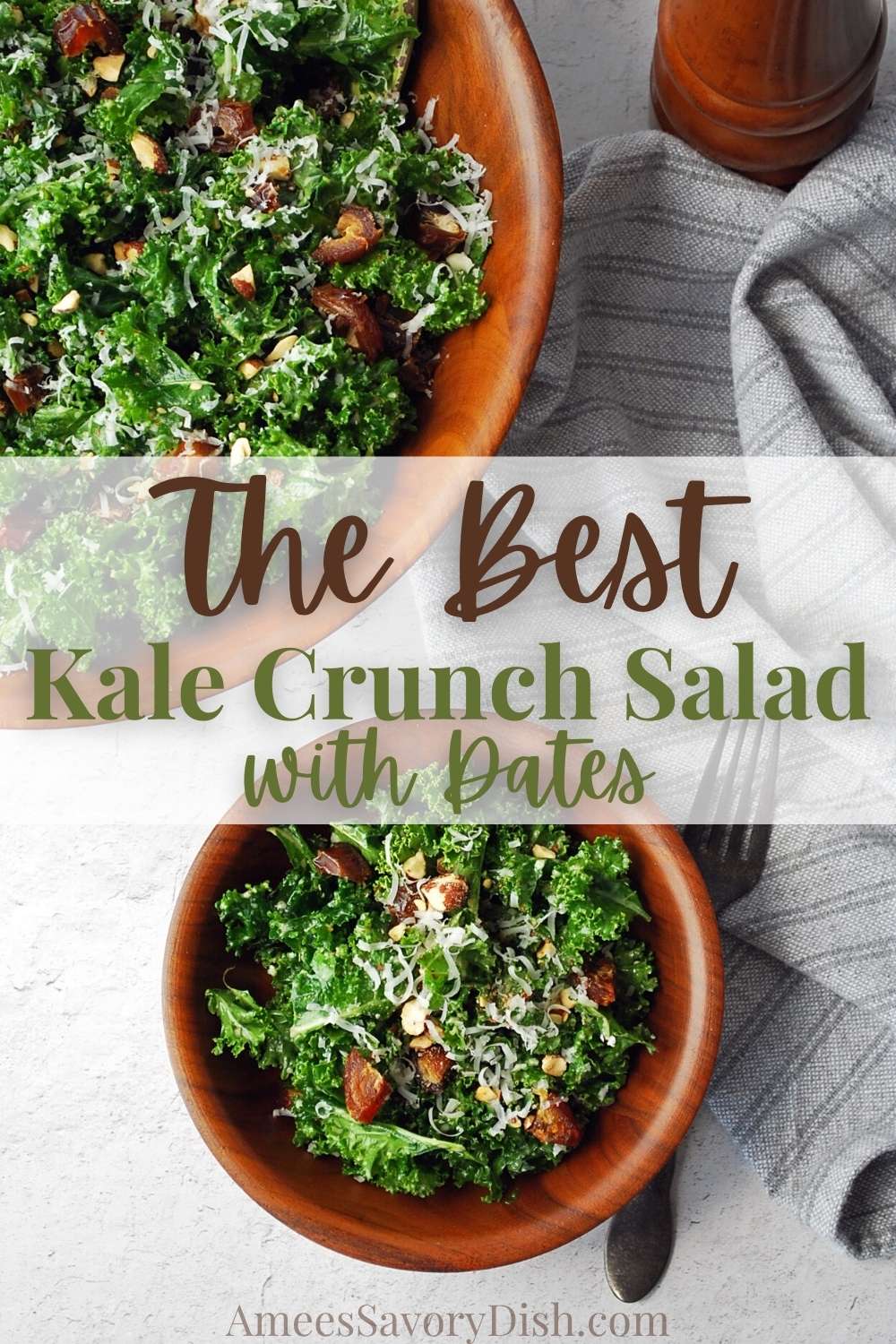 A deliciously simple recipe for kale crunch salad is made with dates, Parmesan cheese, and roasted almonds topped with a homemade lemon vinaigrette dressing. It makes the perfect side dish or can be topped with your favorite protein for a hearty nutrient-dense meal on its own!
This easy kale salad recipe with dates is hands down, my favorite kale salad to date. The flavors in this salad blend together so beautifully and the dates, cheese, and nuts provide the perfect contrast in texture.
Serve this versatile kale salad as an appetizer or pair it with a soup or sandwich for lunch. It's also hearty enough to be served as a healthy dinner topped with a customized protein such as chicken, salmon, or marinated tofu so anyone can enjoy it!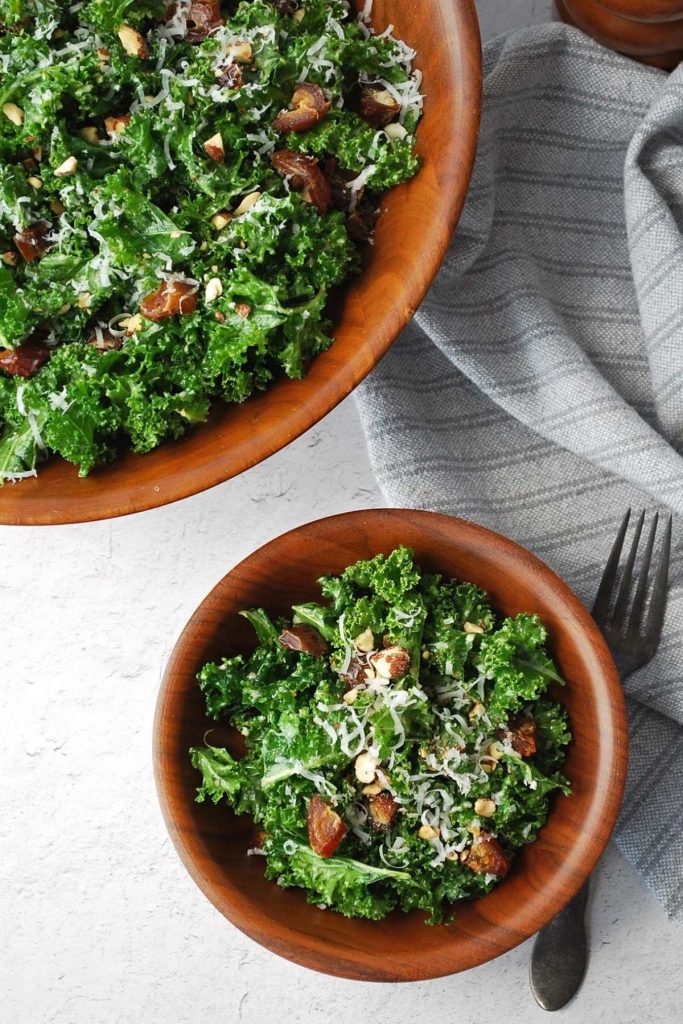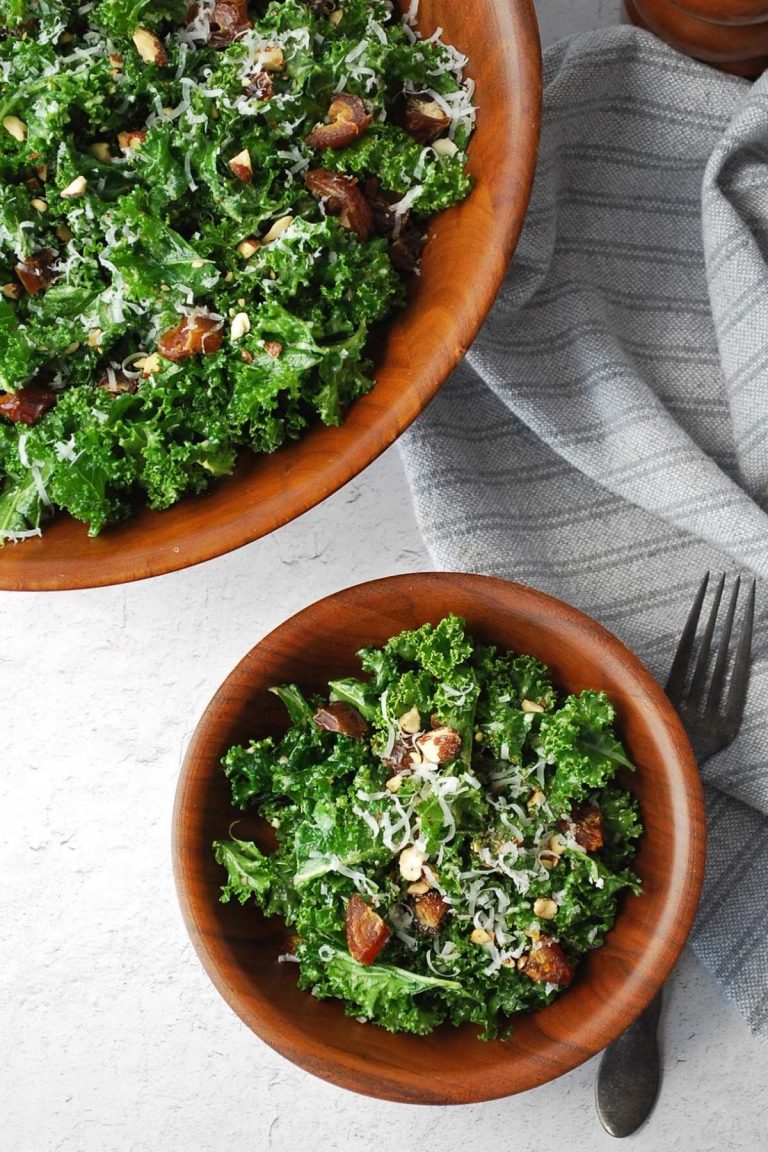 Why You'll Love This Recipe
Kale is a great way to get in nutrients from leafy greens.
Pairing massaged kale with dates helps cut through the bitterness by adding a naturally sweet flavor.
There are many different flavors and textures in this salad that all balance beautifully into the perfect salad that you'll make over and over.
The lemon vinaigrette dressing is easy to make and can be used on other salad dishes or as a marinade.
It tastes even better than the similar salad at Chickfila because it's made with natural ingredients from scratch.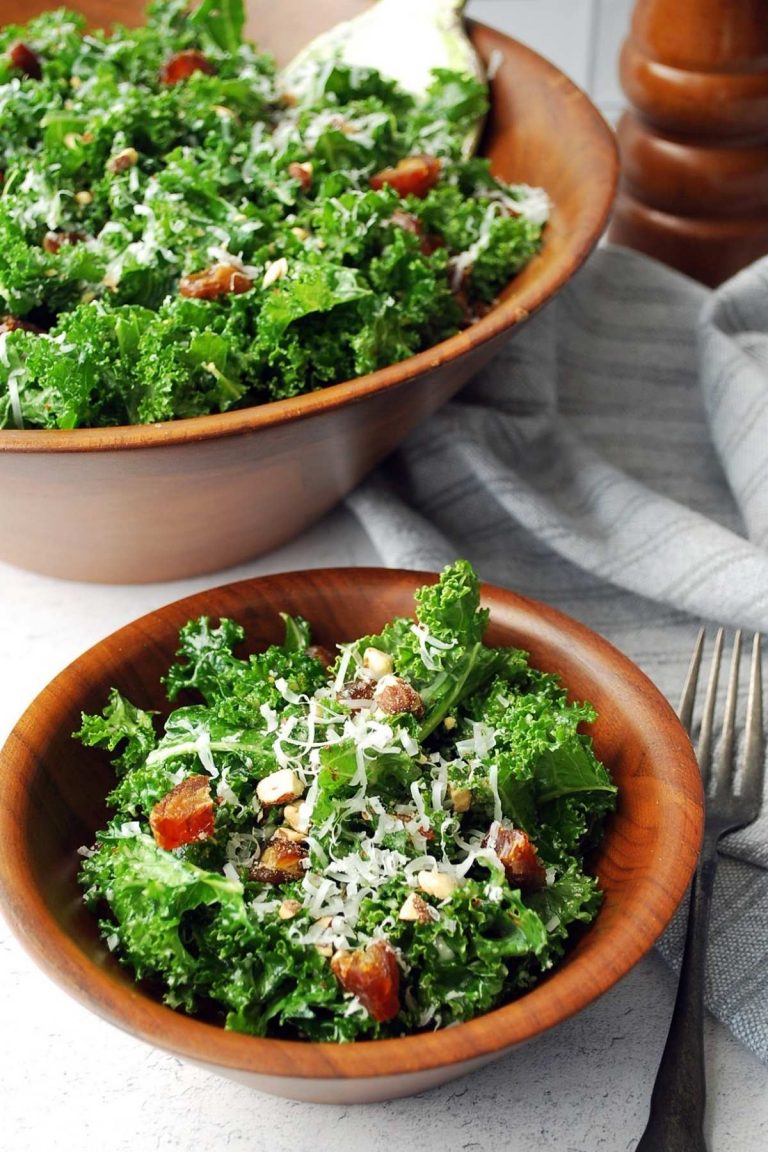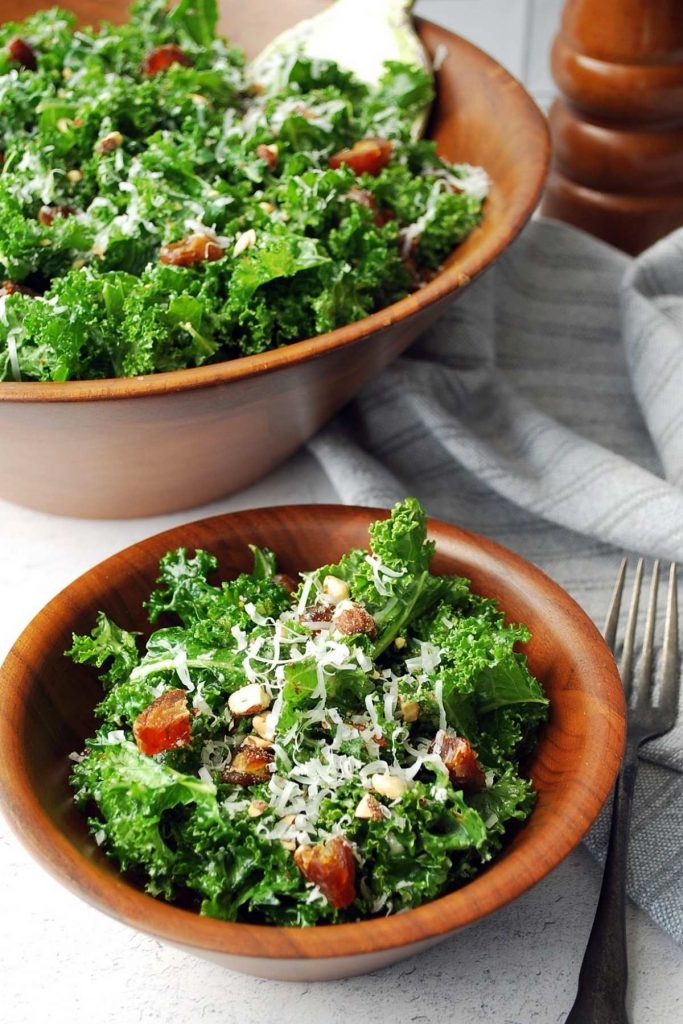 Ingredients You'll Need
Green Kale - Prepare green kale by washing, drying then removing the stems and chopping into bite-sized pieces.
Olive Oil - Helps break down the tough fibers in the kale making it easier to digest.
Roasted Almonds - Gives the salad a healthy crunch.
Pitted Dates - Adds a great texture and naturally sweet flavor without the addition of sugar.
Parmesan Cheese - Gives the salad a salty flavor and kick of flavor that pairs well with kale. Make sure you're using good freshly grated parmesan cheese!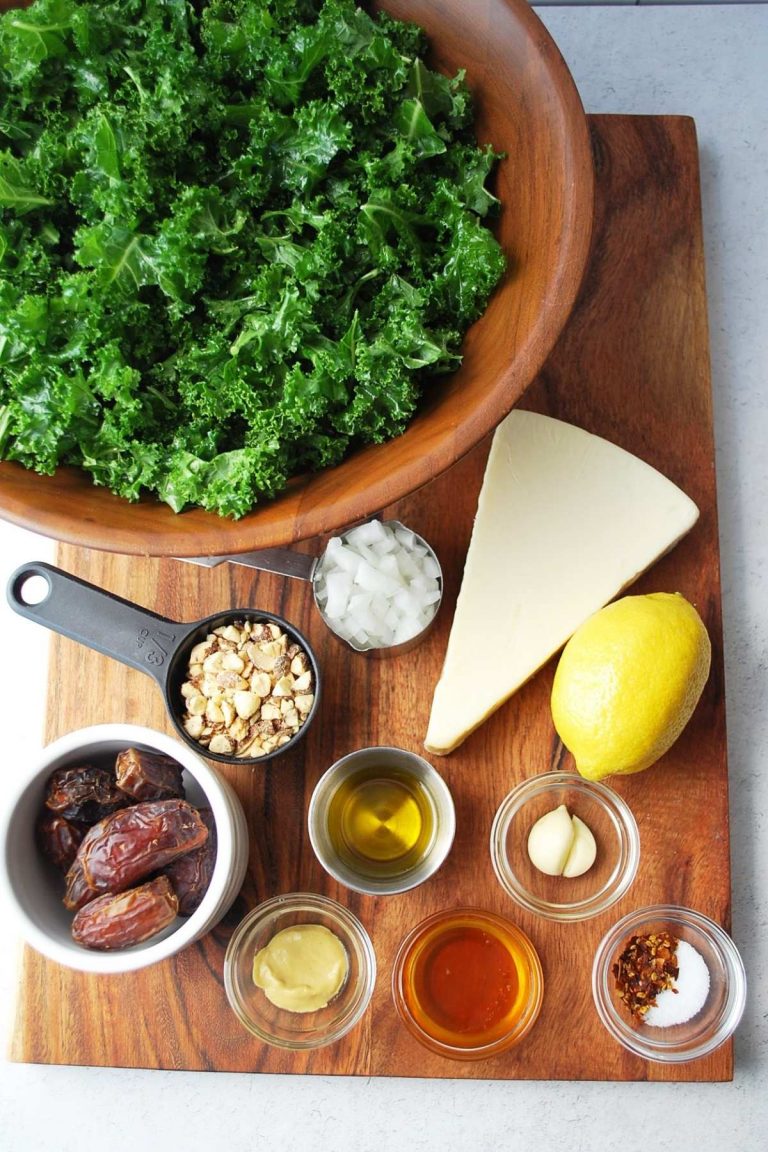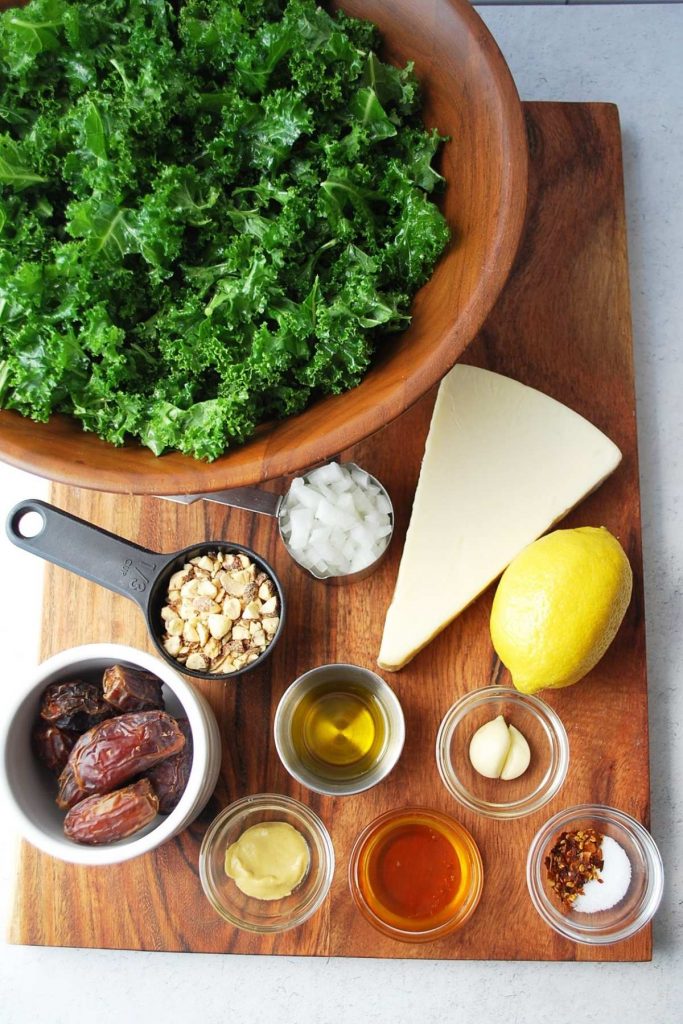 For the lemon vinaigrette dressing:
Red Pepper Flakes - Gives a light kick of spice to the dressing. Add as little or as much as you'd like!
Onion & Garlic - Infuses the dressing with a light onion and garlic flavor. I recommend using sweet Vidalia onions for a more mild flavor.
Lemon Juice - Gives the dressing acidity and a bright flavor.
Extra Virgin Olive Oil - Olive oil makes up the base of the dressing and gives it a nice layer of flavor.
Dijon Mustard - Adds a bit of tangy flavor and helps emulsify the ingredients.
Honey - Helps give the dressing a naturally sweet flavor. Maple syrup is also amazing here.
Sea Salt - Balances and enhances all the flavors in the dressing.
How To Make The Best Kale Salad
Step 1. Prepare and massage the kale.
Wash, rinse, and pat kale dry, gently pressing leaves to soak up the remaining water and cut the leaves away from the hard stalk.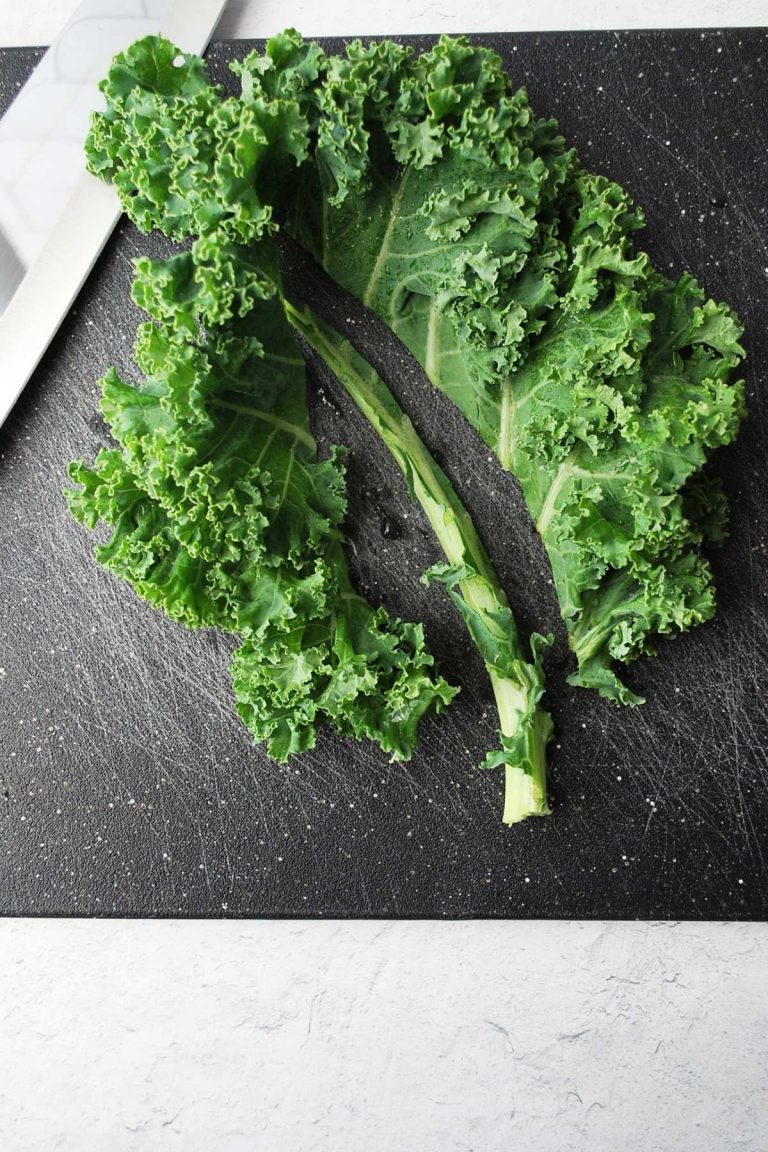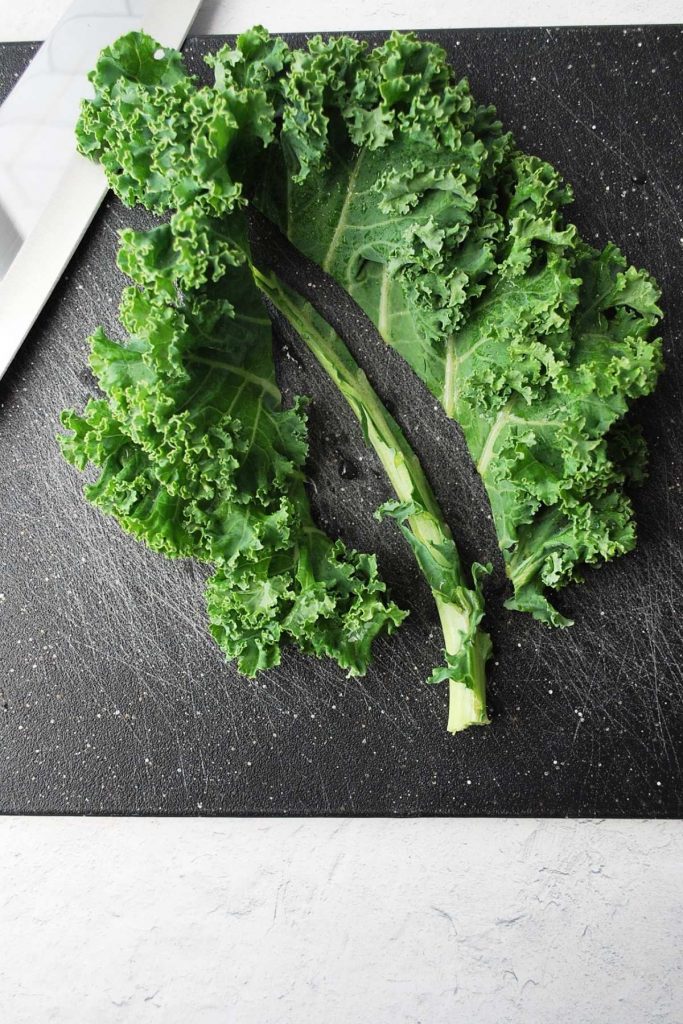 Then chop leaves into small, bite-size pieces, you want to make sure that you only have the soft leaves for your salad, not any firm stalks. You can also tear the leaves into smaller pieces with your hands.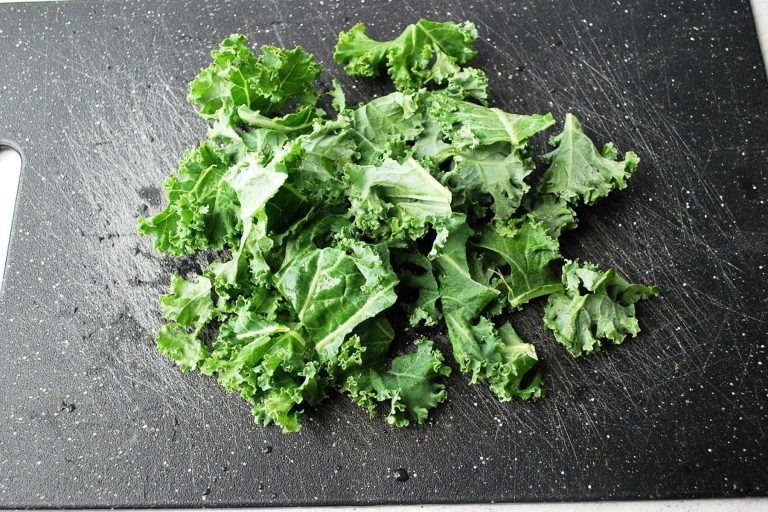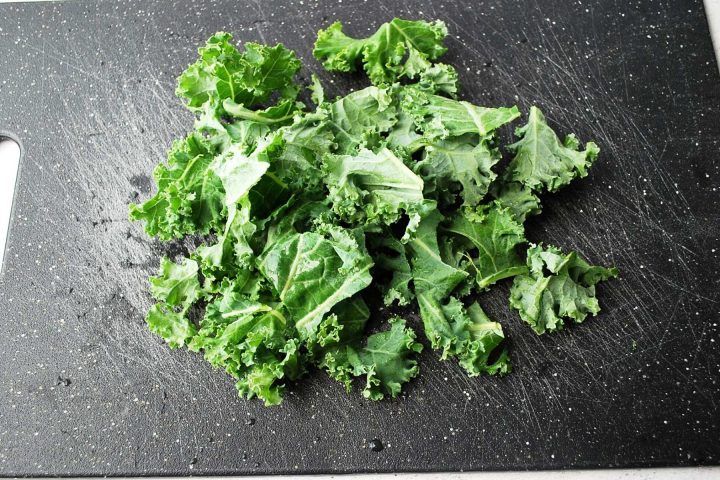 Massage chopped kale with ¼ cup olive oil for several minutes until leaves are thoroughly coated. Allow kale to sit for about 30 minutes to soak up the oil.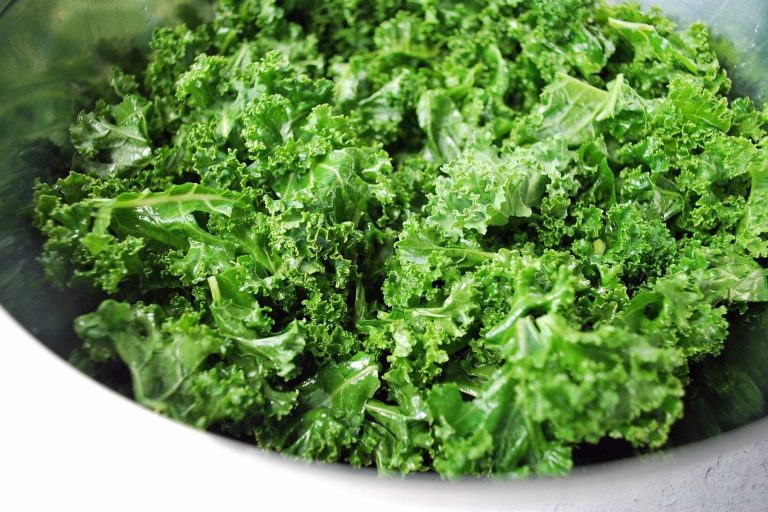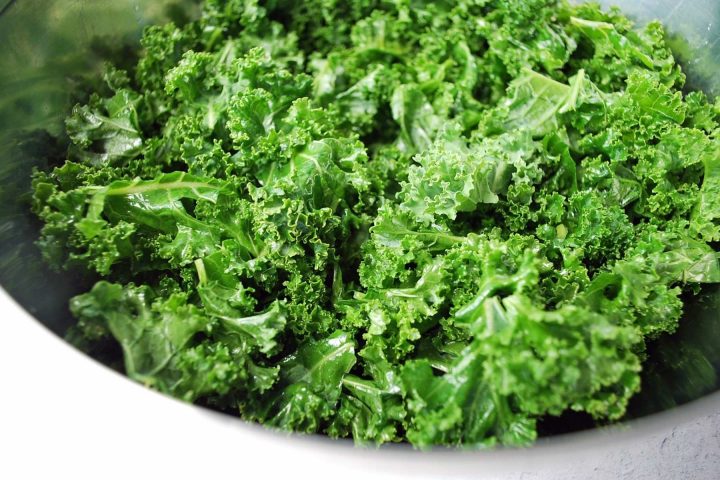 Step 2. Make the lemon vinaigrette.
Place all the dressing ingredients into a blender or Vitamix and blend until smooth.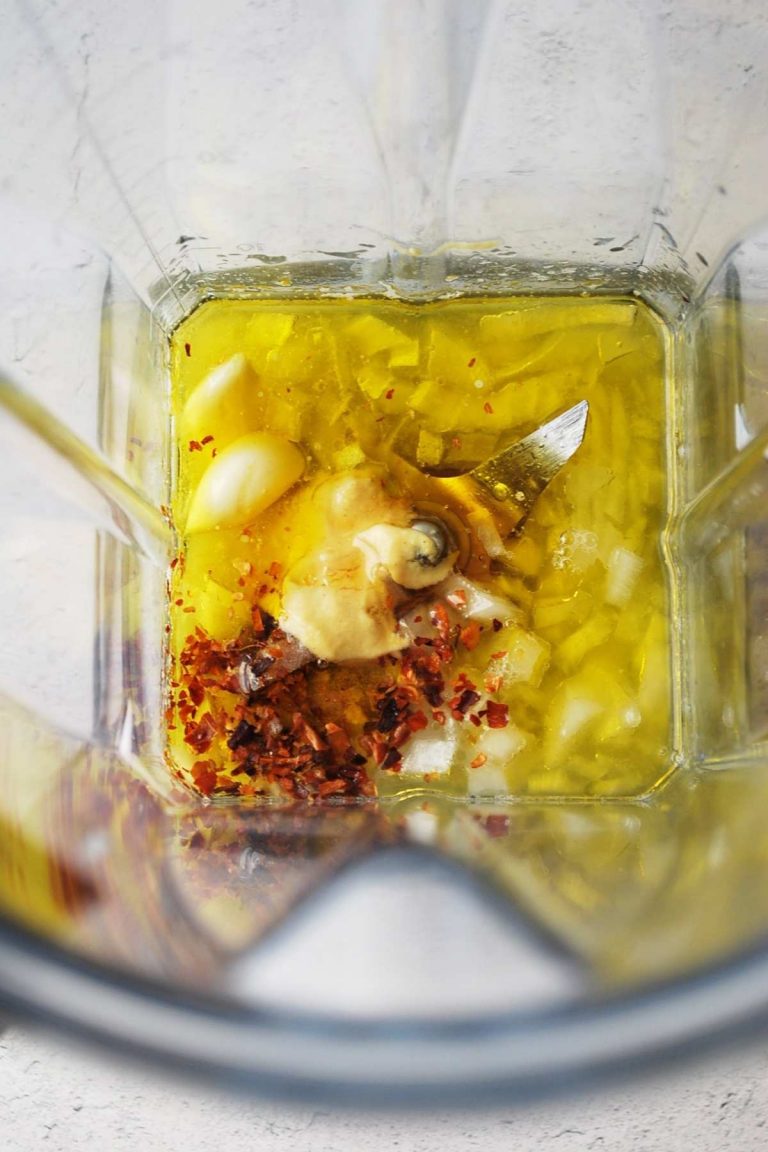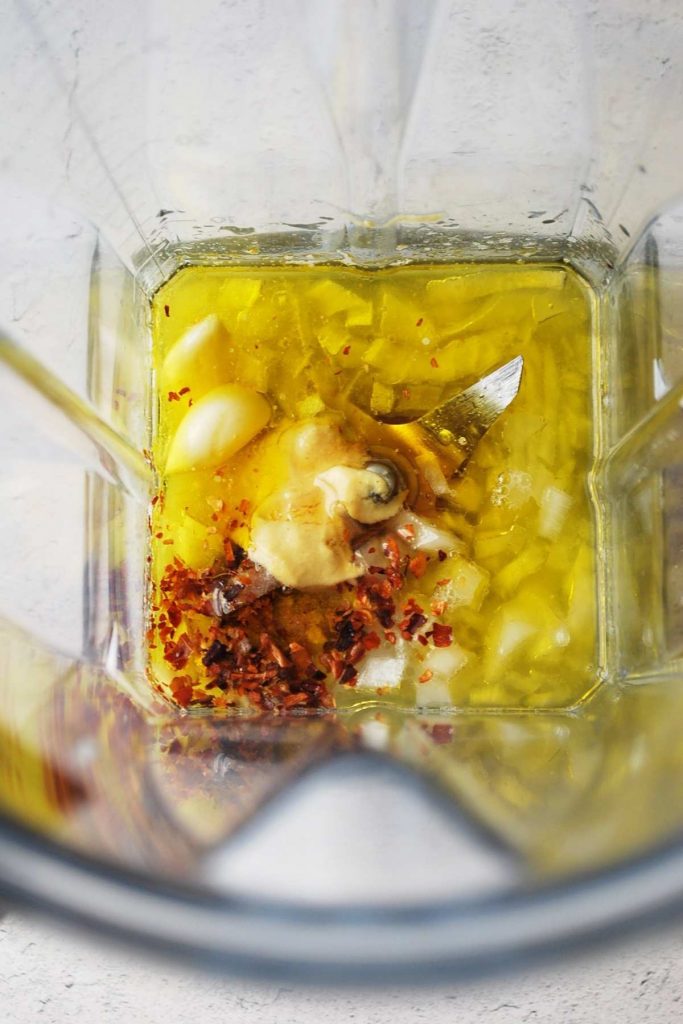 Step 3. Assemble the kale salad & serve.
Pour dressing over kale and mix well, massaging the dressing into the leaves. Right before serving add the almonds, dates, and freshly grated parmesan, then toss and serve.
Optional: refrigerate massaged kale in a sealed container for 30 minutes and up to 24 hours for the best flavor.
If you can't find roasted almonds that are already chopped, I use a mini food processor to chop whole roasted almonds.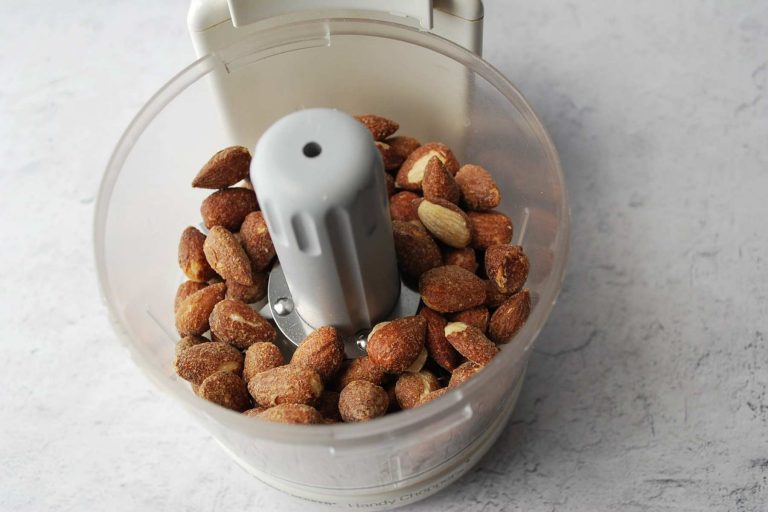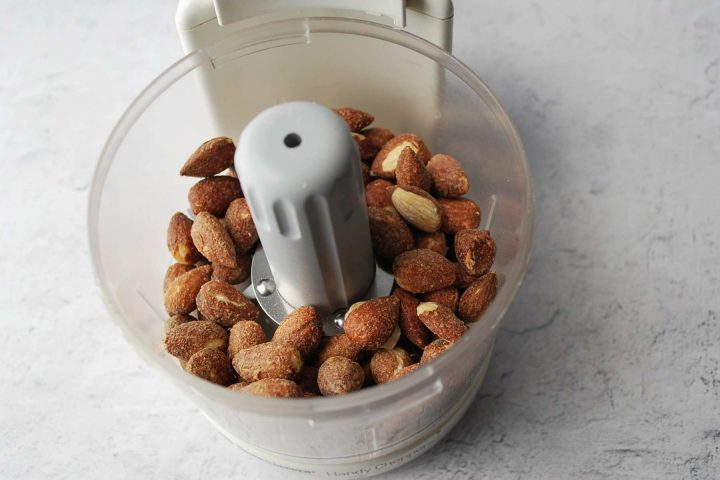 Pulse a few times and you end up with perfectly chopped nuts.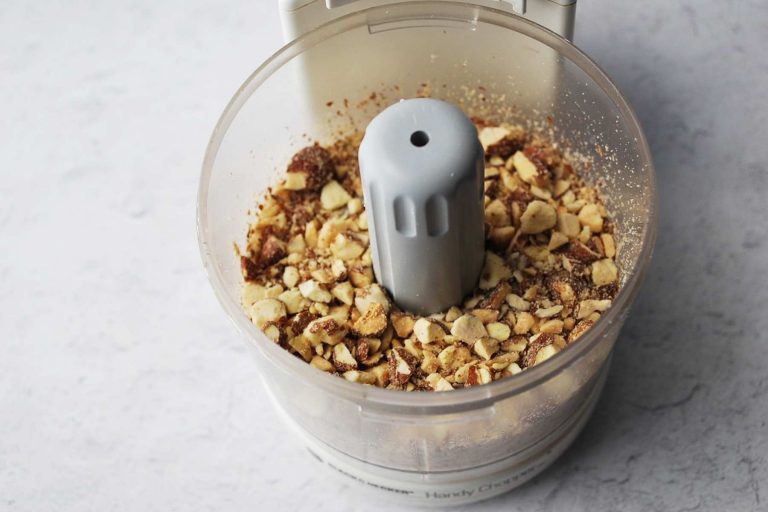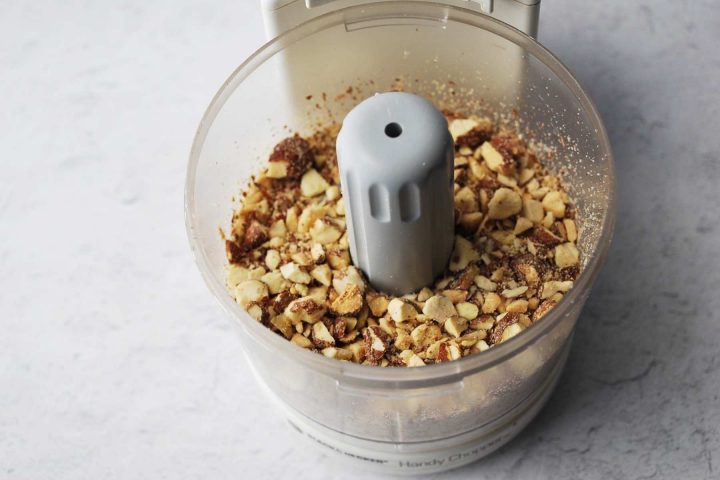 Tips For Massaged Kale
Make sure you're using just the leaves of the kale and not the stems. The stems are very fibrous and not easy to chew or eat when raw.
Don't buy the pre-cut kale for salads, it's full of hard stems. It's great for soups and stews, but a no-go for a great kale salad.
Massaging kale is KEY. I promise, giving your kale a rub-down makes all the difference in the texture of the leaves and makes them easy to digest.
Massage the leaves with oil. My favorite oils for massaging kale are extra virgin olive oil and avocado oil because they have a neutral flavor.
Variations
Use dinosaur kale or purple kale or a mix of different kale varieties in this salad recipe for different textures.
For extra crunch and bulk, toss in some shredded red and green cabbage.
Don't like dates? Try these dried fruits instead; raisins, dried cranberries, cherries, golden berries, or currants.
Try topping the salad with shredded pecorino romano or shaved manchego to change up the flavors of the cheese.
Change up the almonds and top with raw pumpkin seeds, almonds, cashews, or toasted sunflower seeds.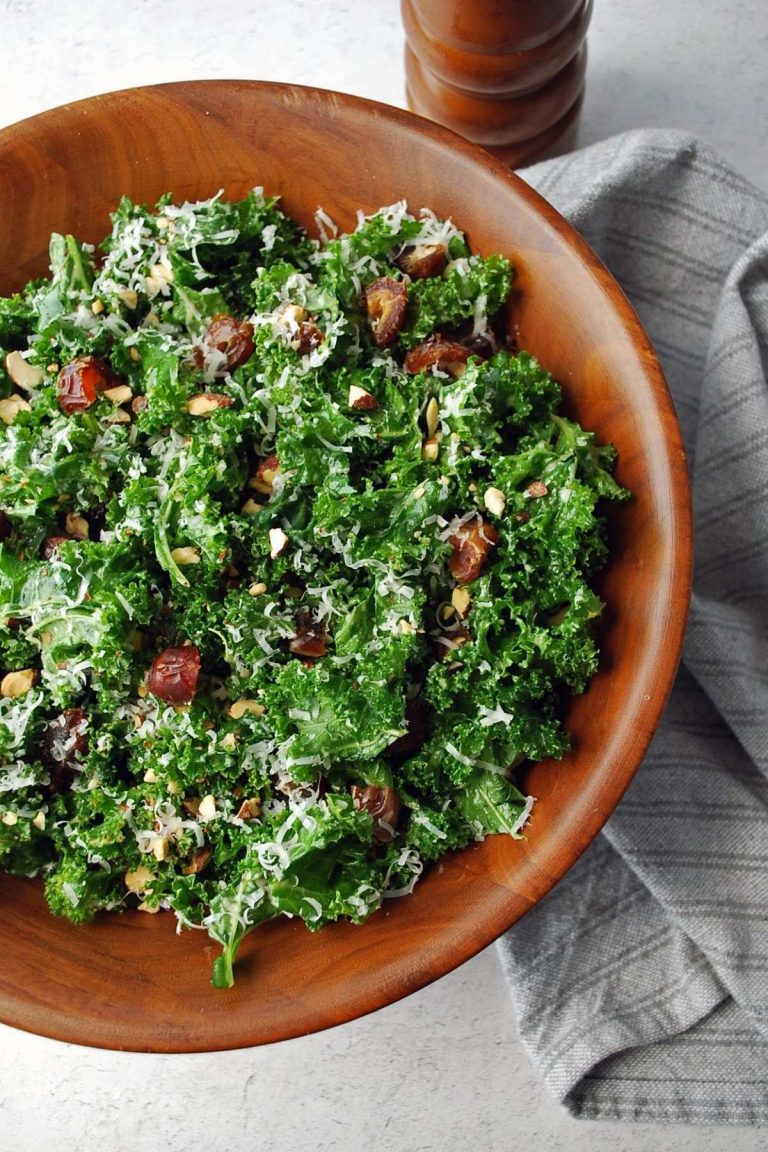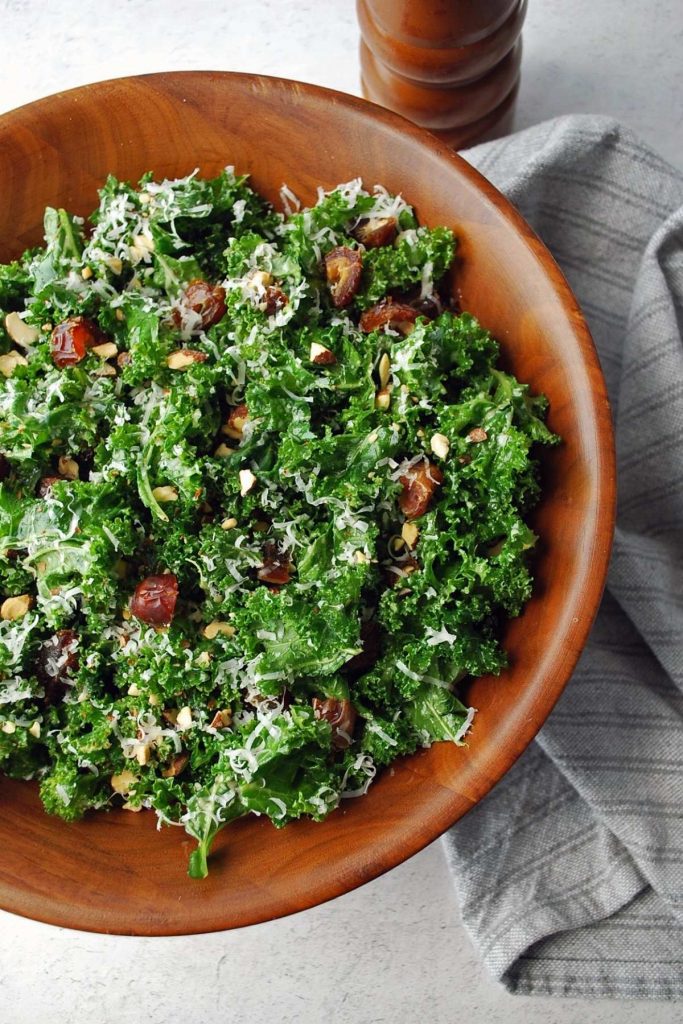 Storing and Freezing
Storing: Since the kale has been broken down by massaging the leaves, it's best to consume within 2-3 days. Leftover kale salad can be stored in an airtight container in the fridge.
Freezing: Freezing this salad is not recommended.
Recipe FAQ
Is Kale salad good for weight loss?
Kale is a healthy nutrient-dense leafy green that adds bulk and fiber to any dish making it a healthy option that can support weight loss.
How do you make kale less bitter for a salad?
To combat the sometimes bitter flavor of kale, use a dressing that has acidity such as lemon or vinegar and sweetness.

Is kale or spinach healthier?
Both are healthy leafy greens that contain vital minerals and nutrients that aid in health making them both equally healthy.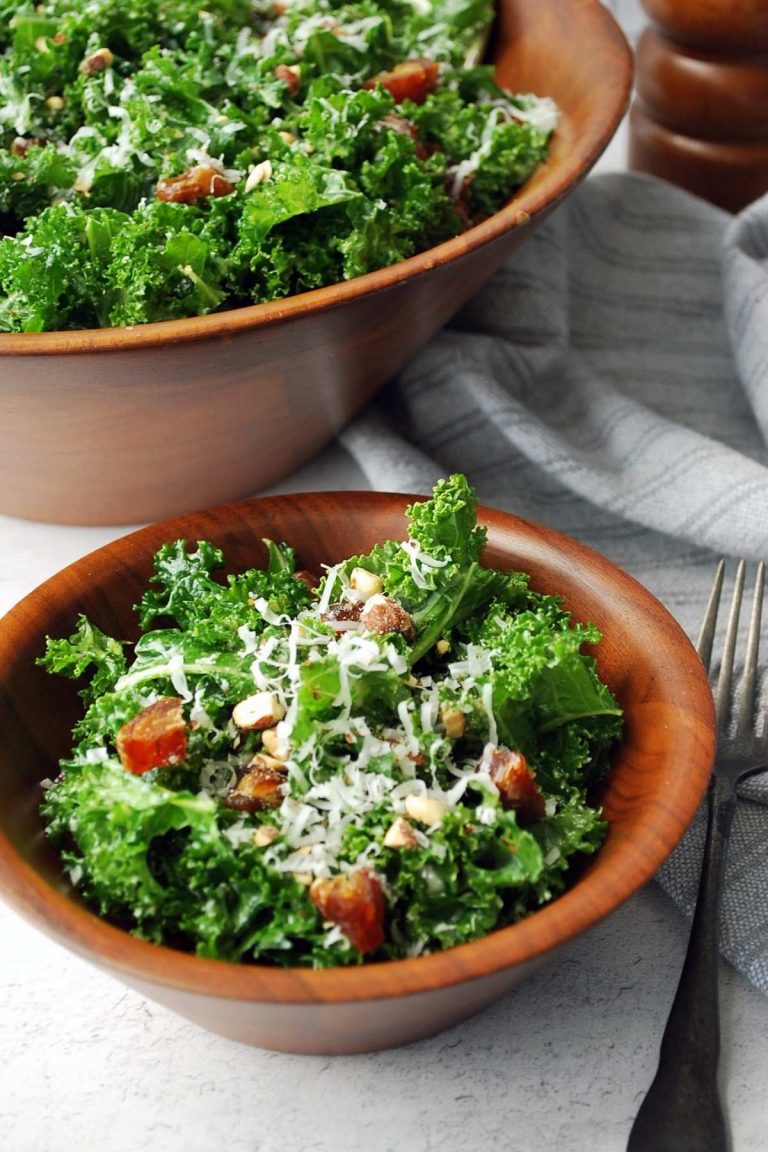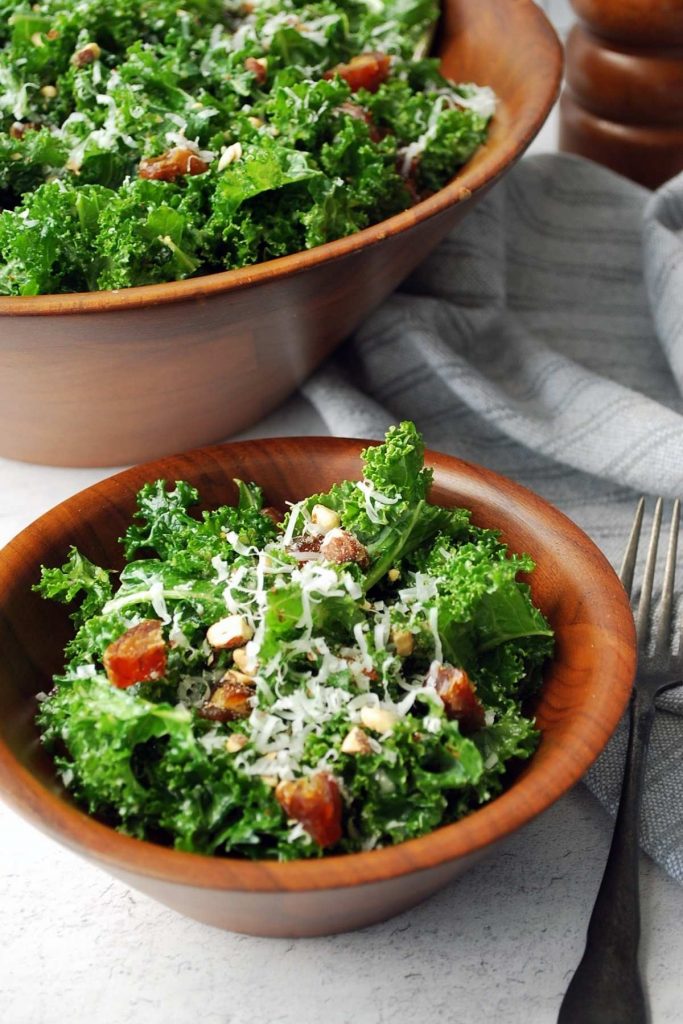 More Salad Recipes You'll Love
Kale Superfood Salad with Blueberry Vinaigrette
BLT Salad with Creamy Mayo Vinaigrette
*This post was originally published in August 2014 and has been updated to improve the reader experience. The delicious recipe remains the same.
LIKE THIS RECIPE? DON'T FORGET TO PIN IT FOR LATER, RATE, COMMENT, AND SHARE! 🙂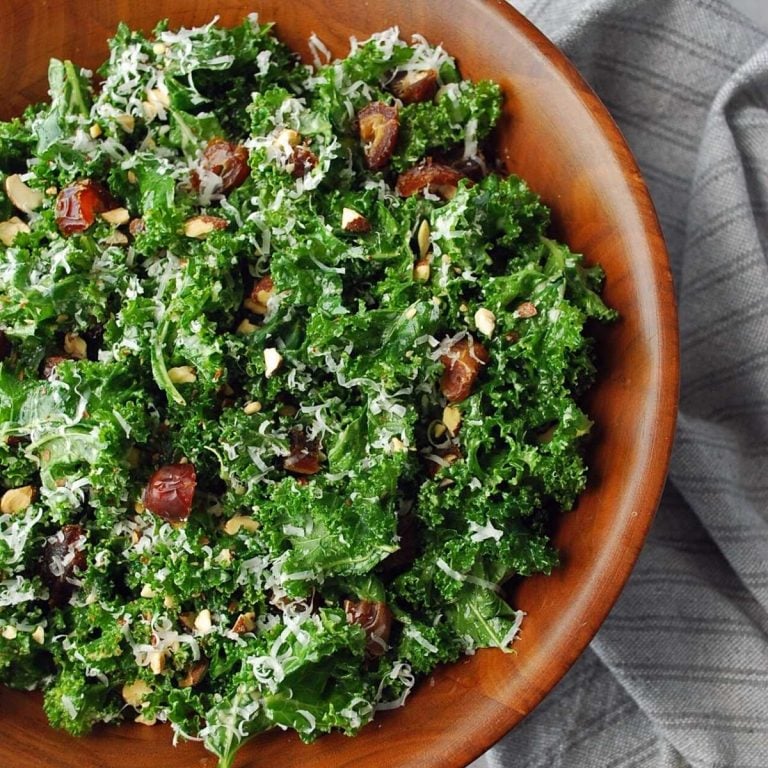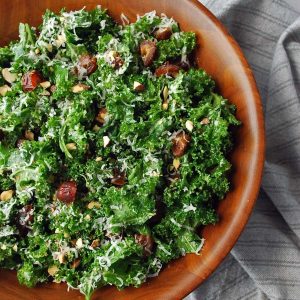 Kale Crunch Salad with Dates
A deliciously simple kale salad made with dates, Parmesan cheese, and almonds topped with a homemade lemon vinaigrette dressing.
Print
Pin
Rate
Ingredients
For the Salad:
2

bunches of kale

rinsed, patted dry, stalks & stems removed and chopped into bite-size pieces

¼

cup

olive oil

⅓

cup

roasted almonds

chopped

8

dates

pitted and chopped

½

cup

freshly grated Parmesan

use the good stuff!
For the Dressing:
½

teaspoon

red pepper flakes

this adds a little spicy kick, but you can leave this out if you prefer

¼

cup

chopped sweet onion

make sure to use sweet onion or it will overpower the dressing

2

garlic cloves

peeled

juice of 1 large lemon

2

tablespoon

extra virgin olive oil

1

teaspoon

dijon mustard

1

tablespoon

honey

maple syrup is also great here!

½

teaspoon

sea salt
Instructions
Wash, rinse and pat kale dry, gently pressing leaves to soak up remaining water

Cut leaves away from hard stalk, then chop leaves into small, bite-size pieces

You want to make sure that you only have the soft leaves for your salad, not any firm stalks

Massage chopped kale with ¼ cup olive oil for several minutes until leaves are thoroughly coated

Allow kale to sit for about 30 minutes to soak up the oil

Place all the dressing ingredients into a blender or Vitamix and blend until smooth

Pour over kale and mix well, massaging the dressing into the leaves

*Optional: refrigerate in a sealed container for 30 minutes and up to 24 hours for best flavor

Right before serving add the almonds, dates, and freshly grated parmesan, then toss and serve
Nutrition
Calories:
150
kcal
|
Carbohydrates:
9
g
|
Protein:
4
g
|
Fat:
12
g
|
Saturated Fat:
2
g
|
Trans Fat:
1
g
|
Cholesterol:
3
mg
|
Sodium:
209
mg
|
Potassium:
143
mg
|
Fiber:
1
g
|
Sugar:
6
g
|
Vitamin A:
1209
IU
|
Vitamin C:
15
mg
|
Calcium:
94
mg
|
Iron:
1
mg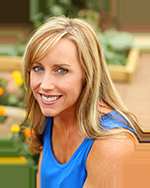 Latest posts by Amee Livingston
(see all)