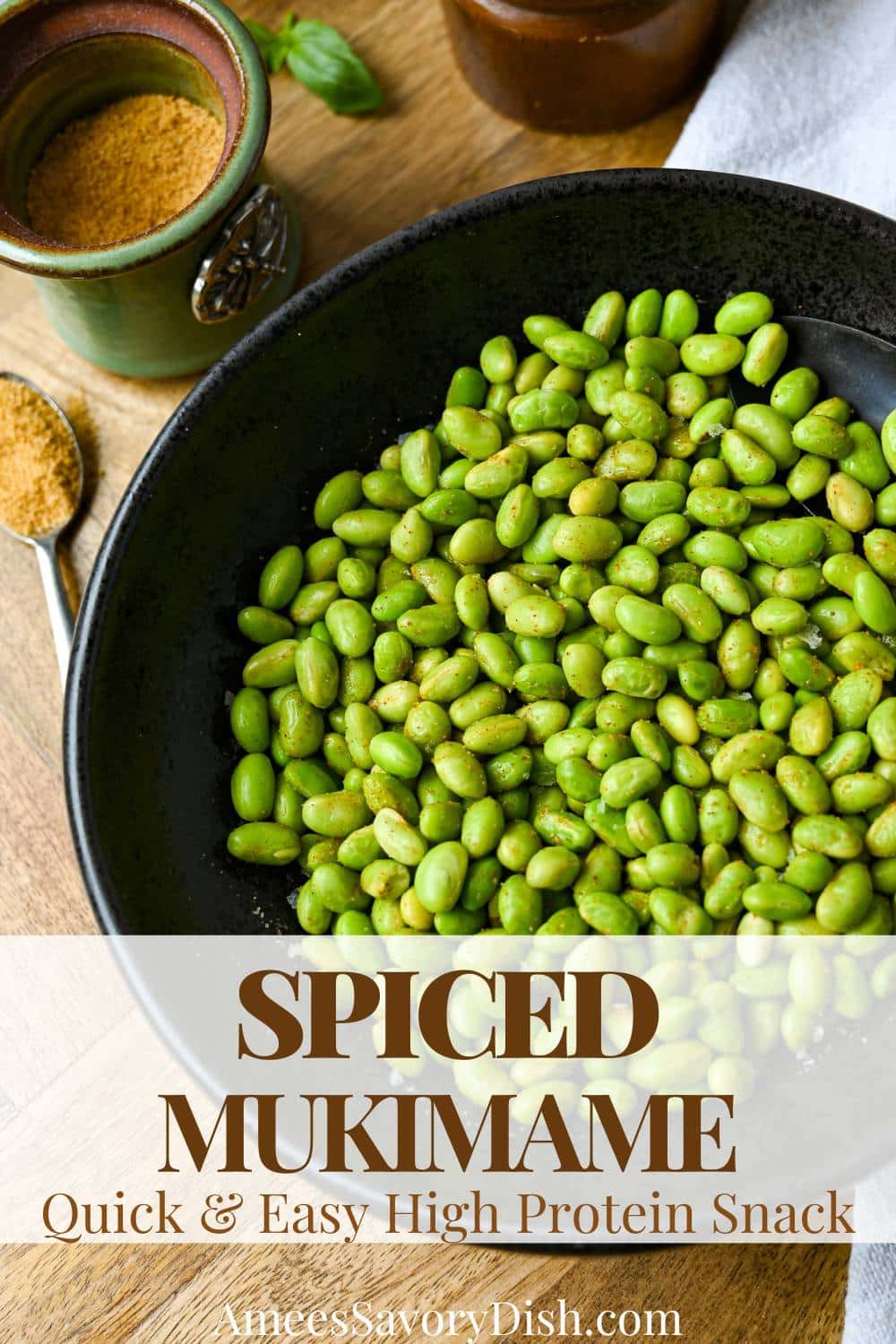 Mukimame (Shelled Edamame) is an easy-to-make, healthy appetizer or snack, and this guide has everything you need to know about it -including a mukimame vs. edamame analysis, a simple recipe, alternative cooking options, and a list of seasoning ideas.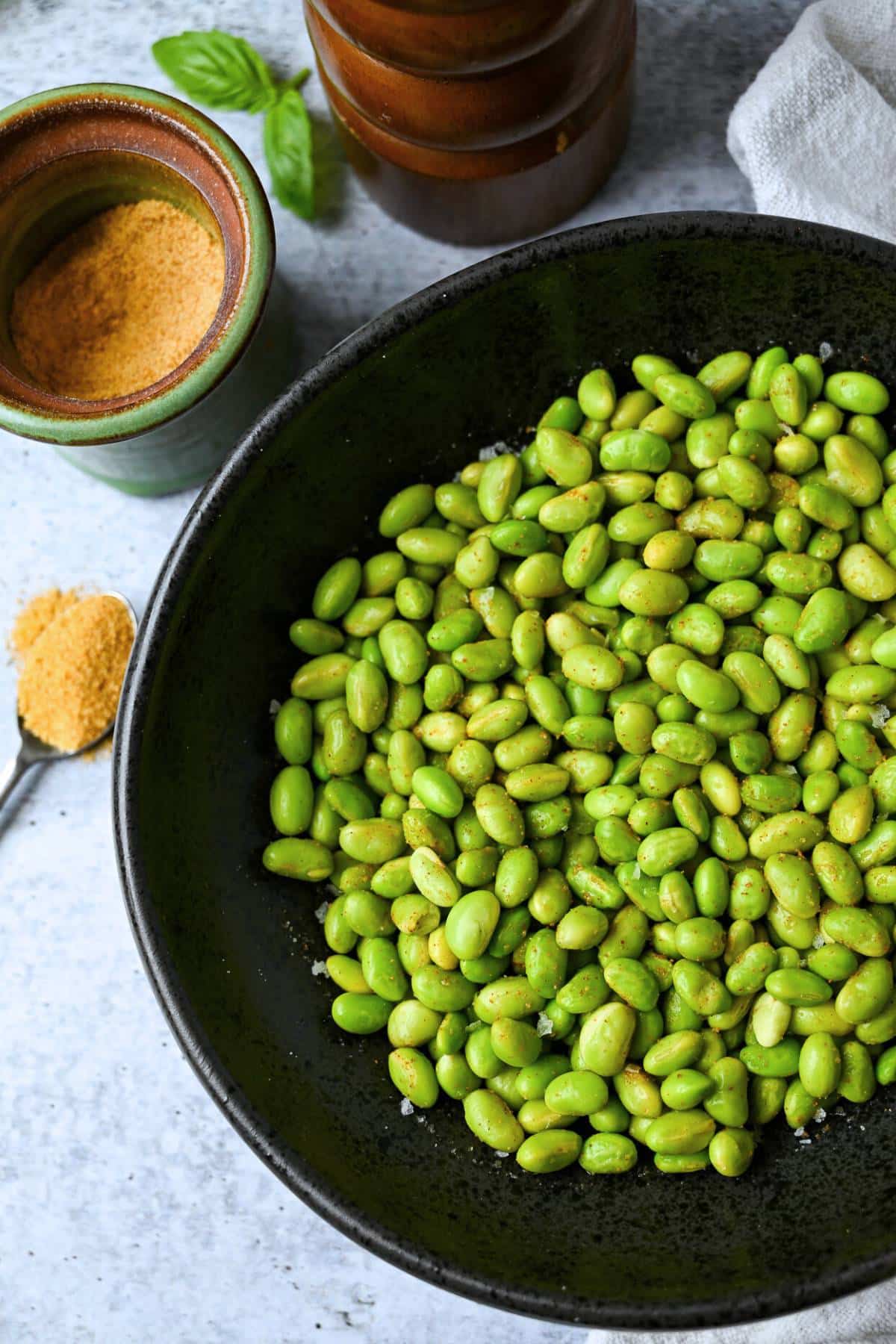 Whether you want to learn about mukimame beans because you're considering including them in your healthy diet or simply looking for the best mukimame recipe, you've come to the right place. So without further ado, let's dive into the details of this tasty and tender vibrant green bean!
What Is Mukimame?
In short, mukimame (pronounced "moo-kuh-mah-meh") is another name for edamame beans (pronounced "ed-dah-mah-meh") that have been popped out of their pods.
These beans originated in East Asia but have gained worldwide popularity. They're readily available in the freezer section in big-name grocery stores and Asian markets and often come in ready-to-steam bags, but they can also be boiled, steamed, sauteed, microwaved, and roasted.
Since there's no pod to fuss with, mukimame beans are easier to season and a better quick, healthy snack option. On top of that, they're an excellent side dish and perfect for adding to salads, soups, and stir-fries.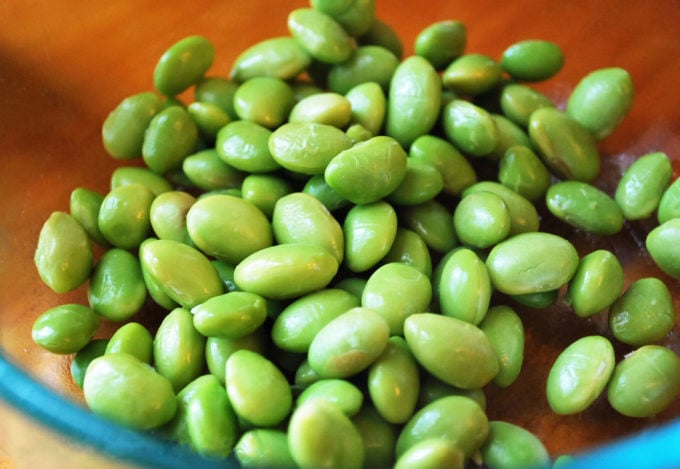 Nutritional benefits
Mukimame can nourish your body with a wide range of nutrients that support your overall health and well-being. They are a fantastic source of complete plant-based protein, providing all the essential amino acids needed for muscle growth and repair.
They're also rich in dietary fiber, vitamins, and minerals, such as vitamin C, vitamin K, folate, calcium, iron, and manganese. Moreover, mukimame beans are low in saturated fat and cholesterol.
As for the macronutrient breakdown, a half-cup serving has 10 grams of protein, 5 grams of fiber, 5 grams of fat, and only 120 calories.
Mukimame vs. edamame
Mukimame and edamame are both immature soybeans from the legume family, with the main difference being preparation. Edamame refers to soybeans cooked in their pods, while mukimame refers to soybeans shelled before cooking.
As for texture and taste, cooked edamame beans are slightly softer and sweeter, while mukimame beans are firmer with a nutty, buttery flavor.
So whether you prefer the tender sweetness of edamame or the hearty nuttiness of mukimame, both options provide a delicious and nutritious side dish, appetizer, or snack that you can pull right out of the freezer and cook in a pot of boiling water -no thawing needed!
Ingredients you'll need
This frozen mukimame recipe is super simple. Here's everything you'll need:
Water – To bring to a boil and cook the edamame beans.
Salt – To season the water and elevate the overall flavor.
Frozen mukimame (preferably organic) – If you can't find a bag labeled "mukimame," grab a bag of "shelled edamame" (frozen mukimame is often labeled as "shelled edamame" in the U.S.).
Seasoned salt – You can use store-bought seasoned salt, but I highly recommend making homemade seasoned salt with a blend of ground spices and dried herbs that you probably already have in your seasoning collection. Also, unlike most store-bought varieties, it's free of sugar and chemical additives.
How to make seasoned mukimame
Step 1: Boil water. Bring 3 cups of water to a boil in a medium pot on the stovetop.
Step 2: Cook the mukimame. Once the water reaches a boil, add ½ teaspoon of salt and the frozen beans, and boil for about 5 minutes or until the beans are tender.
Step 3: Drain. Drain the beans well in a colander.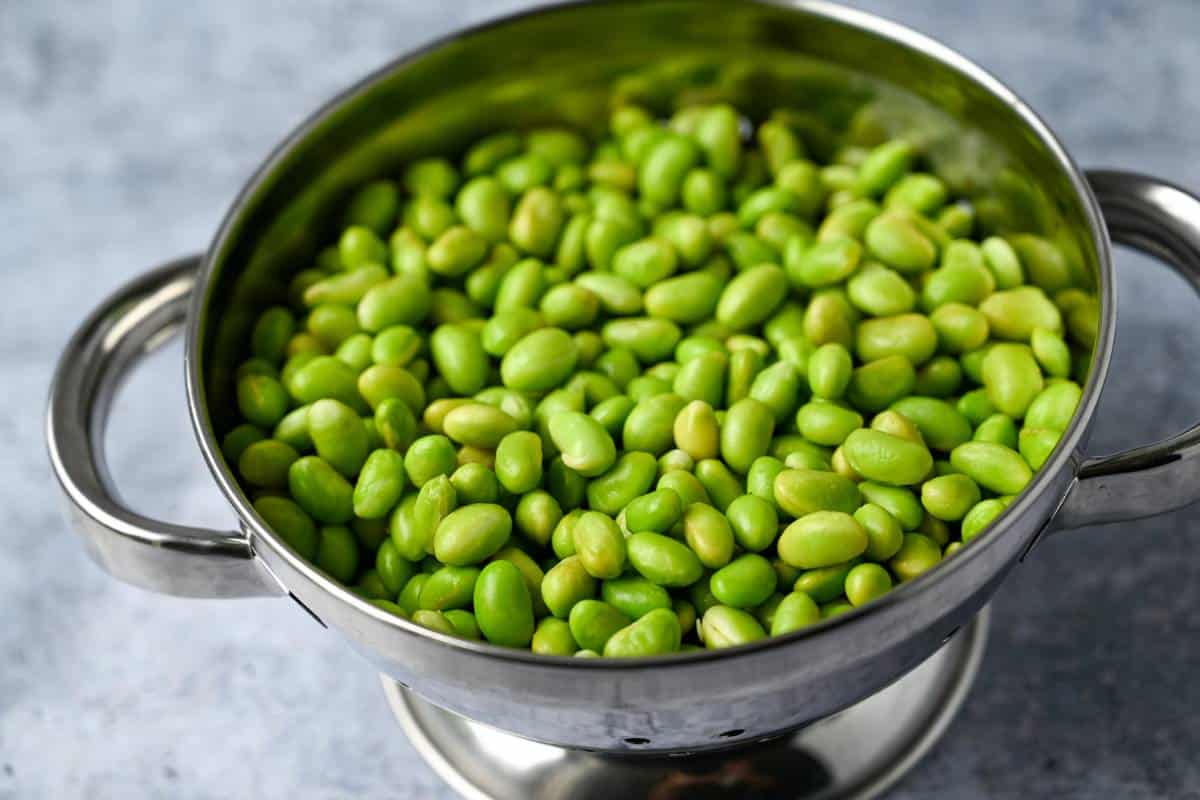 Step 4: Season and serve. Toss the beans with seasoned salt (or your favorite seasoning blend), and serve immediately or store them in the refrigerator until you're ready to eat. They're even delicious when eaten cold!
Alternate cooking methods
Frozen-shelled edamame doesn't necessarily have to be boiled. Here are more cooking methods to consider:
Steaming: Place the frozen beans in a steamer basket over boiling water and steam for 5-7 minutes.
Microwaving: Add the frozen edamame and a splash of water to a microwave-safe dish. Cover, and microwave on high for 3-5 minutes. Be cautious of the released steam when removing the cover.
Sautéing: Heat oil in a skillet or wok over medium-high heat. Toss in the frozen beans and stir-fry for 5-7 minutes.
Roasting: Toss the frozen beans with some oil and desired seasonings, then spread them in a single layer on a baking sheet and roast at 400°F for 15-20 minutes, stirring halfway through.
Seasoning variations
Mukimame beans are perfect when seasoned with nothing more than coarse salt or seasoned salt, but feel free to get creative. Here's a list of flavoring ideas for inspiration:
Garlic parmesan – Toss the cooked beans with melted butter, minced garlic, grated Parmesan cheese, and a pinch of salt.
Spicy chili lime – Toss the cooked beans with fresh lime juice, chili powder or red pepper flakes, and a dash of salt.
Teriyaki – Coat the cooked beans in a store-bought or homemade teriyaki sauce, and garnish them with sesame seeds and chopped green onions.
Smoky paprika – Season the cooked beans with smoked paprika, garlic powder, onion powder, and a pinch of salt.
Sesame ginger – Toss the cooked beans with sesame oil, minced ginger, soy sauce, and a sprinkle of sesame seeds
Serving suggestions
Seasoned mukimame is the perfect appetizer to serve before an Asian-inspired meal, but you can also use the cooked beans as an ingredient in stir-fries, rice bowls, salads, and so on. Try adding them to these recipes for added taste and texture:
You can also stir cooked shelled edamame directly into soups and stews at the end of cooking. They're an excellent substitution for green peas, lima beans, and green beans.
Storing & freezing
Storing: Once cooked and cooled, both edamame and mukimame can be stored in an airtight container in the fridge for 2-3 days.
Freezing: Once cooled and cooled, both edamame and mukimame can be frozen in a freezer-safe, airtight container for 2-3 months.
FAQs
Are edamame beans gluten-free?
Yes, edamame beans (or mukimame) are naturally gluten-free. However, you should always check the packaging to inquire about any possible cross-contamination during processing if you have severe gluten sensitivity or celiac disease.

Are edamame beans keto?
Possibly! While edamame beans can be incorporated into a keto diet, be mindful of portion sizes and your daily carbohydrate limit. On average, a ½-cup serving of cooked edamame contains around 5 grams of net carbs, 10 grams of protein, and 5 grams of fat.

Can you buy fresh mukimame?
Mukimame beans are almost always frozen after being removed from their pods. However, you can sometimes find fresh edamame pods in grocery stores, Asian markets, and farmers' markets during the late summer and early fall when they are in season. They can be cooked by boiling or steaming them in their pods before shelling and enjoying the beans inside.

More healthy snacks and sides
If you love this edamame recipe, I would be so grateful if you could leave a 5-star 🌟rating in the recipe card below. I love reading your comments and feedback!
Stay posted on my latest cooking adventures through social media @ Instagram, Pinterest, and Facebook. Also, don't forget to tag me when you try one of my recipes!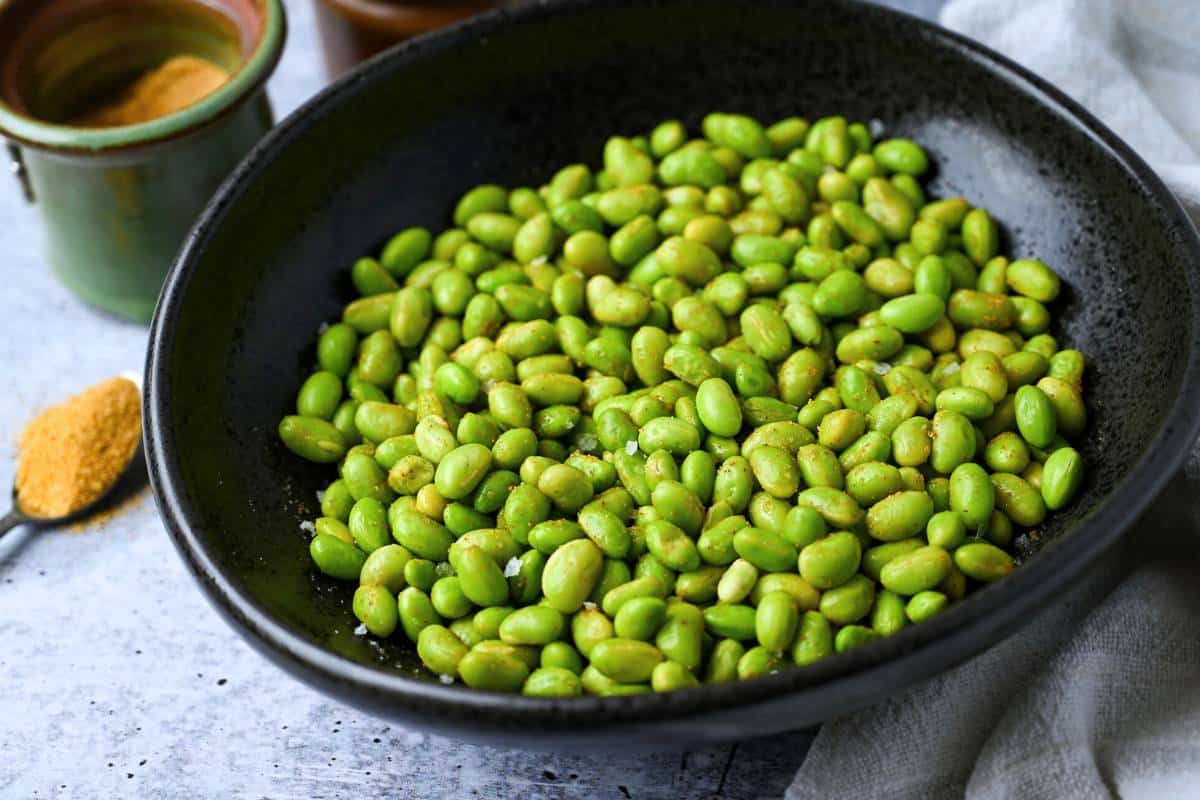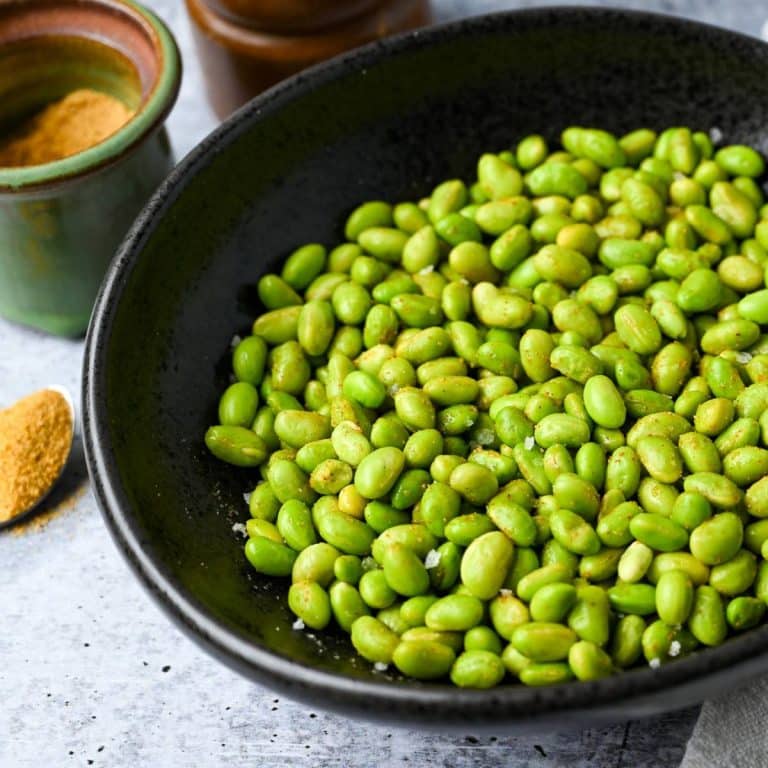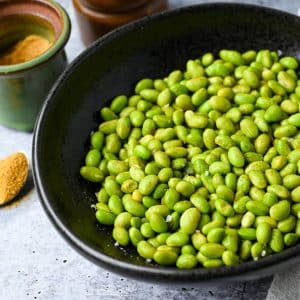 Spiced Mukimame
Mukimame are shelled edamame (soybeans). Frozen organic mukimame are quick and simple to prepare, making a delicious snack. We usually just season them with a little sea salt, but I love them tossed with homemade seasoned salt. They're even delicious eaten cold!
Print
Pin
Rate
Ingredients
1

tablespoon

Homemade Seasoned Salt seasoning

10

oz

Organic Mukimame

Shelled soybeans

3

cups

water

½

teaspoon

salt
Instructions
Bring 3 cups of water to a boil on the stovetop.

Boil the mukimame for 5 minutes.

Drain well and toss with homemade seasoned salt. Serve and enjoy.

Serve immediately or store in the refrigerator until ready to eat.
Nutrition
Calories:
69
kcal
|
Carbohydrates:
6
g
|
Protein:
6
g
|
Fat:
3
g
|
Saturated Fat:
1
g
|
Sodium:
1638
mg
|
Potassium:
247
mg
|
Fiber:
3
g
|
Sugar:
1
g
|
Vitamin C:
3
mg
|
Calcium:
40
mg
|
Iron:
1
mg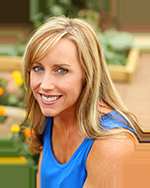 Latest posts by Amee Livingston
(see all)