I played with my new Actifry from T-fal again this week to make some delicious and healthy sweet potato fries.  You can read my full write up about this cool gadget here.  They turned out really yummy.  Oh, and if you don't have an Actifry, no worries!  I have the oven recipe version for you, too.  Nom nom!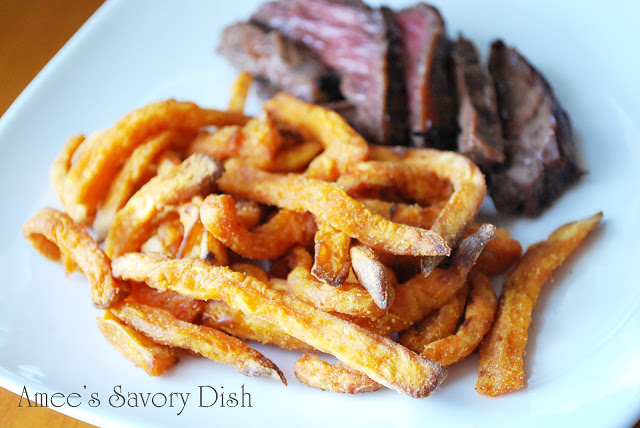 Ingredients:
1 3/4 lbs sweet potatoes
1 tbsp arrowroot powder or tapioca starch
1/2 tsp seasoning salt 
2 tbsp extra virgin olive oil 

Scrub the sweet potatoes and cut in half lengthwise (you can peel them or leave the skins on…your preference).  Cut into fries of equal size, no more than 1/2 inch thick on all sides.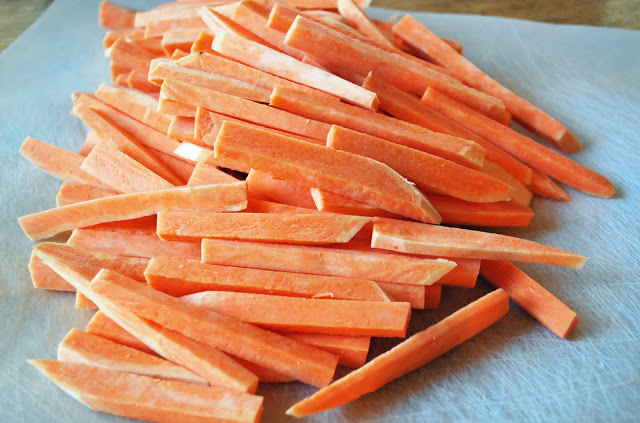 Place the cut potatoes into a large bowl and toss with arrowroot flour and seasoning salt to evenly coat.  
Transfer the sweet potatoes to the Actifry pan and drizzle with the oil.  Cook for 40-45 minutes or until golden and cooked through.  Adjust seasoning to taste.  

Oven version:

Preheat oven to 450 degrees.  Place the cut sweet potatoes into a large bowl, sprinkle with seasoning salt and toss with 2 tbsp olive oil (arrowroot powder/tapioca starch is optional here).  Place sweet potato fries on a baking sheet (in a single layer, so they get crispy) sprayed with a little cooking spray and cook for about 20-30 minutes, turning them half way through.