Ok, so I have a few banana bread recipes on my blog already….so you can see my obsession pattern here for baking a lot of banana bread.  First of all, my kids love it.  Second of all, it's pretty darn simple to make and I almost always have the ingredients in my pantry for throwing it together.  We eat a LOT of bananas in this house, so there is no shortage of overripe bananas every week.  If I don't feel like baking, I just throw them in the freezer for smoothies and protein shakes.  They never go to waste.  I was playing around with my recipes and decided to combine brown rice and oat flour this time and coconut sugar for the sweetener.  It turned out delicious.  The kids went crazy over this version.  They were begging for a slice while it was still warm out of the oven.  The whole house smelled divine.  I doubled my recipe and six small loaves were gone in less than three days. 🙂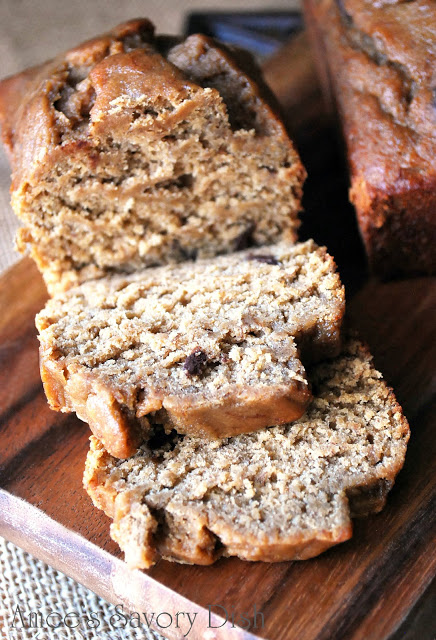 Wheat-Free Banana Dark Chocolate Chip Bread
Wheat-Free Banana Dark Chocolate Chip Bread
This wheat-free banana bread is made with oat flour and brown rice flour to create a moist, tender, and flavorful loaf of gluten free quick bread.
Ingredients
4 small, ripe bananas

1/3 cup melted grassfed butter (can sub coconut oil, but butter gives it the best flavor)

1 cup coconut sugar

1 egg

1/2 cup brown rice flour

1/2 cup oat flour (gluten-free)

1/2 tsp sea salt

1/2 tsp baking soda

1/2 tsp baking powder

1/2 cup dark chocolate chips (60% or more)

*Optional: 1/3 cup chopped walnuts
Directions
Preheat oven to 350 degrees F.

Mash bananas and mix with butter, in the bowl of an electric mixer, until smooth. Add coconut sugar and egg. Blend.

Mix dry ingredients, except chocolate chips and nuts, with a whisk and add to the wet ingredients. Mix until well incorporated and then stir in chocolate chips and nuts.

Pour into 3 buttered mini loaf pans or into a muffin pan (makes about 18 muffins) and bake for 20 minutes (for muffins) and 30-35 minutes, or until a toothpick comes out clean, for mini loaves.