I had to label these cookies "awesome" because they are the best tasting GF cookie that I have ever eaten!  My kids gobbled them up and asked for more.  I have several different recipes for healthier cc cookies, so you can see the obsession here. 😉  The secret to the awesomeness is Pamela's Ultimate Baking & Pancake Mix.  I also tried out the Pamela's pancake recipe.  They were also really, really good.  The texture was right for a pancake (if you have tried a lot of GF products, then you know what I'm talking about), some of them leave a lot to be desired as far as texture goes.  These pancakes were fluffy and tasty.  I will share that recipe, too.  These cookies taste like a regular chocolate chip cookie.  My family couldn't tell the difference.  I can't wait to try more of Pamela's creations (and no, I'm not getting paid to say that), I love this product!  If you already have a favorite all purpose GF baking mix, then you can substitute it in this recipe, but I can't guarantee the same results.   If you are avoiding gluten, these cookies will be a heavenly treat!!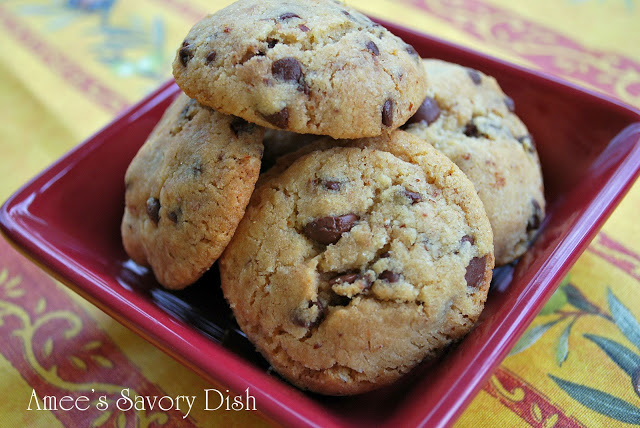 Gluten Free Chocolate Chip Cookies
Adapted from Pamela's Products gluten free chocolate chip cookie recipe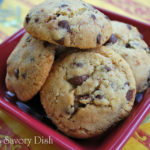 Awesome Gluten Free Chocolate Chip Cookies
I had to label these cookies "awesome" because they are the best tasting GF cookie that I have ever eaten!
Ingredients
1/2

cup

unrefined organic coconut oil

1/2

cup

natural brown sugar

1 1/2

cups

Pamela's Mix

1/2

cup

semi-sweet chocolate chips

Ghiradelli 60% cacao

1

large egg

1

tsp

good quality vanilla

1/2

cup

chopped walnuts

*optional
Instructions
Preheat oven to 350 degrees.

Cream coconut oil and brown sugar in the bowl of an electric mixer, add egg and vanilla and blend well.

Add baking mix, chocolate chips and nuts (if adding) and mix thoroughly.

Place tbsp size scoops of dough onto 2 cookie sheets lined with parchment paper.

Bake for 15 minutes or until edges begin to brown. Remove from oven, cool and enjoy. 🙂
Pamela's Pancake recipe
Ingredients:
1 cup Pamela's mix
1 large egg
3/4 cup water
1 tbsp oil (I use safflower)
coconut oil for frying pan or griddle
Mix all ingredients together with a whisk.  Heat a frying pan or griddle on medium-high heat.  Drop 1 tsp coconut oil onto your hot pan and cook pancakes until they are nice golden brown on each side (flip when they start to bubble).   Enjoy with your favorite real maple syrup.
I hope that you enjoy these products as much as I do!  It's great when you can have your treats and stick to your dietary restrictions.