Gluten-free peanut butter and jelly thumbprint cookies are delicious, soft peanut butter cookies with fresh fruit preserves in the center. This easy gluten-free thumbprint cookies recipe uses no refined sugar, so they're a healthier sweet treat!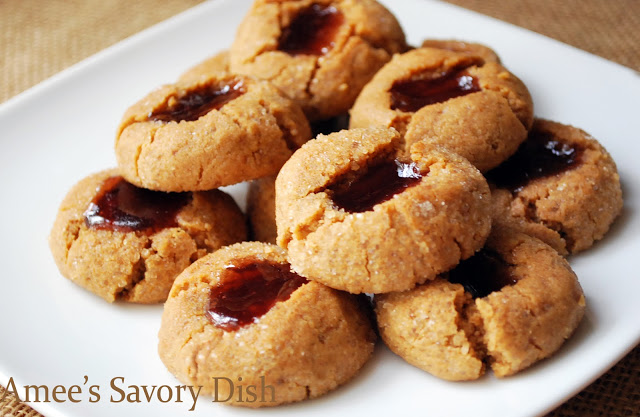 Peanut Butter & Jelly Thumbprint Cookies 
(Gluten-Free/No Refined Sugar)
Adapted from Martha Stewart Recipes
Ingredients:
1/2 cup GF oat flour
1/2 cup all purpose GF baking flour (King Arthur recommended)
1/2 tsp baking powder
1/2 tsp baking soda
1/2 tsp sea salt
1 cup smooth peanut butter
1 stick unsalted butter, softened
2/3 cup coconut sugar (can sub natural brown sugar)
1 large egg
1 tsp vanilla extract
organic cane sugar (for rolling)
Filling:
1/2 cup all fruit preserves
Directions:
Preheat oven to 350 degrees.
In the bowl of an electric mixer, blend butter and peanut butter until smooth and creamy.  In a separate bowl, whisk together flours, baking powder, baking soda, and salt.
Add coconut sugar to peanut butter mixture and blend until smooth. Add egg and vanilla, and beat until incorporated. Reduce speed to low. Add dry ingredients, and mix until combined.
Scoop level tablespoons of dough, and form into balls. Roll into tablespoon sized balls, then roll in the sugar to coat.
Transfer cookie balls to parchment-lined baking sheets, spacing about 2 inches apart.  Bake until cookies are puffy, about 10 minutes.
Remove from oven, and make indentations in centers by pressing with the handle end of a wooden spoon. Return to oven, and bake until edges are golden, 6 to 7 minutes more. Transfer sheets to wire racks, and let cool completely.
Heat fruit preserves in a small saucepan, stirring, until loosened, about 30 seconds. Spoon about 1/2 teaspoon preserves into each indentation.
Cookies can be stored in a single layer for up to 1 week (I like to store them in the freezer in a sealed container, they are delicious straight from the freezer!)
More delicious gluten-free cookie recipes to try:
Gluten-Free Oatmeal Carmelitas
Awesome Gluten Free Chocolate Chip Cookies (and a bonus GF pancake recipe)
Gluten-Free Blueberry Oatmeal Cookies
SaveSave