These Lightened-Up Twice Baked Potatoes are a great way to use leftover baked potatoes.  My method is lighter but just as delicious as traditional twice baked potatoes.  A great accompaniment to grilled steak or chicken.  Enjoy~

Lightened-Up Twice Baked Potatoes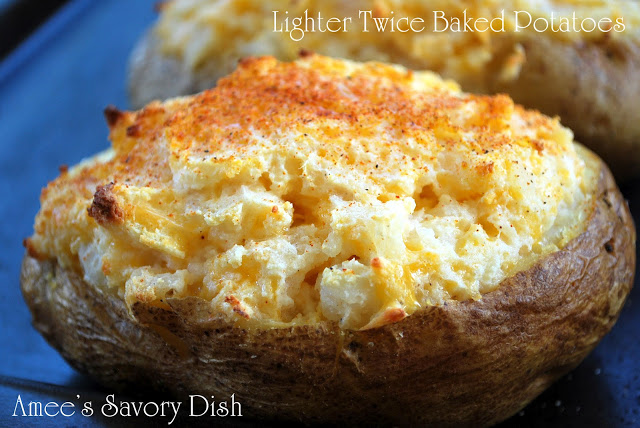 Ingredients:
4 large russet potatoes baked (rub skins with olive oil, season with sea salt, prick with a fork and bake at 425 degrees for 40-60 minutes, depending on the size of the potato, allow to cool before slicing and scooping insides)
1/2 cup non-fat Greek yogurt
1/2 tsp freshly cracked pepper
1/2 tsp sea salt (or garlic salt for more flavor)
2 tbsp (or a bit more according to your preference) of half and half cream
1-2 cups freshly grated light cheddar cheese (depending on how cheesy you want them)
paprika to taste

Directions:
Preheat oven to 425 degrees.  After potatoes have cooled, slice the top lengthwise and scoop pulp into a large mixing bowl.  Discard skin from top.  Mash the potato pulp with a mixer on low speed.  Add yogurt, salt, pepper and shredded cheese.   Beat until smooth.    Add 2 tbsp fat-free half and half and blend.  You can add little bit more to reach your desired consistency.  Mixture should be thick.  Spoon mixture back into the potato skins and sprinkle with paprika.  Bake on a sheet pan at 425 degrees for 20 to 25 minutes until lightly browned on top.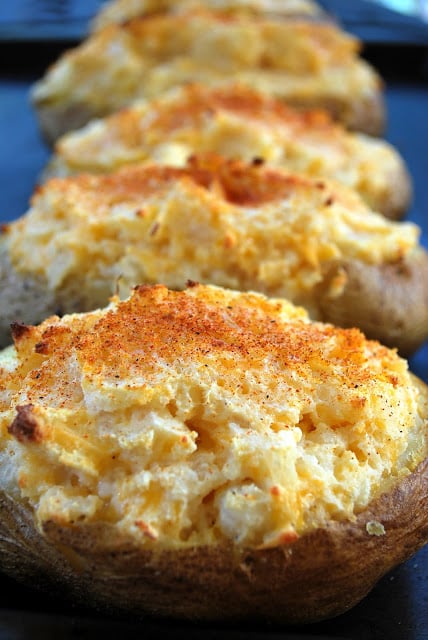 If you love lighter potato recipes, then you should also try this flavorful recipe for Roasted Lemon Garlic Fingerling Potatoes.