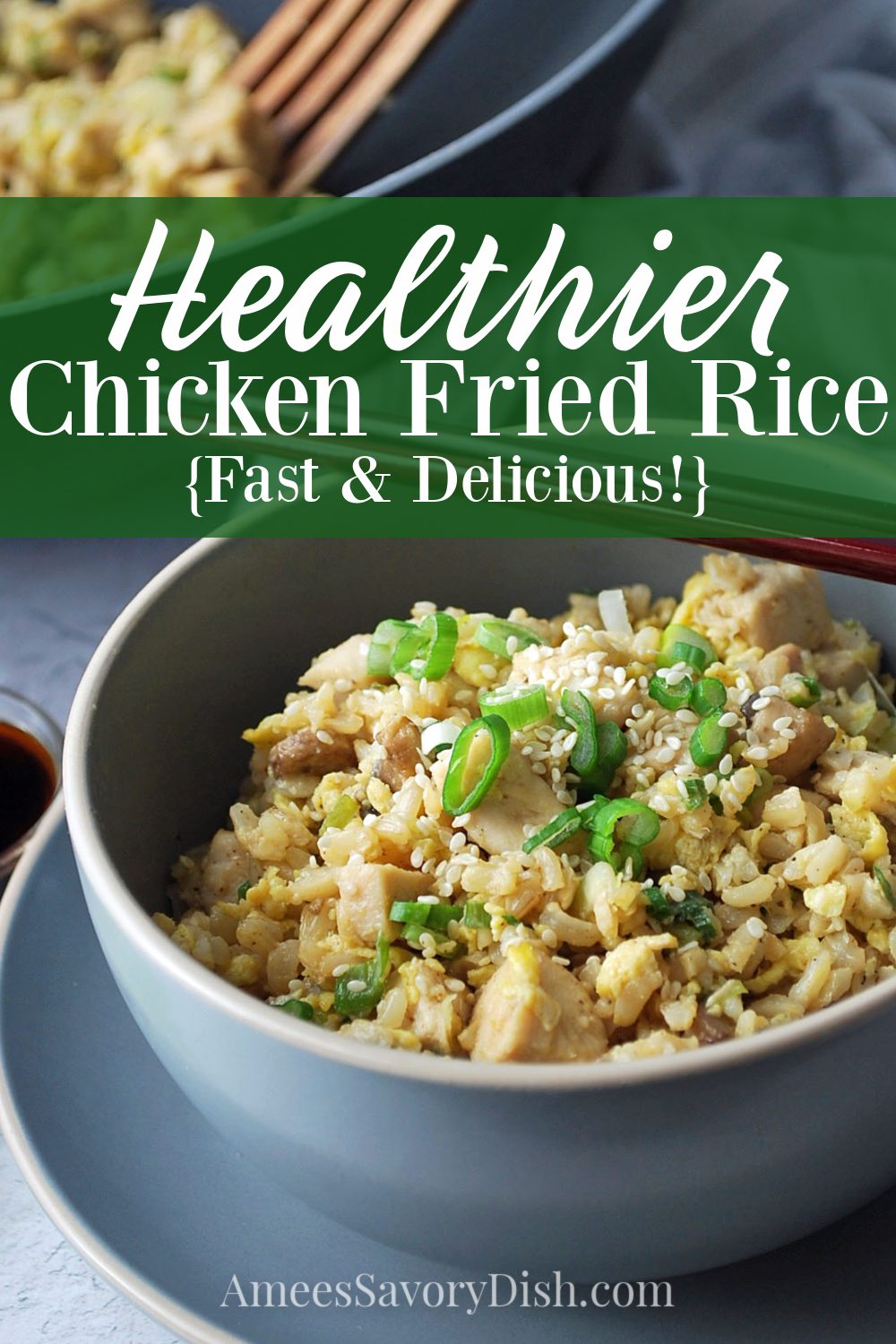 Healthier Chicken Fried Rice is better for you than take-out! This healthier (and just as tasty) fried rice recipe uses whole grain brown rice, olive oil, pastured butter, mushrooms, and lean boneless chicken breast. Not to mention, this recipe is packed with 30 grams of protein per serving and comes together in 15 minutes or less!
This chicken fried rice recipe is a winner-winner chicken dinner in our house!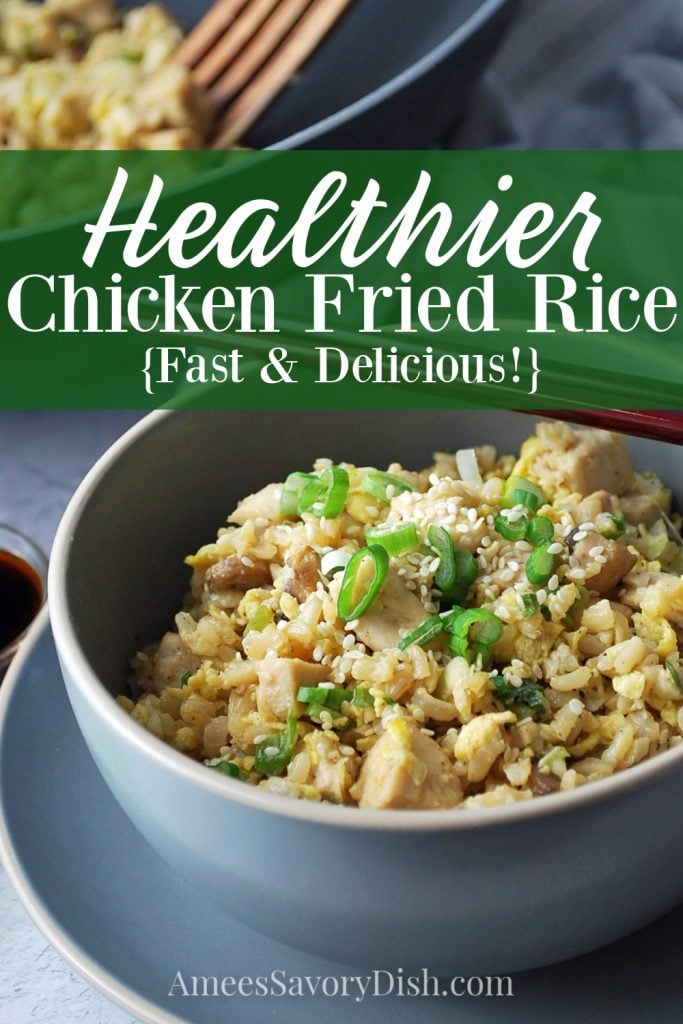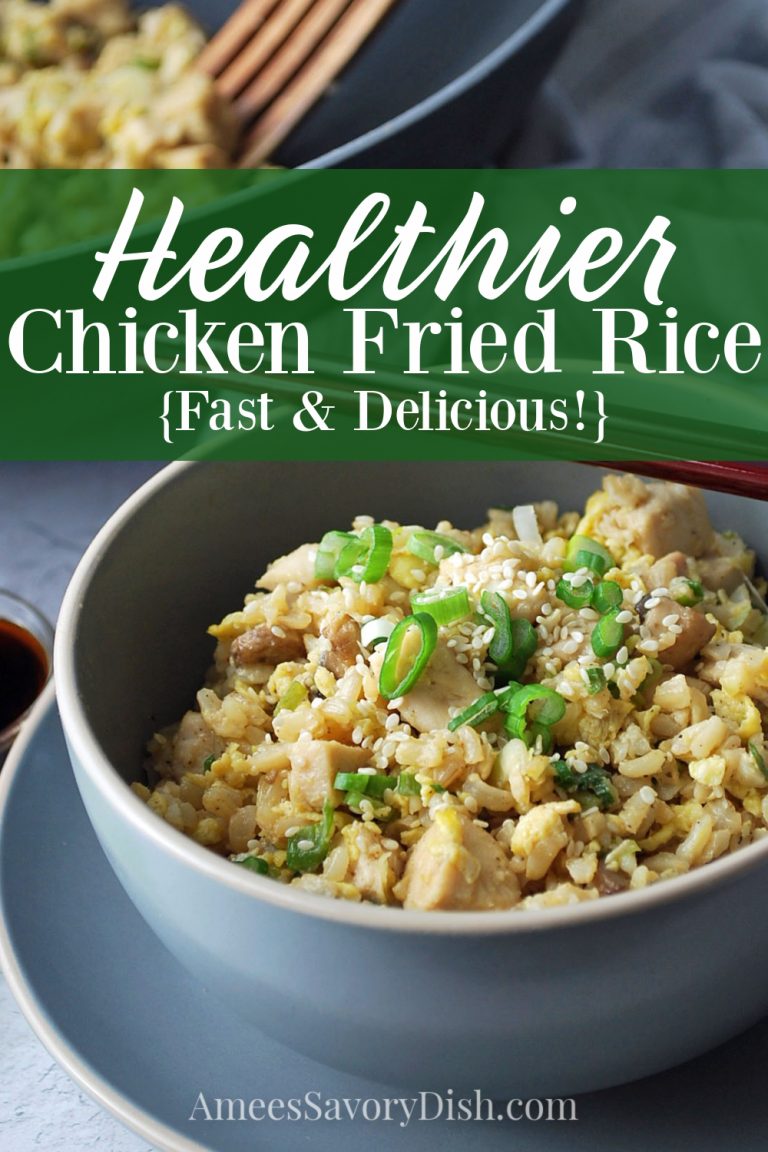 Prep Ahead When Making Fried Rice
To make fried rice, you need to cook your rice the day before and chill it overnight in the refrigerator. Day-old rice makes the best fried rice! I usually make rice for meal prep, so it's already prepared and ready to use for quick recipes. You can buy the steam-in-the-bag packs of long grain rice in the freezer section of your local grocery store, steam it according to the package directions, cool, and chill as a short cut. However, you will pay a bit more for convenience, and rice is so easy to cook on the stovetop. If you have a rice cooker, even better! It makes it easy to cook rice in bulk.
This recipe also calls for cooked chicken breast that is chopped into bite-size pieces. A shortcut hack for this is using a store-bought cut-up rotisserie chicken. I usually cook a pound of boneless chicken tenders the day before that I toss in a little olive oil and season with salt. Just bake them in a clay baking dish (for best moisture retention) or a glass baking dish for 20 minutes at 350 degrees F. You can also use an Instant Pot or Slow Cooker to make the chicken in advance. You'll want to be careful to not overcook it so it doesn't end up drying out when you fry it up with the rice.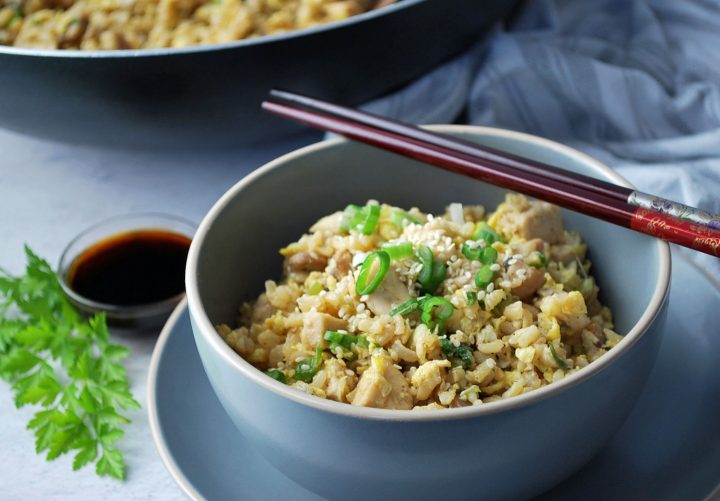 How To Make Healthier Fried Rice
To boost the nutrition profile of regular fried rice I used boneless chicken for a quality lean source of protein, whole grain brown rice, and a blend of pastured butter and olive oil. You also get added benefits from the fresh mushrooms, which provide nutrients that are not only found in produce, but also found in grains and meat. I also use coconut aminos in this recipe instead of soy sauce. Coconut aminos are soy-free, wheat-free, and gluten-free, and lower in sodium than soy sauce. Not only is it a great choice for people with food sensitivities, but it's slightly sweet and milder flavor works so well in this dish. Don't worry, it doesn't taste like coconut at all. Feel free to add more vegetables to make this fried rice dinner a hearty and healthy one-dish meal. I usually serve this with a side of steamed broccoli to round out the meal.
Chicken Fried Rice Ingredients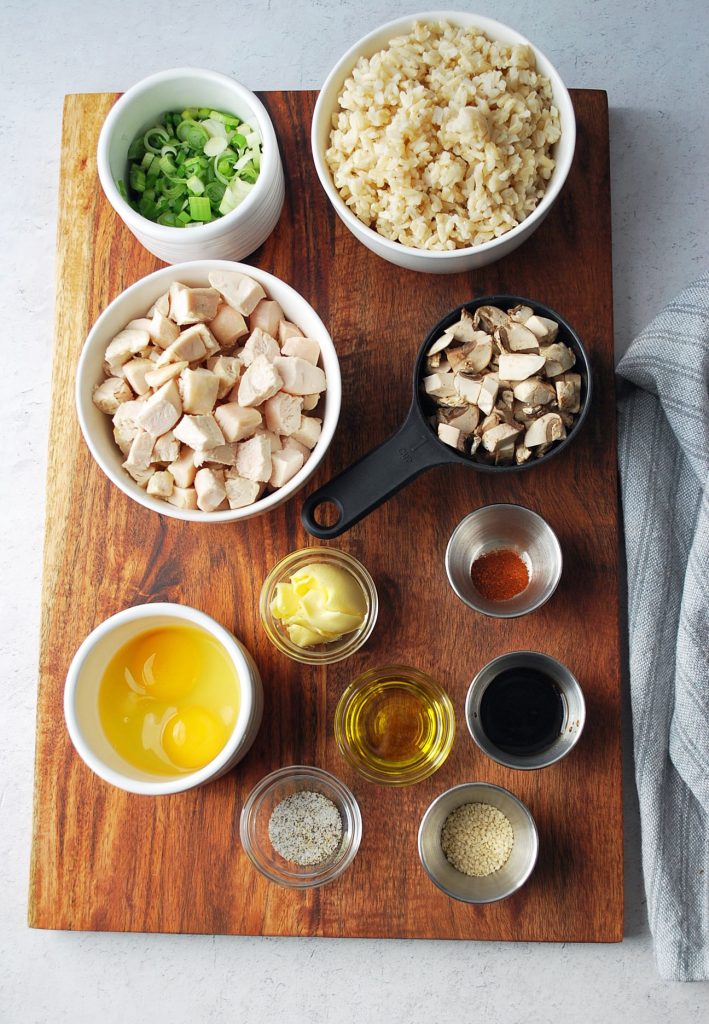 Eggs
Pastured butter
Extra virgin olive oil
Sliced mushrooms
Cold cooked brown rice
Cooked chicken breast
Green onions
Extra virgin olive oil
Coconut aminos
Spices: salt, pepper, cayenne pepper
Optional: sesame seeds for garnish
Steps For Making Chicken Fried Rice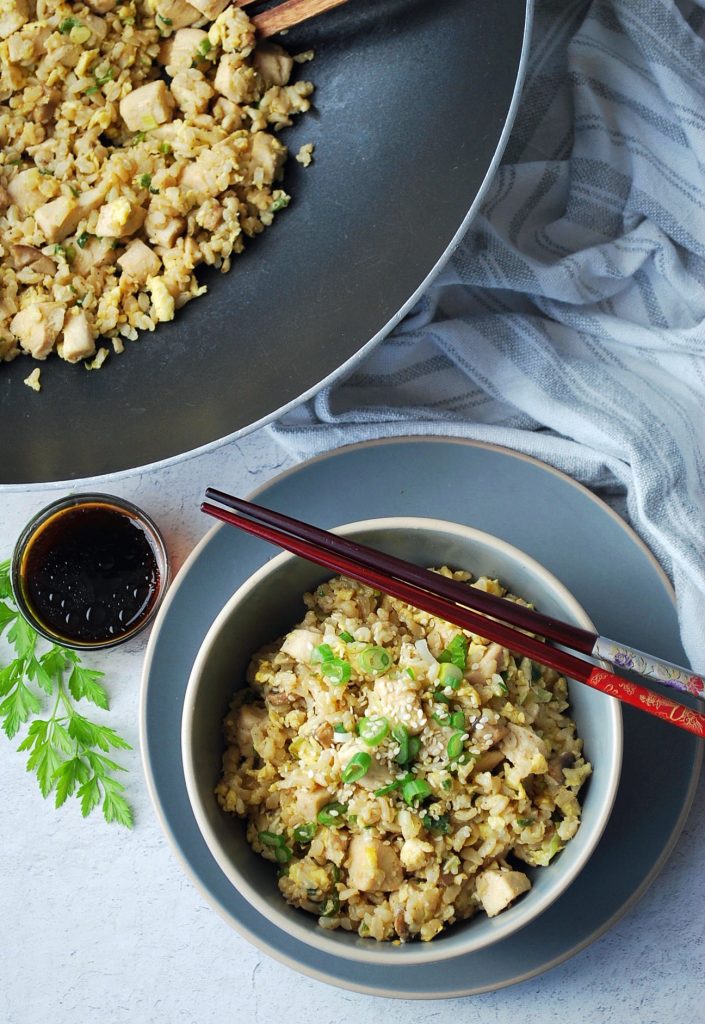 Step 1. Sauté mushrooms in butter over medium heat for 2 minutes.
Step 2. Add the cooked rice, chicken, and onion. Cook, stirring often, for 6 minutes.
Step 3. Push rice aside, add olive oil, and scramble the eggs.
Step 4. Stir in coconut aminos and spices.
One of the reasons that I love this recipe is how quickly it comes together for a delicious and fast meal. I like to use a non-stick Wok to make fried rice, but a large skillet will work great, too. Work with what you have, you don't need fancy equipment to make this dish.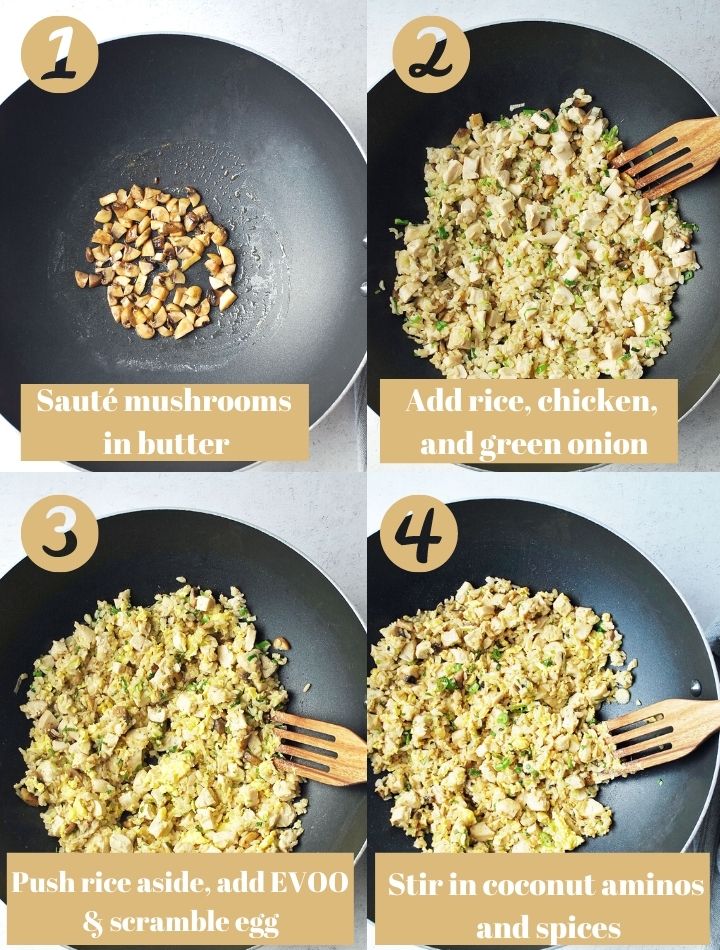 I love using the Trader Joe's coconut aminos in this recipe. It's a more economical option compared to other brands.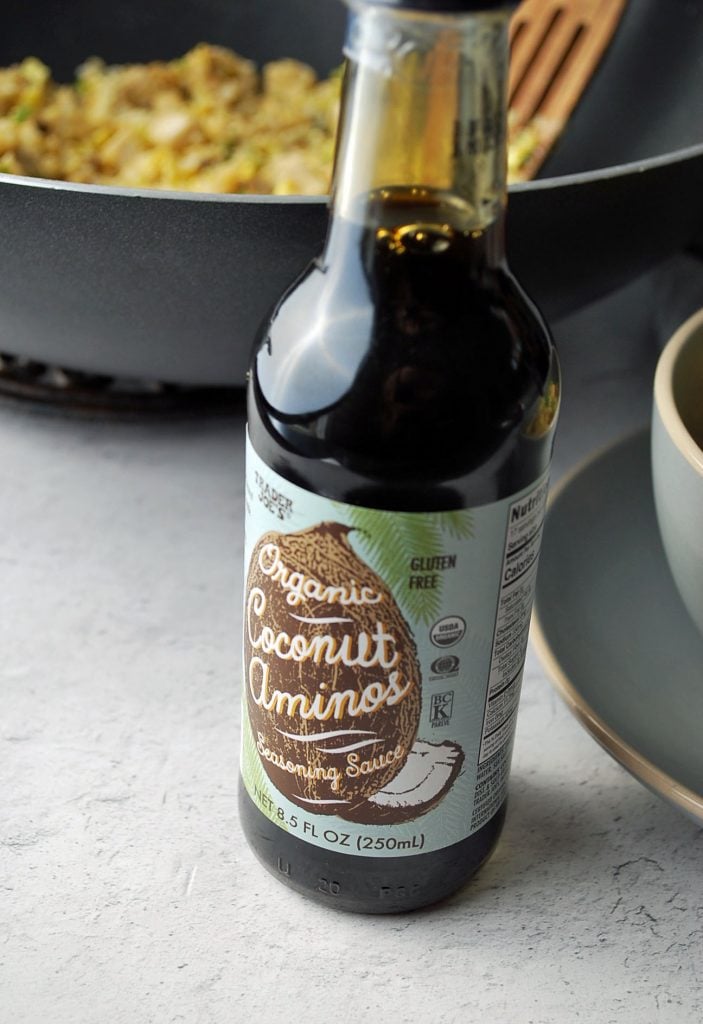 Recipe FAQ
Why Do You Need To Use Cold Rice For Fried Rice?
After cooked rice has been chilled overnight the grains firm up so you don't end up with mushy rice when it's stir-fried.
Can You Use Another Meat Instead of Chicken?
You can easily substitute chopped cooked pork, cooked ground beef, or steak in this recipe. If you opt for steak, I would recommend using chopped tender uncooked steak and stir-frying it when cooking the rice for 2-3 minutes with the mushrooms then removing them from the pan when cooking the rice and onions so the beef remains tender and juicy.
How Long Will Fried Rice Last In The Refrigerator?
Fried rice will last up to 5 days in a sealed container in the refrigerator, making it a perfect dish for meal prep!
Can You Freeze Fried Rice?
Absolutely! Fried rice is great after being frozen! If you want to make this recipe to freeze for later, just allow the finished dish to cool and portion it out into 4 separate zip-top freezer bags, making sure to squeeze out all of the air. Freeze for up to 3 months. To thaw, just place one of the servings in the refrigerator overnight and heat it up in a skillet until warmed through.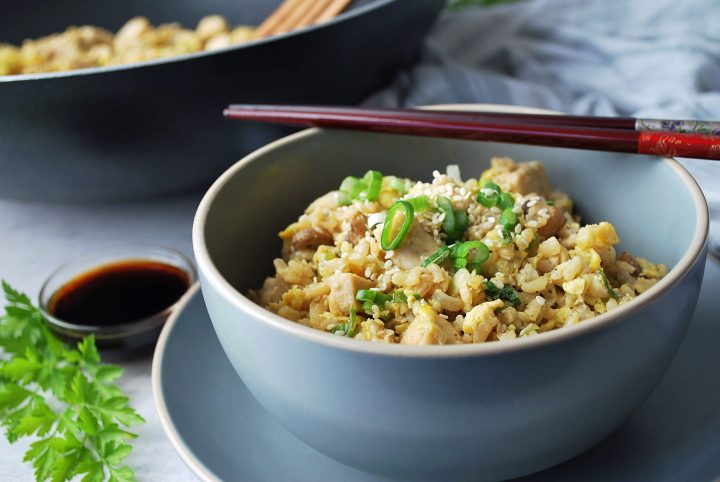 *This post has been updated with recipe enhancements and new photos from the original post published in April 2014.
More Healthy Asian Recipes
Better Than Takeout Pineapple Chicken
Panda Express Eggplant Tofu Copycat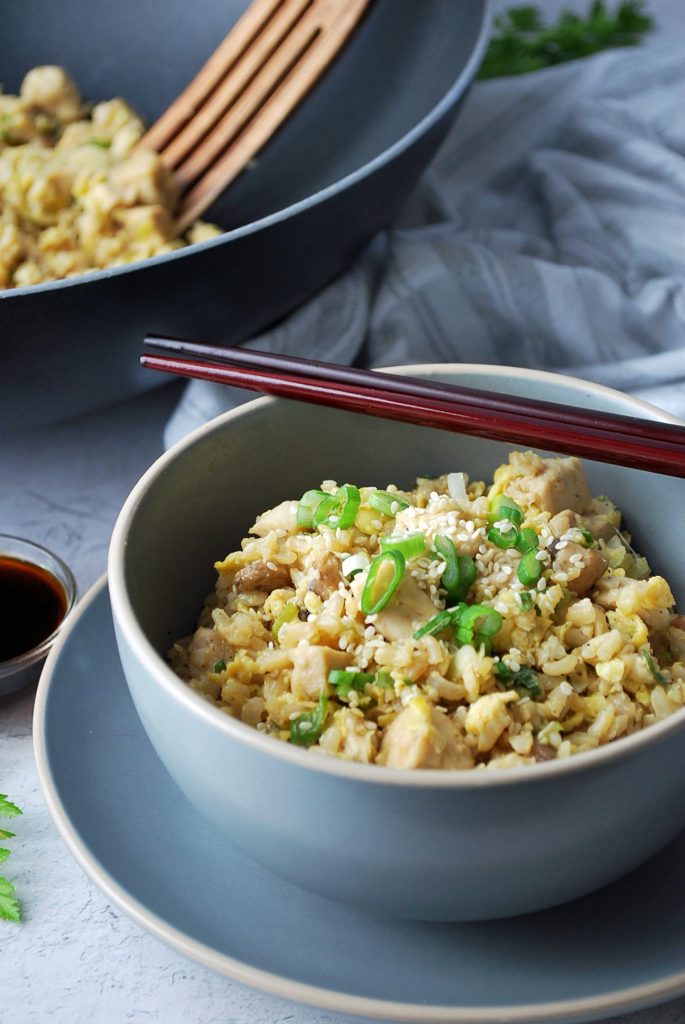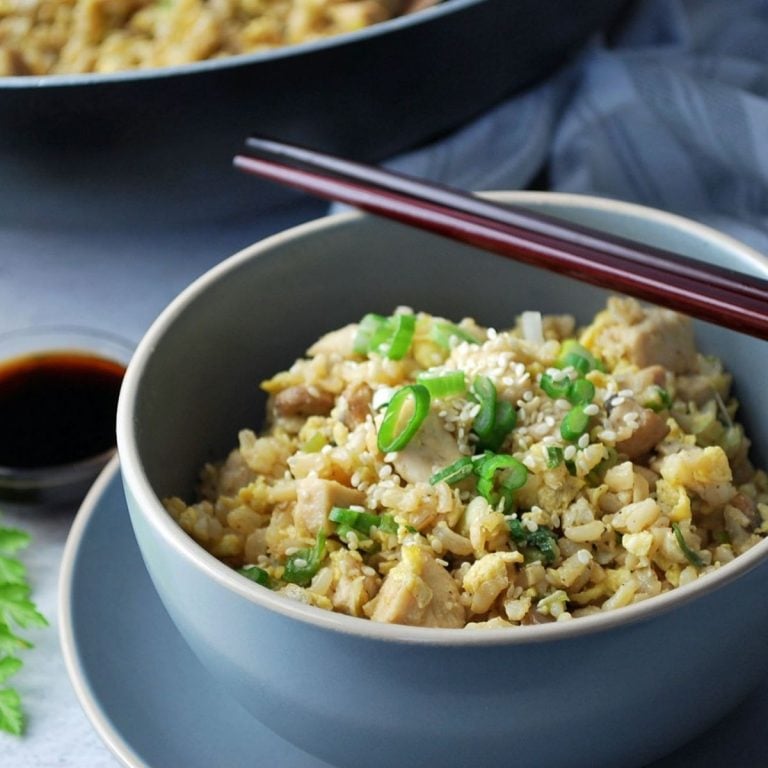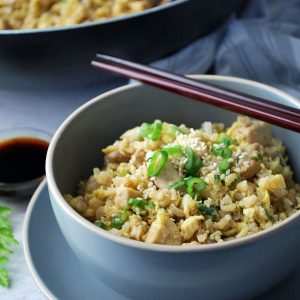 Healthier Chicken Fried Rice
A healthier version of fried rice using precooked chicken and whole-grain brown rice
Ingredients
2

eggs

1

tablespoon

water

2

tablespoon

butter

I use pastured butter (Kerrygold is one of my favorites)

1

cup

mushrooms

chopped

2

cups

cooked brown rice

cold

16

oz

cooked boneless chicken breast

chopped into bite-size pieces

2

scallions

white parts included, finely chopped

1

tablespoon

olive oil

2

tablespoon

coconut aminos

or soy sauce (I prefer the flavor of the coconut aminos)

½

teaspoon

salt

¼

teaspoon

black pepper

⅛

teaspoon

cayenne pepper

toasted sesame seeds

optional, for garnish
Instructions
In a small bowl, beat egg and water and set aside.

Melt butter in large wok or sauté pan over medium heat and add mushrooms.

Sauté mushrooms for 2 minutes, stirring occasionally.

Add the rice, chopped chicken, and green onion.

Cook, stirring often, for 6 minutes.

Push the rice mixture to the side of the wok or skillet and add the olive oil.

Add the eggs and scramble until thickened.

Stir the rice mixture and the scrambled egg together until combined.

Add coconut aminos or soy sauce, salt, black pepper, and cayenne pepper and stir until mixed thoroughly.

Garnish with sesame seeds and additional chopped green onions, if desired.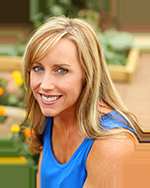 Latest posts by Amee Livingston
(see all)