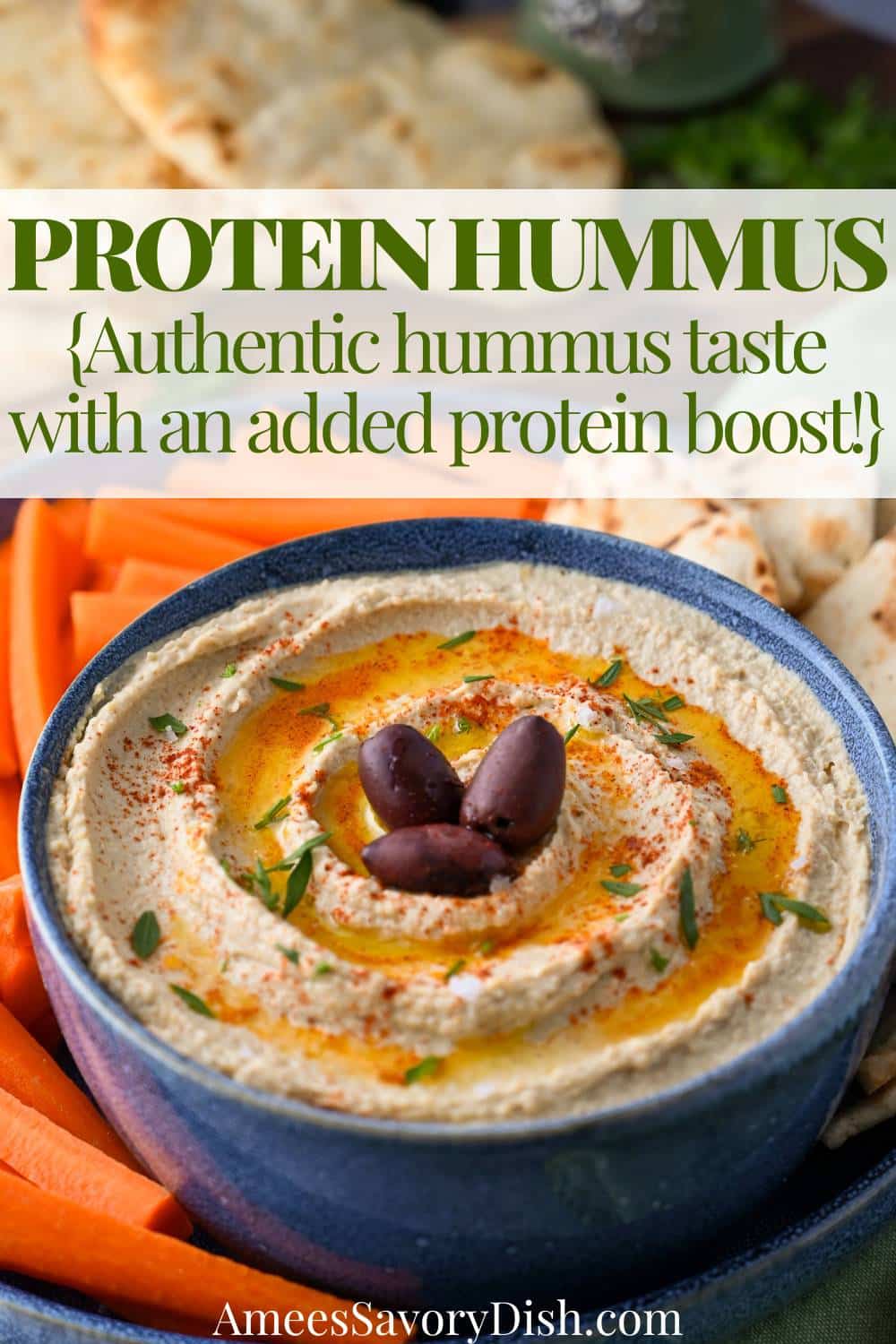 This High Protein Hummus is a healthier version of traditional hummus, but you'd never know the difference! Made with just a few ingredients and cottage cheese, this recipe delivers an irresistibly creamy and flavorful snack, appetizer, or sandwich spread packed with protein.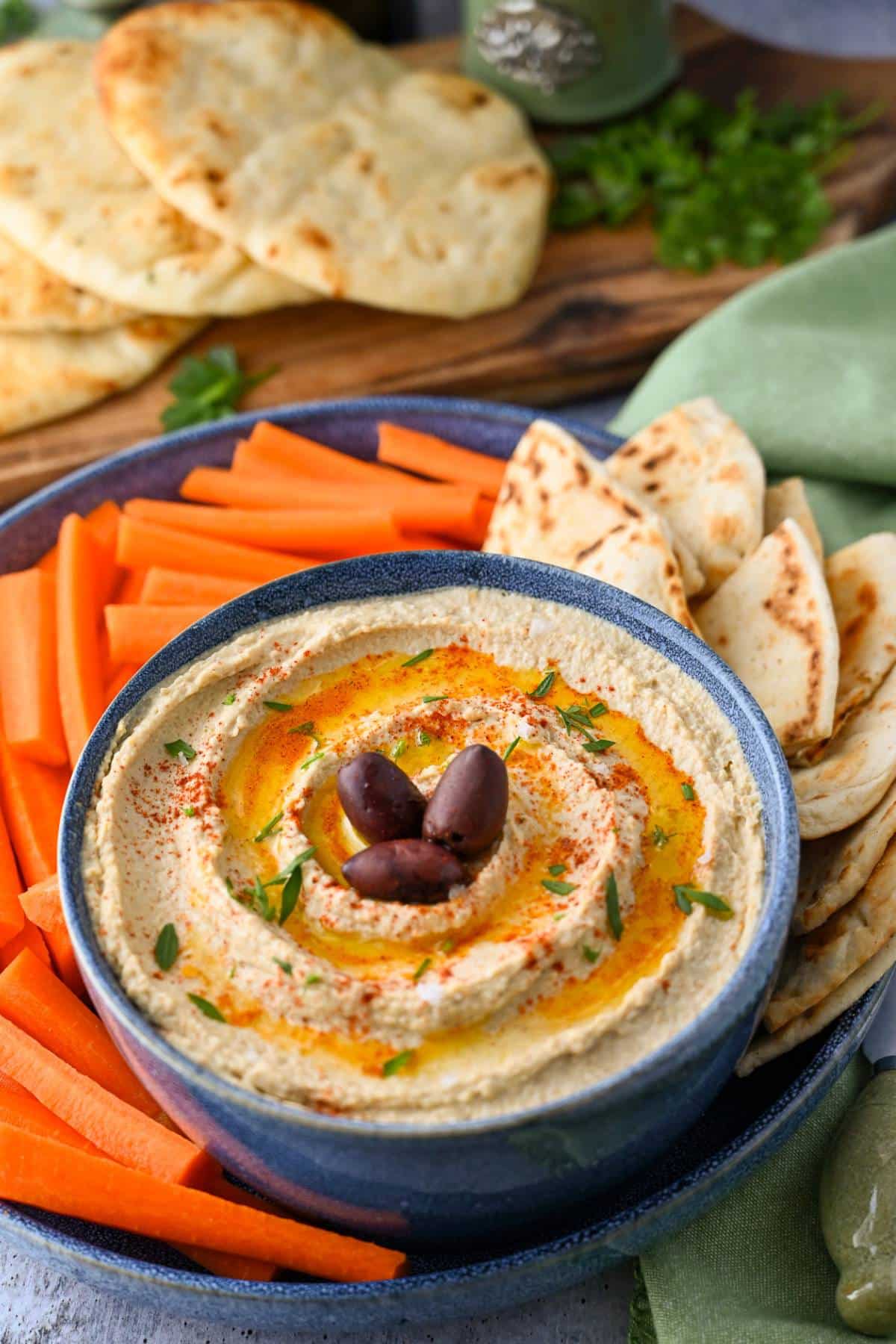 Is hummus high in protein? 🤔 All things considered, hummus is rich in plant-based protein, dietary fiber, healthy fats, and several essential vitamins and minerals. That being said, you can boost the protein content and make hummus even more nutritious and delicious with none other than cottage cheese!
While cottage cheese is often eaten on its own, its mild flavor and soft, blendable texture make it a great way to transform classic hummus into high-protein hummus, and that's what this recipe is all about! A half-cup of cottage cheese adds a whopping 14 grams of protein and only about 80 calories to the entire recipe.
This hummus may fill you up quickly as our bodies take more time digesting high-protein foods. As a result, you'll be less likely to over-snack. However, that may be easier said than done, as this luxuriously rich and creamy hummus is downright delicious!
Why you'll love this recipe
It's better tasting and better for you. You can't tell that this delicious hummus delivers a healthy dose of fiber and high-protein dairy from cottage cheese. It tastes just like the original -if not better!
It's as easy as 1-2-3. With a shortlist of ingredients (many of which you probably have in your pantry) and a push of a food processor button, you can have healthy hummus on the table in 10 minutes or less.
It's a suitable snack, app, and spread. Hummus is an excellent dip for parties, packed lunches, and spreading on sandwiches, of course, but this macro-friendly, high-protein version is particularly good as a pre and post-workout snack.
Ingredients you'll need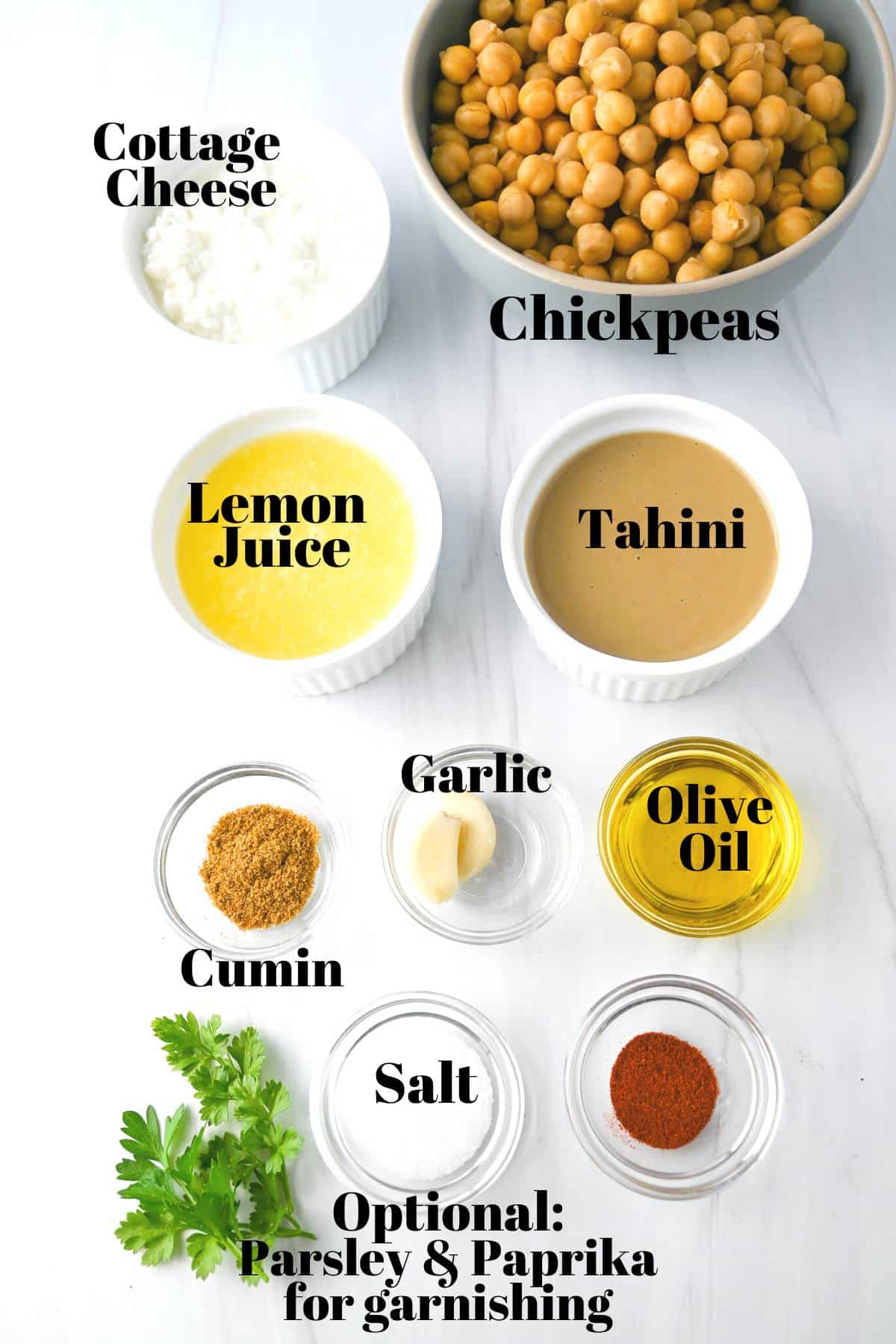 Chickpeas – Since canned chickpeas are already cooked, all you need to do before using them is drain the can (but reserve the liquid!) and rinse them well. If you have a bag of dried chickpeas, scroll to the 'FAQs' below for further instructions.
Cottage cheese – This isn't a common hummus ingredient, but adding it helps create a lighter, creamier texture while boosting the B12, calcium, and, most importantly, the protein! Be sure to use good quality cottage cheese like Good Culture. It's a small curd cottage cheese boasting 14 grams of protein per serving! Check out this list of registered-dietician-approved cottage cheese brands for more options.
Lemon juice – It adds a bright and citrusy background flavor while balancing the other ingredients.
Tahini – It is a smooth paste made from ground sesame seeds emulsified with oil and a key ingredient in classic hummus. If you're reluctant to buy it just for this recipe, know it lasts 5-6 months once opened. In addition to hummus, you can use it in various sauces, salad dressings, and even brownies!
Olive oil – Adding good olive oil or EVOO improves the silky smooth mouth feel. I like blending a couple of tablespoons with the hummus and drizzling more on top.
Garlic cloves – I like using fresh garlic cloves, but if you prefer a milder garlic zing, try adding a couple of roasted garlic cloves instead.
Salt – Preferably coarse sea salt or kosher salt to improve the taste and texture.
Cumin – Adds a warming, smoky dimension to the flavor profile.
Aquafaba – This is the chickpea canning liquid you can use to make extra creamy hummus.
Optional garnishes – I used fresh parsley, paprika, and extra olive oil for presentation purposes and added flavor. Feel free to omit the garnishes or experiment with other fresh herbs, warming spices, and finishing oils.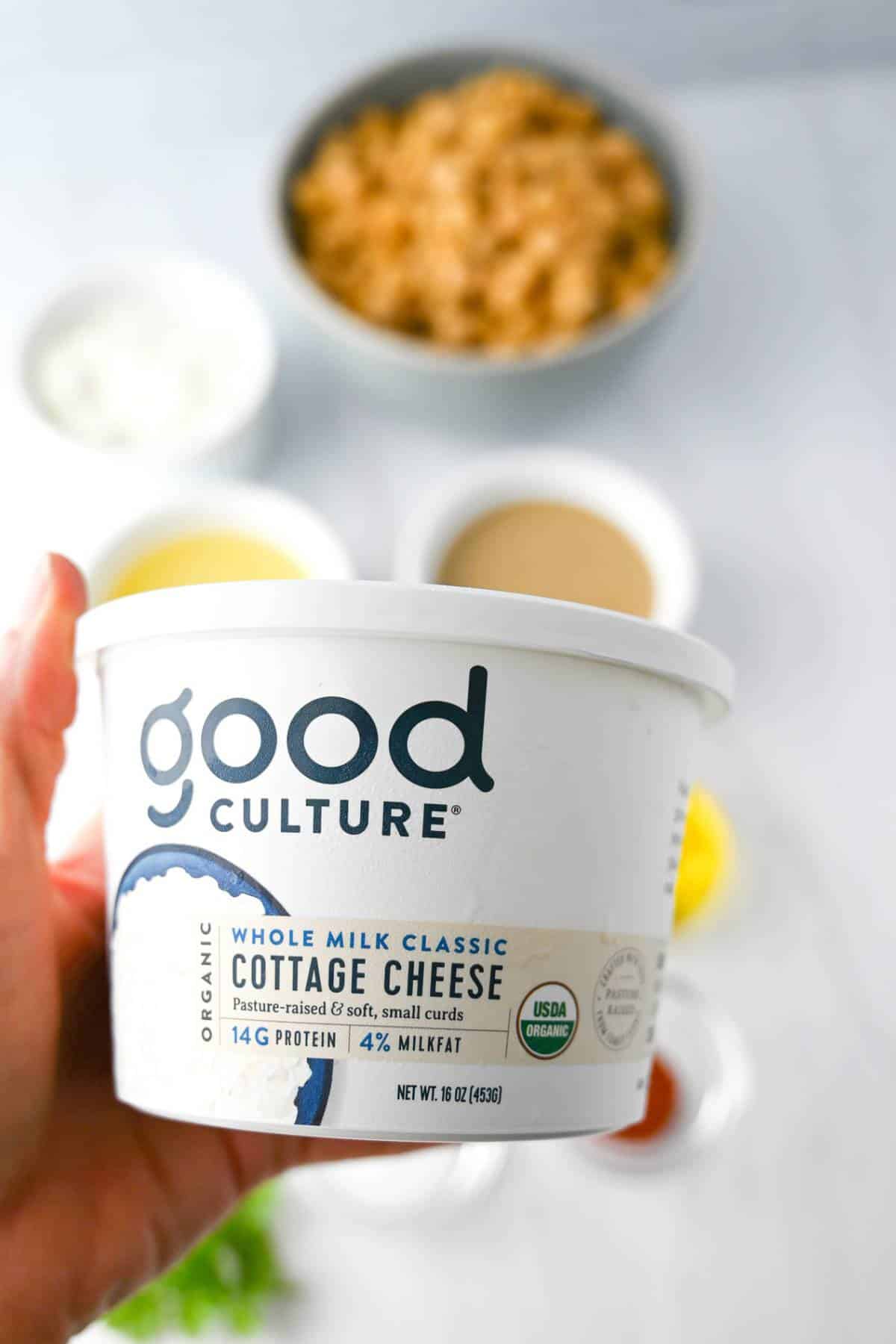 How to make high protein hummus
Step 1: Blend ingredients. Drain the chickpeas, reserving the canning liquid (AKA aquafaba), and rinse them well. Then add the chickpeas to a food processor along with the remaining ingredients and process until smooth.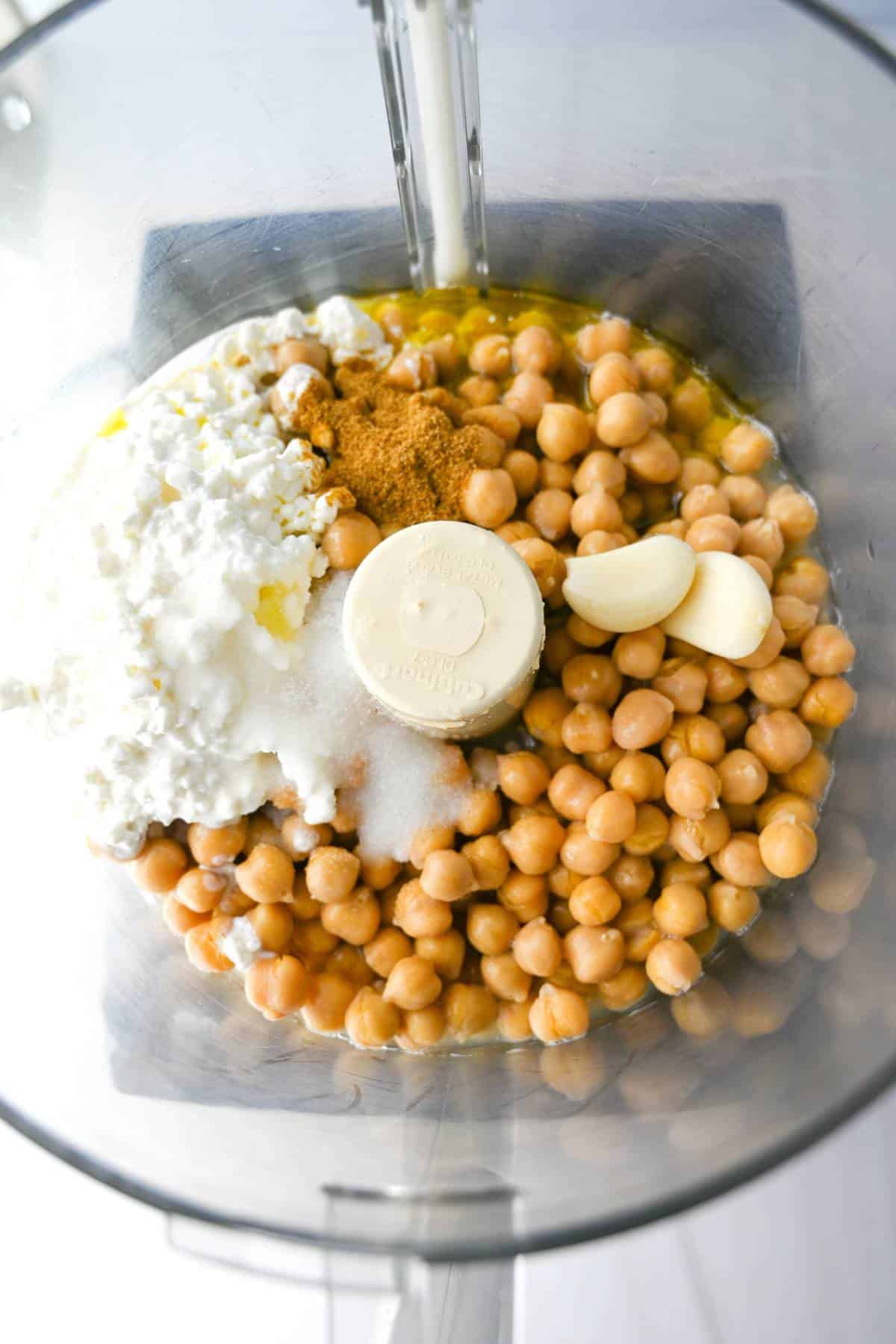 Step 2: Adjust texture. If you aren't satisfied with the consistency, blend in the reserved aquafaba one tablespoon at a time until your preferred creaminess is reached.
Step 3: Serve. Transfer the hummus to a serving bowl, top it with a drizzle of olive oil, freshly chopped parsley, and a sprinkle of paprika if you like, and serve with your favorite fresh veggies and dippers.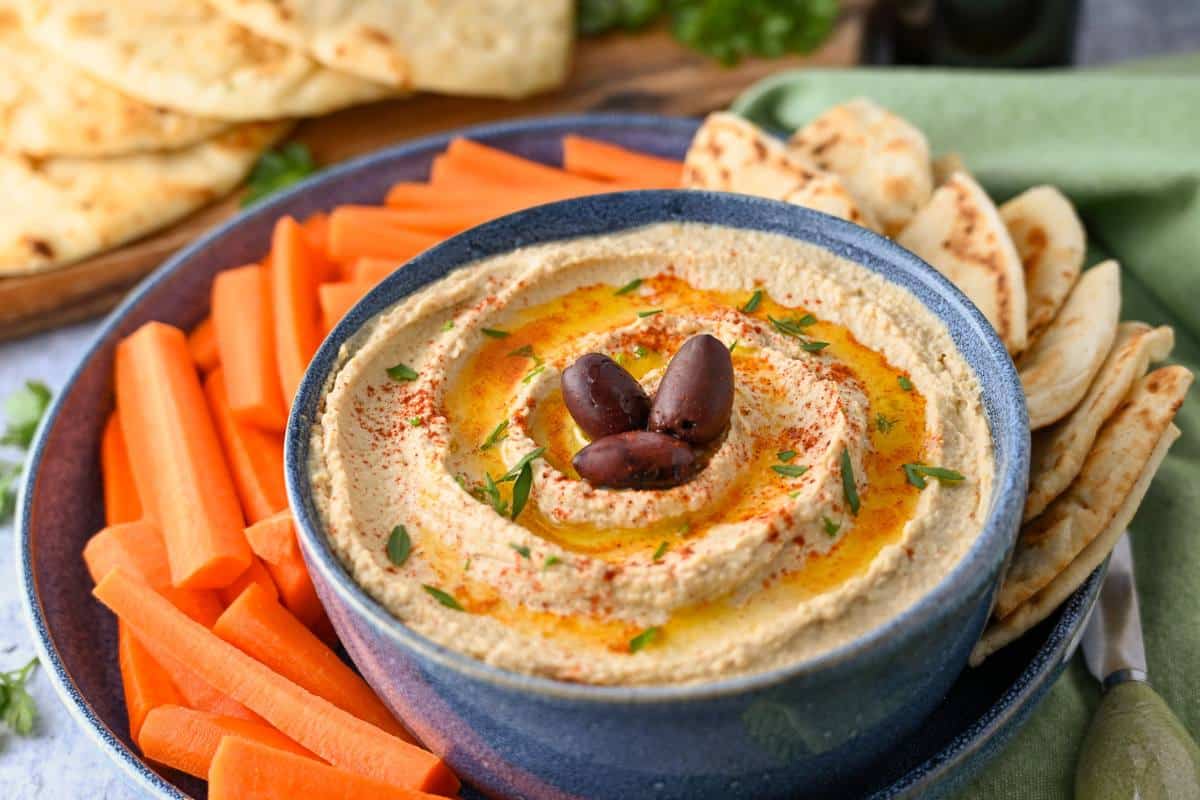 Recipe tips
Use fresh, high-quality ingredients. It makes a world of difference in the flavor and texture of your finished hummus.
Make sure the chickpeas are tender. With most canned chickpeas, this shouldn't be an issue, but if, by chance, your chickpeas do not fall apart easily when pieced with a fork, you may want to heat them with water in the microwave or in a saucepan until they're fully tender.
Reserve the aquafaba. This is the liquid in canned chickpeas. You may not need it, but it's good to have on hand if your hummus isn't as smooth and creamy as you'd like. Simply blend in one tablespoon at a time, pulsing after each until your preferred consistency is reached.
Adjust the flavor to taste. Depending on your taste preferences, you may need to add more lemon juice, garlic, salt, or cumin.
Variations
Apart from the added cottage cheese, this recipe is close to classic hummus. In other words, it's the perfect canvas to personalize with fun flavors. Here are some ideas for inspiration:
Make it spicy – Use smoked paprika, cayenne pepper, chili powder, red pepper flakes, or a dash of harissa paste.
Add roasted vegetables – Puree the ingredients with cooled, roasted vegetables, like cauliflower, sweet potatoes, carrots, red peppers, onion, and eggplant, for more fiber and flavor.
Pesto hummus – Swirl in your favorite store-bought or homemade pesto.
Fresh herbs – Add fresh herbs like parsley, cilantro, basil, or chives to the hummus mixture, or sprinkle them on top before serving.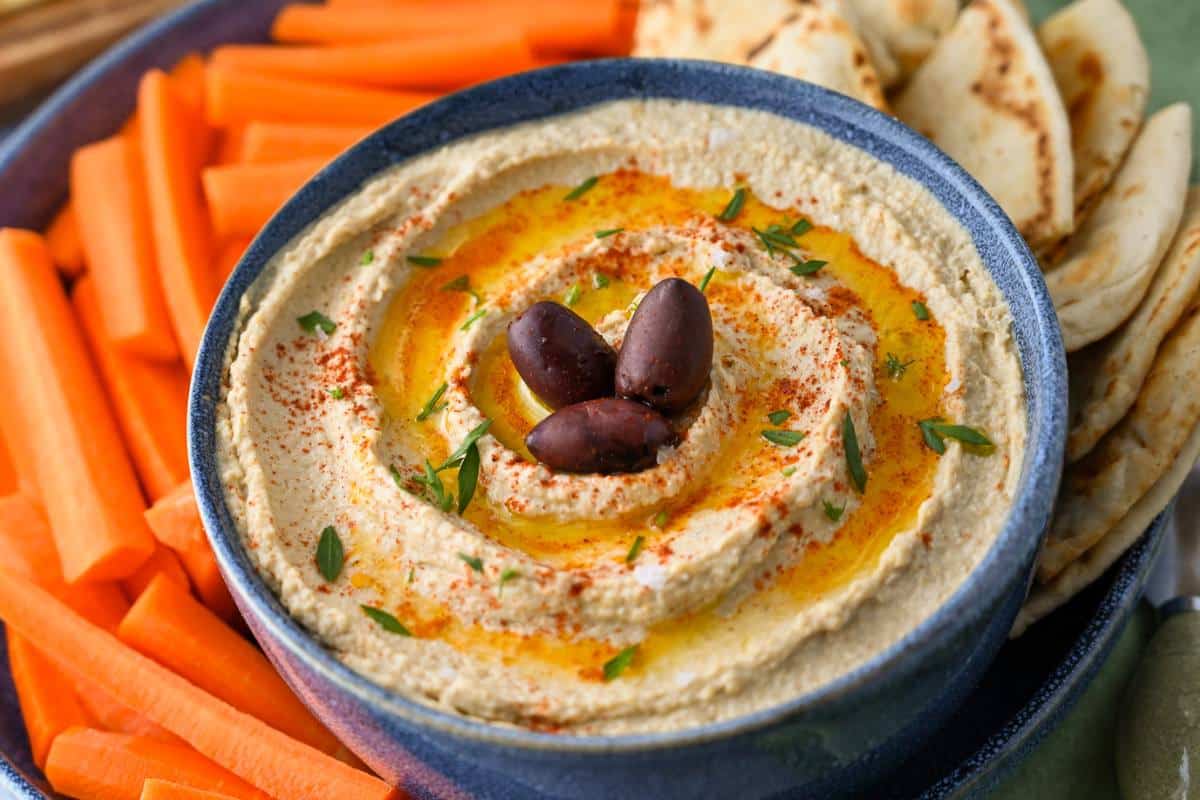 Serving suggestions
If you're wondering what to dip in hummus, dippers like pita bread, naan, crusty torn bread, crackers, and an assortment of fresh veggies are always a good idea, but this protein hummus is so much more than a dip:
Storing and freezing
Storing: Keep high-protein hummus in an airtight container in the fridge for up to 5 days.
Freezing: Transfer the hummus to a freezer-safe container, leaving room at the top for expansion, and freeze it for up to 4 months. Let it thaw overnight in the fridge and stir well before serving.
FAQs
How do you make hummus with a bag of dried chickpeas?
While I highly recommend making hummus with a good quality can of chickpeas, you can use dried chickpeas with a caveat: you'll need to soak them in boiling water for 20-30 minutes and then let them simmer on the stove for 40-50 minutes or until soft and easy to mash.

What can you add to hummus to increase the protein without dairy?
If you were hoping for dairy-free protein hummus, there are several ways to boost the protein besides cottage cheese. You can use non-dairy Greek yogurt, nutritional yeast, edamame, hemp seeds, chickpea flour, quinoa, or neutral-tasting vegan protein powder.
How do you make hummus without tahini?
Technically, you can omit the tahini altogether, but for the missing creamy element, I recommend replacing it with some of the liquid from the canned chickpeas. Or, you can substitute tahini with pure, unsweetened almond, cashew, or peanut butter. Of course, the flavor won't be quite the same, but your hummus will be packed with even more protein and delicious nonetheless.
More high protein recipes you'll love
If you love this recipe, I would be so grateful if you could leave a 5-star 🌟rating in the recipe card below. I love reading your comments and feedback!
Stay posted on my latest cooking adventures through social media @ Instagram, Pinterest, and Facebook. Also, don't forget to tag me when you try one of my recipes!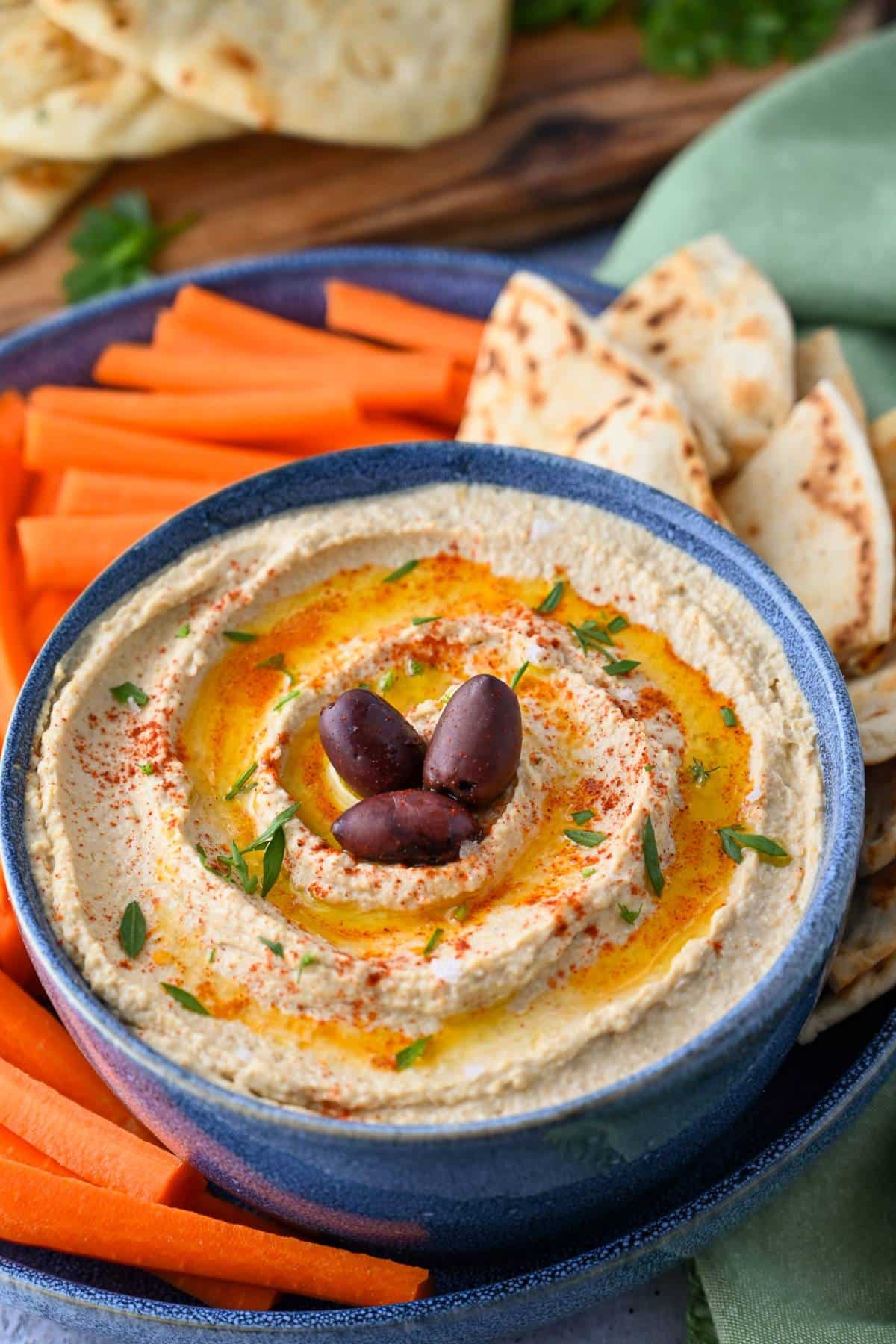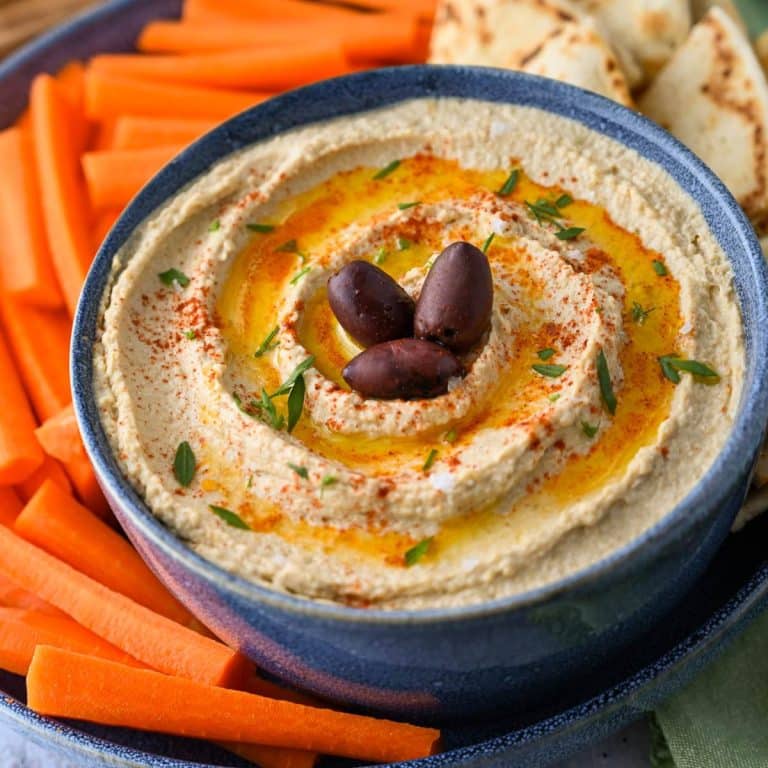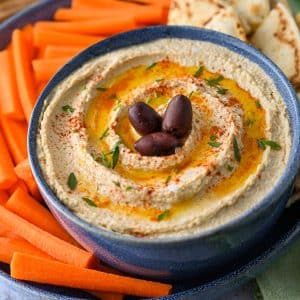 High Protein Hummus
Made with just a few ingredients and cottage cheese, this recipe delivers an irresistibly creamy and flavorful snack, appetizer, or sandwich spread packed with protein.
Ingredients
30

oz

chickpeas

drained (reserve liquid) and rinsed

2

cloves

garlic

peeled

½

cup

cottage cheese

I used Good Culture cottage cheese *see notes

½

cup

tahini

2

tablespoon

olive oil

½

cup

fresh lemon juice

2

teaspoon

salt

½

teaspoon

cumin

2-3

tablespoon

aquafaba

aka liquid from the can of chickpeas *optional- if you want a creamier consistency

Optional garnishes: fresh parsley, paprika, and extra olive oil
Instructions
Drain chickpeas, reserving the liquid, rinse well, and place them into a food processor.

Add the remaining ingredients to the food processor, and process until creamy.

If you would like a creamier texture, add reserved aquafaba (you can also use water), one tablespoon at a time until your desired texture is achieved.

Pour into a bowl and top with a drizzle of olive oil, freshly chopped parsley, and a sprinkle of paprika if desired.

Serve with sliced carrots, vegetables, or your favorite dippers.
Notes
*I recommend using a good quality cottage cheese, like Good Culture. It's a small curd cottage cheese with 14 grams of protein per half a cup.
*Add the aquafaba or water, one tablespoon at a time, pulsing after each until the hummus is the consistency you prefer.
* See the post for delicious variation ideas!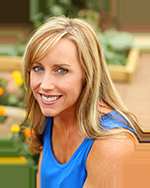 Latest posts by Amee Livingston
(see all)