These decadent flourless chocolate tahini brownies are gluten-free and made without refined ingredients, perfect for dessert-lovers eating a grain-free diet.
I know what you're probably thinking.  Tahini in a dessert?  I was apprehensive when I first tried a batch of chocolate tahini cookies that my mom had made on our last visit.  However, it was love at first bite!  The flavor combination of the tahini and chocolate was magical.  That tahini cookie recipe was the inspiration for these flourless chocolate tahini brownies.  I had to experiment with a new kind of tahini dessert creation and they turned out perfectly gooey and delicious.  Everyone in this house gobbled them up!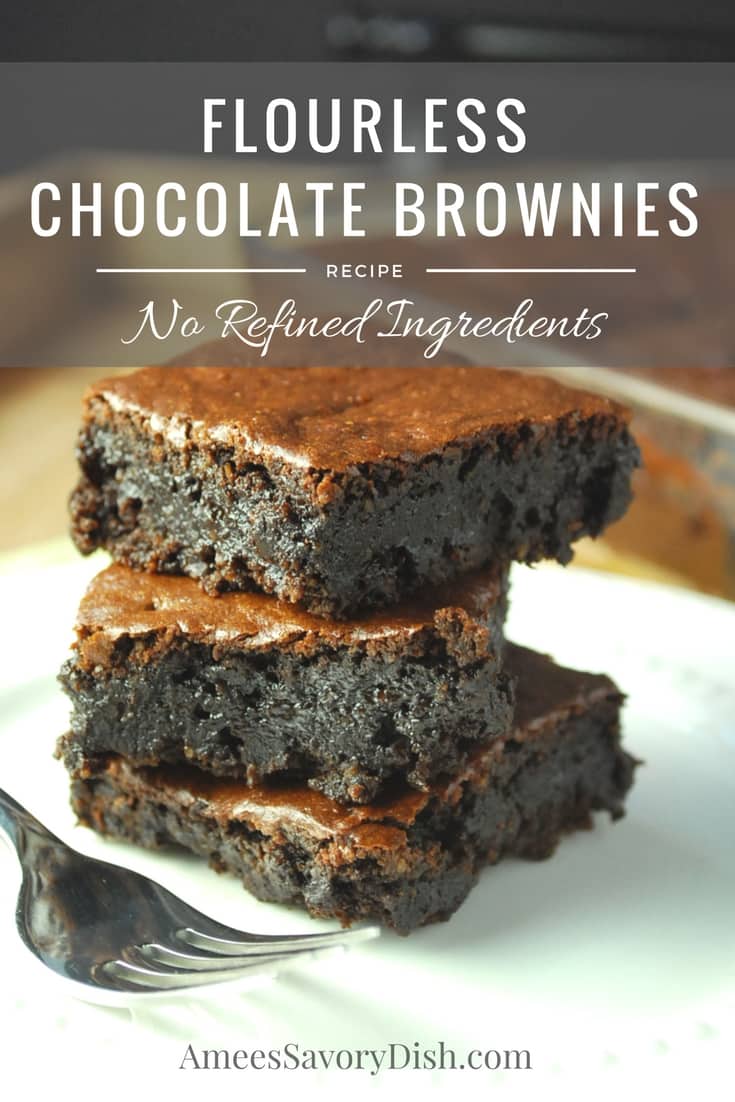 Don't shy away from trying tahini in baked goods.  It's a great replacement for oil or butter.  Tahini is made from toasted hulled sesame seeds that have been ground into a paste.  Tahini has a high oil content that adds a lot of moisture to your recipe.  It makes these brownies over-the-top gooey and delicious!  The texture is absolutely perfect for a decadent brownie.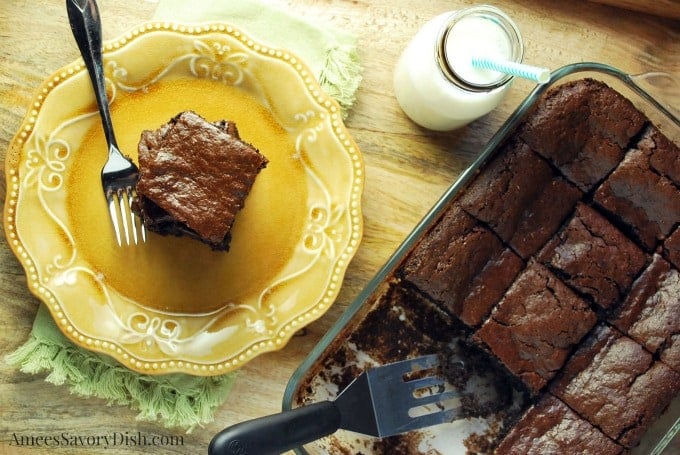 I'm a huge fan of brownies and well, anything with chocolate for that matter.  These Clean Eating Brownies were a huge hit on my blog back in 2011.  Definitely check those out for another fiber-rich, healthier brownie option.
If you are using a tahini that contains salt, there is no need to add the salt to the flour mixture in the recipe.  If you are using unsalted tahini, follow the recipe as directed.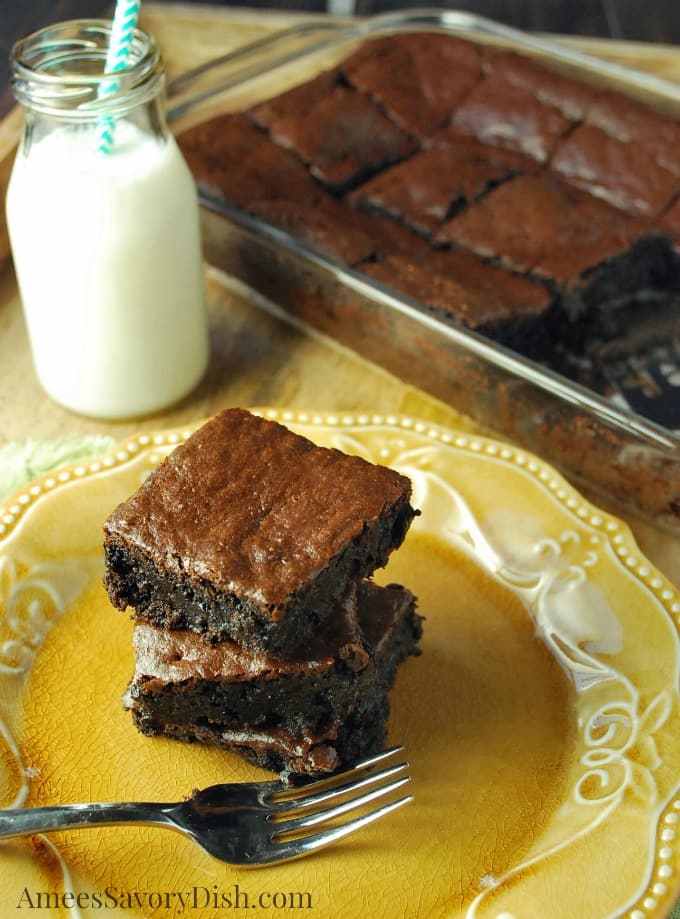 Just look at that thick and delicious batter!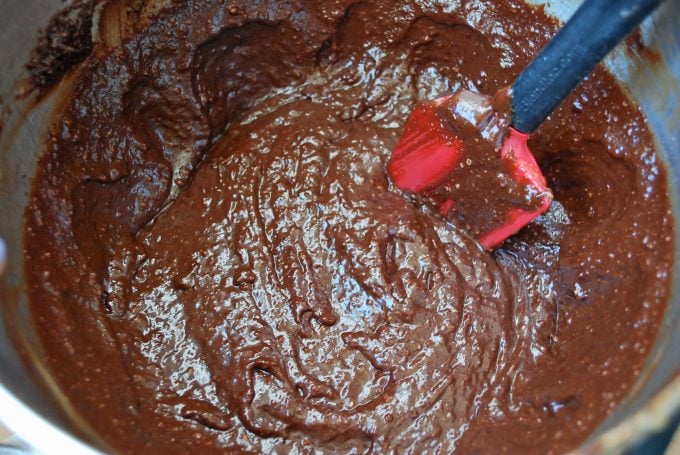 Want a bite?!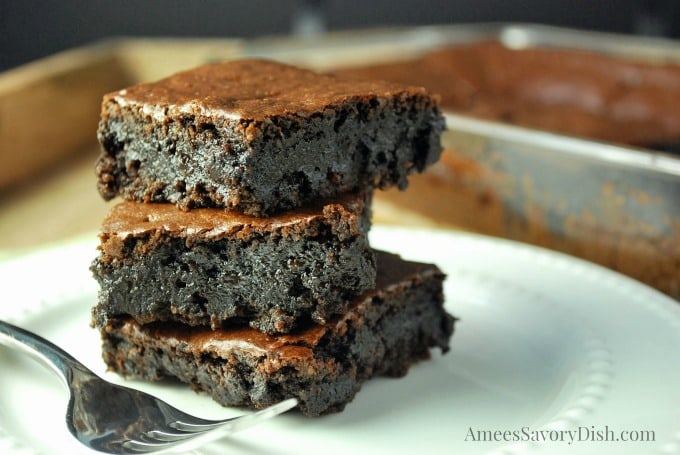 Do you have a favorite tahini dessert recipe?  I'm in love with these Flourless Chocolate Tahini Brownies!  I'd love to know how you've used tahini in desserts.  Feel free to share with me in the comments or on social media!
Flourless Chocolate Tahini Brownies
Ingredients
1 1/2

cups

almond flour

1

cup

cocoa powder

1/2

cup

raw sugar

or coconut sugar

1

tsp

baking powder

1

tsp

baking soda

1

tsp

salt

2

eggs

beaten

1

cup

tahini

3/4

cup

maple syrup

2

tsp

vanilla

1/4

cup

unsweetened almond milk
Instructions
Preheat oven to 350 degrees F. Cover the bottom of a 11x 7 baking dish with parchment paper. Whisk all dry ingredients together in a large bowl. In a separate mixing bowl, whisk together: eggs, tahini and maple syrup. In the bowl of an electric mixer, combine egg mixture with dry ingredients, then add in vanilla and almond milk. Pour mixture into the parchment-lined baking dish and bake for 25-30 minutes, until a toothpick comes out clean and center is set. Cool, slice with a plastic knife (the best way to slice brownies) and enjoy!
SaveSave
SaveSave
SaveSave
SaveSave
SaveSave
SaveSave
SaveSave
SaveSave
SaveSave
SaveSave
SaveSave
SaveSave
SaveSave
SaveSave