This Paleo Grain-Free Spice Cake recipe came from a Crossfit gym that I visited in South Carolina.  I stopped by for a few workouts while I was on vacation and they had a few recipes pinned to their bulletin board.  This one caught my eye and I had to get a copy.
There was no source listed, but I think that it came from a cookbook called Paleo desserts.  I modified it slightly, but  it didn't need much tweaking at all.  I love this dense, flavorful cake and it satisfies my sweet tooth without much guilt.
I added a maple butter glaze to the original recipe to give it a bit more flavor and moisture.  My husband enjoyed eating this for breakfast.  It's also great with a small amount of whipped topping or a scoop of vanilla frozen yogurt.  Healthy goodness. 🙂

Paleo Grain-Free Spice Cake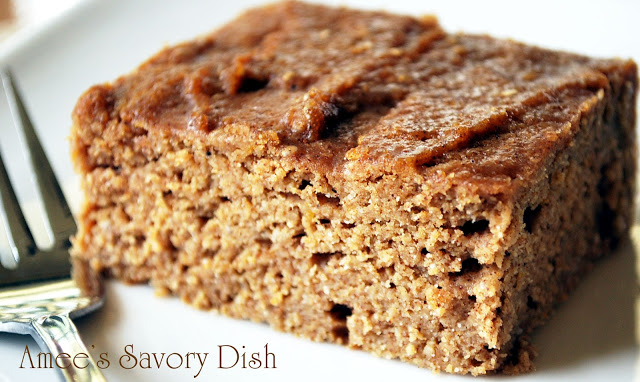 Ingredients(For the Cake):
1/2 cup coconut flour
6 eggs
1/4 cup coconut oil, melted and cooled
1/2 cup real maple syrup
1/2 cup pure pumpkin puree
1/2 tsp sea salt
1/4 tsp baking soda
1 tbsp vanilla
1 tsp cinnamon
1 tbsp pumpkin pie spice
*optional: 1/2 cup finely chopped pecans or walnuts

Directions:
Preheat oven to 350 degrees.  In a large bowl, combine coconut flour, salt, baking soda, cinnamon and pumpkin spice.  In a separate bowl, mix the eggs, oil, maple syrup, pumpkin puree and vanilla.  Slowly pour the wet ingredients into the large bowl containing the dry ingredients.  Constantly whisk while pouring.  Stir in nuts, if adding.  Once the batter is blended well, pour into a greased 8×8 baking dish.  Bake for 25-30 minutes or until toothpick comes out clean and middle is set.  

For the Glaze:
1 tbsp real maple syrup
1tbsp melted butter (or coconut oil)
Stir together and pour over cake while it's hot
*After serving, store this Paleo grain-free spice cake in the refrigerator.
SaveSave