My mom brought me a copy of this Date Nut Cake recipe that belonged to my great grandma Stauber.  It's part of the recipe collection that she gave me last Christmas, but got mixed in with her recipes at home.  We decided to make this together while she was in town visiting for Christmas.  It was fun to be able to work in the kitchen with my mom and try something new.
  Perfect with a morning cup of coffee or an afternoon cup of tea. 
The amount of baking soda seemed a bit much when preparing, but the end result is perfect.  My husband and I agreed that the one thing that would make this incredible would be to soak the nuts in bourbon for a few days (or up to a week….some drunk nuts) and then add the drained nuts to the batter.  Of course, what's not good soaked in bourbon??  Yum.  We absolutely love the taste, texture and easy preparation of this dessert!  Enjoy~
Nut Cake (recipe from the early 1900's)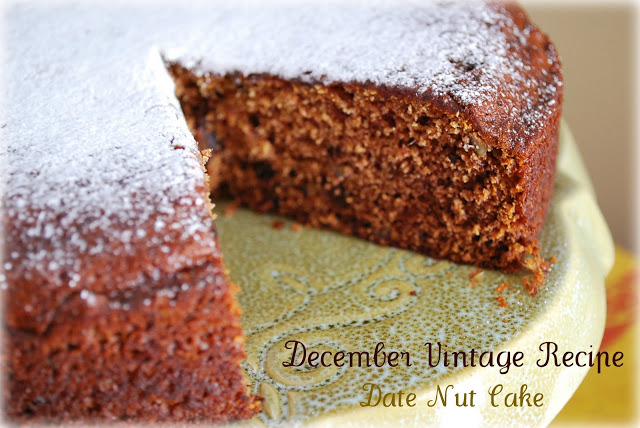 The original recipe: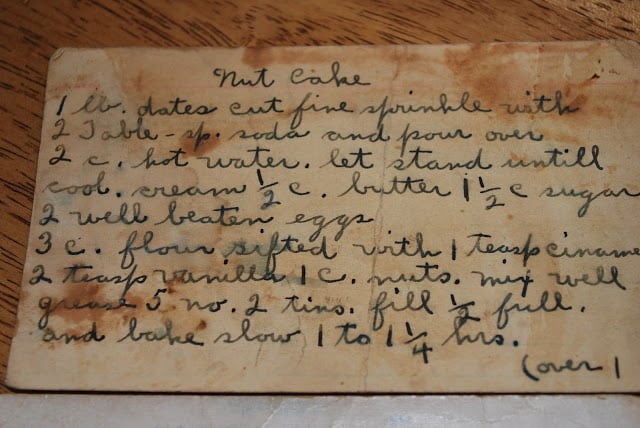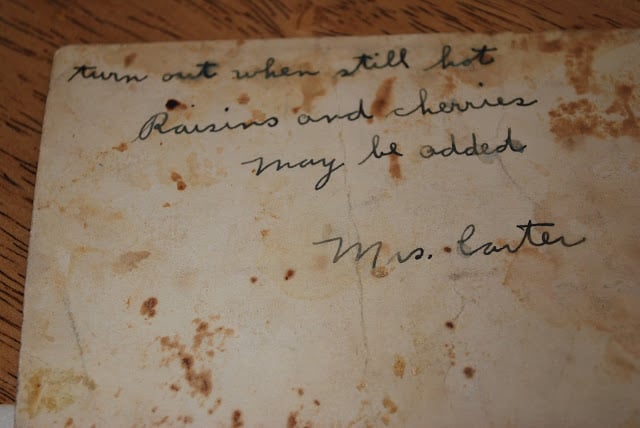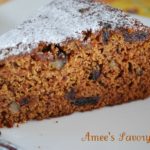 Date Nut Cake- Project Vintage Recipes
Ingredients
1

lb

dates chopped fine

pits removed

2

tbsp

baking soda

2

cups

boiling water

1/2

cup

unsalted butter

1 stick, softened

1

cup

natural brown sugar

1/2

cup

organic white sugar

2

well beaten eggs

1 1/2

cups

spelt flour

1 1/2

cups

unbleached bread flour

King Arthur's brand

1

tsp

cinnamon

2

tsp

vanilla extract

1

cup

nuts

chopped (I used pecans, but walnuts would be great too)
Instructions
Place chopped dates in a large bowl and sprinkle with baking soda.

Pour boiling water over the dates and let sit until cool.

In the bowl of an electric mixer, cream butter and both sugars and then add the beaten eggs.

Mix until creamy.

Sift the flours with the teaspoon of cinnamon and then slowly add to the butter mixture until all is incorporated.

Add vanilla, dates (with water) and chopped nuts and stir until blended.

Pour into two 9 inch greased and floured cake pans and bake at 350 degrees for 35-45 minutes or until a toothpick inserted into the center comes out clean.

Cool on wire racks.

Sprinkle with powdered sugar before serving.

This can also be served topped with fresh whipped cream.