Orange cupcakes are as delicious as they are cute! These homemade cupcakes are easy to make and the bright orange color of them makes them a great Halloween dessert!
Orange cupcakes with orange cream cheese frosting are great for Halloween party treats, or any time of year that you get a craving for a sweet orange treat. The cream cheese frosting is also incredible on pumpkin cupcakes. 🙂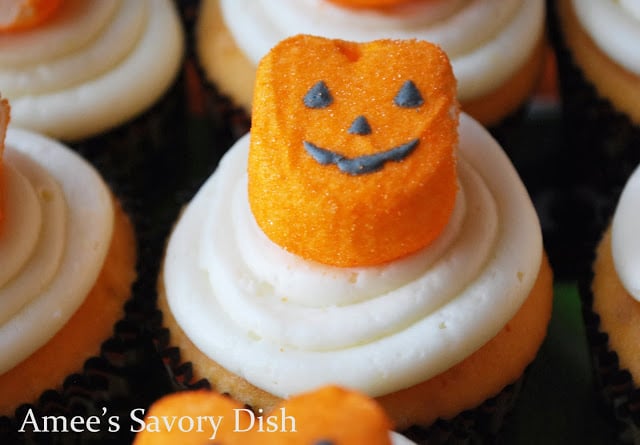 Orange Cupcakes with Orange Cream Cheese Frosting
*Adapted from Taste of Home
Makes 15 cupcakes
For the cupcakes:
1/2 cup Grassfed butter or coconut oil, softened (the coconut oil works great and really makes them moist!)
1 cup sugar
2 large eggs
1 tsp vanilla extract
1 tsp pure orange extract
2 cups cake flour, sifted
1 1/2 tsp baking powder
1/2 tsp sea salt
1/8 tsp baking soda
1/3 cup whole milk
1/3 cup + 3tbsp orange juice with pulp
Preheat oven to 350 degrees F.  In the bowl of an electric mixer, cream butter and sugar until light and fluffy.  Add eggs, one at a time until well mixed, then add extracts.  Combine all dry ingredients in a separate bowl and whisk until combined.  Add to butter mixture then alternately add milk and orange juice beating well with each addition.  Pour into paper-lined muffin tins about 2/3 full.   Bake for 20-25 minutes until toothpick comes out clean.  Cool completely before frosting.
For the Frosting:
1 (8oz) package cream cheese, room temperature
1 stick (8tbsp) butter, room temperature
3 cups confectioners' sugar, sifted
2 tbsp fresh squeezed orange juice
1 tsp vanilla extract
1 tbsp fresh orange zest
Whip cream cheese and butter in a large mixing bowl on medium speed until smooth.  Scrap down the bowl, then slowly add confectioners' sugar, stopping to scrap down the bowl several times.  Add orange juice, vanilla and zest and mix on medium speed until frosting is smooth and fluffy.  Using your favorite decorating tip, pipe the frosting onto cupcakes and enjoy.  Refrigerate frosted cupcakes if not eating right away.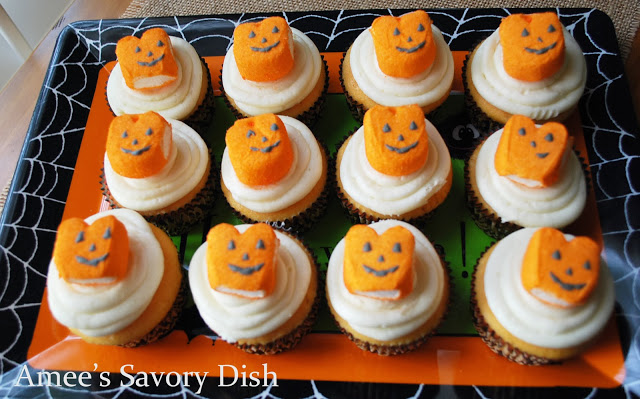 More fun Halloween recipes to make:
Monster Sloppy Joes – A Not-So-Scary Halloween Favorite