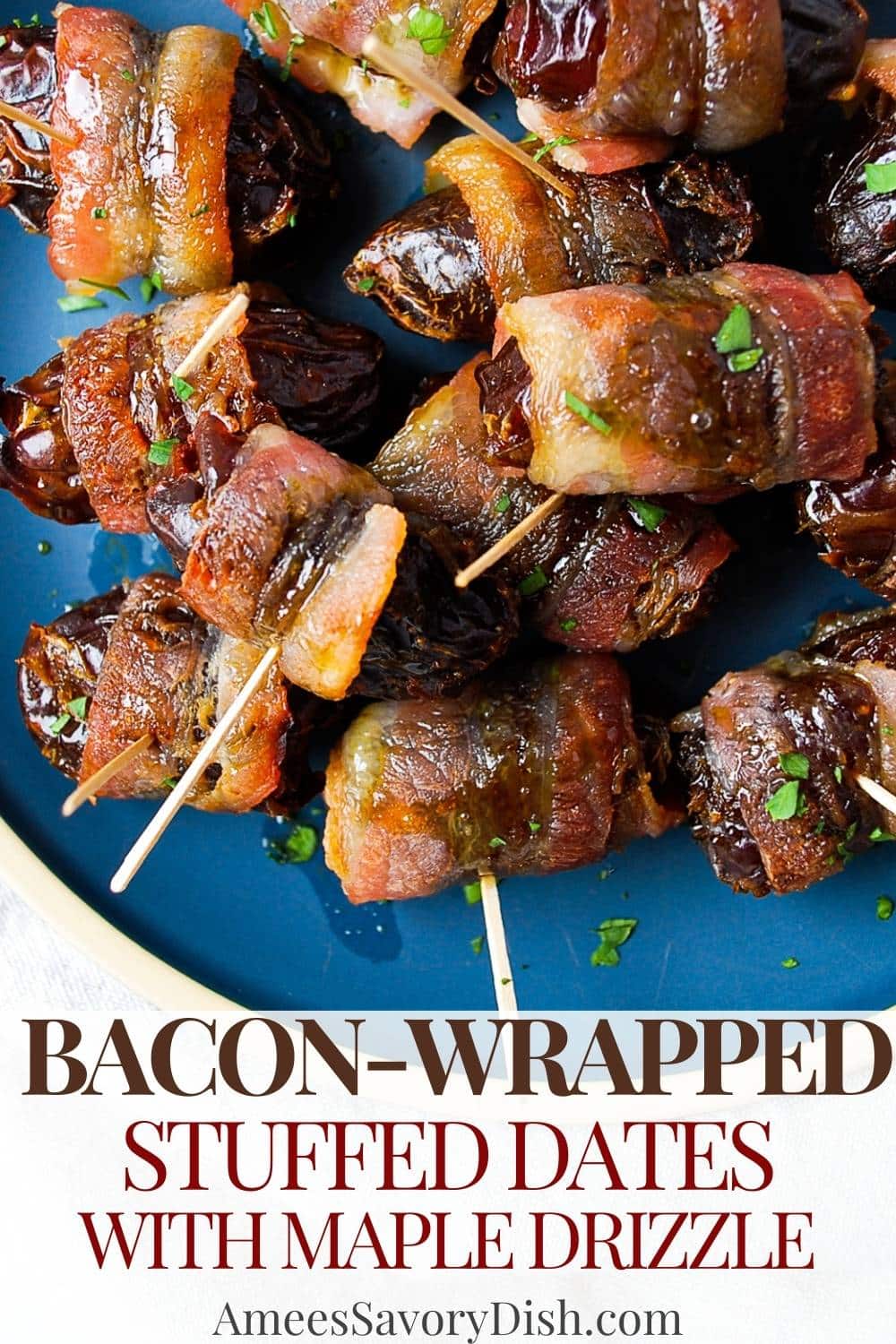 These Bacon Wrapped Stuffed Dates are guaranteed to be your new favorite sweet and salty snack. Sweet Medjool dates are stuffed with crunchy almonds, wrapped in bacon, and baked until perfectly crispy and gorgeously golden. This is the perfect bite-sized appetizer for dinner parties, holidays, and much more!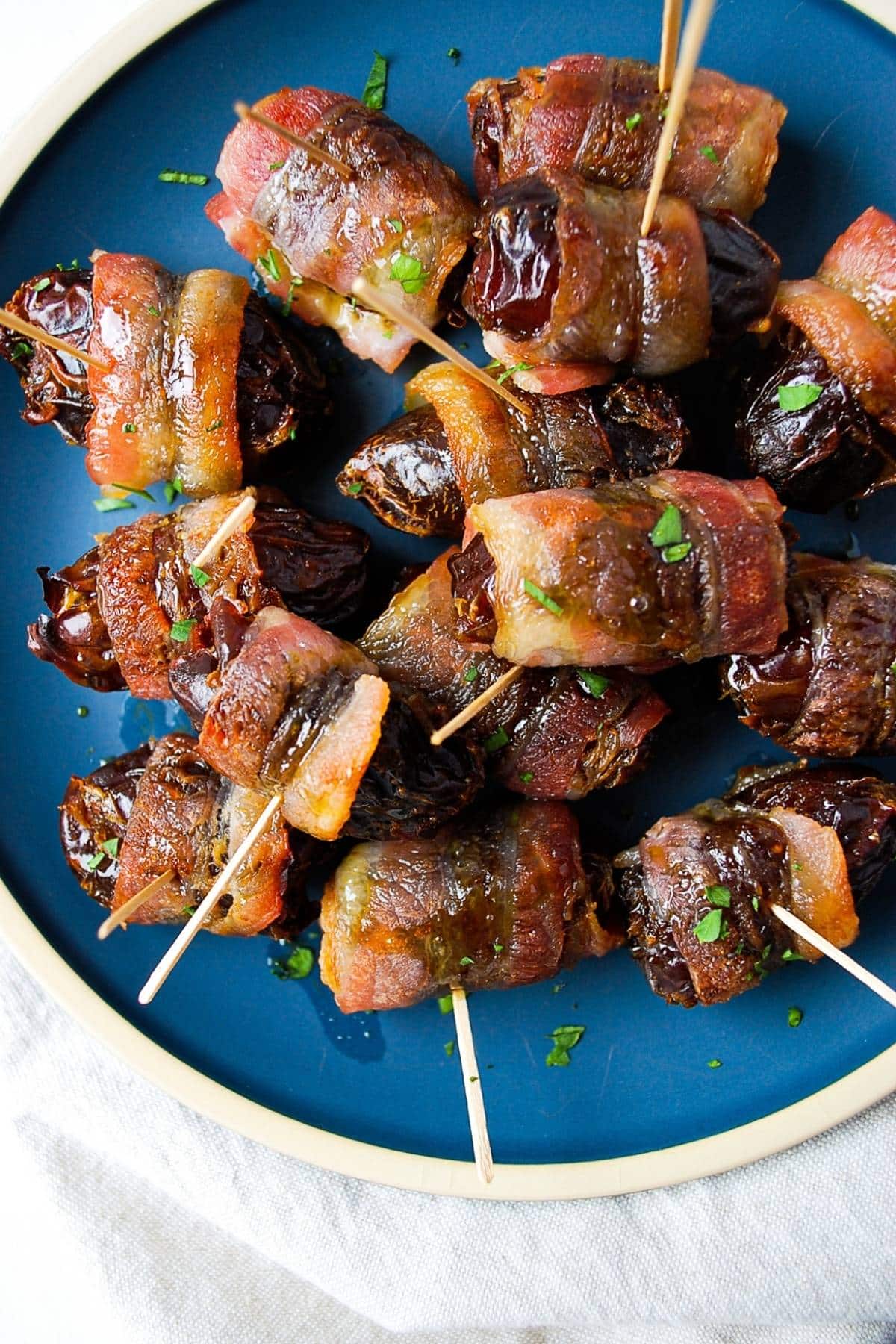 I'm pretty sure bacon-wrapped stuffed dates are a Southern thing, as these heavenly bites have been a staple at special occasions for as long as I can remember. These Medjool dates are stuffed with almonds and wrapped in savory, umami-forward bacon that will keep your guests coming back for more. That said, I usually make a double batch as they tend to disappear fast!
Was there an occasion when you discovered this majestic combination of flavors and textures? I sure hope so, but if not -these super easy-to-follow instructions will teach you to make the best bacon-wrapped dates stuffed with nuts.
These mouthwatering stuffed dates are a seriously addictive finger food -I know I was hooked at the first bite! Don't forget the toothpicks, or you'll be left with some serious sticky fingers. Enjoy!
Why You'll Love This Recipe
It's the perfect elegant snack for the holidays, New Year's Eve, or any special occasion.
It's super quick and easy. You'll only need three ingredients and about 20 minutes of your time.
They're gluten-free, dairy-free, and very easy to make paleo and Whole30 compliant.
A crunchy nut stuffed inside a sweet, gooey date wrapped in crispy bacon is a divine trio of textures and flavors.
Ingredients You'll Need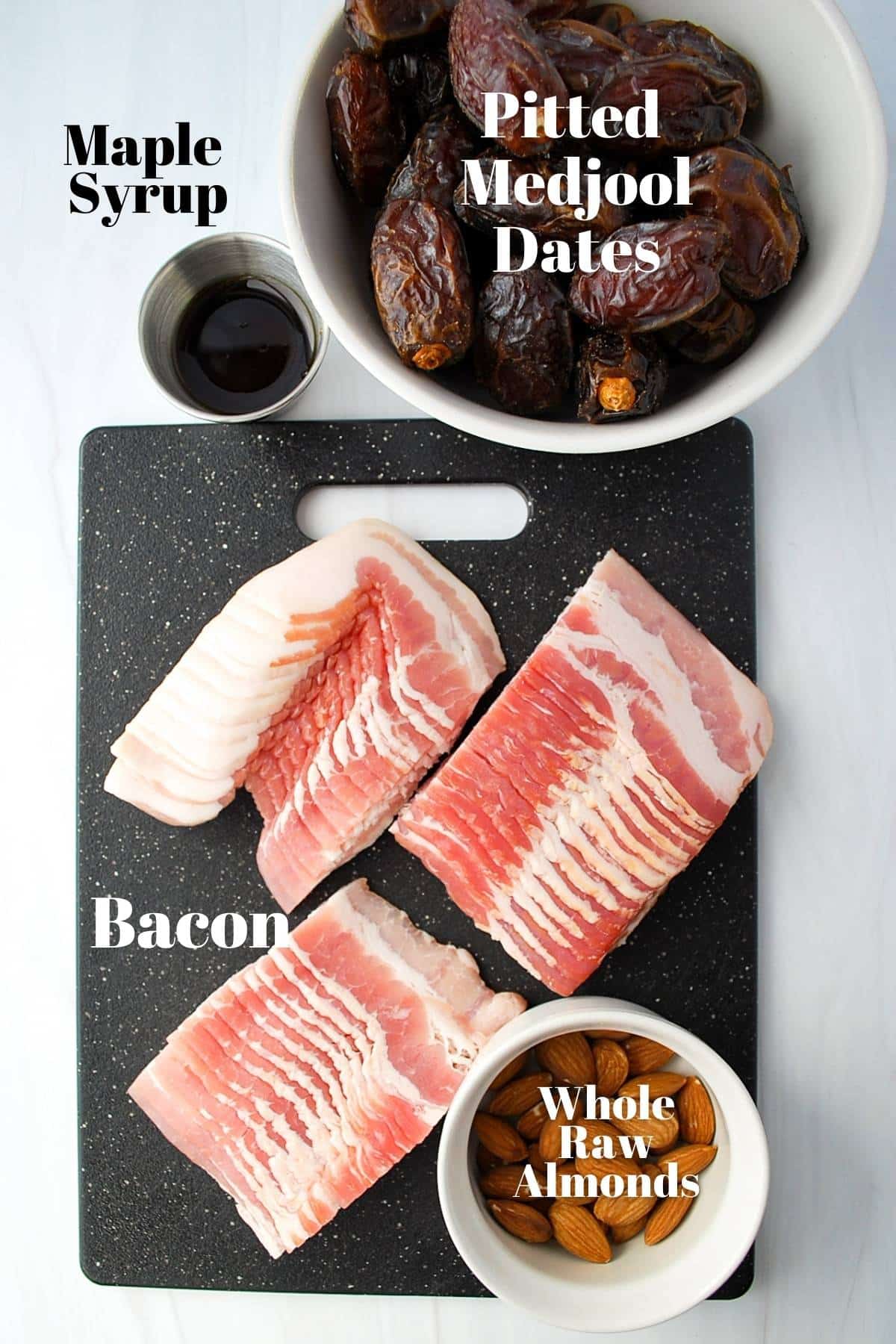 Medjool dates - Medjool dates are one of the many treats that nature has to offer. They are literally as sweet as candy. They're soft with a rich, caramel-esque flavor that pairs perfectly with bacon -because, well ...bacon is life. Use the softest, plumpest, and sweetest pitted dates that you can find. Baking dates are much smaller and dried, so they won't cut it.
Unsalted almonds - Many stuffed date recipes are filled with creamy cheese, but I prefer the crunchy element nuts have to offer. Feel free to swap almonds with your favorite type of nut. See below for ideas.
Bacon - Opt for good quality, thin bacon with more pink meat than visible fat. If the bacon you use is too fatty, it won't get crispy -and we don't want that!
Optional, but amazing- Real maple syrup for drizzling on top. If you can get your hands on Trader Joe's bourbon barrel-aged Vermont maple syrup, it's the best drizzled on these dates fresh from the oven.
How To Make Stuffed Dates Wrapped In Bacon
Step 1: Assemble. Stuff each pitted date with a whole almond (or the nut of your choosing), and then wrap with a slice of bacon. Place on a wire rack over a parchment-lined baking sheet with the seam side facing down. This ensures the bacon crisps evenly on all sides. It also makes clean-up easier because the grease drips onto the parchment paper.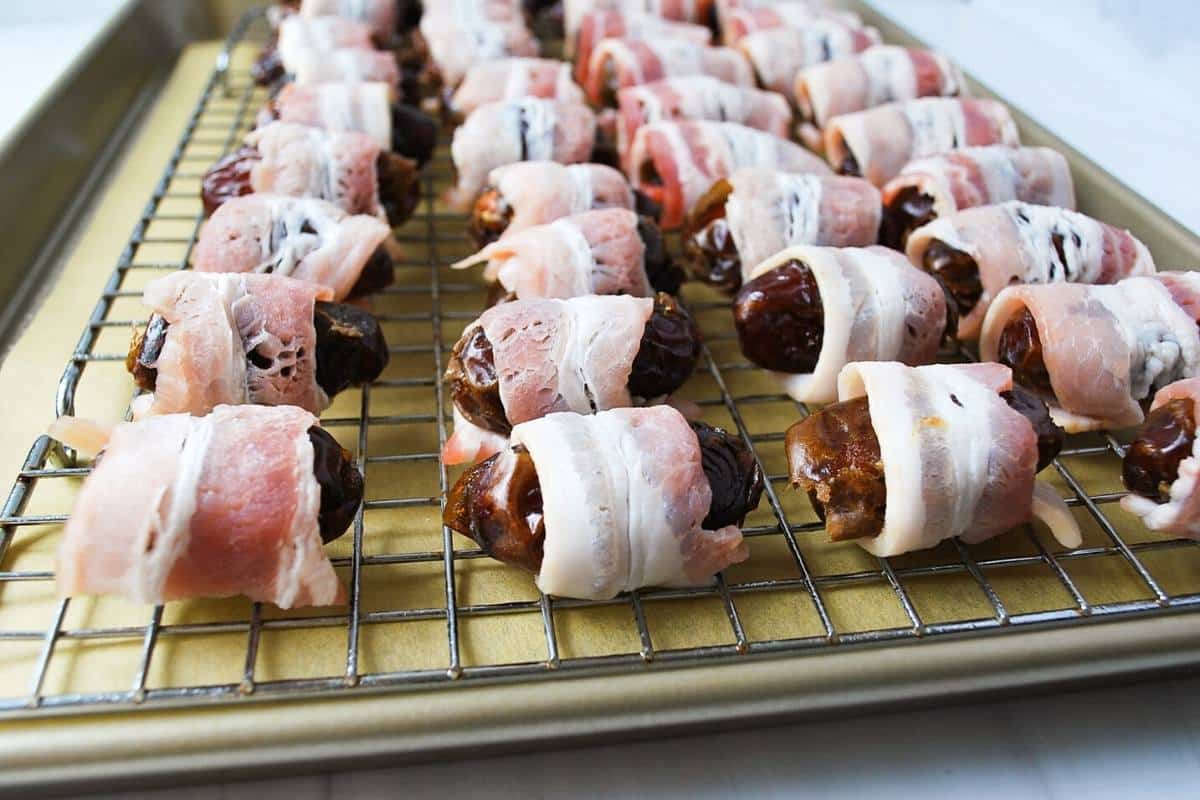 Step 2: Bake. Transfer to the oven and bake at 400F for 15 minutes. At this point, you can remove the dish from the oven -OR turn on the broiler and let them cook until the bacon is lightly browned and extra crispy. This will only take a couple of minutes, so keep an eye on them.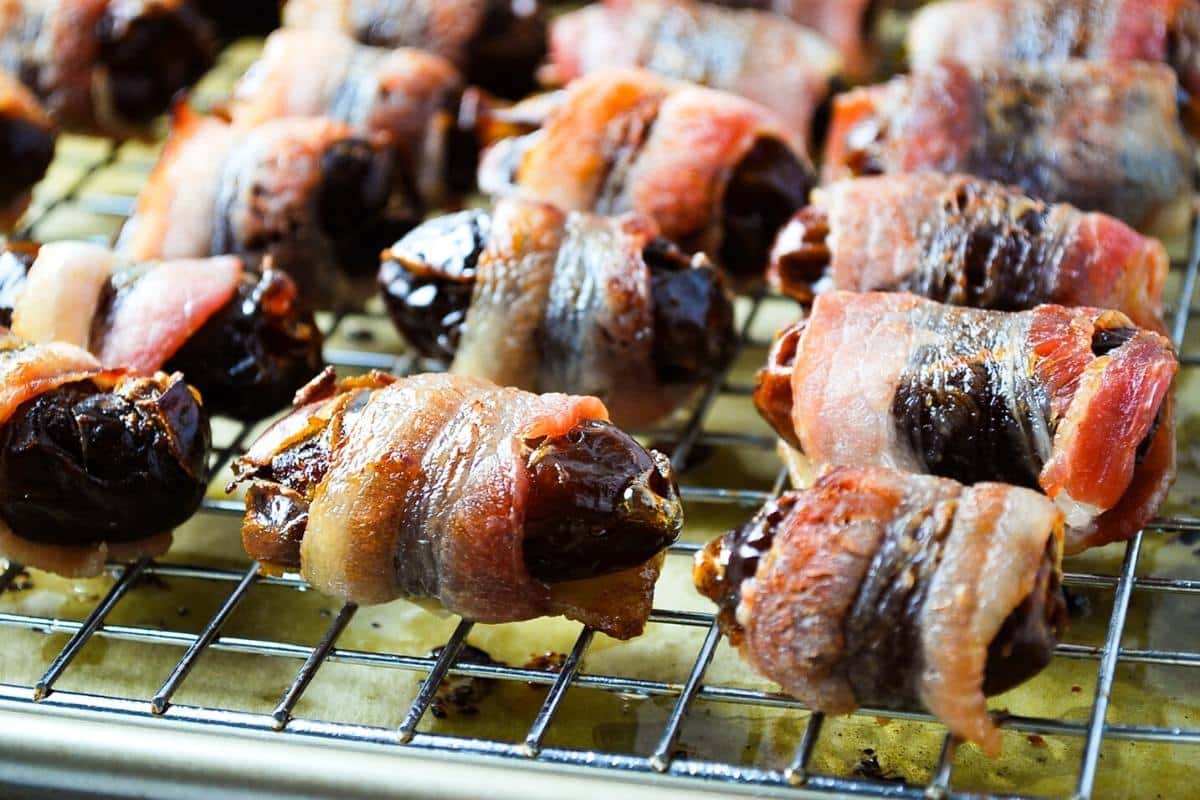 Step 3: Plate and serve. Drizzle with maple syrup, if using, and arrange the nut-stuffed dates on a serving platter. I like to sprinkle a little chopped fresh parsley on top for a pop of color, but this is optional. Serve warm (or at room temperature) with toothpicks.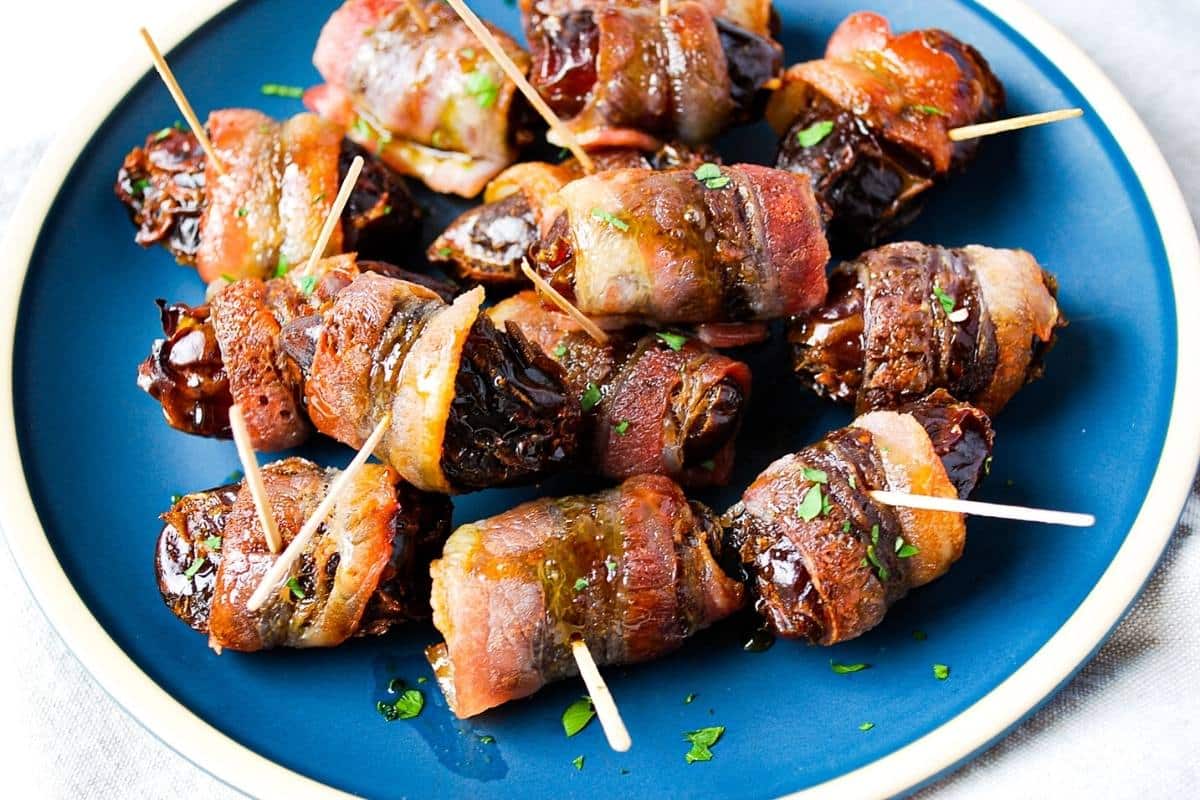 Recipe Tips
Do not use thick-cut bacon! Thinly sliced bacon cooks faster and gets crispy.
A third of a slice of bacon is just enough to wrap each date securely with just a bit of overlap. If there's too much overlap, the bacon will not cook evenly. There's a time and a place for floppy, chewy bacon, but the goal here is CRISPY bacon.
Variations
Sweetener - Medjool dates are naturally super sweet, so you may find this recipe perfect, but if you're craving something a bit sweeter, sprinkle a pinch of Purecane Brown Sweetener (or light brown sugar) over the top of each bacon-wrapped date before baking.
Paleo & Whole30 - These dates are perfect if you're looking for paleo & Whole30 appetizers to add to the menu. As long as you're bacon is sugar-free and nitrate-free, you're good to go!
Nut options - You aren't limited to almonds. You can make walnut stuffed dates -or stuff them with pecans, pistachios, macadamia nuts, brazil nuts, etc.
Nut butter - As an alternative to whole nuts, stuff your dates with peanut butter, almond butter, cashew butter, or Nutella!
Cheese - If dairy isn't a concern, add a creamy element to each indulgent bite by smearing a bit of cheese inside each date. Try with goat cheese, brie cheese, blue cheese, cream cheese, or mascarpone. To keep things dairy-free, use your favorite creamy vegan cheese.
Sweet drizzle - Drizzle maple syrup, honey, or even melted dark chocolate over the top as soon as the dates come out of the oven.
Serving
These stuffed dates make the snack and appetizer spread on special occasions extra special. To save time, assemble the dates the day before, and keep them covered in the fridge until it's time to bake.
Build an EPIC party platter. Serve a few of the appetizers listed below alongside bacon-wrapped dates.
Storing & Freezing
Storing: As I mentioned above, these dates go quickly, but if you have leftovers, you can keep them refrigerated in a shallow, airtight container for 2-3 days. To reheat, arrange the dates on a baking sheet and warm at 375F until the bacon is restored to its glorious crispiness (8-10 minutes).
Freezing: Once cooked, I don't recommend freezing these dates. However, you can freeze them uncooked. SEE FAQ for instructions.
Recipe FAQ
Can I freeze bacon-wrapped dates?
Yes! I suggest stuffing the dates and securing the bacon with a toothpick. Then, arrange them on a baking sheet and place the baking sheet in the freezer. Once the dates are solid, transfer them to a freezer bag and keep them frozen for one month. Let thaw in the fridge the night before you plan to serve, then bake as instructed
Can I make bacon-wrapped dates in the air fryer?
I have yet to make these in my air fryer, but I don't see why not. I recommend preheating your air fryer basket to 370F, adding the bacon-wrapped dates in a single, spaced-out layer, and air frying until the bacon is crispy.

How do you pit dates for stuffing?
If you're Medjool dates aren't pitted, that's perfectly fine. I buy pitted dates because it's easier, but you can always remove the pit yourself. To do so, slice the date lengthwise, but not all the way through, pry the date open, and wiggle the pit out with your fingers.

More Bacon-Wrapped Recipes You'll Love
If you love this recipe I would be so grateful if you could leave a 5-star 🌟rating in the recipe card below. I love reading your comments and feedback!
Stay posted on my latest cooking adventures through social media @ Instagram, Pinterest, and Facebook. Don't forget to tag me when you try one of my recipes!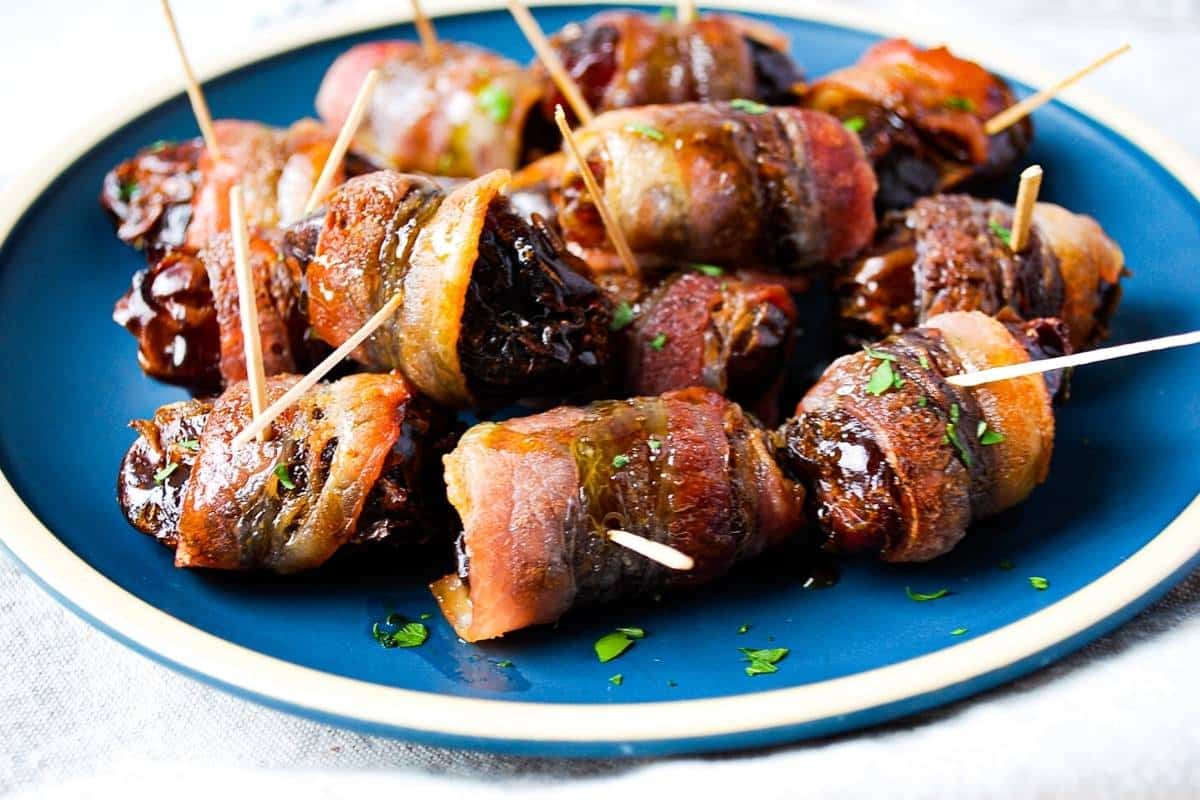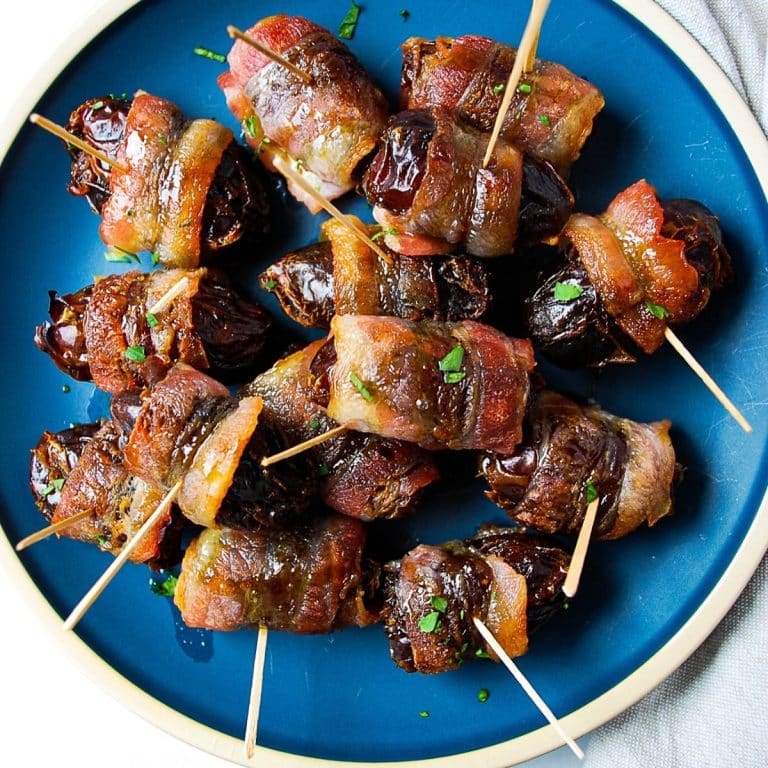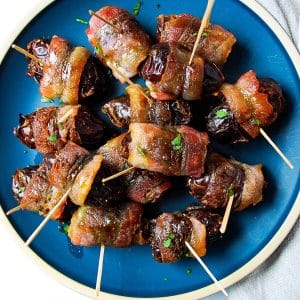 Bacon-Wrapped Stuffed Dates
Sweet Medjool dates stuffed with crunchy almonds, wrapped in bacon and baked until crispy and golden. The perfect appetizer or party snack!
Ingredients
36

pitted medjool dates

36

whole

unsalted almonds

12

slices

bacon

cut into thirds

maple syrup

*optional: for drizzling. Trader Joe's bourbon barrel aged Vermont maple syrup is delicious drizzled on top.
Instructions
Preheat oven to 400 degrees F.

Stuff dates with almonds and then wrap with a slice of bacon. Arrange on a wire rack sprayed with cooking spray over a parchment-lined baking sheet.

Bake for 15 minutes. If you like the bacon a little more golden and crisp on top, turn on the broiler (watching carefully so they don't burn, it won't take long) and cook just long enough for the bacon to lightly brown.

While warm, drizzle with a little maple syrup, if desired. Serve with toothpicks warm or at room temperature.
Notes
Do not use thick-cut bacon! Thinly sliced bacon cooks faster and gets crispy.
A third of a slice of bacon is just enough to wrap each date securely with just a bit of overlap. If there's too much overlap, the bacon will not cook evenly. There's a time and a place for floppy, chewy bacon, but the goal here is CRISPY bacon.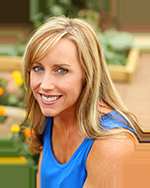 Latest posts by Amee Livingston
(see all)