I love these moist and decadent dessert bars. My mom has been making these moist oatmeal date bars for years. She got the original recipe from a cookbook that she got while attending college in La Crosse, Wisconsin.
My mom and I share a love for baking. There is nothing more comforting than the smell of baked goods in the kitchen. The homey aroma of fresh breads, pies, cookies and cakes makes me happy! It also reminds me of my childhood.  These kind of sweet memories are the best memories!
If you are not a fan of dates, you can substitute the date filling for a fruit filling (raspberry, blackberry, strawberry,etc). These bars freeze beautifully, just store in an airtight container in the freezer and pop one out for a quick snack. They are great lunch box snacks for the kids. Dates are so good for you, too, full of good nutrition.  These will still be great if you decide to cut some of the added sugar content, since dates are naturally very sweet.  Enjoy~
Moist Oatmeal Date Bars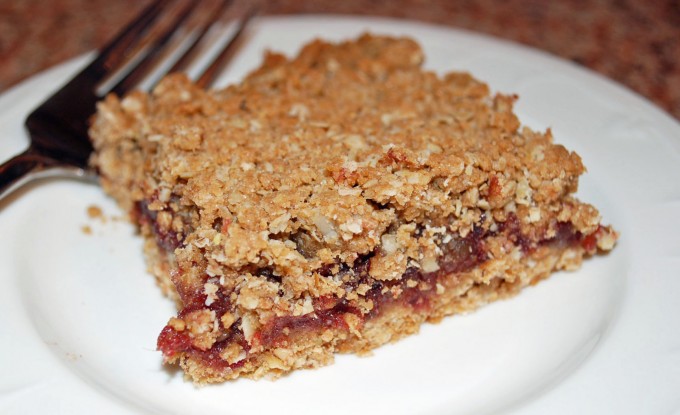 Boil together:
1 cup of chopped, pitted dates
1/2 cup sugar (or whey low)
1 cup water
Mix together:
2 1/2 cups oatmeal
2 cups King Arthur white whole wheat flour
3/4 cup brown sugar
1 cup butter, softened (I use smart balance butter sticks)
1 tsp sea salt
1/2 tsp baking soda dissolved in 1 tbsp boiling water
Combine dates, 1/2 cup sugar and 1 cup water in a saucepan over medium-high heat. Bring to a boil, reduce heat and cook until thickened.
Into the pot…
Thickened and ready to cool.
Cool mixture completely and combine remaining ingredients in order given. Mix thoroughly.
Pack one half of mixture in a 9×13 pan sprayed with cooking spray, pressing lightly.
Spread date mixture over top.
Bake at 350 degrees for 30-40 minutes until lightly golden on top. Remove from the oven
and cut into squares while warm.  These bars are so delicious with a tall, cold glass of milk!
SaveSave