This is the best strawberry jam recipe that I have tried so far for making jam without refined sugar.  Some recipes have been too tart, some have been too artificial tasting (I cannot stand jam made with artificial sweeteners….it tastes weird) and others have had texture issues.  This one has a wonderful flavor and texture and is quite simple to make.  It thickened beautifully and keeps well in the refrigerator for several weeks.  It doesn't ever last that long in my house!!  You can also freeze it or can using the traditional method.  The original recipe that I modified called for honey, but I don't like the strong flavor of honey in my jam, (just a personal preference) so feel free to substitute honey for the agave nectar.  I usually double my jam recipe and it makes about 5 cups.  


Homemade Strawberry Jam (No refined sugar)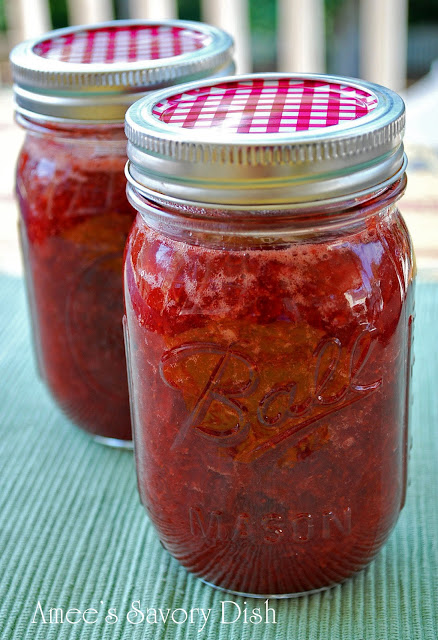 Ingredients:
2 cups fresh strawberries, rinsed and stems removed
1/3 cup no sugar added white grape fruit concentrate (such as Welch's or an organic brand, if available)
1 1/2 tbsp Ball low or no-sugar added pectin (you must use the pectin that is specifically for no sugar jam)
1/2 cup agave nectar

Prepare berries by rinsing them, removing the stems and mashing them with a potato masher until crushed (I like mine a little chunkier, so I leave some chunkier pieces.  The texture should look something like this…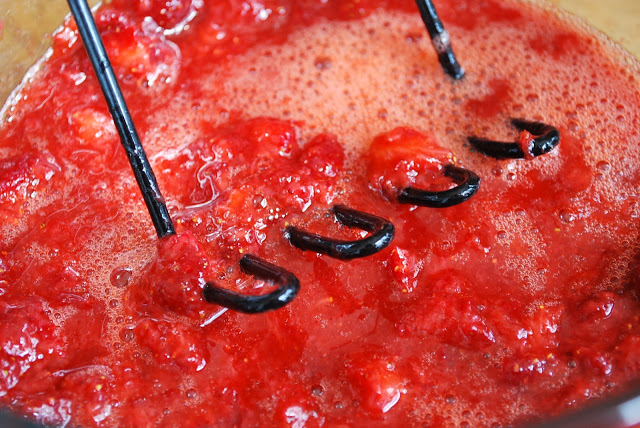 Next, you need to prepare your water bath for canning.  See details on how to do this here.  
Remember to use the pectin specifically for no-sugar or low-sugar jam.  Also, you need to get the grape juice concentrate with no added sugar.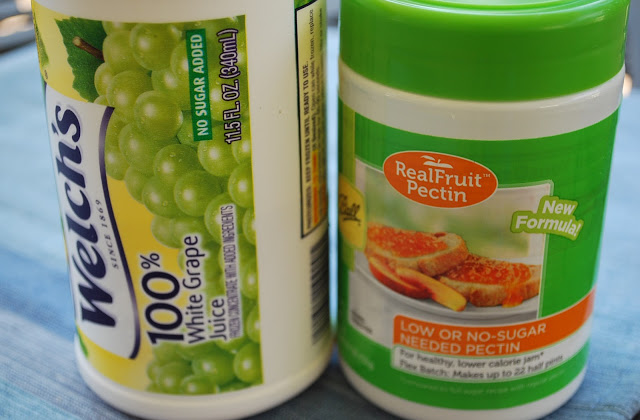 Combine fruit and white grape juice concentrate in an 8 qt saucepan.  Gradually stir in pectin.  Bring to a full boil, that cannot be stirred down, over high heat and stir constantly.  Then add agave nectar and return to a full boil and boil hard for 1 minute, stirring constantly.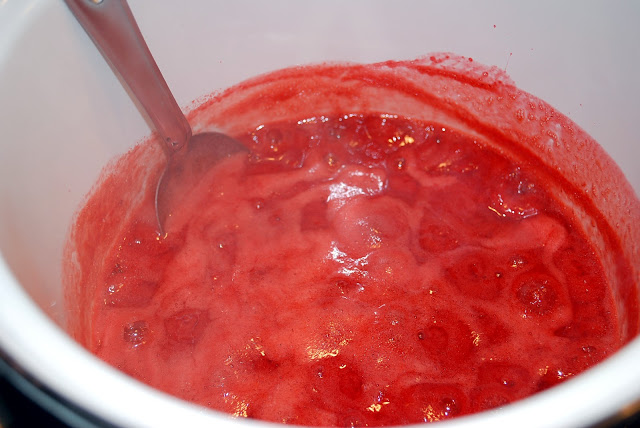 Remove from heat and skim foam off the top, if necessary.  Pack into hot jars and refrigerate up to 3 weeks or preserve with this canning method up to 1 year. 
Homemade Strawberry Jam…No refined sugar
Ingredients
2

cups

fresh strawberries

rinsed and stems removed

1/3

cup

no sugar added white grape fruit concentrate

such as Welch's or an organic brand, if available

1 1/2

tbsp

Ball low or no-sugar added pectin

you must use the pectin that is specifically for no sugar jam

1/2

cup

agave nectar
Instructions
Prepare berries by rinsing them, removing the stems and mashing them with a potato masher until crushed (I like mine a little chunkier, so I leave some chunkier

Next, you need to prepare your water bath for canning

Combine fruit and white grape juice concentrate (no sugar added) in an 8 qt saucepan

Gradually stir in pectin

Bring to a full boil, that cannot be stirred down, over high heat and stir constantly

Then add agave nectar and return to a full boil and boil hard for 1 minute, stirring constantly

Remove from heat and skim foam off the top, if necessary

Pack into hot jars and refrigerate up to 3 weeks or preserve with this canning method up to 1 year