I subscribe to Clean Eating magazine to get more healthy meal ideas.  It is full of great recipes that don't use highly processed carbs and refined sugars.  I got this Clean Eating Buttermilk Pancake recipe from their website and adapted it, making a few substitutions to suit my taste buds and it turned out great.  
I also added a little water to the original recipe.  It seemed a bit too thick.  I love the taste of these pancakes and they provide you with a healthier, wholesome carbohydrate source.  Serve with a small drizzle of real maple syrup and top with fresh berries for added nutrition.
Clean Eating Buttermilk Pancakes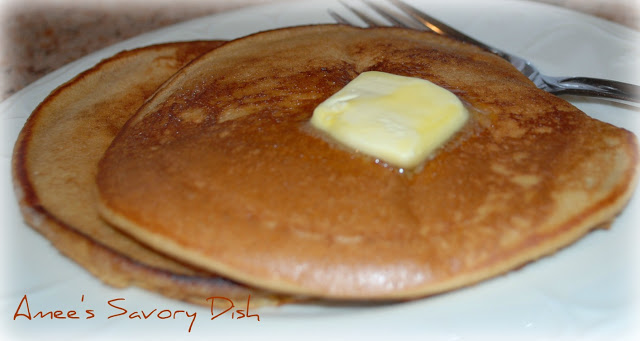 Buttermilk Pancakes ~A clean eating recipe
Recipe from Clean Eating Magazine
Ingredients
1 1/2 cups unbleached white whole-wheat flour
3/4 cup coconut sugar or organic Sucanat
1 1/4 tsp baking powder
1/2 tsp baking soda
1/2 tsp sea salt
1 1/2 cups buttermilk
1 egg, lightly beaten
1 egg white
1 tbsp plain greek yogurt
enough water to make a thick pouring constistency. Add about 1/8 cup and a bit more if necessary
Olive oil cooking spray
16 tsp pure maple syrup
Directions
In a large bowl, combine flour, Sucanat, baking powder, baking soda and salt.
In a separate bowl, stir together buttermilk, eggs and sour cream with a whisk; add to flour mixture, stirring just until moist. Add water to acheive desired consistency.
Heat a large skillet over medium heat. Mist skillet with cooking spray and heat until melted. Pour ¼ cup batter into skillet for each pancake and cook for 2 minutes or until tops are covered with bubbles and edges appear cooked. Carefully turn pancakes over and cook for 2 more minutes or until bottoms are lightly browned. Repeat with remaining batter, re-misting skillet with cooking spray between batches.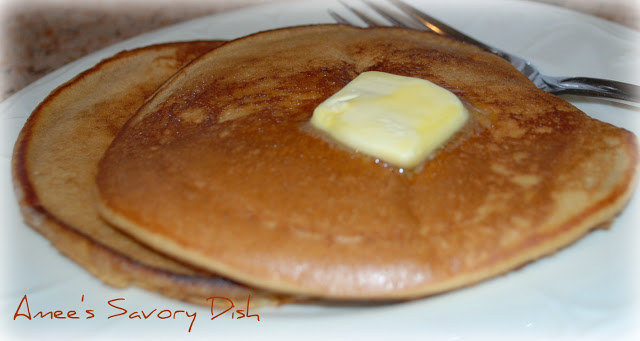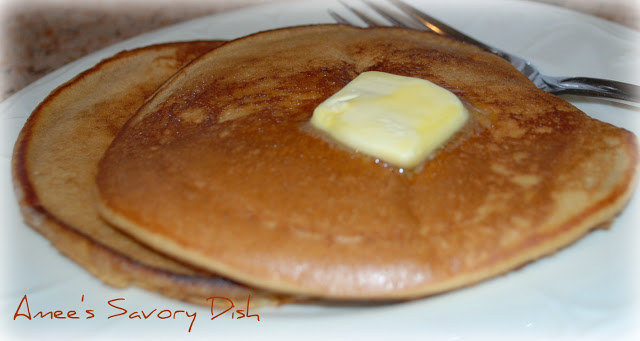 Nutrients per serving (1 pancake and 1 tsp syrup):
Calories: 126, Total Fat: 1 g, Sat. Fat: 1 g, Carbs: 27 g, Fiber: 2 g, Sugars: 15 g, Protein: 4 g, Sodium: 185 mg, Cholesterol: 3 mg