Popovers are easy and fun to make.  A light and airy roll that puffs beautifully when baked.  They will let out a burst of steamy air when you break them open.  These rolls remind me of a cream puff without the filling.  The texture is so similar.  I'm sharing a step-by-step tutorial on how to make easy classic popovers, one of my favorite breakfast treats!

When I saw this recipe in my great grandmother's vintage cookbook, I had to try it.  I followed the recipe from the late 1800's exactly, but I did add a tsp of vanilla to the batter.  I love them served warm with homemade jam, so a hint of vanilla was a great addition.  There is a quote from one of my favorite children's authors about popovers " "My uncle ordered popovers from the restaurant's bill of fare. And, when they were served, he regarded them with a penetrating stare.  Then he spoke great words of wisdom as he sat there on that chair: "To eat these things," said my uncle, "You must exercise great care. You may swallow down what's solid, but you must spit out the air!"― Dr. Seuss
You should definitely try these popovers with my Homemade Strawberry Jam (made without refined sugar) or Strawberry Freezer Jam.  So good!
Popovers (recipe from Table, Home and Health cookbook 1892)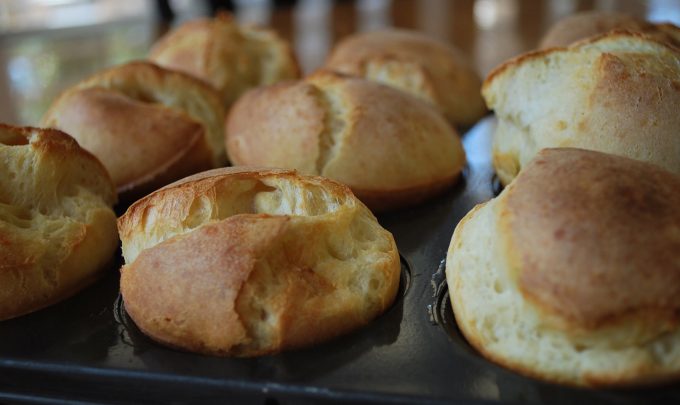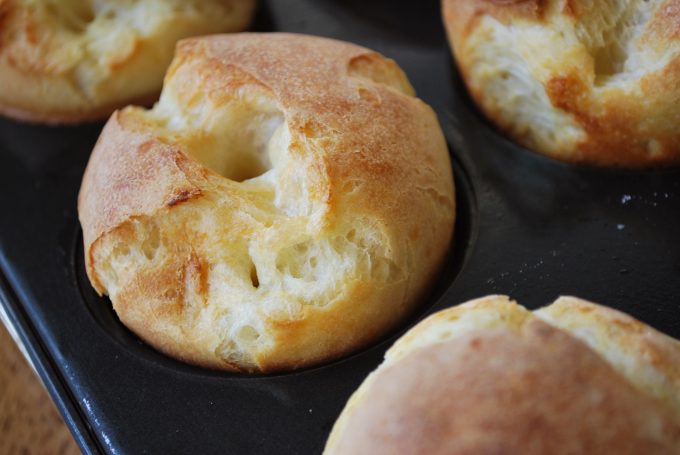 Original recipe:
Ingredients:
2 cups unbleached white wheat flour (such as King Arthur brand)
2 cups whole milk
2 eggs
1 tsp butter, melted
1 tsp sea salt
1 tsp vanilla
Directions:
Preheat oven to 450 degrees.  Grease and flour a 12 cup muffin pan (I use Pam baking spray-it already has flour in it and so much easier!)  In a medium size bowl, beat eggs slightly.  Add all of the other ingredients to the eggs. 
Beat until just smooth.  Do not over mix (very important).  Fill 12 muffin cups evenly with batter. 
Bake at 450 degrees for 20 minutes.  Decrease oven temperature to 350 degrees and bake for 5-10 minutes more until popovers are puffed and set.  They should be lightly golden brown on top.  Immediately remove from pan and serve hot. 
These are best hot from the oven!!   Delicious with homemade jam.
SaveSave
SaveSaveSaveSave
SaveSave
SaveSave