Island grilled chicken with jalapeno-pineapple salsa is a quick and easy grilled chicken recipe, packed with tropical flavors.
This grilled chicken dish is simple but flavorful, and quick to prepare.  The Jalapeno Salsa would also be wonderful on grilled or blackened fish.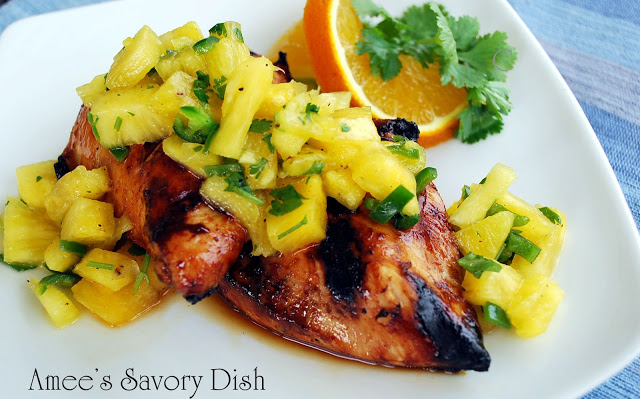 For the grilled chicken:
6 boneless, skinless organic chicken breasts
1 cup teriyaki sauce
1/2 cup pineapple juice
1/4 cup orange juice concentrate, thawed
1/2 cup sucanat (can substitute brown sugar, sucanat is a natural sweetener made from dried cane juice)
1/2 cup vinegar
1 tsp garlic powder
1/4 cup Worcestershire sauce
1/2 cup Good Seasons Italian Dressing prepared with olive oil (or Newman's Own bottled Italian Dressing)


Mix last 8 ingredients in a saucepan and bring to a boil over medium-high heat, stirring with a whisk.  Once mixture has boiled, turn off heat and allow to cool.  Pour mixture over chicken breasts in a covered bowl and marinate overnight in the refrigerator.  


For the Salsa:
*Adapted from Eating Well
2 cups fresh, finely chopped pineapple
3 tbsp fresh cilantro, chopped
3 tbsp fresh lime juice
2 small jalepenos, seeded and minced
1 tbsp grapeseed oil
1/2 tsp lime frost sea salt (or regular sea salt)
freshly ground pepper to taste


Place all ingredients in a medium size bowl and toss to coat.  Cover and refrigerate for an hour or so to blend the flavors.  Bring to room temperature to serve over the chicken.
Grill chicken over medium-high heat about 4-5 minutes each side, until juices run clear and internal temperature reaches 160 degrees.  Garnish with salsa and serve over brown rice.
I hope you enjoy this Island grilled chicken dinner!
More delicious grilled chicken recipes:
Grilled Chicken Fajitas Tostadas