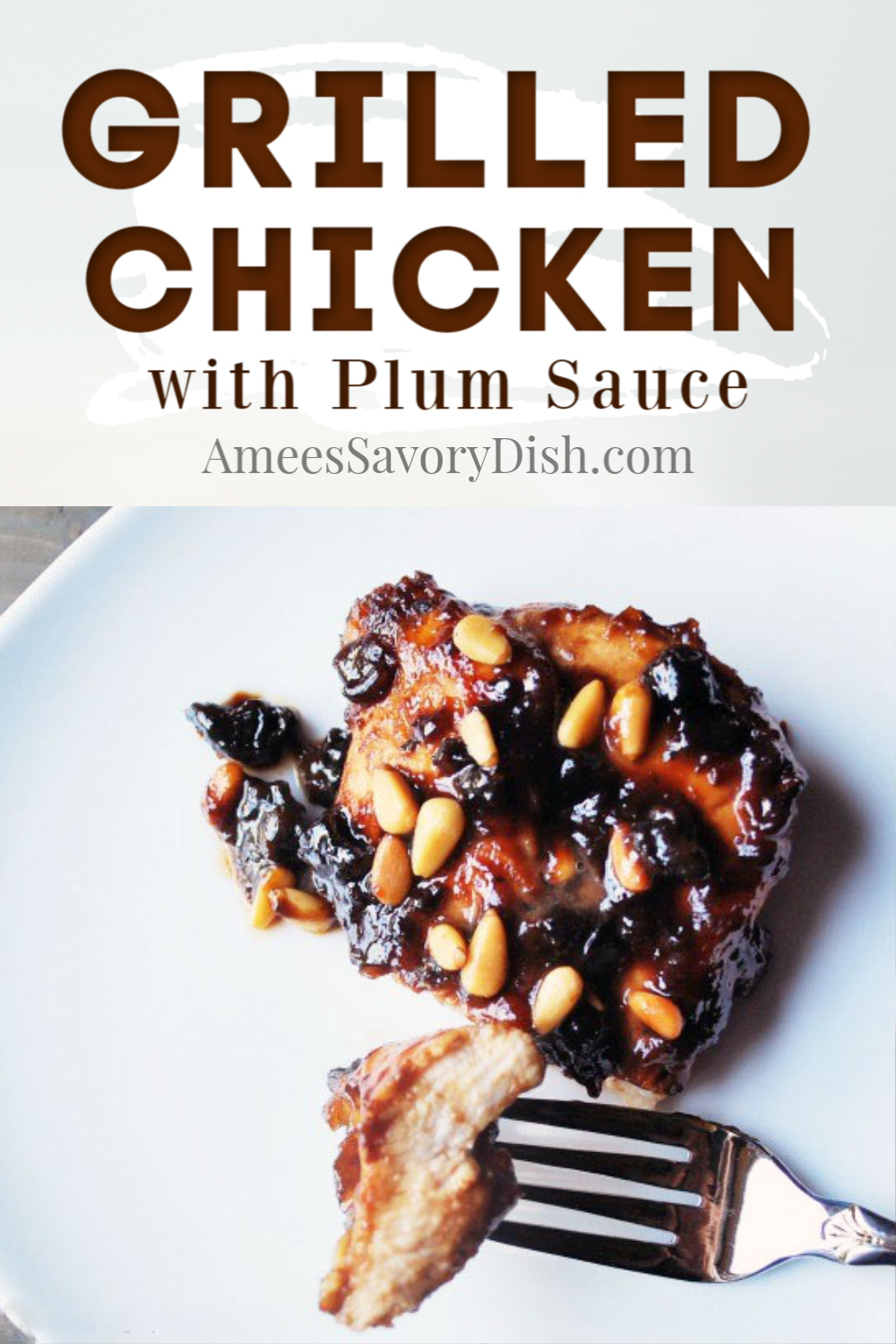 A moist and tender recipe for marinated grilled chicken with plum sauce using pureed plums and balsamic vinegar and topped with toasted pine nuts.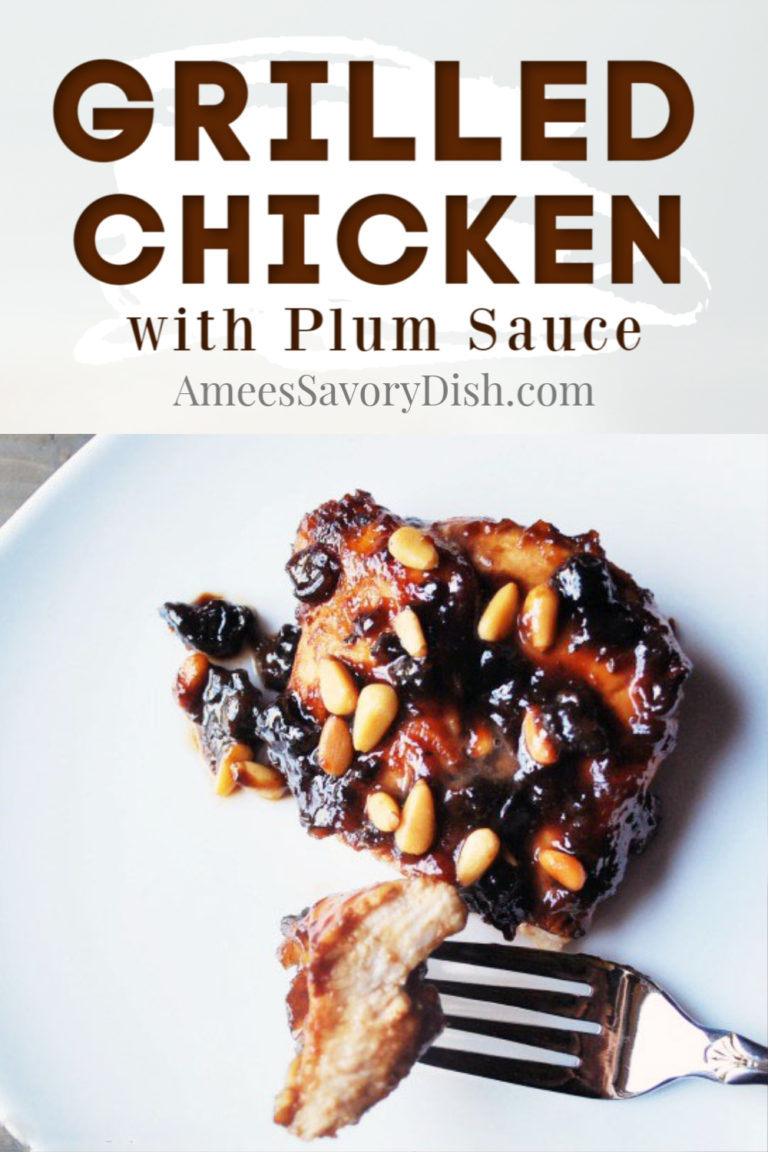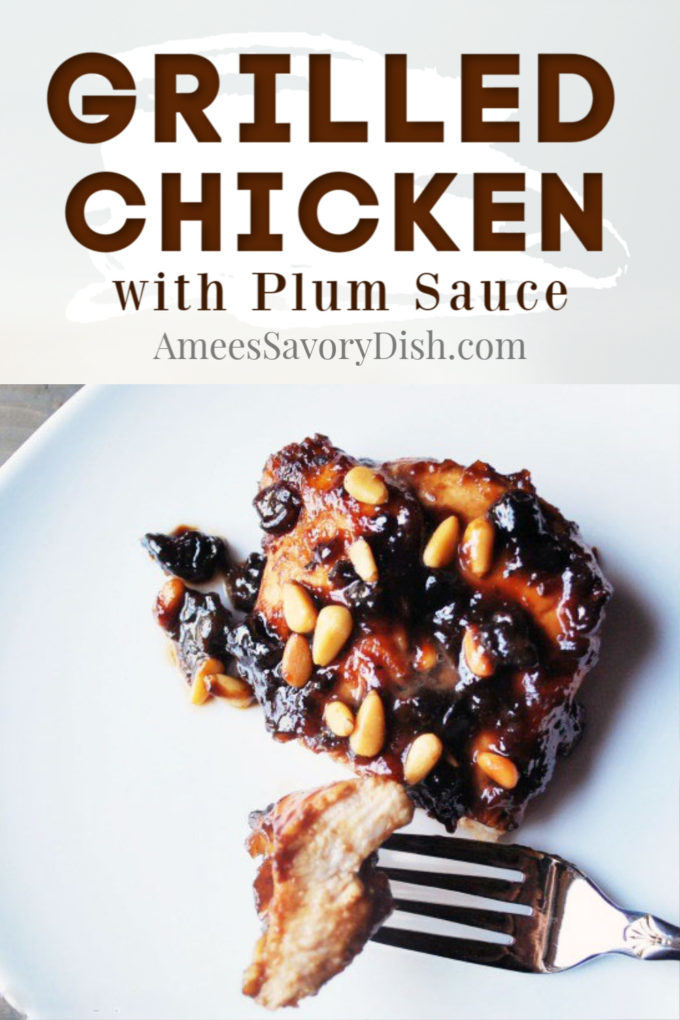 *I received free samples of California Dried Plums mentioned in this grilled chicken with plum sauce post. By posting this recipe I am entering a recipe contest sponsored by California Dried Plum Board and am eligible to win prizes associated with the contest. I was not compensated for my time.
I love to use my grill this time of year. It's an easy and mess-free way to get a good, nutritious meal on the table in a hurry. When brainstorming my recipe creation for the California Dried Plum board recipe challenge hosted by the Recipe ReDux,
I wanted to utilize some of my favorite food-enhancing properties of dried plums and use the grill for the cooking method. Dried plums impart incredible moisture to meats in a marinade and they add a wonderful natural sweet flavor to compliment a savory dish. That sweet/savory combo makes me swoon! I love how this balance of flavors creates a tasty protein-packed meal with great contrast of textures.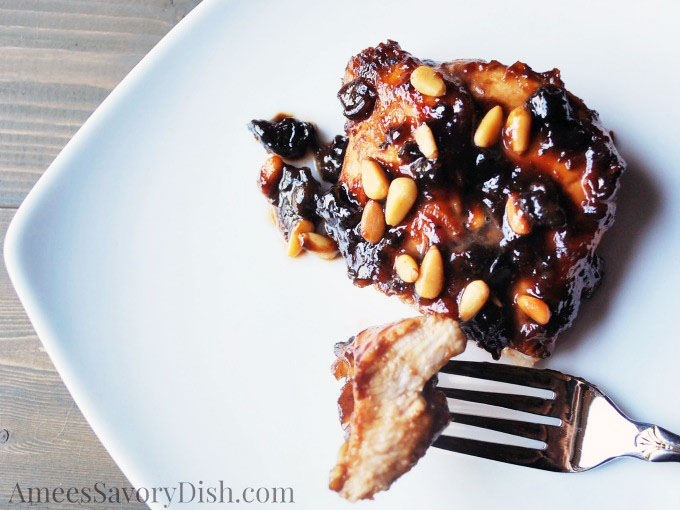 Health-Enhancing Benefits of Dried Plums
Dried plums help support healthy bones. Studies show that eating one-two servings of dried plums for one year increased bone mineral density in postmenopausal women.
Dried plums can replace fat or sugar in your recipes, reducing calories and adding wonderful flavor. You can use half the amount of fat or sugar, replacing the other half with prune puree.
Dried plums add moisture to meat and baked goods, so use in marinades, stuffings or sauces.
Natural elements in dried plums act as flavor enhancers, so they will heighten the flavors of your other ingredients while boosting the nutrient value of your dish.
California dried plums make a nutritious snack, supporting digestive health, immunity and healthy aging.
Dried plums contain less than 100 calories for one serving (4-5 plums), along with 3 g fiber, 293 mg of potassium, 16 mg magnesium and more vitamin K than any other fresh or dried fruit.
How To Make A Chicken Marinade with Dried Plums
This recipe makes a wonderful, thick marinade to yield incredibly moist grilled chicken. All thanks to this flavorful dried fruit! I also use coconut sugar in this recipe, another one of my favorite natural sweeteners. It has a nice depth of flavor and tastes similar to brown sugar. Feel free to substitute brown sugar in this recipe, if you wish.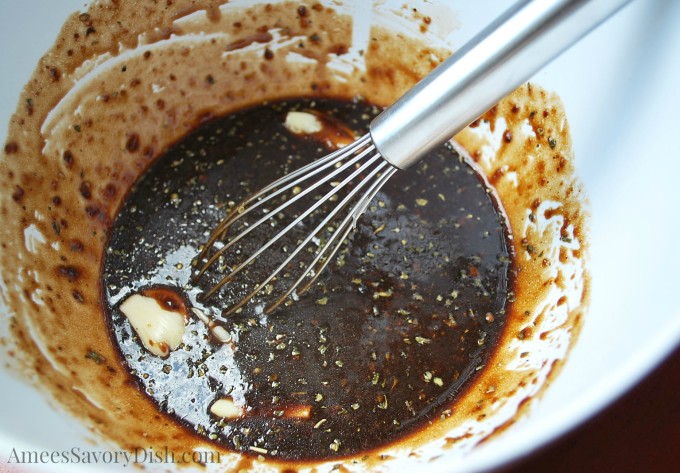 A recommendation on this dish: If you are using larger chicken breasts, use a meat mallet and pound them out to an even thickness, this will result in even heat distribution in the meat while cooking. I use smaller, organic breasts, so I can skip this extra step.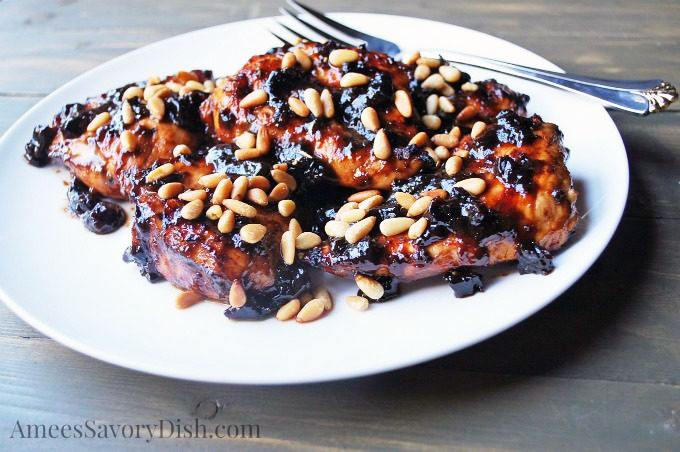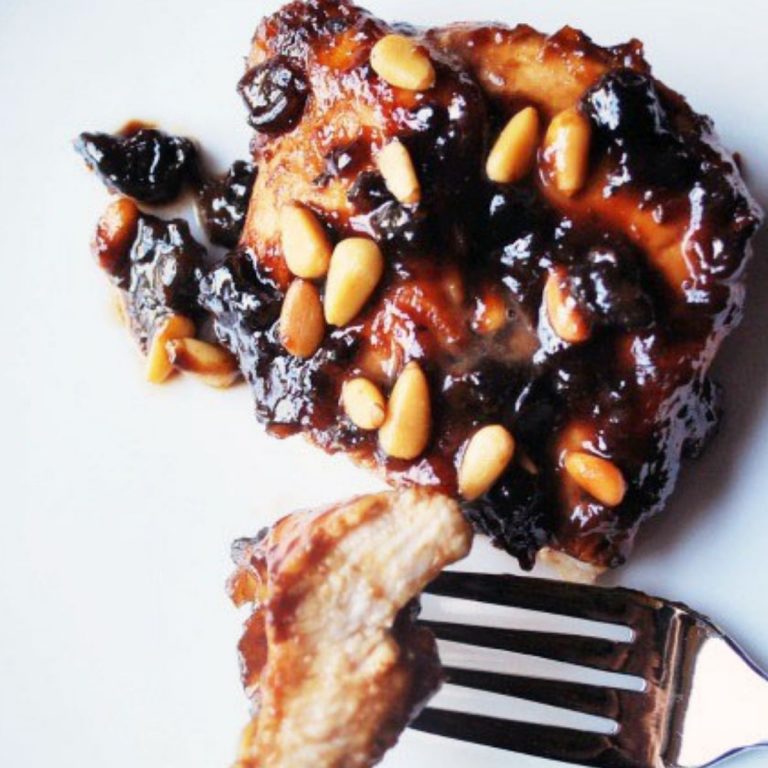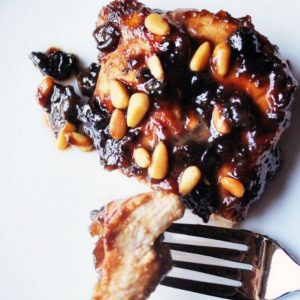 Grilled Chicken with Plum Sauce and Pine Nuts
A moist and tender recipe for marinated grilled chicken with plum sauce using pureed plums and balsamic vinegar and topped with toasted pine nuts
Ingredients
6

boneless

skinless chicken breasts (I recommend smaller 4 oz breasts they cook more evenly and have a better texture)

¼

cup

+ 2 tablespoon coconut sugar

¼

cup

extra virgin olive oil

1 ¼

cup

California dried plums

½

cup

+ 2 tablespoon good quality balsamic vinegar

3

cloves

garlic

minced

¼

cup

+ 2 tablespoon fresh squeezed lemon juice

1

tablespoon

Mediterranean seasoning blend

¼

cup

pine nuts

toasted

2

tablespoon

salted butter

salt and pepper

to taste
Instructions
First, prepare the plum puree.

Combine 1 cup California dried plums (about 18 plums) and 6 tablespoon hot water in a food processor.

Process until smooth and transfer to a measuring cup and set aside.

Now prepare the marinade for the chicken.

Combine ¼ cup coconut sugar, ¼ cup olive oil, ½ cup plum puree, ½ cup balsamic vinegar, minced garlic, ¼ cup lemon juice, 1 tablespoon Mediterranean seasoning blend in a large bowl. Season with a little salt and pepper, to taste.

Whisk to combine, the marinade should be thick, like barbecue sauce.

Add chicken breasts to marinade and pour into a sealed container.

Refrigerate for 2-3 hours for flavors to mingle and meat to tenderize.

Toast pine nuts in a skillet over medium-low heat until lightly golden and fragrant. Set aside to cool.

Preheat grill, then turn down to medium heat.

While grill is heating, prepare your sauce.

Finely chop remaining ¼ cup California dried plums and place into a small saucepan. Add 2 tablespoon balsamic vinegar, 2 tablespoon coconut sugar, 2 tablespoon plum puree and 2 tablespoon lemon juice. Cook on medium heat until mixture starts to bubble and thicken. Remove from heat and stir in 2 tablespoon butter. Set aside while you grill the chicken breasts.

Cook chicken until internal temp is 160 degrees F, turning several times and basting with remaining marinade. Allow to cook for a few minutes after final basting. Cooking time will vary with the size of the chicken breasts. I flipped the breasts about every 2 minutes and basted for a total of 4 rotations. They were good and saucy!

Serve each chicken breast with about 2 teaspoon plum sauce and top each serving with toasted pine nuts.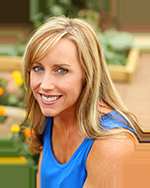 Latest posts by Amee Livingston
(see all)