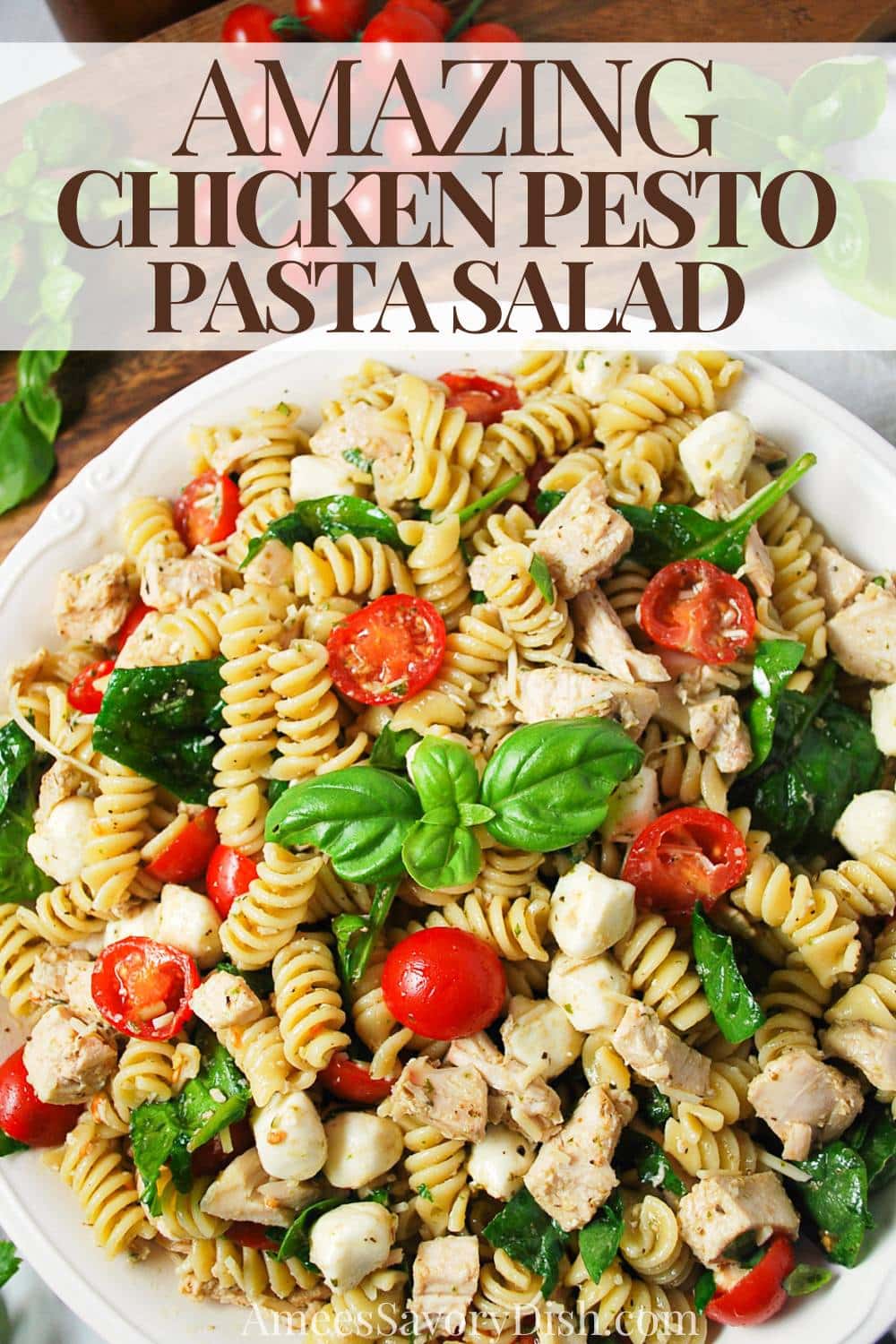 This Chicken Pesto Pasta Salad is a crowd-pleasing easy side dish, great for weeknights, backyard BBQs and potlucks. Still, with over 20 grams of protein per serving, it also qualifies as a satisfying main course -perfect for prepping once and enjoying all week.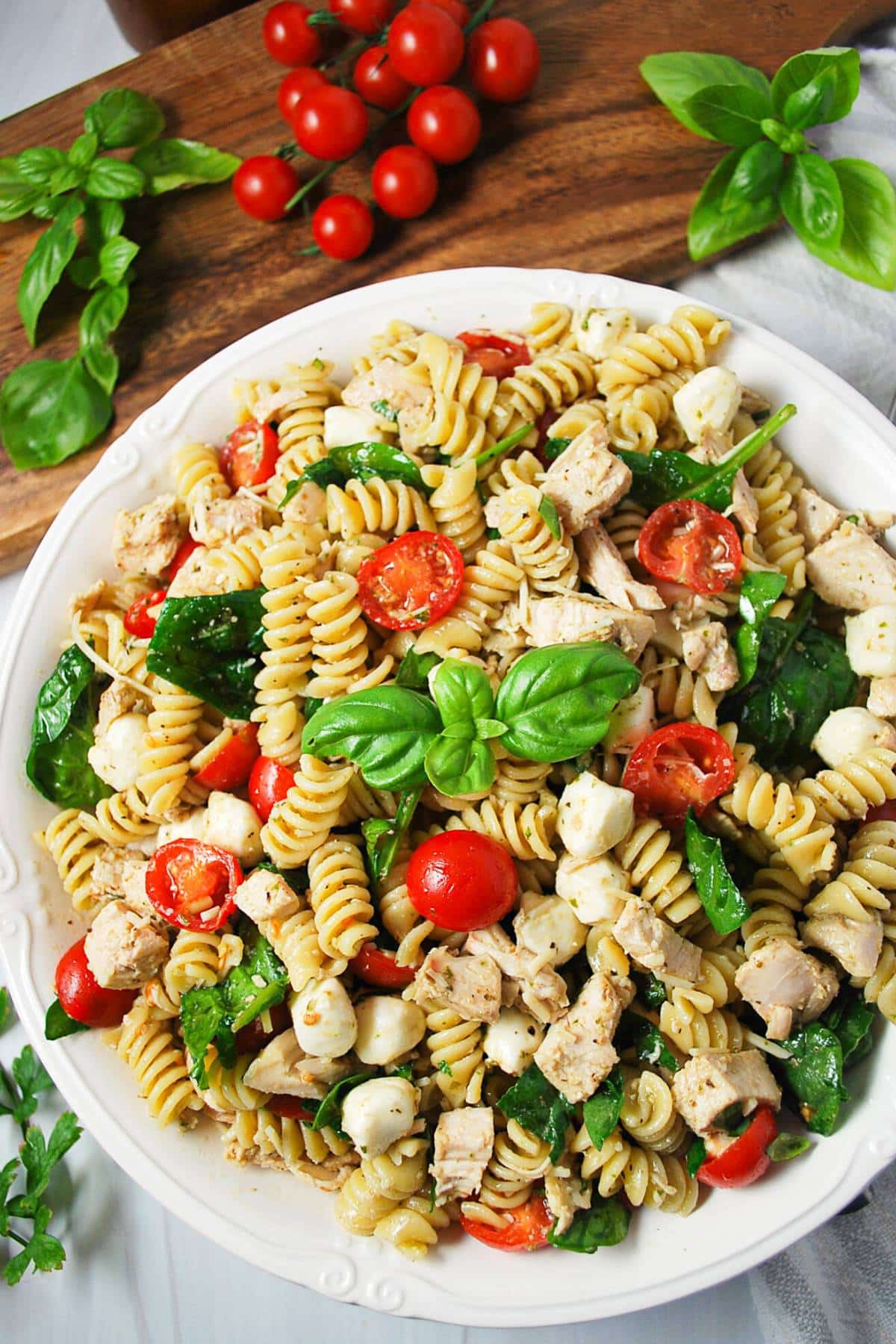 I don't usually make cold pasta salads outside of the warmer months, but I'll make an exception for this pesto chicken pasta salad, and you should too! We've had a warm fall in the south and I wanted to whip up a tasty recipe to use up the last of my fresh basil before it's gone. Even if you don't grow your own basil, this pasta salad is made with shelf-stable ingredients and fresh produce with year-round availability, so you can serve this pasta salad all year long.
Not to mention, it's loaded with fiber and packs in 23 grams of protein per serving, making it a satisfying, stick-to-your-bones pasta salad perfect for meal prep.
You get the right amount of al dente pasta, tender chicken, juicy tomato, crisp spinach, basil, and rich Italian cheese in each bite. The dressing, however, is where the magic happens. It's a simple vinaigrette enhanced with pesto, Italian seasonings, and sugar. Consider making double because you will want to drizzle this dressing on everything!
If you're a pesto lover, don't miss my skillet pesto chicken and meaty pesto lasagna while you're here, but first -pesto chicken pasta salad!
Why You'll Love This Recipe
It's an easy side dish or meal ready in 20 minutes or less!
It's made with a short list of simple, fresh ingredients plus a made-from-scratch vinaigrette.
It's packed with fiber, protein, and healthy ingredients.
You can use any pasta, including gluten-free and high-fiber pasta options.
Ingredients You'll Need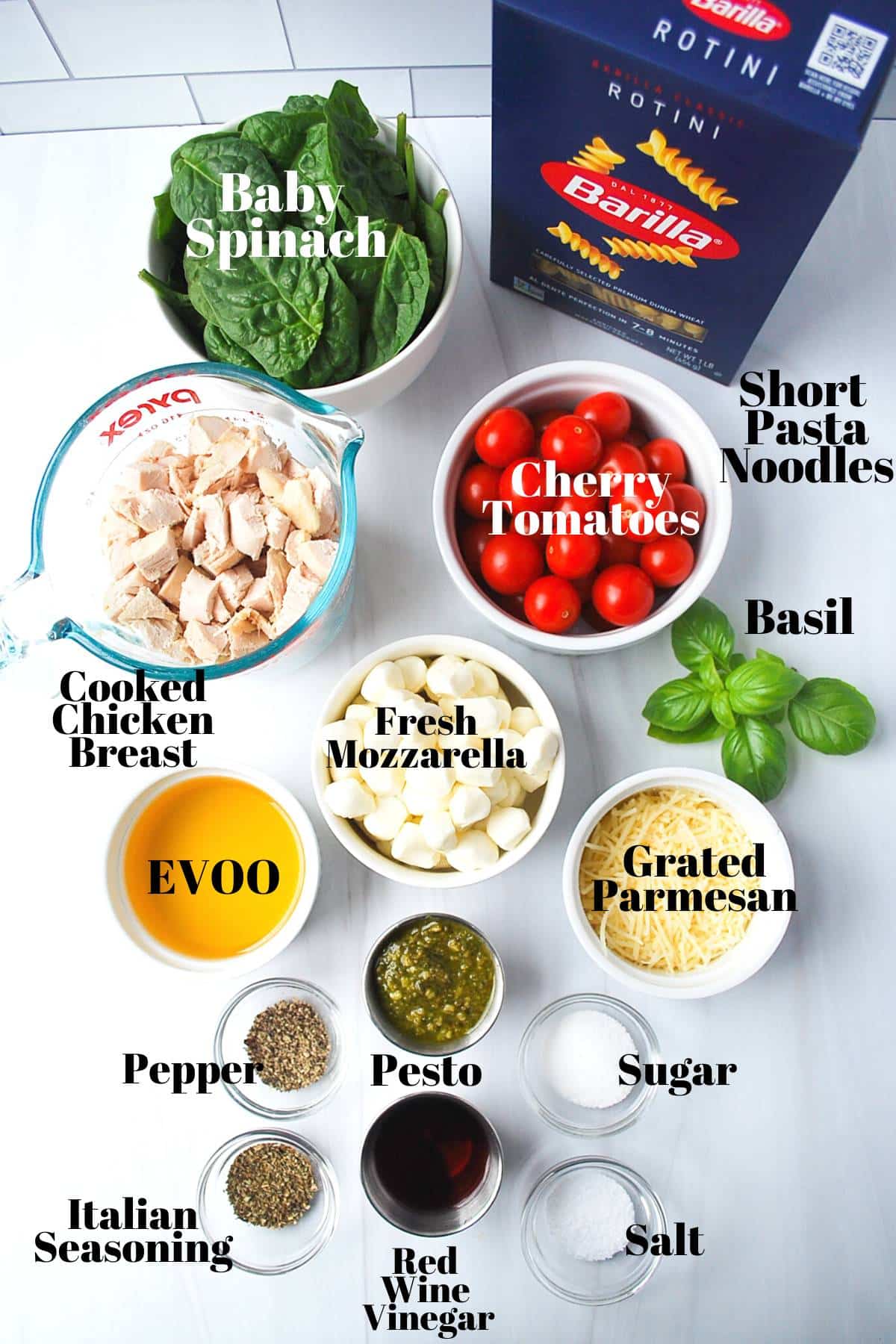 Short pasta noodles – Take your pick of regular pasta or your favorite gluten-free pasta. I like using bite-size noodles with crevices to soak up every drop of the dressing. Cellentani, farfalle, fusilli, orecchiette, penne, and rotini are excellent choices. For a protein and fiber boost, you can use a chickpea blend pasta.
Cooked chicken breast – This is an excellent dish for repurposing leftover grilled, rotisserie, or air-fried. The only prerequisite is that the chicken is tender. I love rotisserie chicken for a short-cut option.
Mozzarella & parmesan – I like using small mozzarella balls, so there's no need for slicing. If possible, use grated parmesan fresh from the block.
Cherry tomatoes - Or grape tomatoes or sun-dried tomatoes, or some of each!
Baby spinach – Or other leafy greens like arugula or chopped kale leaves.
Basil - It must be fresh. No substitutions!
Salt & fresh cracked pepper - Enhances the natural flavors of the fresh ingredients.

For the dressing
Avocado oil - This is the base of the dressing. You can also use light-tasting olive oil here.
Red wine vinegar - Adds refined, tangy. Of course, you can also use balsamic or white wine vinegar, but the taste and color of your dressing won't be quite the same.
Pesto - Store-bought pesto works great, but if you want to make homemade pesto, go for it!
Italian seasoning - Adds another layer of flavor to the salad dressing.
Sugar - Sugar cuts the bitterness and helps balance the acidic and herbaceous flavors.
How To Make Chicken Pesto Pasta Salad
Step 1: Cook and cool pasta. Start by cooking your pasta until al dente according to the package instructions. Short noodles take about 7-8 minutes, but the timing will vary depending on your pasta pick. Once cooked, immediately drain and rinse thoroughly under cold water. Drain once more and add the pasta to a large bowl.

Step 2: Combine pasta with chicken and the remaining mix-ins. Add the cooked chicken, mozzarella, tomatoes, baby spinach, basil, and parmesan to the same bowl.

Step 3: Make dressing and toss salad. Whisk avocado oil, red wine vinegar, prepared pesto, Italian seasoning, and sugar together in a small bowl. Pour the dressing over the pasta salad, season with salt and pepper, and toss until everything is evenly coated.

Step 4: Chill before serving. Cover the bowl and set it in the fridge for at least 1 hour, 8 hours maximum, to give the fresh flavors time to wake up and mingle. Give the salad another toss before serving, and enjoy!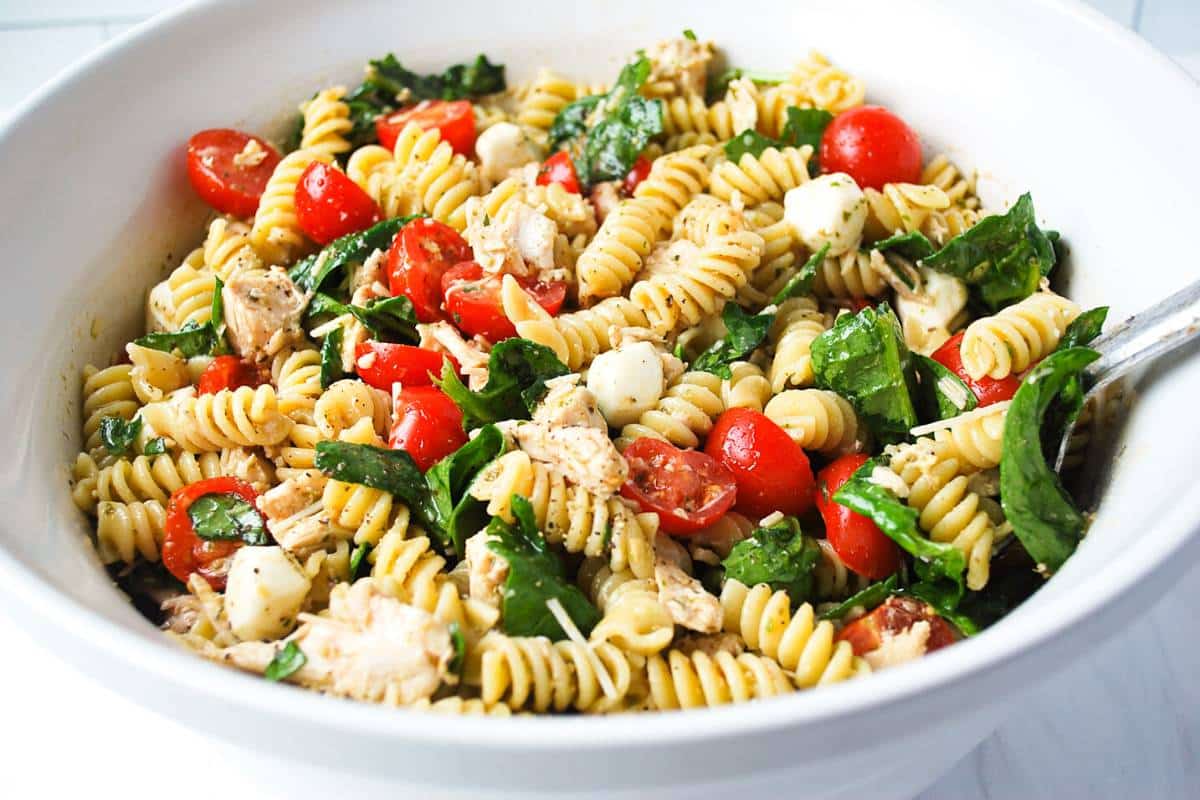 Recipe Tips
For pasta salad, the noodles are always best cooked al dente, so be sure to taste a noodle for doneness before draining the pasta pot.
I like doubling the dressing and mixing the ingredients in a mason jar. That way, I can use half for this pasta salad and refrigerate the remaining in the mason jar for 4-5 days for other uses.
I know it looks delicious and you want to dig in, but chilling chicken pesto pasta salad for at least an hour before serving gives the ingredients more time to mingle. As a result, the final dish has a more vibrant flavor.
Variations
Pasta - I like sneaking in more protein and fiber by making this pasta salad with healthier noodles. You can't go wrong with protein+, chickpea, lentil, or whole wheat pasta.

Meat-free - If chicken isn't your thing, fortunately, this pesto pasta salad is fantastic with plant-sourced proteins like chickpeas, cannellini beans, and great northern beans.
Additional veggies - Add thinly sliced red onion, blanched asparagus or green beans, diced cucumber, green or black olives, etc.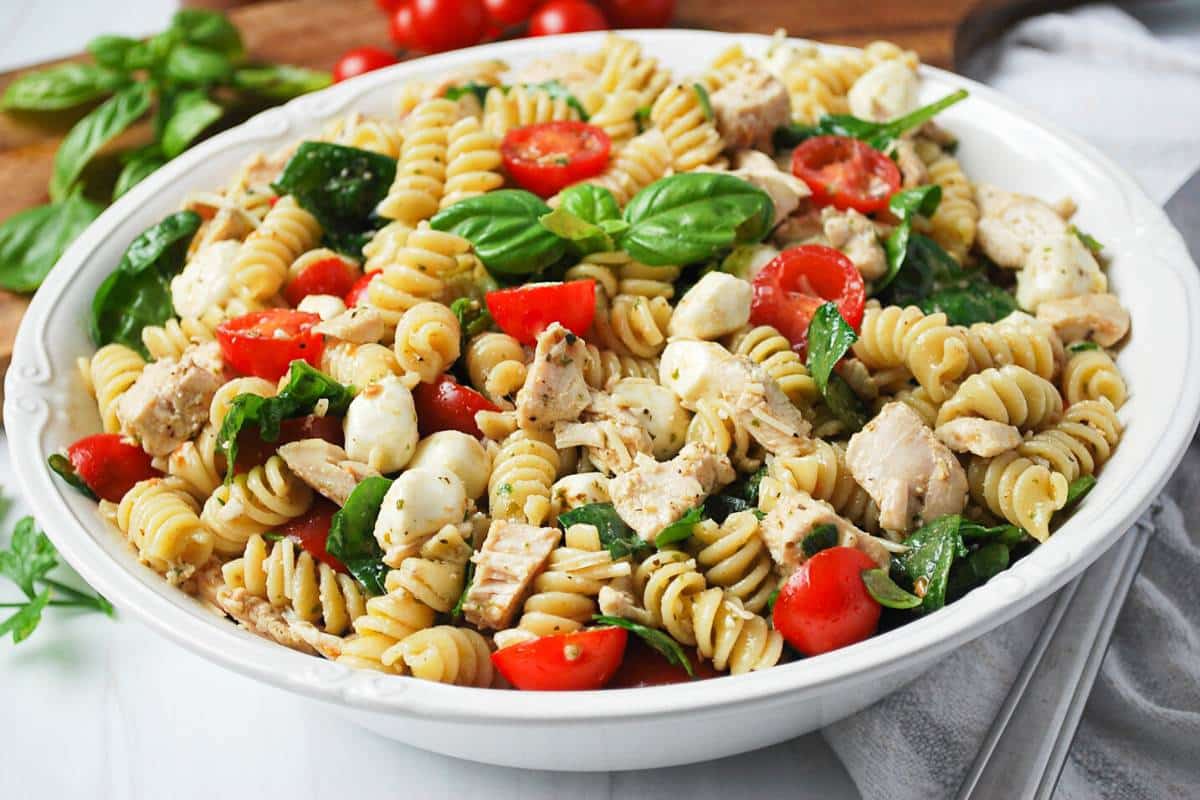 Storing
This chicken pesto pasta salad stays in the fridge for 3-4 days. The pasta will continue to absorb the dressing as it sits, so you may want to drizzle leftovers with a bit of oil or extra pesto. If you're anticipating leftovers, it's a good idea to make extra dressing specifically for bringing dry leftover pasta salad back to life.
Recipe FAQs
Can I make this with store-bought dressing?
While I encourage you to make the vinaigrette from scratch, you can also use a half-cup of store-bought Italian dressing mixed with 2-3 tablespoons of pesto.
Why is my pesto pasta salad dry?
The culprit of dry, bland pasta salad is typically undercooked pasta. When the noodles are underdone, the dressing doesn't soak in as well, ultimately falling to the bottom of the bowl. If your pasta is cooked just right but still seems dry, simply add more dressing or pesto.
How do you make creamy pesto pasta salad?
For a creamy version, combining the dressing 1:1 with sour cream or Greek yogurt should do the trick. You may need to adjust the seasonings a bit.
More Salads You'll Love
If you love this pesto chicken pasta salad recipe, I would be so grateful if you could leave a 5-star 🌟rating in the recipe card below. I love reading your comments and feedback!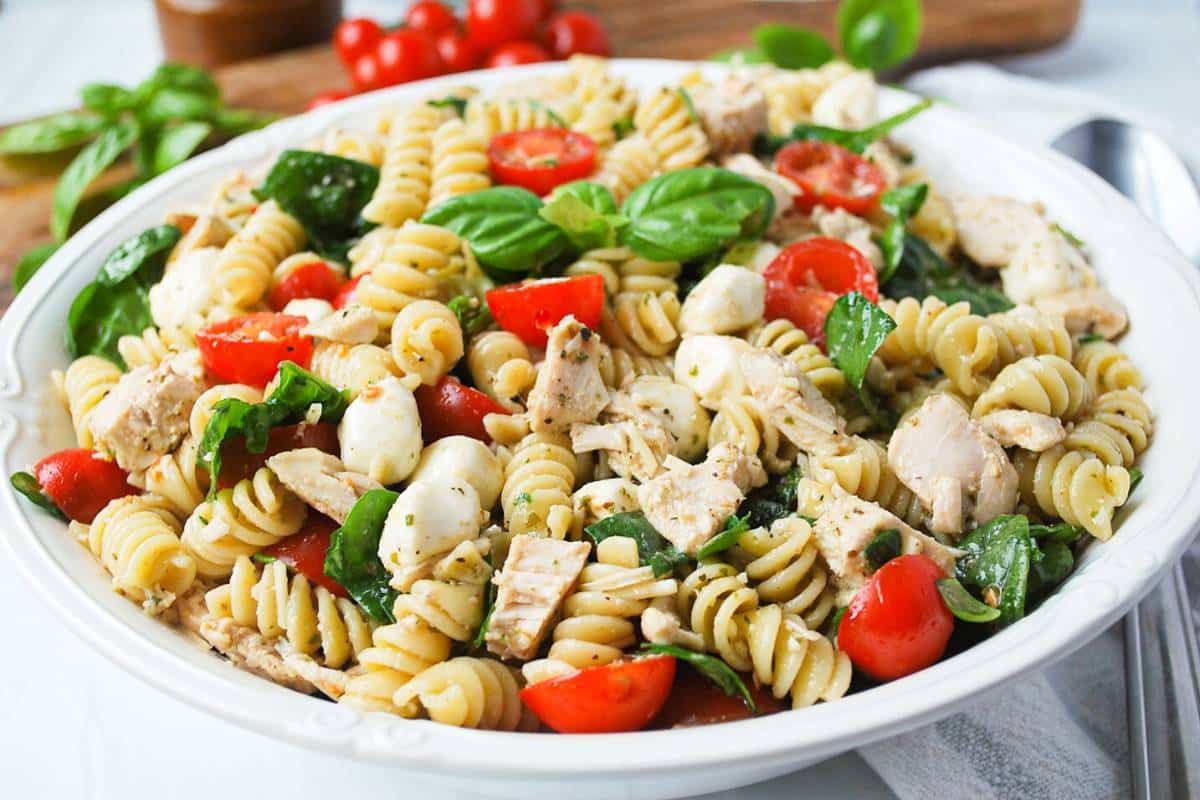 Chicken Pesto Pasta Salad
Pasta salad made with tender chicken, tomatoes, baby spinach, fresh basil, and rich Italian cheese tossed in a flavorful pesto dressing.
Ingredients
16

oz

short noodle pasta

of choice

16

oz

chicken breast

cooked and shredded. Leftover grilled chicken, poached chicken, or rotisserie chicken work great here.

8

oz

fresh mozzarella

I use the small mozzarella balls, so no need for slicing.

1

pint

cherry tomatoes

sliced in half

2

cups

fresh baby spinach

⅓

cup

Parmesan cheese

shredded or freshly grated

1

tbsp

fresh basil

chopped

salt and fresh cracked pepper

to taste

For the dressing:

½

cup

avocado oil

or light olive oil

3

tablespoon

red wine vinegar

3

tablespoon

prepared pesto sauce

store bought or homemade

1

teaspoon

Italian seasoning

1

teaspoon

sugar
Instructions
Cook pasta according to package directions for al dente, about 7-8 minutes depending on the type of pasta. Drain, rinse under cold water, drain again and set aside in a large bowl.

Add shredded or chopped cooked chicken breast, mozzarella, tomatoes, baby spinach, basil, and parmesan cheese.

In a small bowl, whisk the dressing ingredients together until combined and pour over the pasta salad. Season with salt and pepper, to taste, and toss to mix.

Cover and chill for 1 hour and up to 8 hours for the flavors to mingle. Toss well before serving.
Notes
For pasta salad, the noodles are always best cooked al dente, so be sure to taste a noodle for doneness before draining the pasta pot.
I like doubling the dressing and mixing the ingredients in a mason jar. That way, I can use half for this pasta salad and refrigerate the remaining in the mason jar for 4-5 days for other uses.
I know it looks delicious and you want to dig in, but chilling chicken pesto pasta salad for at least an hour before serving gives the ingredients more time to mingle. As a result, the final dish has a more vibrant flavor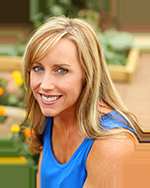 Latest posts by Amee Livingston
(see all)