This pudding is rich and heavenly.  If you love dark chocolate, then you will love this decadent and creamy pudding.  It has no dairy, no flour and no refined sugar and it's Paleo "cheat" friendly. Bliss.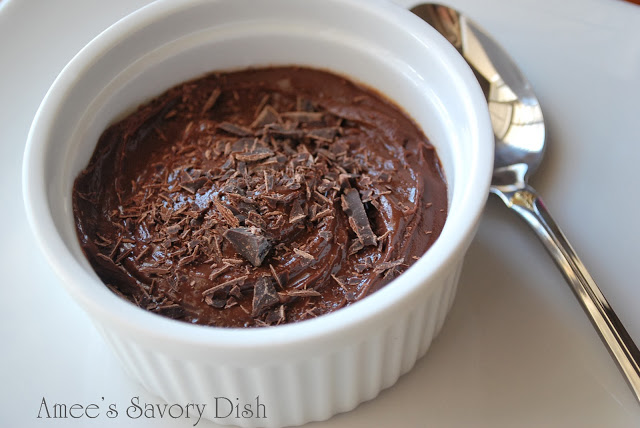 Chocolate Coconut Pudding
Adapted from Paleo Comfort Foods
Ingredients:
1/3 c. raw local honey
1/4 cup arrowroot powder
3 tbsp. good quality cocoa powder
1 can full-fat coconut milk
4 oz good quality dark chocolate, chopped into small pieces (*make sure it's dairy free such as Enjoy Life Brand)
1 tsp. vanilla extract
2 large egg yolks
Directions:
In a bowl, whisk together arrowroot powder, cocoa, vanilla and 1/4 cup coconut milk until smooth. In a small saucepan, combine the honey and the remaining coconut milk over medium heat and cook until until it comes to a low simmer.  Add in dark chocolate and stir constantly until chocolate is smooth and completely melted.  Add in the cocoa mixture and whisk continuously until smooth.  In a small bowl, whisk the egg yolks to break them apart, stir in a little of the coconut milk mixture, then pour it all into the saucepan.  Return to a low boil, whisking constantly until mixture coats the back of a spoon.  Pour into ramekins and place plastic wrap directly on the surface to prevent a "skin" from forming.  Chill in the refrigerator and serve cold.  I like to garnish these with a little shaved dark chocolate.  Dig in and enjoy.