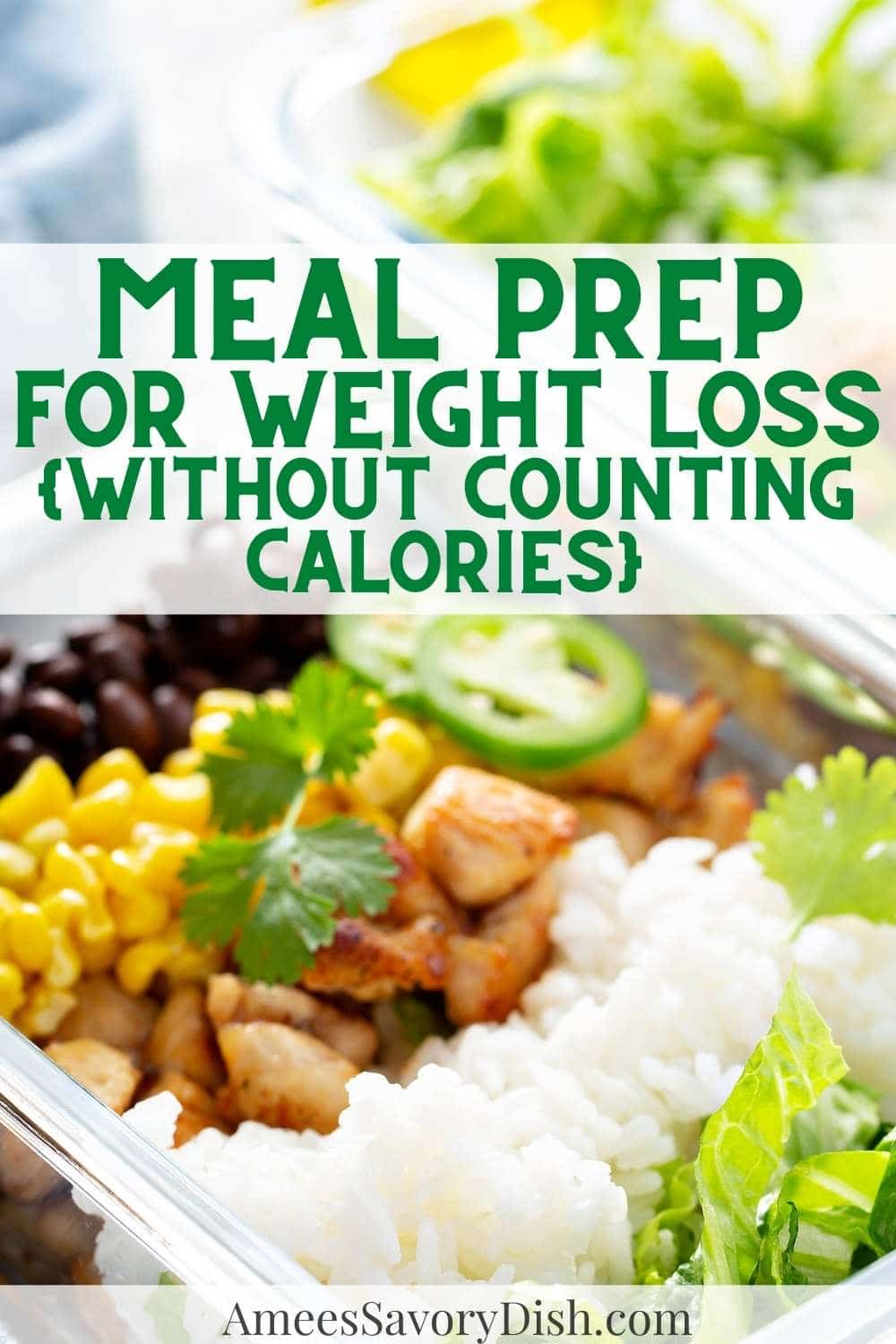 Here you'll find simple and practical tips to meal prep for weight loss without counting calories. The key to meal prep is making it easy enough to do week after week and preparing nutritious meals that you actually enjoy. Meal prepping saves you money, time, and helps you stay on track to reach your weight loss goal.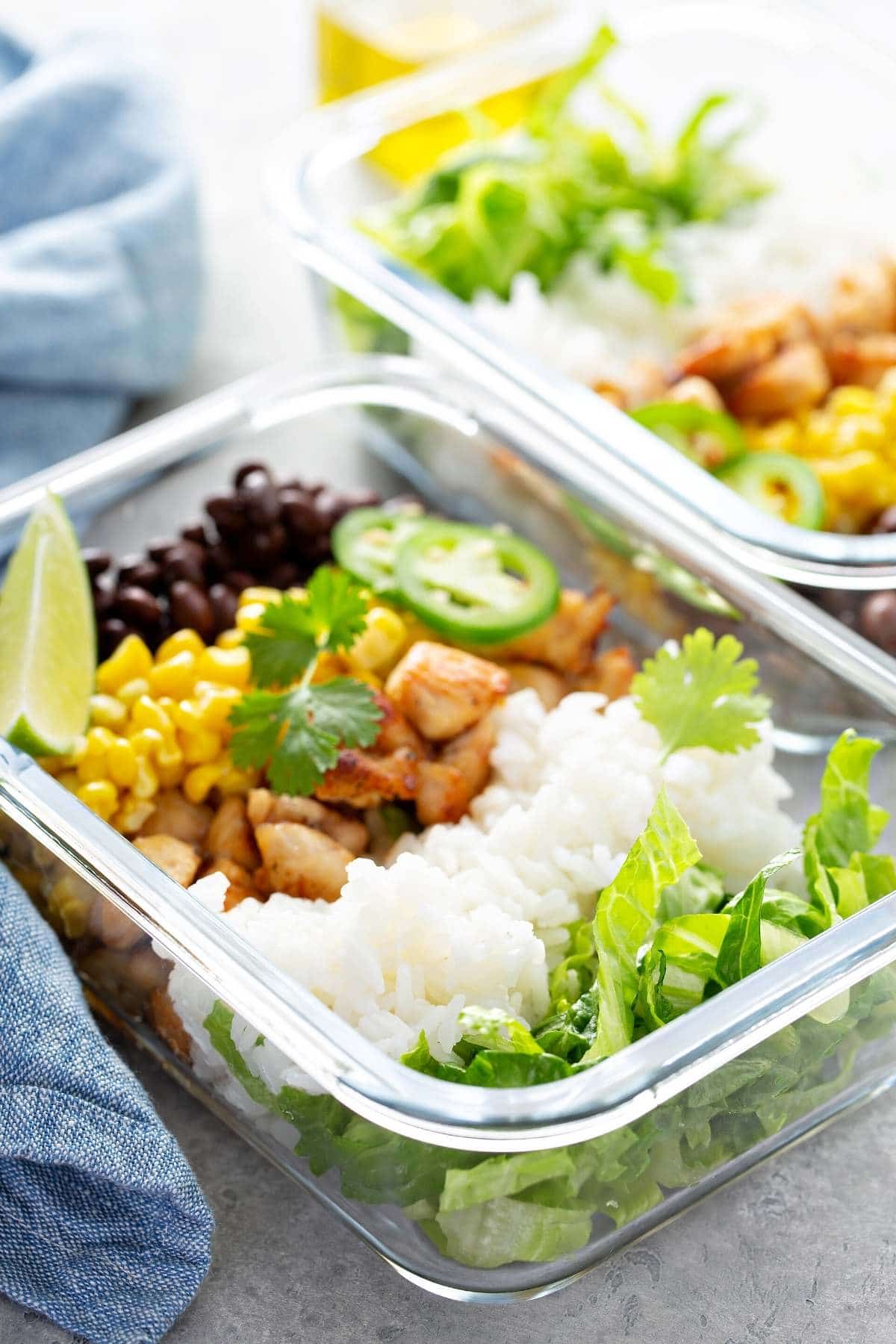 Why Meal Prep?
You might be thinking that the idea of meal prep sounds overwhelming, but it's actually quite simple once you establish an organized process and have all the right tools in place. Meal prep helps you save time, save money, control portions, and achieve your health-related goals. Whether your goal is weight loss, building muscle, or improving overall eating habits, establishing a meal prep routine creates the foundation for success. Here are my top three reasons to meal prep:
Consistency. The number 1 reason that meal prep helps with achieving a weight loss (or muscle gain) goal is that it creates a consistent meal routine. If you have healthy meals readily available, it's much easier to be consistent and stay on track with good eating habits. Meal prep is all about establishing a ritual that takes the guesswork out of what's for dinner. The healthiest people are consistent with both their nutrition and their fitness routine. Make it as easy as possible.
Saves Time- Planning ahead will be your lifesaver on busy days. When you dedicate some time, one day a week, to cook your meals, then it's as simple as heating it up on a busy weeknight.
Eat Healthier- No more hangry trips through the drive-thru! Instead of hitting the drive-through because you're starving and need something quick, you'll be prepared with nutritious options to serve in a flash.
Planning Is Key
It's so important to plan ahead to stay on track with your healthy eating goals. Whenever I ask people what their biggest obstacle is when it comes to making good food choices, the answer is often "I don't have time to cook healthy food". When you dedicate some time, one day a week, to prepare your ingredients, then it's as simple as warming-up your meal on a busy weeknight.
Pick a day to plan your meals and recipes for the week.
Prepare a shopping list. This not only prepares you to cook, but saves money too! No more impulse purchases. We all know what happens when we shop hungry, so make sure you are not hitting the store in a hangry state.
Pick a day to prepare your lean protein sources, grains, and chop your vegetables. Batch cooking is our favorite way to prep protein. Wash and chop all of your vegetables so that they are ready for quick steaming or snacking. Doing this one simple step puts you ahead of the game during the week if you're like me and prefer to not cook all the veggies ahead of time.
Make freezer smoothie packs for breakfast shakes so all you need to do is add the liquid. I share tips for this in my Tropical Blueberry Kale Smoothie recipe post. There are so many smoothie recipes on Amee's Savory Dish for your smoothie inspiration!
Store your prepared items in convenient containers. We also freeze extra cooked meat in large freezer-proof containers. That way I have cooked protein ready for a healthy casserole, soups, or salads. These California Beef Burger Bowls are the perfect way to use pre cooked lean ground beef.
Focus On Nutrient Dense Foods
Sticking to whole unprocessed foods is one of the easiest ways to build a nutritious plate without tracking calories. It's much harder to overeat whole foods than processed foods. Not that there's anything wrong with enjoying those foods occasionally, but the goal here is to keep it simple.
Choose lean, complete protein sources: lean beef, bison, wild game, pork tenderloin, chicken, fish, eggs, lentils, tofu, etc. Pick proteins that you enjoy, whether it's animal or plant-based protein. We'll cover preparation tips in the next section.
Prioritize healthy fats over bad fats. Go for mostly monounsaturated and polyunsaturated fats, like olive and avocado oils, and keep saturated fats in check. Avoid foods with trans fatty acids aka hydrogenated fat.
Include a serving of vegetables at every meal. A colorful plate is a healthy plate!
Go for fiber-rich sources of carbohydrates. These sources of whole-grain carbohydrates digest slower and have a more favorable blood sugar response after eating them. Depending on your body type and activity level, carbohydrate needs can vary. Athletes sometimes opt for fast digesting carbs in their post-workout meal and that works, too. You do you. Remember, these are generalized tips to guide you, not custom dietary advice.
Portion Control Matters
One of the easiest tips for portion control is to eat slowly until you are 80% full. It takes 20 minutes from the start of the meal for your brain to receive a signal that you're full. Putting down your fork between bites is an excellent way to slow the pace at mealtime. Another easy way to control how much you eat is to measure by simply using your hand.
Protein= 1-2 palms
Vegetables= 1-2 fists
Carbs=1-2 cupped handfuls
Fats=1-2 thumbs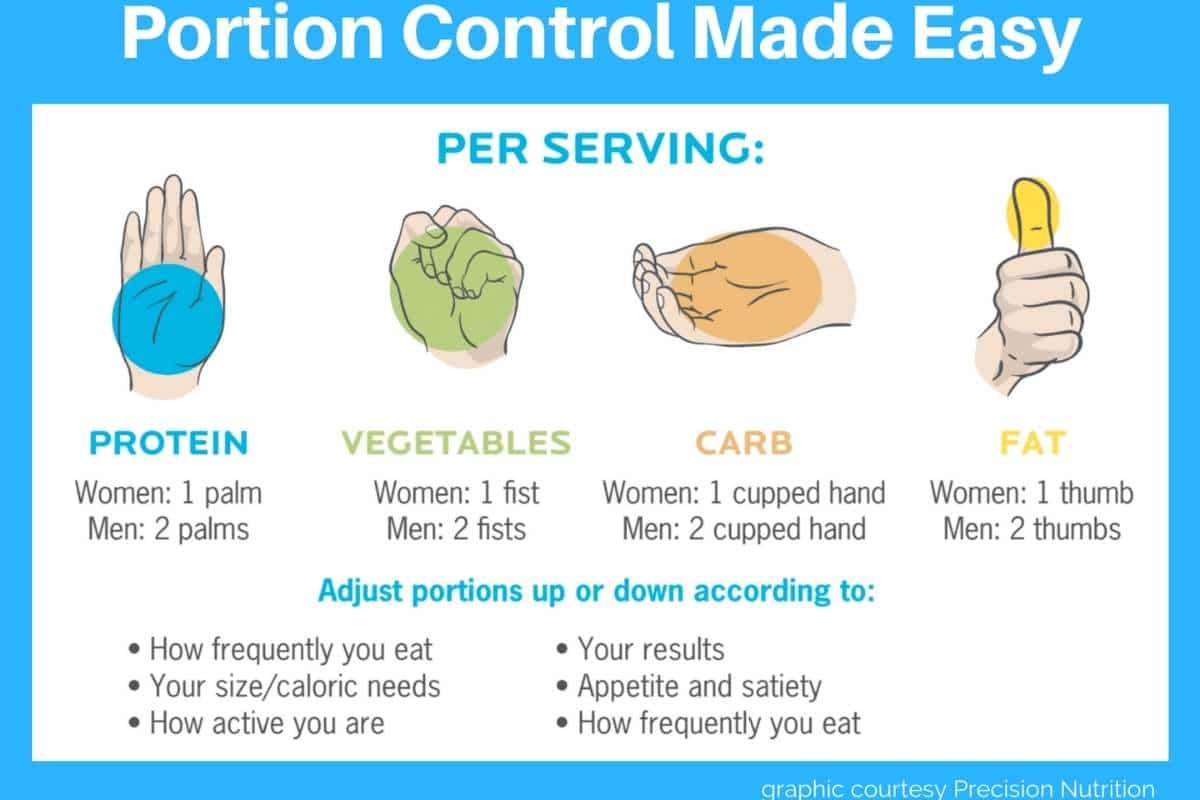 You can use this simple "handy" guide when assembling your prep into containers for the week. This is my favorite method of portion control without the need to track calories that I learned as a Precision Nutrition Certified Coach.
How To Batch Cook For Meal Prep
Batch cooking is our favorite way to prep. This way, I can switch up the meals for the week without having to eat the same thing day after day. Fruits don't need much prep and vegetables are super quick and easy to cook, so I make them fresh every day. We pick one day, usually Sunday, to grill or cook all of our meat, bake our sweet potatoes, brown rice, quinoa, and steel-cut oats, and package them up in separate containers to store for the week. I wash and chop vegetables and store them in produce-preserving containers for snacking and quick steaming or sautéing during the week.
Our go-to protein meal planning recipes are marinated chicken breasts (we love this Best-Ever Chicken Marinade), 96% lean (4 oz) beef burgers, marinated flank steak, pork tenderloin, hard-boiled eggs (here's a great tip on making Perfect Hard-Boiled Eggs), and sheet pan meatballs.
Helpful Tools For Meal Prep
Helpful Tips For Success
Now it's time for you to go plan out all of your meals and find something fun to do with all your extra free time! Once you get a hang of meal prep you'll be a pro in no time! If weight loss or improving your health is your goal, here are my top ten tips for success.
Focus on the fiber shooting for 25-30 grams of fiber each day. Great sources of dietary fiber are beans, whole grains (oatmeal is a personal favorite), popcorn (I love air-popped popcorn for a fiber boost), acorn squash, berries (top oatmeal with raspberries or blackberries and you have an awesome fiber-rich combo!), chia seeds, etc.
Eat whole, minimally processed foods and try to limit refined flour and sugar as much as possible.
Go for healthy sources of fats like olives, avocados, nuts, and seeds. For the thumb-size portion of fat, it's about a tablespoon of nut butter, olives, olive oil or ¼ of an avocado per meal for a woman and double that amount for a man. It's also fine to enjoy real butter, cream, coconut oil, and egg yolks in moderation as a portion of your fat intake.
Choose lean sources of protein and shoot for 20-30 grams at each meal. A palm-sized portion of lean protein is about 3-4 oz. My favorite sources of lean protein are lean ground beef (90% or leaner), lean steak cuts, fish, chicken, egg whites (I usually do 1-2 whole eggs and 2-3 whites, the yolk can count towards your fats for the meal), cottage cheese, yogurt, and pork tenderloin. It's great to have a variety of tasty protein sources in your diet to keep things interesting.
Eat 5-6 servings of vegetables every day. Carbs are not the devil. There are great sources of carbohydrates that you shouldn't avoid like nutrient-dense vegetables, so eat them daily and eat them often!
Avoid drinking your calories. Try to stick to water, unsweetened tea, and coffee. This can make a big impact over time and you'll stay hydrated without raising your blood sugar. Limit alcoholic beverages to special occasions.
Drink up the H20! Shoot for half your body weight in ounces of water. You can even add a small pinch of salt to your water for better absorption.
Keep a food journal to keep track of food intake and eating habits. You don't have to count calories to be successful, but tracking can be really helpful to help you recognize your eating patterns and how you can improve them. Tracking my food, periodically, is really helpful for me to hit my protein and fiber goals. I like to journal to stay focused. *Nutrition tracking can be triggering for people who have disordered eating tendencies, so it's not for everyone. Seek counsel from a registered dietitian when necessary.
Incorporate probiotic and prebiotic-rich foods in your diet. Gut health can have a huge impact on your body composition and weight loss efforts. You may remember this tip from my post about What You May Be Missing In Your Weight Loss Strategy.
Eat slowly and stop at 80% full. This tip seems simple, but it can be really effective at reducing your overall food intake and improving your digestion process. Digestion begins with enzymes in your saliva, so take time to chew slowly and put down the fork between bites. Shoot for a minimum of 15-20 minutes per meal. This also allows time for an engaging conversation around the dinner table and a great opportunity to spend time with family.
More Tasty Meal Prep Recipes
50 Easy Breakfast Meal Prep Recipes
Protein-Packed Meal Prep Instant Pot Recipes
*This post was originally published December 14, 2016 and has been updated throughout.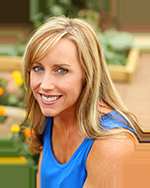 Latest posts by Amee Livingston
(see all)