Coconut curry chicken soup is so full of flavor, it will rock your taste buds!!  I love this crockpot recipe for a spicy soup that makes a comforting wintertime meal.  Not to mention, it's incredibly healthy and super easy to make. Bonus!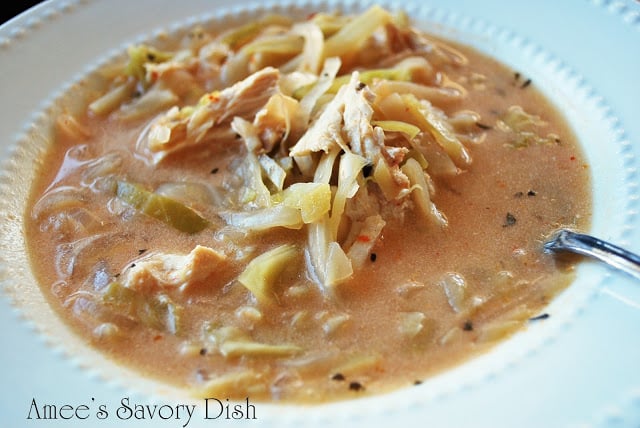 I hope you love this comforting coconut curry chicken soup recipe.


Ingredients:
6 small organic boneless chicken breasts
1 tbsp olive oil
2 (14oz) cans (full fat) coconut milk
2 1/2 cups chicken broth
2 tbsp lime juice
3 cloves garlic, minced
1 tsp sea salt
1 tsp freshly ground black pepper
3 tbsp red curry paste 
1 tbsp Thai sweet basil, chopped or dried basil
1 cup chopped sweet onion
1/2 head cabbage, chopped

Directions:
Brown chicken breasts in a large skillet over medium-high heat for about 2 minutes per side.  Transfer chicken breasts to the slow cooker.  Stir all other ingredients together, mixing until paste is completely dissolved.  Pour into crockpot over chicken.  Fold in onion and cabbage and stir well.  Cook on low 6 hours, stir down cabbage after a couple of hours to prevent it from sticking to the sides.  The cabbage should be submerged in the broth after stirring.  Shred chicken before serving.    
More crockpot chicken recipes to try:
Simple Crockpot Italian Chicken
Creamy Prosciutto Mushroom Chicken