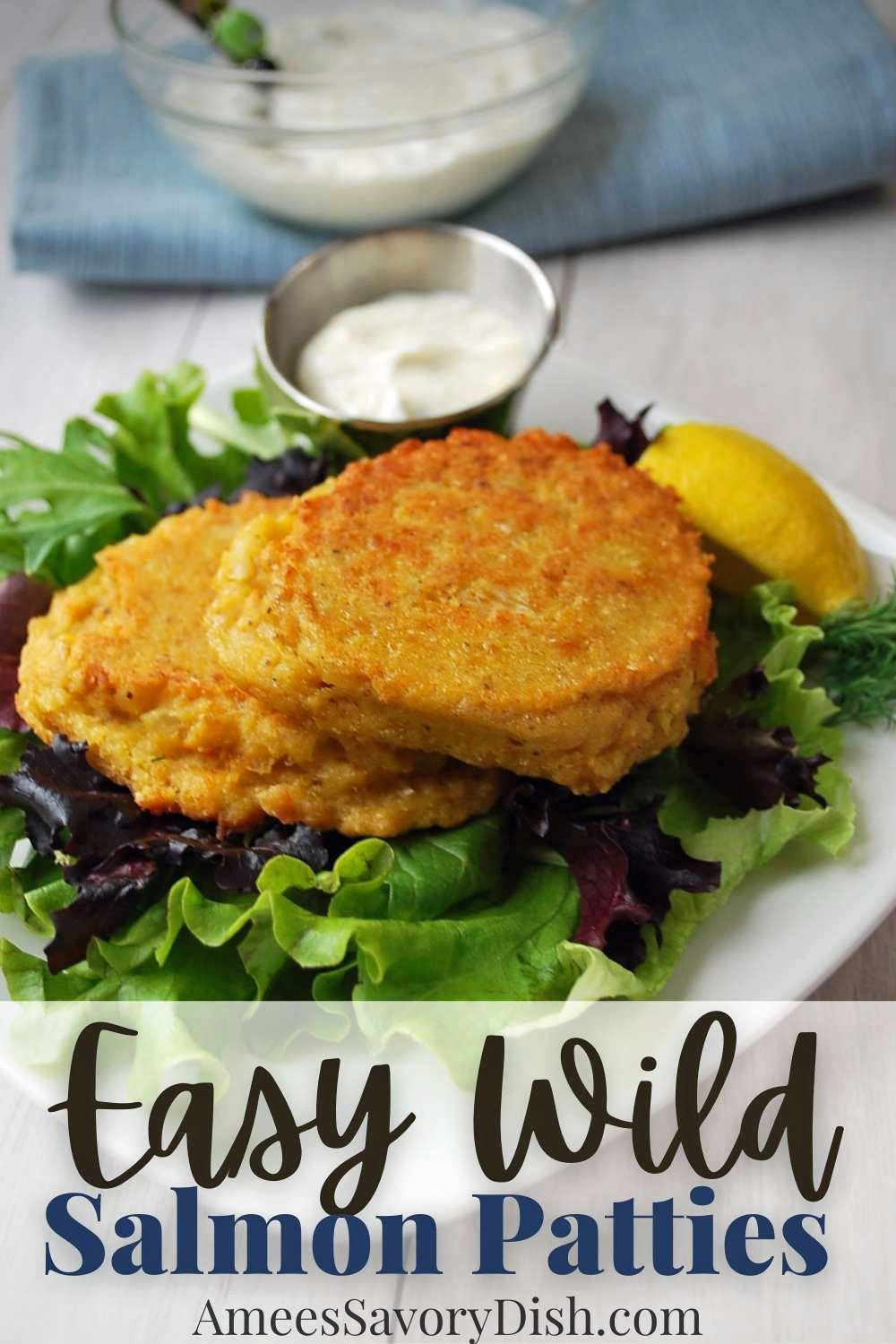 A simple recipe for sautéed salmon patties topped with a flavorful lemon dill yogurt sauce made with wild Alaskan salmon and gluten-free breadcrumbs. *This is a sponsored conversation written by me on behalf of Acme Markets. The opinions and text are all mine.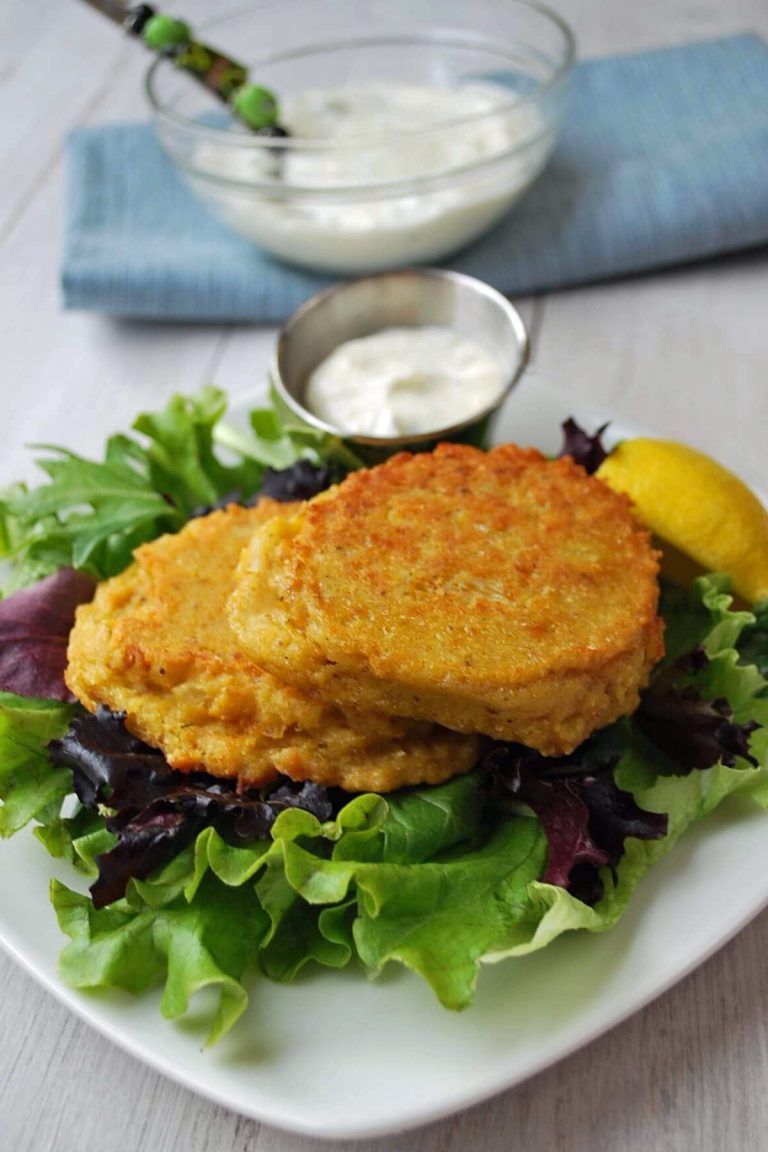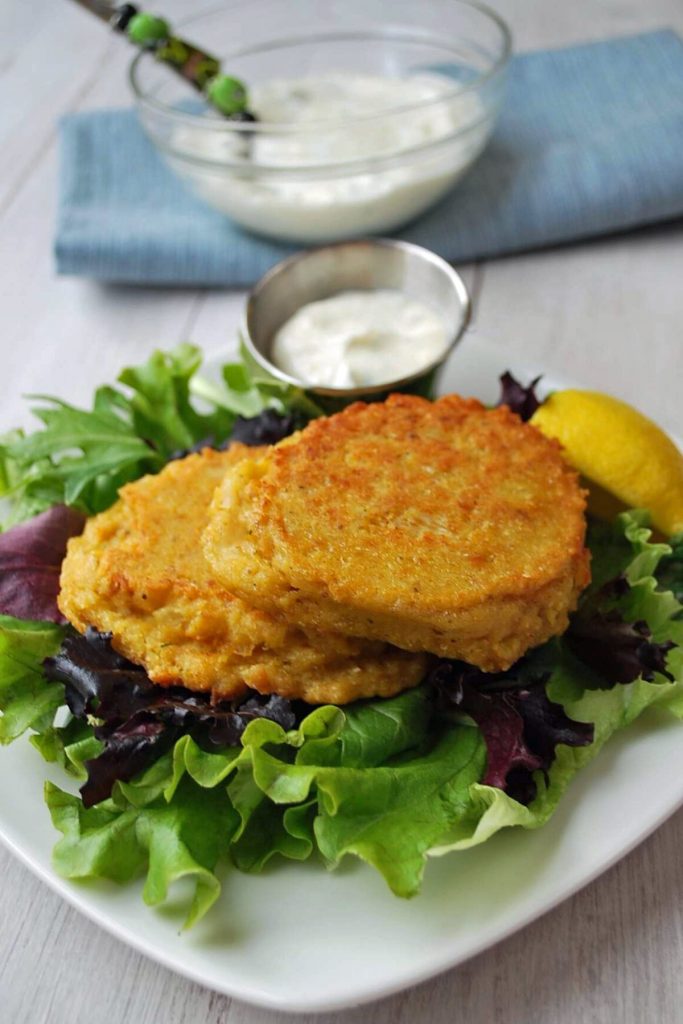 Craving a tasty seafood dish that you can prepare in no time? If so, try this Wild Salmon Patties with Lemon Dill Sauce recipe to create a refreshing, healthy, and flavorful meal. The salmon patties are wonderful but the yogurt sauce for the salmon patties really takes them to the next level. Let me show you how to make this easy seafood dish.
Do you have a recipe that you love to make over and over again? These salmon patties are one of those recipes for us. We make them as often as possible because they are easy to make, gluten-free, full of flavor, and packed with healthy ingredients.
What Are Salmon Patties?
Salmon patties are similar to crabcakes, but they are made with canned salmon instead of crabmeat. You will use salmon, breadcrumbs, onions, and other ingredients to create a mixture that you will shape into the form of a patty and serve with a delicious yogurt dill Sauce.
Recipe Ingredients
You'll need the following ingredients for this recipe:
Canned Wild Alaskan Salmon. Grab a 12 oz. can of the salmon to use when preparing the patties.
Eggs. Beat your eggs lightly before using them with the salmon and other ingredients
Gluten-Free Breadcrumbs. The breadcrumbs add flavor to the patties and make them a bit thicker.
Vidalia Onion. Chop the onion into the smallest pieces possible.
You will also need cornmeal, garlic powder, lemon juice, butter, paprika, salt, and pepper.
Besides the ingredients for the canned salmon patties, you will need certain ingredients to prepare the yogurt dill sauce. The sauce ingredients include:
Greek Yogurt. Grab 2% plain Greek yogurt. The brand of the yogurt is not important.
Lemon Juice. Squeeze a lemon to get the juice to add to your sauce.
Lemon Zest. Enhance the flavor of your sauce with a bit of lemon zest.
Dill. Chop your fresh dill into pieces.
Dijon Mustard. Use the dijon mustard to give your sauce a slightly sweet taste.
Recipe Instructions
Mix the Ingredients
Open the can of salmon and drain it to get rid of the excess water. Put the salmon into a bowl, check for bones, and then add your cornmeal, breadcrumbs, eggs, garlic powder, onion, and lemon juice into the bowl. Mix these ingredients well.
Shape the Patties
Begin shaping your salmon mixture into six patties. Add a bit of salt, pepper, and paprika to each of the patties.
Cook the Patties
Place a skillet on the stove and add butter to it. Allow the butter to melt before adding your patties to the skillet and cooking them until they are golden on both sides. Remove from heat and cover with foil while you prepare the sauce.
How To Make Sauce For Salmon Patties
Follow these steps to make the perfect Yogurt Sauce to eat with your homemade patties.
Mix the Yogurt
Combine the yogurt in a bowl with lemon juice, lemon zest, fresh dill, and dijon. Mix well.
Serve with Salmon Patties
Drizzle your sauce over the salmon patties after putting the patties on top of the artisan lettuce.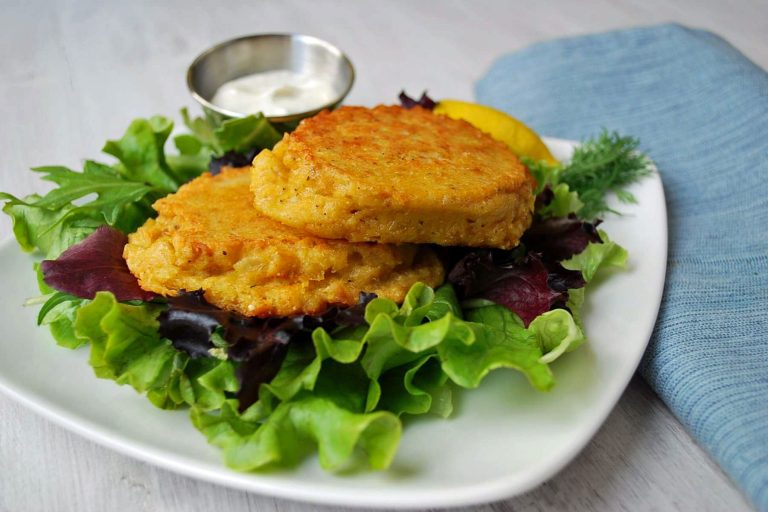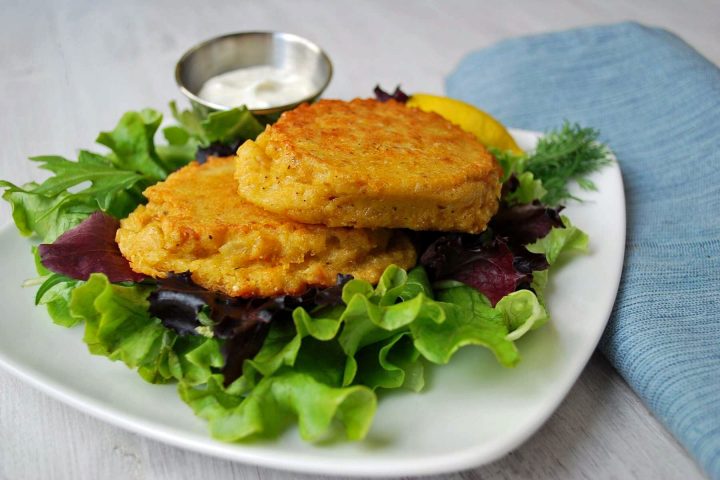 Recipe Tips
Don't want to have to pull out the bones in the canned salmon? Check for canned salmon without bones! Some of my favorite canned salmons are Wild Planet or Clover Leaf.
You can use a hamburger press to help shape your patties and make them more uniform.
Do I have to use canned salmon?
You can use fresh or canned salmon for this recipe. Canned salmon is a more cost effective way to enjoy this recipe, but fresh works great too.

How Do I remove the bones from salmon?
You will want to drain the can and remove the salmon. Run your hands along the salmon to feel for bones. Peel the meat away from the bones and discard them. Place the deboned salmon in your mixing bowl.
Do I have to make the yogurt dill sauce for the salmon patties?
No, you don't have to make the yogurt sauce for the salmon, but it is highly recommended. Any type of pattie is a bit dry, so a good sauce helps to keep them moist and flavorful.
Are the salmon patties gluten-free?
Yes! They are! Breadcrumbs are used in this recipe, but they are gluten free and safe for anyone with a gluten intolerance.

What To Serve With Salmon Patties
Serve your Wild Salmon Patties with Lemon Dill Sauce with a side of sweet potato fries, instant brown rice, or roasted Brussels sprouts. Although these are three great side dishes, you can eat your patties with any of your favorite sides. My favorite sides are:
How To Store Leftovers
Wrap the patties in plastic wrap, put them in a food storage bag or container, and keep them in the fridge. Your patties will stay fresh for up to four days. When you want to reheat them, it's best to warm them in a hot skillet with butter again.
Can I Freeze Them?
You can freeze the Salmon Patties. If you decide to freeze them, put them on a lined baking sheet and place them in the freezer until frozen. Once they are frozen, remove them from the freezer, place them in a food storage container or freezer bag, and put them right back into the freezer. You can store the patties for three months. To reheat them, allow them to thaw in the fridge and then warm them up in your skillet with butter again.
Other Seafood Recipes To Try
If you love the fresh taste of these Easy Salmon Patties and would love to try other seafood dishes, check out the following recipes: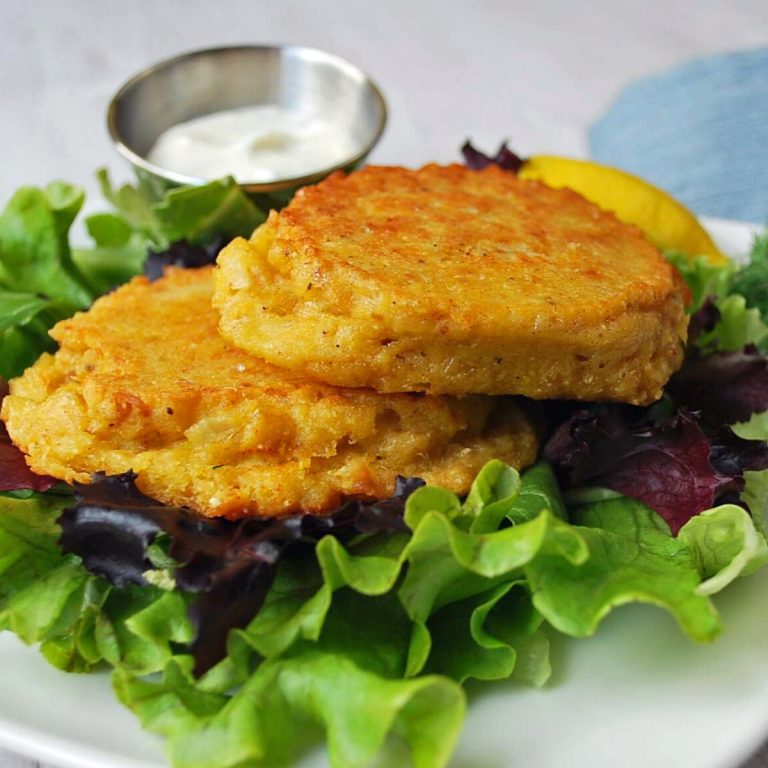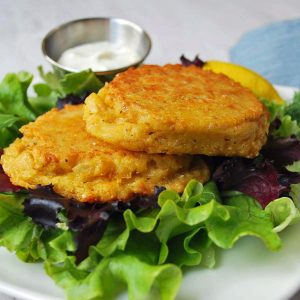 Salmon Patties With Lemon Dill Yogurt Sauce
A gluten-free recipe for salmon patties made with canned wild salmon
Print
Pin
Rate
Ingredients
For the patties:

12

oz

canned Wild Alaskan salmon

4

large eggs

lightly beaten

½

cup

gluten-free breadcrumbs

½

cup

cornmeal

½

small Vidalia onion

finely chopped

½

teaspoon

garlic powder

2

tablespoon

lemon juice

freshly squeezed

3

tablespoon

butter

paprika

salt and pepper, to taste

For the sauce:

7

oz

2% plain Greek yogurt

1

tablespoon

lemon juice

freshly squeezed

1

teaspoon

lemon zest

1

tablespoon

fresh dill

chopped

1

teaspoon

dijon mustard

Fresh artisan lettuce greens
Instructions
For the Salmon patties:

Drain salmon and put into a medium size bowl.

Make sure all bones are removed.

Combine salmon, eggs, breadcrumbs, cornmeal, garlic powder, onion and lemon juice and mix well. Form into 6 patties and season with salt, pepper and a sprinkle of paprika.

Heat butter in a large skillet over medium heat.

Cook patties until nice and golden on each side.

Keep patties warm and prepare the sauce.

Stir yogurt, lemon juice, lemon zest, fresh dill and dijon in a small bowl.

Place salmon patties over fresh artisan lettuce and drizzle with sauce.
Nutrition
Calories:
281
kcal
|
Carbohydrates:
19
g
|
Protein:
22
g
|
Fat:
13
g
|
Saturated Fat:
6
g
|
Cholesterol:
173
mg
|
Sodium:
333
mg
|
Potassium:
285
mg
|
Fiber:
2
g
|
Sugar:
2
g
|
Vitamin A:
392
IU
|
Vitamin C:
4
mg
|
Calcium:
219
mg
|
Iron:
1
mg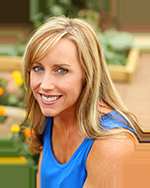 Latest posts by Amee Livingston
(see all)