This post and photos may contain Amazon or other affiliate links. As an Amazon Associate I earn from qualifying purchases. If you purchase something through any link, I may receive a small commission at no extra charge to you. All opinions are my own.
*This post was sponsored by Mortier Pilon. All opinions are always my own.
Fermented foods are predicted to be a hot trend in 2017. There's a lot of internet buzz about the benefits of fermented foods for gut health and a lot of legitimate research to back it up. I've been eating fermented foods for quite a while now, but only lately have I tried to make it a goal to eat them daily. This small batch, homemade sauerkraut is one of my favorite ways to enjoy fermented vegetables.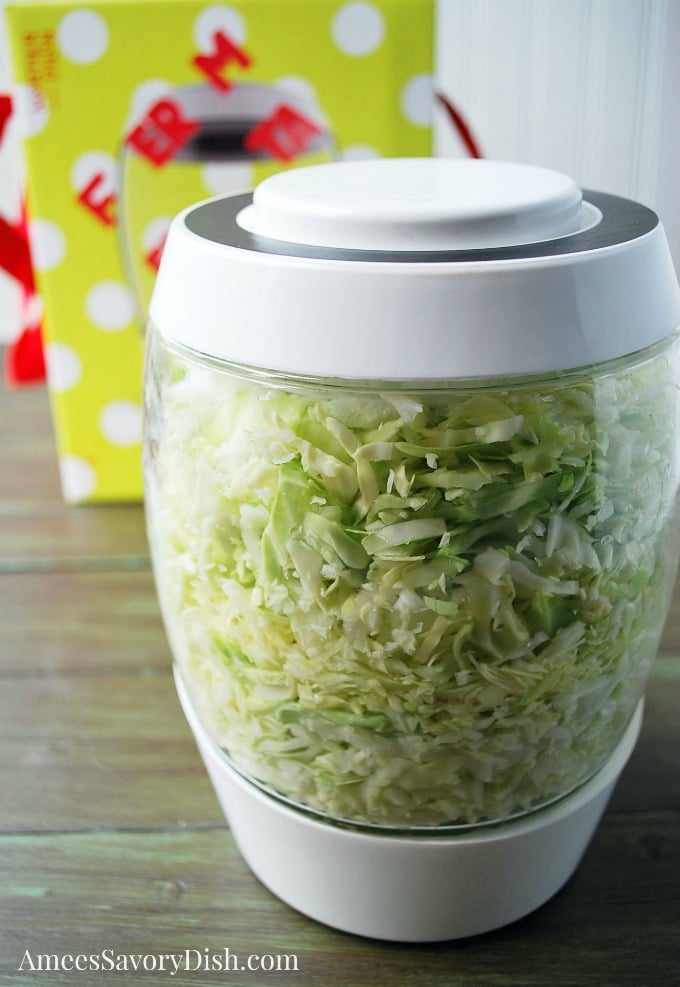 I recently posted an article on my fitness site, WholeFit360.com, about the benefits of eating "good bugs" and how it might be What You Are Missing In Your Weight Loss Strategy. The fermentation process creates an environment for the microflora to thrive. The benefits of preserving food this way include: restoring balance in your gut flora, stabilizing gastric acidity, better nutrient absorption, improved intestinal health and a stronger immune system.
I was excited when Mortier Pilon contacted me about trying out their new fermentation crock. I couldn't wait to test it out and see if I could really make a decent batch of sauerkraut from home. Honestly, it was super easy to make. I let mine ferment for about 9 days before moving to the refrigerator.
First, stir together juice and shredded cabbage and add to crock. Top with a layer of salt. *You can also stir the salt into the cabbage before spooning into the crock. I discovered this after prepping the recipe, but either way works fine.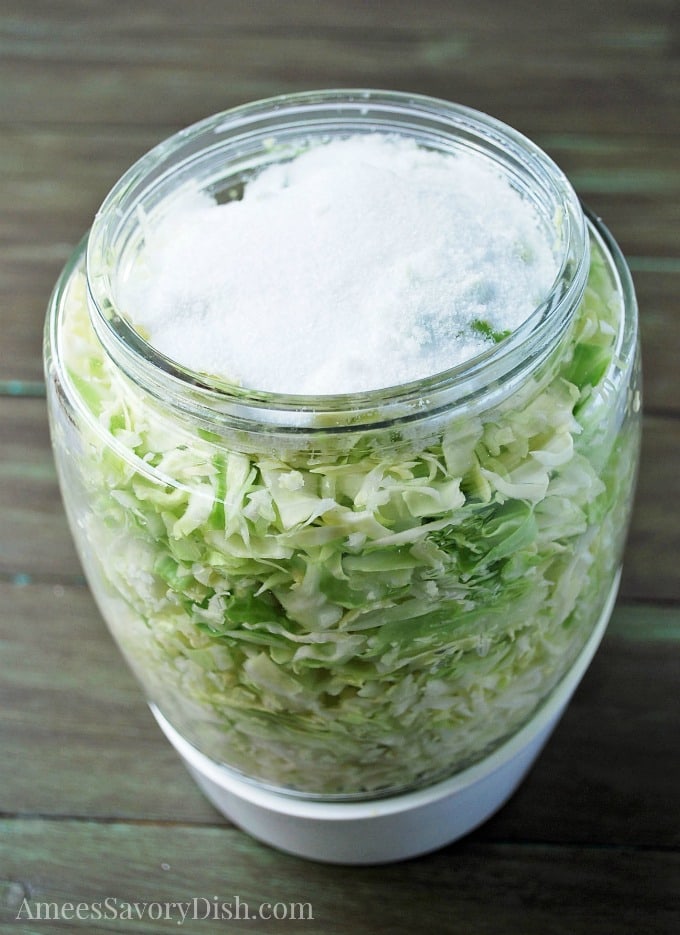 Press the ceramic disc down onto the salt, compressing the cabbage. Make sure to leave a little space (about 3/4 " at the top)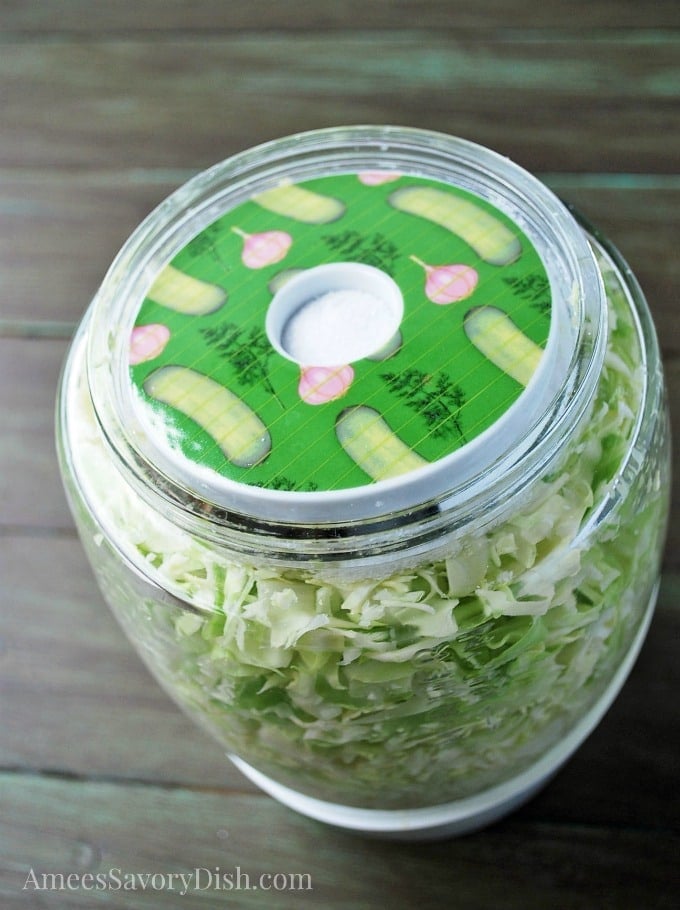 Then screw the lid on top.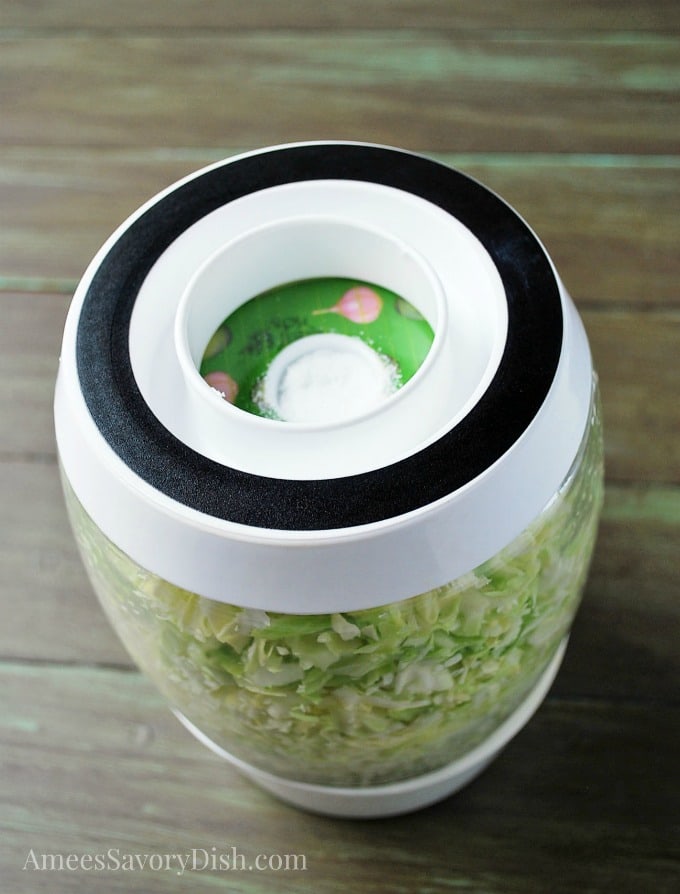 Add the cap and you're ready to ferment! I told you it was super easy!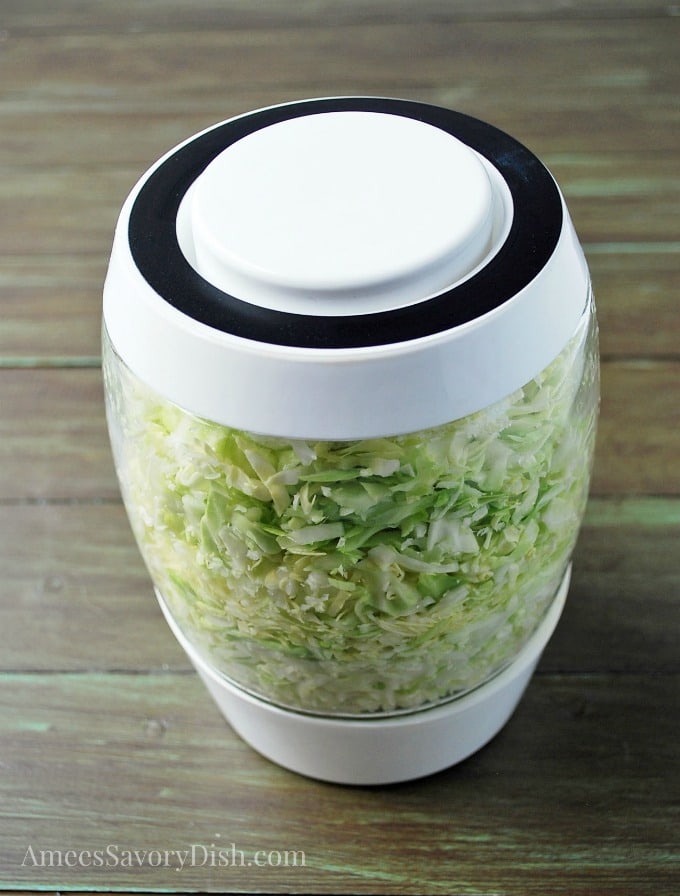 After 24 hours, if the liquid doesn't cover up the cabbage all the way, stir in salt and add a little water to just cover the top of the cabbage.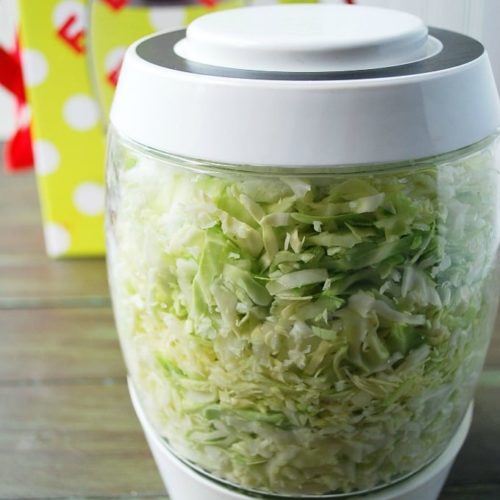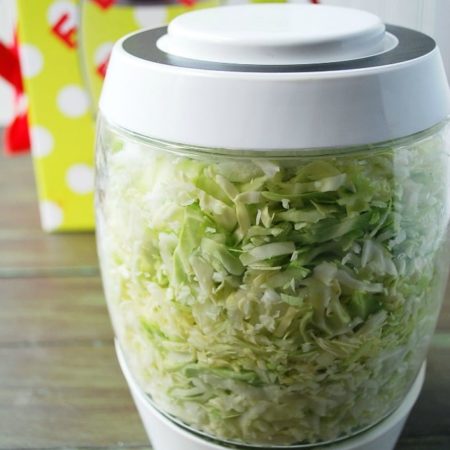 Ingredients
2

kilos green cabbage

shredded (about 2 heads)

1/2

cup

apple juice

6

tbsp

salt

Optional: 2 tbsp whole cloves and 10 juniper berries
Instructions
Place shredded cabbage in a large bowl and add juice,cloves and juniper berries, if using.

Mix to combine.

Spoon into the fermentation crock and press down, making sure there is about 3/4 inch headspace at the top

Add salt to cover top

Top with ceramic disc and screw on lid

Allow mixture to ferment at room temperature for at lease a week.

After 24 hours, if the liquid doesn't cover the cabbage all the way, stir salt into the mixture and add a little water.

After desired level of fermentation is reached, refrigerate or serve.
The finished batch…easy, healthy, tasty and great for you!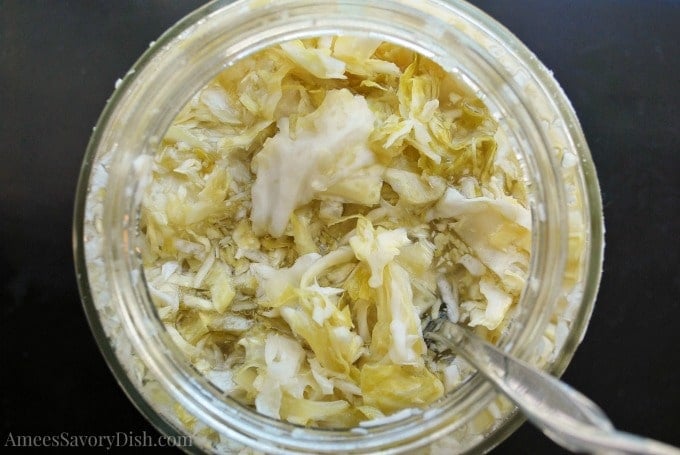 *Affliate link
Grab a Mortier Pilon fermentation crock on Amazon here and start creating your own fermented recipes! You can find more recipe inspiration, with full instructions, on their You Tube Channel.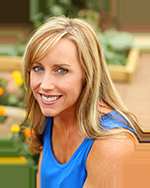 Latest posts by Amee Livingston
(see all)