These lemony garlic fingerling potatoes make a simple side dish that's loaded with great flavor.  I do a lot of roasting and root vegetables are my absolute favorite thing to roast in the fall.  Roasting brings out the best flavors in meats, fruits and vegetables.  I can't get enough of roasted vegetables this time of year!
Lemony Garlic Fingerling Potatoes
Lemony Garlic Fingerling Potatoes
6-8 servings
adjust servings
Ingredients
2

lbs fingerling potatoes (I love the Melissa's organic Fingerling Potato Medley), halved

1/4

cup butter, melted

Extra virgin olive oil for drizzling

2

tsp fresh, minced garlic

1

tsp sea salt

Juice of one whole lemon
Instructions
Preheat oven to 375 degrees. Place potatoes in a large baking dish (9x13) and drizzle with olive oil. In a small bowl, combine melted butter, garlic, lemon juice and salt.
Pour over potatoes and stir to coat.
Bake covered for 30 minutes.
Uncover and bake an additional 10 minutes or until golden brown.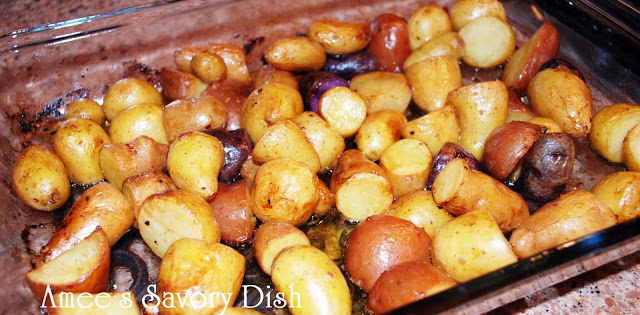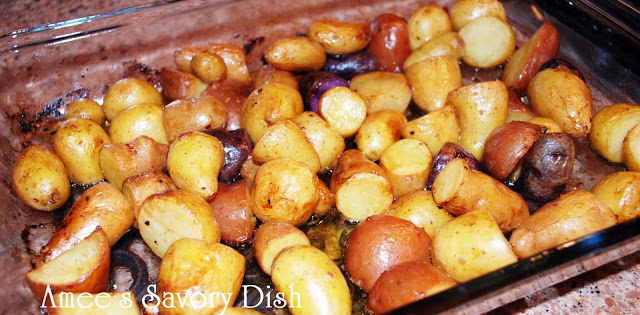 This is a great side dish for any occasion.  You can't go wrong with roasted potatoes.  They are a crowd pleaser!  
The citrus kick in this potato dish pairs well with seafood and chicken.